Gov. Bentley Settles Suit with Planned Parenthood Southeast
By Brandon Moseley
Alabama Political Reporter
Monday, November 30, Planned Parenthood Southeast, and Alabama Governor Robert Bentley reached an agreement that will allow Planned Parenthood Southeast to continue to receive Alabama Medicaid dollars.
Planned Parenthood Southeast assured the Governor that it is in compliance with Alabama law, and does not participate in the practice of harvesting organs from unborn children and then selling them to tissue researchers for a profit, as some other Planned Parenthood affiliates were accused of in a series of investigative undercover videos prepared by a Pro-Life group. Governor Bentley announced on Monday the settlement which ends an ongoing lawsuit with Planned Parenthood Southeast.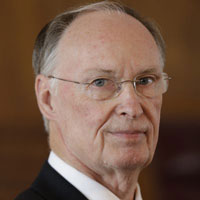 On August 6, 2015, Gov. Bentley terminated the State of Alabama's Medicaid contract with Planned Parenthood Southeast due to concerns raised by the Center for Medical Progress videos, which enraged Pro-Life groups.  Following the termination of their contract, Planned Parenthood sued the State arguing that the Governor had exceeded his authority.
On Wednesday, October 28, United States District Judge Myron Thompson issued a ruling ordering Alabama to restore Medicaid payments to Planned Parenthood.
In response to the Court's order of preliminary injunction in the Planned Parenthood Southeast lawsuit, Governor Bentley said, "For the last two months, Alabama has denied payment to Planned Parenthood Southeast. The good news is that as a result of the strong opposition by Alabama and a few other states to the practice of accepting reimbursement for harvesting fetal organs, the national Planned Parenthood organization has changed course and will no longer continue this deplorable practice. I am disappointed, and vehemently disagree with the Court's ruling today.  We are reviewing the opinion and will determine the next legal steps within the appeal period."
On Monday the Governor agreed not to further his appeal of that the decision.
Planned Parenthood Southeast, Planned Parenthood Federation of America, and the American Civil Liberties Union (ACLU) issued a joint statement following their legal victory.  They wrote, "The State of Alabama today backed down from costly efforts to bar patients from accessing care through Medicaid at Planned Parenthood health centers in the state – an effort which would have cost the state further unnecessary resources. Similar attempts to ban women from public programs have failed across the country in recent months…A settlement filed today with the state of Alabama comes just weeks after a federal judge blocked the state's attempt to restrict patients' ability to receive care from Planned Parenthood. Recent rulings in Arkansas, Utah and Louisiana found that states cannot block access to care at Planned Parenthood, and at the same time, politicians in Texas are seeking to do the very same thing. To date, two federal Courts of Appeals, the Seventh and Ninth Circuits, have blocked similar laws enacted in Indiana and Arizona, and the Supreme Court declined to review both of those rulings. In August, the state of Georgia also backed down on its attempt to prevent Planned Parenthood from using state labs to provide critical STD testing services."
The President and CEO of Planned Parenthood Southeast Staci Fox said, "Planned Parenthood is committed to ensuring our patients have access to safe, quality, compassionate care. We are pleased the state has backed off of a costly and wasteful attempt to restrict care for Alabama women. Alabama women will continue to be able to access care at Planned Parenthood using their Medicaid coverage. The courts have made clear across the country that these are losing battles that ultimately waste resources and harm patients."
American Civil Liberties Union of Alabama Executive Director Susan Watson said, "The State of Alabama should never have terminated Planned Parenthood's Medicaid agreement in violation of federal law in the first place, but it's a relief that the State has decided to reinstate it, which also prevents even more tax dollars from being wasted to defend the suit."
The case was brought by Planned Parenthood Southeast and a patient plaintiff, who appears pseudonymously as "Jane Doe" because of her desire not to have the private and personal nature of her care to become public.
State Auditor Jim "Waste Cutter" Zeigler (R) objected to the terms of the agreement which left Planned Parenthood continuing to receive taxpayer dollars from the Medicaid program plus $51,000 from the state to reimburse the organization for their legal fees.
Auditor Zeigler said in his own statement, "Gov Bentley dropped the Planned Parenthood appeal, is paying them $51,000 extra of Alabama taxpayer money, and continues the contract with them. The state had only paid about $4,300 to Planned Parenthood this year but now is paying them an additional $51,000. This matter was badly mishandled, bungled. It ended up helping Planned Parenthood and costing Alabama taxpayers."
Zeigler said, "The Governor's attorneys should have identified and alleged a legal reason to cancel the contract.  They could have easily done this but instead gave no reason.  They invited failure by mishandling the entire matter."
Planned Parenthood Southeast operates two facilities in Alabama, located in Birmingham and Mobile.
Planned Parenthood was represented by attorneys with the American Civil Liberties Union, American Civil Liberties Union of Alabama, and Planned Parenthood Federation of America. Planned Parenthood Southeast filed suit to protect access to care for women in Alabama.
On October 13, 2015, the President of Planned Parenthood Federation of America, Cecile Richards, announced that all local affiliates of Planned Parenthood would stop receiving money for fetal organs.
Gov. Bentley said, "The national pressure from Alabama and other states led Planned Parenthood to change its practices and no longer engage in the despicable and inhumane practice of selling organs of unborn children.  I will always fight to protect the rights of the unborn. If any medical provider in Alabama engages in practices that are contrary to accepted standards in the future, we will use every means necessary and available to ensure that those practices end."
Alabama Medicaid funding will resume in compliance with the Judge's ruling. According to the Governor's office the funding from Medicaid will specifically pay for routine gynecology exams and birth control methods for Medicaid recipients.
House passes General Fund Budget
By Brandon Moseley
Alabama Political Reporter
The Alabama House of Representatives passed the state General Fund Budget on Tuesday.
The General Fund Budget for the 2019 fiscal year is Senate Bill 178. It is sponsored by Sen. Trip Pittman, R-Montrose. State Rep. Steve Clouse, R-Ozark, carried the budget on the House floor. Clouse chairs the House Ways and Means General Fund Committee.
Clouse said, "Last year we monetized the BP settlement money and held over $97 million to this year."
Clouse said that the state is still trying to come up with a solution to the federal lawsuit over the state prisons. The Governor's Office has made some progress after she took over from Gov. Robert Bentley. The supplemental we just passed added $30 million to prisons.
The budget adds $50 million to the Department of Corrections.
Clouse said that the budget increased the money for prisons by $55,680,000 and includes $4.8 million to buy the privately-owned prison facility in Perry County.
Clouse said that the budget raises funding for the judicial system and raises the appropriation for the Forensic Sciences to $11.7 million.
The House passed a committee substitute so the Senate is either going to have to concur with the changes made by the House or a conference committee will have to be appointed. Clouse told reporters that he hoped that it did not have to go to conference.
Clouse said that the budget had added $860,000 to hire more Juvenile Probation Officers. After talking to officials with the court system that was cut in half in the amendment. The amendment also includes some wording the arbiters in the court lawsuit think we need.
The state General Fund Budget, SB178, passed 98-1.
Both budgets have now passed the Alabama House of Representatives.
The 2019 fiscal year begins on Oct. 1, 2018.
In addition to the SGF, the House also passed a supplemental appropriation for the current 2018 budget year. SB175 is also sponsored by Pittman and was carried by Clouse on the floor of the House.
SB175 includes $30 million in additional 2018 money for the Department of Corrections. The Departmental Emergency Fund, the Examiners of Public Accounts, the Insurance Department and Forensic Sciences received additional money.
Clouse said, "We knew dealing with the federal lawsuit was going to be expensive. We are adding $80 million to the Department of Corrections."
State Representative Johnny Mack Morrow, R-Red Bay, said that state Department of Forensics was cut from $14 million to $9 million. "Why are we adding money for DA and courts if we don't have money for forensics to provide evidence? if there is any agency in law enforcement or the court system that should be funded it is Forensics."
The supplemental 2018 appropriation passed 80 to 1.
The House also passed SB203. It was sponsored by Pittman and was carried in the House by State Rep. Ken Johnson, R-Moulton. It raises securities and registration fees for agents and investment advisors. It increases the filing fees for certain management investment companies. Johnson said that those fees had not been adjusted since 2009.
The House also passed SB176, which is an annual appropriation for the Coalition Against Domestic Violence. The bill requires that the agency have an operations plan, audited financial statement, and quarterly and end of year reports. SB176 is sponsored by Pittman and was carried on the House floor by State Rep. Elaine Beech, D-Chatham.
The House passed Senate Bill 185 which gives state employees a cost of living increase in the 2019 budget beginning on October 1. It was sponsored by Sen. Clyde Chambliss, R-Prattville and was being carried on the House floor by state Rep. Dimitri Polizos, R-Montgomery.
Polizos said that this was the first raise for non-education state employees in nine years. It is a 3 percent raise.
SB185 passed 101-0.
Senate Bill 215 gives retired state employees a one time bonus check. SB215 is sponsored by Senator Gerald Dial, R-Lineville, and was carried on the House floor by state Rep. Kerry Rich, R-Guntersville.
Rich said that retired employees will get a bonus $1  for every month that they worked for the state. For employees who retired with 25 years of service that will be a $300 one time bonus. A 20-year retiree would get $240 and a 35-year employee would get $420.
SB215 passed the House 87-0.
The House passed Senate Bill 231, which is the appropriation bill increase amount to the Emergency Forest Fire and Insect and Disease Fund. SB231 is sponsored by Sen. Steve Livingston, R-Scottsboro, and was carried on the House floor by state Rep. Kyle South, R-Fayette.
State Rep. Elaine Beech, D-Chathom, said, "Thank you for bringing this bill my district is full of trees and you never know when a forest fire will hit.
SB231 passed 87-2.
The state of Alabama is unique among the states in that most of the money is earmarked for specific purposes allowing the Legislature little year-to-year flexibility in moving funds around.
The SGF includes appropriations for the Alabama Medicaid Agency, the courts, the Alabama Law Enforcement Agency, the Alabama Department of Corrections, mental health, and most state agencies that are no education related. The Alabama Department of Transportation gets their funding mostly from state fuel taxes.
The Legislature also gives ALEA a portion of the gas taxes. K-12 education, the two year college system, and all the universities get their state support from the education trust fund (ETF) budget. There are also billions of dollars in revenue that are earmarked for a variety of purposes that does not show up in the SGF or ETF budgets.
Examples of that include the Public Service Commission, which collects utility taxes from the industries that it regulates. The PSC is supported entirely by its own revenue streams and contributes $13 million to the SGF. The Secretary of State's Office is entirely funded by its corporate filing and other fees and gets no SGF appropriation.
Clouse warned reporters that part of the reason this budget had so much money was due to the BP oil spill settlement that provided money for the 2018 budget and $97 million for the 2019 budget. Clouse said they elected to make a $13 million repayment to the Alabama Trust fund that was not due until 2020 but that is all that was held over for 2020.
Clouse predicted that the Legislature will have to make some hard decisions about revenue in next year's session.