Alabama Leaders Promise to Fight for Your Second Amendment Rights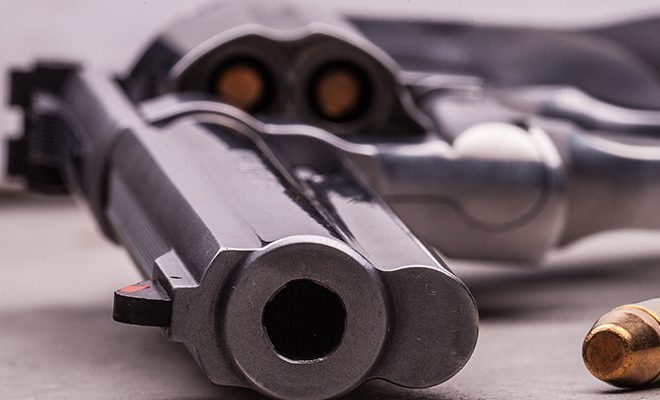 By Brandon Moseley
Alabama Political Reporter
On Monday, January 4, a number of Alabama's Congressional delegation released statements critical of President Barack H. Obama's anticipated gun control by Presidential executive order.
US Senator Richard Shelby (R-Alabama) said in a statement, "The latest news that President Obama plans to circumvent Congress and attempt to restrict the constitutional right of the American people to keep and bear arms is unacceptable. The American people have witnessed time and time again a President who completely disregards the rule of law, the Constitution, and the separation of powers."
US Representative Martha Roby (R-Montgomery) said, "President Obama is wrong to try to bypass Congress to unilaterally mandate his gun control agenda, and it won't stand. I'm a gun owner myself, and I strongly value the rights guaranteed by the Second Amendment. I will fight on behalf of those I represent to stop any attempt to erode our Second Amendment rights."
US Representative Mike Rogers (R-Saks) said, "President Obama has spent his time in office expanding the size of government and infringing on our Constitutional rights. This is just another example of his blatant disregard for the Constitution. I remain completely opposed to any action that puts any level of restrictions on our right to bear arms. As a gun owner myself, I will continue to fight for our Second Amendment rights."
Alabama Governor Robert Bentley (R) said, "America's founding fathers prioritized the right to keep and bear arms, and President Obama is overstepping his authority and threatening to take away our 2nd amendment rights. It is unacceptable for the President to bypass Congress and the US Constitution with his plan. The overreach by the President seems to be his preferred way of leading our country, and it is another reason why it is critical for Americans to send a conservative back to the White House in November. I encourage the Alabama congressional delegation to listen to the message of the Alabama people and fight to protect the fundamental rights of gun owners."
US Representative Bradley Byrne (R-Montrose) said: "President Obama just doesn't get it. He continues to openly disregard our Constitution and the will of the American people. For seven years now, Congress has rejected President Obama's efforts to restrict the Second Amendment rights of law-abiding Americans. Now, in the final months of his presidency, he intends to make these changes on his own through executive fiat."
Senator Shelby said, "We must not allow our leaders to act like dictators just because they are repeatedly denied a political victory. From amnesty to gun control, the American people and Republicans in Congress will continue to say 'no' the President's out-of-control executive fiats."
Congresswoman Roby said, "There is a reason Congress has repeatedly rejected President Obama's gun control agenda: on top of being unconstitutional, his proposals would not have prevented the recent attacks he uses to justify new laws. Instead of forcing unconstitutional gun regulations that have little hope of stopping premeditated attacks, I believe our focus should be dealing with the root causes, specifically mental health and terrorism."
Congressman Byrne said, "These expected changes would not have prevented any of the recent mass shootings where guns were purchased from licensed gun dealers. Instead of continuing to ignore Congress, the President should work with us on commonsense reforms that would actually reduce gun violence, like mental health reform and preventing those who wish to bring us harm from entering the United States. In reality, I don't think President Obama wants to solve the problem. Instead, he is simply looking for another political talking point and continuing to pander to far-left political groups."
Sen. Shelby said, "None of the executive actions that we expect to hear from the President would have prevented the recent tragic events in our nation. Instead of looking for ways to truly put an end to violent crime and radical Islamic terrorism, the President is once again looking to score political points by taking away the rights of law-abiding Americans to protect themselves."
Rep. Byrne said, "Congress must be swift to respond to any executive action, and there will certainly be legal challenges as well. This debate is about more than the Second Amendment. This debate is about standing up to an out-of-control President who refuses to follow the Constitution."
Sen. Shelby said, "The President should know better than anyone that disarming law-abiding Americans will do nothing more than empower criminals. After all, his own hometown of Chicago has the strictest gun control laws in the country, yet its violent crime rate is among the highest in our nation. President Obama wants America to look more like Chicago. I'm fighting for America to look more like Alabama. That is why I will work tirelessly to protect the Second Amendment and reverse any proposals by this President to restrict the constitutional rights of the American people."
On Tuesday, President Obama is expected to strip Americans, whom his administration places on the terror watch list (without trial or hearing), of their right to purchase a gun. He is also expected to increase the number of Americans who need a gun dealers license to sell guns. This will result in more Americans have to go through the background check process in order to sell their guns. He will announce his full package of "reforms" in a town hall setting on CNN.
House passes General Fund Budget
By Brandon Moseley
Alabama Political Reporter
The Alabama House of Representatives passed the state General Fund Budget on Tuesday.
The General Fund Budget for the 2019 fiscal year is Senate Bill 178. It is sponsored by Sen. Trip Pittman, R-Montrose. State Rep. Steve Clouse, R-Ozark, carried the budget on the House floor. Clouse chairs the House Ways and Means General Fund Committee.
Clouse said, "Last year we monetized the BP settlement money and held over $97 million to this year."
Clouse said that the state is still trying to come up with a solution to the federal lawsuit over the state prisons. The Governor's Office has made some progress after she took over from Gov. Robert Bentley. The supplemental we just passed added $30 million to prisons.
The budget adds $50 million to the Department of Corrections.
Clouse said that the budget increased the money for prisons by $55,680,000 and includes $4.8 million to buy the privately-owned prison facility in Perry County.
Clouse said that the budget raises funding for the judicial system and raises the appropriation for the Forensic Sciences to $11.7 million.
The House passed a committee substitute so the Senate is either going to have to concur with the changes made by the House or a conference committee will have to be appointed. Clouse told reporters that he hoped that it did not have to go to conference.
Clouse said that the budget had added $860,000 to hire more Juvenile Probation Officers. After talking to officials with the court system that was cut in half in the amendment. The amendment also includes some wording the arbiters in the court lawsuit think we need.
The state General Fund Budget, SB178, passed 98-1.
Both budgets have now passed the Alabama House of Representatives.
The 2019 fiscal year begins on Oct. 1, 2018.
In addition to the SGF, the House also passed a supplemental appropriation for the current 2018 budget year. SB175 is also sponsored by Pittman and was carried by Clouse on the floor of the House.
SB175 includes $30 million in additional 2018 money for the Department of Corrections. The Departmental Emergency Fund, the Examiners of Public Accounts, the Insurance Department and Forensic Sciences received additional money.
Clouse said, "We knew dealing with the federal lawsuit was going to be expensive. We are adding $80 million to the Department of Corrections."
State Representative Johnny Mack Morrow, R-Red Bay, said that state Department of Forensics was cut from $14 million to $9 million. "Why are we adding money for DA and courts if we don't have money for forensics to provide evidence? if there is any agency in law enforcement or the court system that should be funded it is Forensics."
The supplemental 2018 appropriation passed 80 to 1.
The House also passed SB203. It was sponsored by Pittman and was carried in the House by State Rep. Ken Johnson, R-Moulton. It raises securities and registration fees for agents and investment advisors. It increases the filing fees for certain management investment companies. Johnson said that those fees had not been adjusted since 2009.
The House also passed SB176, which is an annual appropriation for the Coalition Against Domestic Violence. The bill requires that the agency have an operations plan, audited financial statement, and quarterly and end of year reports. SB176 is sponsored by Pittman and was carried on the House floor by State Rep. Elaine Beech, D-Chatham.
The House passed Senate Bill 185 which gives state employees a cost of living increase in the 2019 budget beginning on October 1. It was sponsored by Sen. Clyde Chambliss, R-Prattville and was being carried on the House floor by state Rep. Dimitri Polizos, R-Montgomery.
Polizos said that this was the first raise for non-education state employees in nine years. It is a 3 percent raise.
SB185 passed 101-0.
Senate Bill 215 gives retired state employees a one time bonus check. SB215 is sponsored by Senator Gerald Dial, R-Lineville, and was carried on the House floor by state Rep. Kerry Rich, R-Guntersville.
Rich said that retired employees will get a bonus $1  for every month that they worked for the state. For employees who retired with 25 years of service that will be a $300 one time bonus. A 20-year retiree would get $240 and a 35-year employee would get $420.
SB215 passed the House 87-0.
The House passed Senate Bill 231, which is the appropriation bill increase amount to the Emergency Forest Fire and Insect and Disease Fund. SB231 is sponsored by Sen. Steve Livingston, R-Scottsboro, and was carried on the House floor by state Rep. Kyle South, R-Fayette.
State Rep. Elaine Beech, D-Chathom, said, "Thank you for bringing this bill my district is full of trees and you never know when a forest fire will hit.
SB231 passed 87-2.
The state of Alabama is unique among the states in that most of the money is earmarked for specific purposes allowing the Legislature little year-to-year flexibility in moving funds around.
The SGF includes appropriations for the Alabama Medicaid Agency, the courts, the Alabama Law Enforcement Agency, the Alabama Department of Corrections, mental health, and most state agencies that are no education related. The Alabama Department of Transportation gets their funding mostly from state fuel taxes.
The Legislature also gives ALEA a portion of the gas taxes. K-12 education, the two year college system, and all the universities get their state support from the education trust fund (ETF) budget. There are also billions of dollars in revenue that are earmarked for a variety of purposes that does not show up in the SGF or ETF budgets.
Examples of that include the Public Service Commission, which collects utility taxes from the industries that it regulates. The PSC is supported entirely by its own revenue streams and contributes $13 million to the SGF. The Secretary of State's Office is entirely funded by its corporate filing and other fees and gets no SGF appropriation.
Clouse warned reporters that part of the reason this budget had so much money was due to the BP oil spill settlement that provided money for the 2018 budget and $97 million for the 2019 budget. Clouse said they elected to make a $13 million repayment to the Alabama Trust fund that was not due until 2020 but that is all that was held over for 2020.
Clouse predicted that the Legislature will have to make some hard decisions about revenue in next year's session.