Everyone Needs A Place to Call Home

By Matthew Tyson
In April of 2015, I joined a group of volunteers in Montgomery to demonstrate in favor of HB 141—a bill that would generate revenue for the Alabama Housing Trust Fund.
If you're unaware, a housing trust fund is a dedicated source of revenue used to provide affordable housing and address other issues related to homelessness or low-income housing situations, and it's desperately needed in our state.
In my hometown of Anniston, people making minimum wage can't afford a market-rate home. Here, a 1-bedroom apartment rents for roughly $515 per month. But someone making $7.25 an hour can only afford to pay $377 per month. That's a difference of $138—one that forces low wage workers to make a hard decision concerning what they will pay for month to month, like food or medicine, so that they can keep a roof over their heads.
The resolution to create a trust fund in Alabama was passed in 2012. However, for some reason or another, no actual means of funding were ever secured. Alabama is one of 6 states that doesn't have revenue for its housing trust fund. HB141 was written to change that.
Last year my friends and I set up tents, sleeping bags, and make shift shelters out of cardboard boxes. We accompanied our display with signs reminding passersby of the reality — that men, women, children, workers, and veterans were actually living in these conditions.
We promoted the belief that hardworking Alabamians should be able to pay their rent and still afford to put food on the table, that all children need a safe place to call home, and that the men and women who defend our country deserve to return to a safe and affordable home.
We stopped at every single office in the State House to encourage our representatives to put their support behind the bill. We had a strong, clear message and good momentum. And yet the bill died in committee.
So here we are in 2016, a new legislative session just opened, and HB141 will be soon be introduced again. And just like last year, I, along with hopefully many others, will be traveling to Montgomery to advocate for this bill. With enough support, it could make it to a vote and become law. But it won't happen unless more citizens get behind it.
If you watched Governor Bentley's very optimistic State of the State Address, you might feel at ease about the health and well being of Alabama, and you wouldn't exactly be wrong. Despite many obstacles, we've seen a lot of progress. But that doesn't mean everything is sunshine and rainbows. There is a lot of work to be done, and funding the Alabama Housing Trust Fund is a strong step in the right direction.
If you'd like to be an active participant in advocating for HB141, email Matthew at [email protected] or visit www.alabamahousingtrustfund.org
Alabamians request more than 101,000 absentee ballots with 30 days left to apply
So far, 35,184 absentee ballots have been successfully returned for the general election.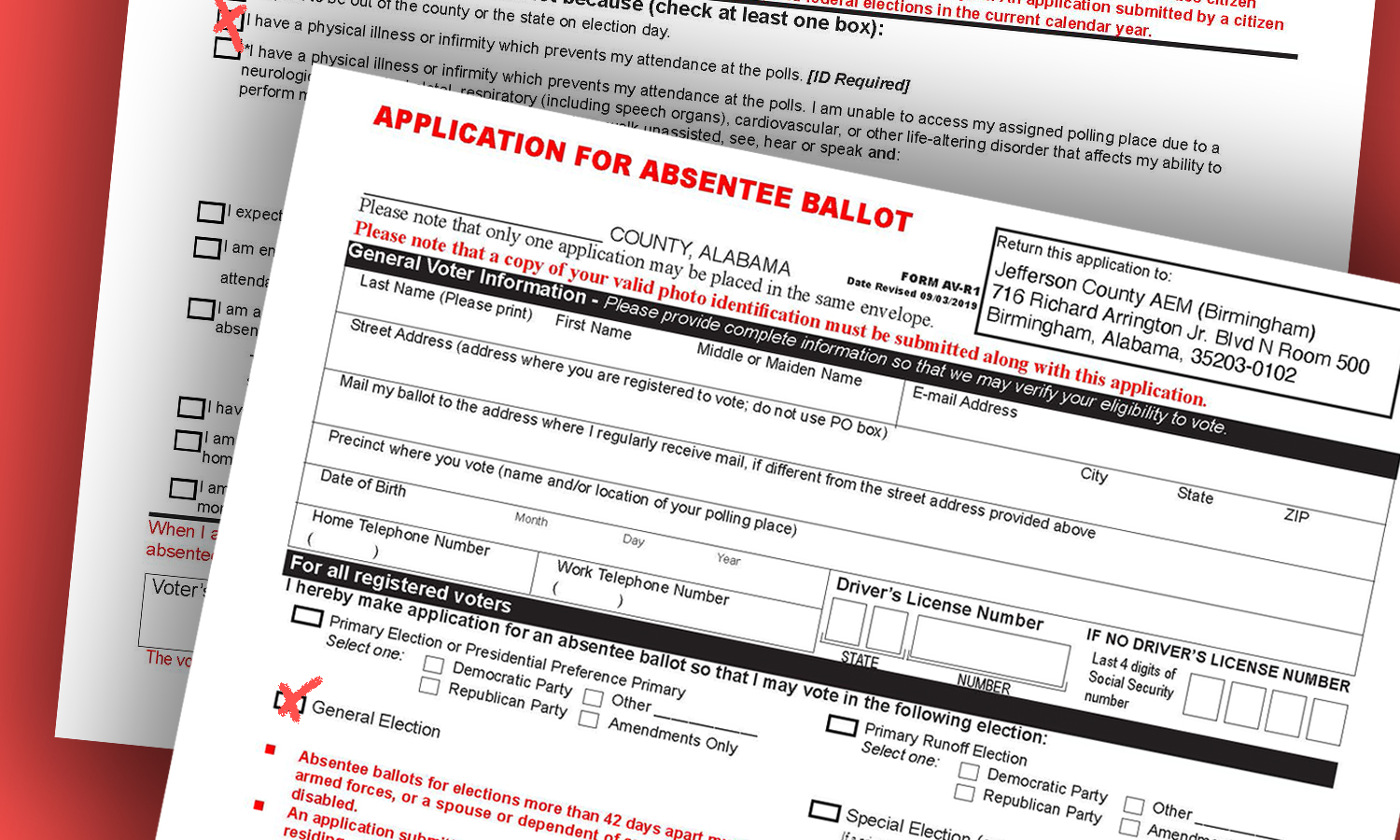 At least 101,092 absentee ballots have been requested so far in Alabama according to Secretary of State John Merrill, with just 30 days left to apply for an absentee ballot for the Nov. 3 general election. So far, 35,184 absentee ballots have been successfully returned for the general election.
In order to protect the safety and well-being of voters, Merrill is encouraging those who are concerned about contracting or spreading the coronavirus to apply for and cast an absentee ballot.
Absentee ballot applications can be downloaded online or requested by visiting or calling your local absentee election manager's office.
Voters may also contact the secretary of state's office at 334-242-7210 to request an absentee ballot application.
Due to the declared states of emergency, any qualified voter who determines it is impossible or unreasonable to vote at their polling place shall be eligible to check the box on the absentee ballot application that is most applicable to that individual. In the case none of the boxes are appropriate, voters can check the box which reads, "I have a physical illness or infirmity which prevents my attendance at the polls. [ID REQUIRED]"
For the Nov. 3 general election, the deadline to register to vote is Monday, Oct. 19, the deadline to submit an absentee ballot application is Thursday, Oct. 29, the deadline to return an absentee ballot to the absentee election manager is the close of business Monday, Nov. 2, and the last day to postmark an absentee ballot is Monday, Nov. 2.
Voters who are eligible to vote pursuant to the Uniformed and Overseas Absentee Voting Act will have until Tuesday, Nov. 3 to postmark an absentee ballot.
Voters concerned about COVID-19 are encouraged to select the box on the affidavit, which accompanies the absentee ballot, which reads as follows: "I am physically incapacitated and will not be able to vote in person on election day."
Due to recently witnessed delays with the U.S. Postal Service, Merrill encourages voters interested in returning their ballot by mail to go ahead and make application for their absentee ballot. As a reminder, Merrill worked with the Legislature last year to pass Act 2019-507, allowing voters the opportunity to return their absentee ballot by commercial carrier in addition to U.S. mail.