Judge Jacob Walker, III: The Last Man Standing

By Bill Britt
Alabama Political Reporter
There is one man standing who has the power to declare every hint of political corruption in our state will face swift justice. That man is Judge Jacob Walker, III.
As the hands of time tick steadily toward March 28, he alone is the last man untarnished by Speaker Mike Hubbard's continuous assaults.
Even before his indictment on 23 felony counts of public corruption, Hubbard employed every political trick, engaged every political friend and sought to destroy all foes real and imagined to avoid his day in court.
With the approach of what may be the devastating hour, Hubbard has become even more vicious. Like a wounded animal, he rips and tears at the air, praying to strike a fatal blow that will let him limp away, bloodied…but triumphant.
He has coddled many in the media, frightened most and used the power of his office in an attempt to silence others. Hubbard, by promise of reward or threat of punishment, has held the very government of Alabama hostage, to deny or delay his day in court.
Hubbard has put the Attorney General's Office on trial in the court of public opinion and in the actual halls of justice, hoping to stain and even destroy the reputations of Luther Strange, W. Van Davis and Matt Hart, all in his attempt to escape justice. Unrelenting and without remorse, Hubbard has spared no one in his war of self-preservation. Honor, integrity, and the laws of the State be damned if it advanced his agenda by even one inch.
Judge Walker has shown a steady hand, moving with wisdom and restraint, even during the most shocking moments of defiance and mis-direction by Hubbard's legal team.
Alabama is known for judges of historical importance, perhaps none more consequential than the legendary Federal jurist, Frank M. Johnson, Jr.
His obituary in The New York Times reads, "The judge set standards in the South and often in the nation on voting rights, employment discrimination, affirmative action, the rights of mental patients to adequate care, and prison inmates to protection from inhuman conditions. But it was his knell for Jim Crow that was revered and reviled."
Judge Johnson stood rock-ribbed against the political corruption of his day, and in doing so, changed not only the face of Alabama, but the nation. The New York Times wrote:
"In that turbulent era, with the national conscience tottering, and a few courageous men and women asking Americans to decide what kind of people they wanted to be, Judge Johnson loomed as a towering figure, an uncompromising defender of civil liberties who came to be known as the Federal Judiciary's most influential, innovative and controversial trial jurist."
The Encyclopedia of Alabama notes, "Civil-rights leader Martin Luther King Jr., called him 'the man who gave true meaning to the word justice.'"
Judge Walker is a widely respect jurist, who is seen as unassailable, and unbowed like Johnson. But he must know like everyone has learned, that Hubbard will spare no principle or person to avoid facing a jury of his peers.
Recently, the prosecution turned over some 1,511 pages of evidence to Hubbard's defense. These documents will substantiate the charges against Hubbard.  The public has only seen around 40 pages of emails, which paint a disturbing picture of a selfish, whining man, begging others to help him make more money in a scheme to use his pubic office for personal gain. In those emails, there wasn't a hint of the image Hubbard has cultivated as a strong leader or a public servant.
Hubbard sought to reign over a vast political empire built with the aid of former Gov. Bob Riley, and Business Council of Alabama (BCA) CEO Billy Canary. But it became a shadow government, bestowing riches on its allies and destruction on its foes. But it is a castle built on sand, led by an imposter.
Hubbard and his allies have constructed a network of cronyism that is rigged against the people, for the profit of the political elite. There now sits a man in Lee County who can stand in the breach and use the power of the law, to say enough is enough, just like Judge Johnson did during another troubling time in our state.
Like the Fourth Man in the fiery furnace who gave Shadrach, Meshach, and Abednego the strength to stand unbowed and unburned, so we pray the same strength and courage resides in Judge Walker, he is the last man standing with power to carry out the will of the people.
Opinion | Hubbard did the crime; he should do the time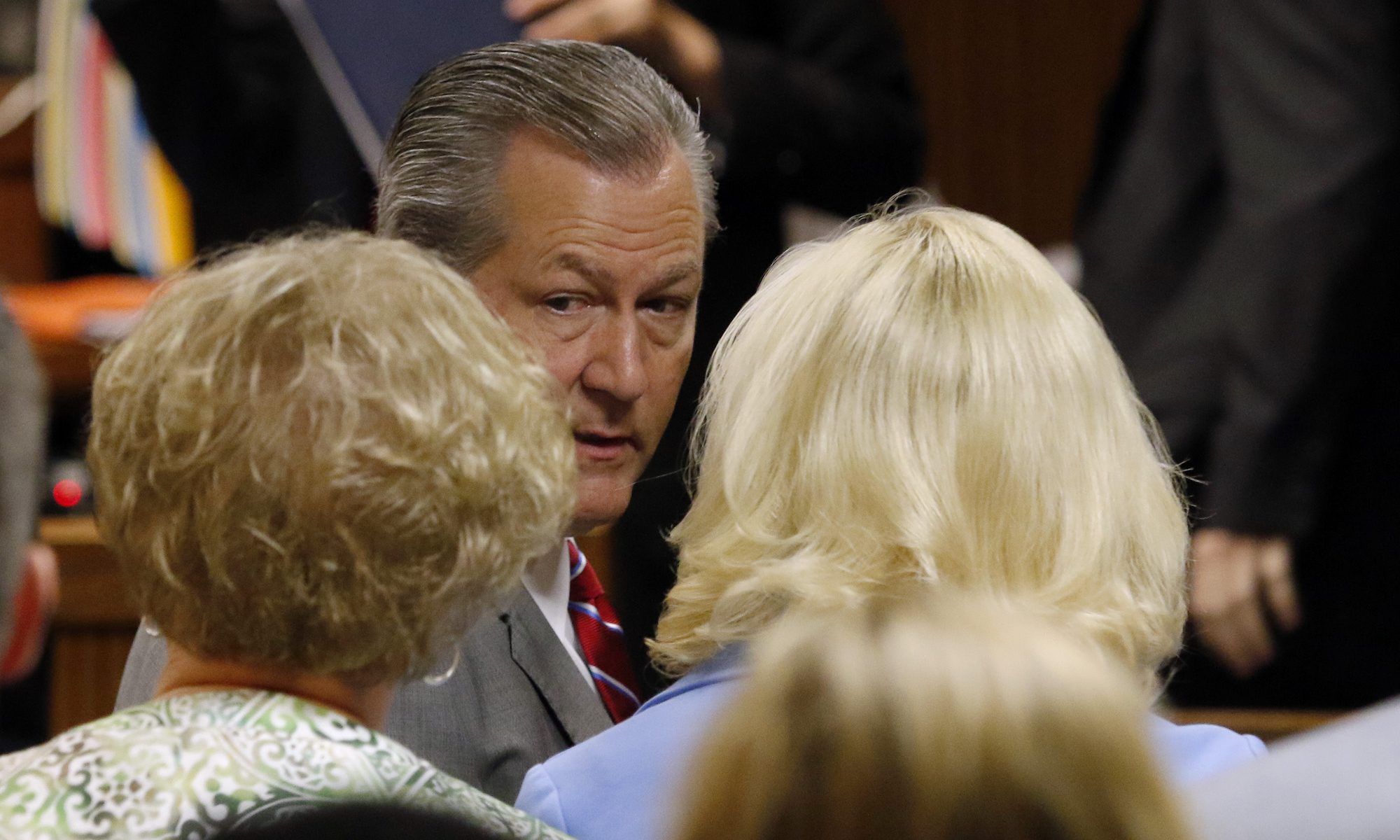 Attorneys for convicted felon, former Speaker of the House Mike Hubbard, believe he has suffered enough, and his sentence should be reduced because six of the charges against him were overturned on appeal.
The remaining six counts against Hubbard call for a prison term of four years, 16 years probation, and substantial fines independent of the charges the upper courts set aside. Therefore there exist no reasonable grounds under which trial Judge Jacob Walker III should lessen Hubbard's sentence.
This action on Hubbard's behalf is simply another attempt to subvert justice.
A Lee County jury found Hubbard guilty of twelve counts of public corruption, most notably using his office for personal gain and using state resources and personnel to enrich himself—and those counts still stand.
The Court of Criminal Appeals rejected Count 5, and the Alabama Supreme Court struck down another five, which primarily dealt with the charges surrounding "principals."
The upper-court's finding appears more political than judicial, but most people in the state are used to jurists who bend the law for the rich and politically connected.
Of the remaining charges against Hubbard, five carry a ten-year spit sentence of two years in prison and eight years probation, and one count has a six-year split sentence with 18 months in jail with the remainder served on probation.
Why would Judge Walker reverse his judgment since the appeals process left in place the charges that carry the very sentence he imposed?
Does Judge Walker think he erred in his sentencing? Does he now, in retrospect, believe he was unfair as Hubbard's lawyers contend?
Hubbard's appeal is merely more subterfuge and trickery disguised as a legal argument.
Astonishingly, in their latest filing, lawyers, David McKnight and Joel Dillard, assert that Hubbard is not "a danger to society, nor a threat to the public" as a reason to let him out of prison.
Hubbard may not be a violent offender but his actions are a danger fo society and a threat to the public.
Prison is not only for brutal inmates it is also for those who break a certain class of laws. Because a felon wears a thousand dollar suit doesn't mean they deserve less jail time.
Hubbard's crimes are some of the most heinous perpetrated against civil society.
Public corruption undermines the rule of law and the principles of good government and is an offense more potent than property theft, drug use, or other non violent crimes because it rips apart the very fabric of society and its trust in the foundations of the republic.
A corrupt politician's actions subvert the very meaning of representative government.
Hubbard is not now a danger to society, or a threat to the public because he is behind bars. But make no mistake he is a menace to public good. Even before his indictment, Hubbard used every scheme at his disposal to thwart justice, entice lying and manipulate public trust. And now he wants one more shot at corrupting the system.
There are only two occasions when every individual should expect equal treatment: when they stand before a court of law and when they stand before their maker. Yes, a wealthy defendant like Hubbard can afford better legal representation, but it doesn't mean he can purchase special justice.
Hubbard has been given preferential treatment by lawmakers, the media, and even some on the courts. All along the way, Hubbard was handled with kid gloves and given unwarranted privilege.
McKnight and Dillard argue with a straight face that letting Hubbard out of prison early will, "Preserve scarce prison bed-space for habitual offenders and others from whom society needs protection… [and] more likely result in the defendant's rehabilitation than incarceration."
The word rehabilitation is used several times in Hubbard's most recent court filings as if somehow allowing him to avoid prison time will serve to rehabilitate him. To this day, Hubbard doesn't believe he's committed a crime, so how is rehabilitation possible?
His attorneys lastly make the most laughable argument possible by indicating Hubbard has suffered enough.
"[The] Court should consider the punishment that Hubbard has already suffered. The convictions in this case alone have resulted in a wide range of punishments which include his removal from office, the loss of his right to vote, the divestment of his business interests, and his current incarceration."
Suffered enough?
When lawmakers break ethics laws, it upends society because it shatters trust while nullifying the social contract that binds us together in peace and safety.
State ethics laws are an attempt to force the government to rule themselves honestly.
Hubbard ignored the very ethics laws he championed and would do it all again.
He deserves punishment for his unlawful acts, and his prison sentence should stand as a reminder to others that justice doesn't play favorites.
Hubbard did the crime, and he should serve the time.