By Bill Britt
Alabama Political Reporter
"We have met the enemy and he is us," is a famous quote from the comic strip, Pogo, by Walt Kelly.
After the 2014 elections, this should be the unofficial motto of the Alabama Republican Party, especially the embattled, Legislative and Executive Branches.
Gov. Robert Bentley is battling the House, the House skirmishes with the Senate and the Senate with itself. These are just a few of the wars being waged on Goat Hill, and things are going to get a lot worse.
Recent infighting in the Senate has turned nasty, with Senate President Pro Tem, Del Marsh, ironically punishing one senator and threatened another for doing their jobs. Marsh removed Senators Paul Bussman and Cam Ward from their committee assignments, because they exercised their God-given rights; mainly freedom of thought, and action.
Marsh seems to be borrowing from the Speaker Mike Hubbard playbook to bring holy hell down on those who dare exhibit their independence.
In many ways, from The White House to the The State House, we seem to be living in a new age of authoritarianism. The Republican front runner, Donald Trump, is hailed as a strongman, who will fix our broken politics, perhaps singlehandedly, while over on South Union Street, Marsh has determined that no republican may question his "education reforms" and no republican is allowed to stand up for State employees without being punished.
What was the sin that Bussman committed which caused Marsh to remove him as Rules Committee Vice Chair? Bussman spoke against Marsh's PREP bill, which alters teacher's tenure, has them evaluated by their students and a few other things that are making educators unhappy. Oh, and Bussman wanted a bill he sponsored removed from the Special Order Calendar. According to a report in the Decatur Daily, Marsh said, "these types of actions can't happen, so we took action."
Of course, the "We" Marsh is referring to is not the Royal "We" as one might assume, given his actions, but the the Senate Committee on Assignments, comprised of himself, Lt. Governor Kay Ivey, Senate Majority Leader Greg Reed,  Arthur Orr, Trip Pittman, and Sen. Jabo Waggoner.
Once upon a time, the Senate, unlike the House, was an independent body, with lawmakers given to challenging bills, individually or as a breakaway group. Marsh could not risk that Bussman, as a rebel with a cause, might endanger a bill that will further drive the best and brightest away from a career in public education. Heaven forbid that teachers should have a fast-track to tenure as a reward for hard work and low pay. And damn the fool who doesn't understand that public schools must be replaced by charter schools or private schools, benefiting from the millions pouring in under the Accountability Act.
No, no, this will never do. We cannot have independent thinking. And we must never have an evidence-oriented pragmatist who leads to real results for real children.
Sen. Ward's crime was to push for a vote on a 2 percent raise for public employees. This was seen as Ward's attempt to have senators on the record, opposing the meager wage increase. Ward was to be granted a stay of execution, if he would apologize. He did not, and they never followed through on their  threat to remove him as Chairman of Judiciary Committee.
These are just the latest examples of republicans waring within the ranks. No longer can they blame liberal special interests, namely the AEA. And, they are finding it very difficult to blame President Obama for all our State's ills.
As failures mount, and good solutions seem to vanish like so many democrats after Hubbard and Marsh Stormed the State House in 2010.
People are beginning to realize these so-called conservatives have borrowed hundreds of millions of dollars over the last few years, while deferring promised payments. They have raised taxes and are planning, even now, to raise the gas tax.
Job growth in the State is almost non-existent, even though people were promised, Jobs, Jobs, Jobs and better wages. Well, they are stagnant at best.
Even through the republican's vowed to clean up Montgomery, the leader of the House is under indictment with 23 felonies. Public corruption is rampant with more lawmaker's to be indicted in the near future.
Today, it requires little effort for Republican politicos to find their most dreaded foes… they need to look only over their shoulder.
Correction: Sen. Ward was threatened with expulsion from his position as head of the judiciary committee, but the threat was never acted on.
Opinion | Hubbard did the crime; he should do the time
Hubbard may not be a violent offender but his actions are a danger to society and a threat to the public.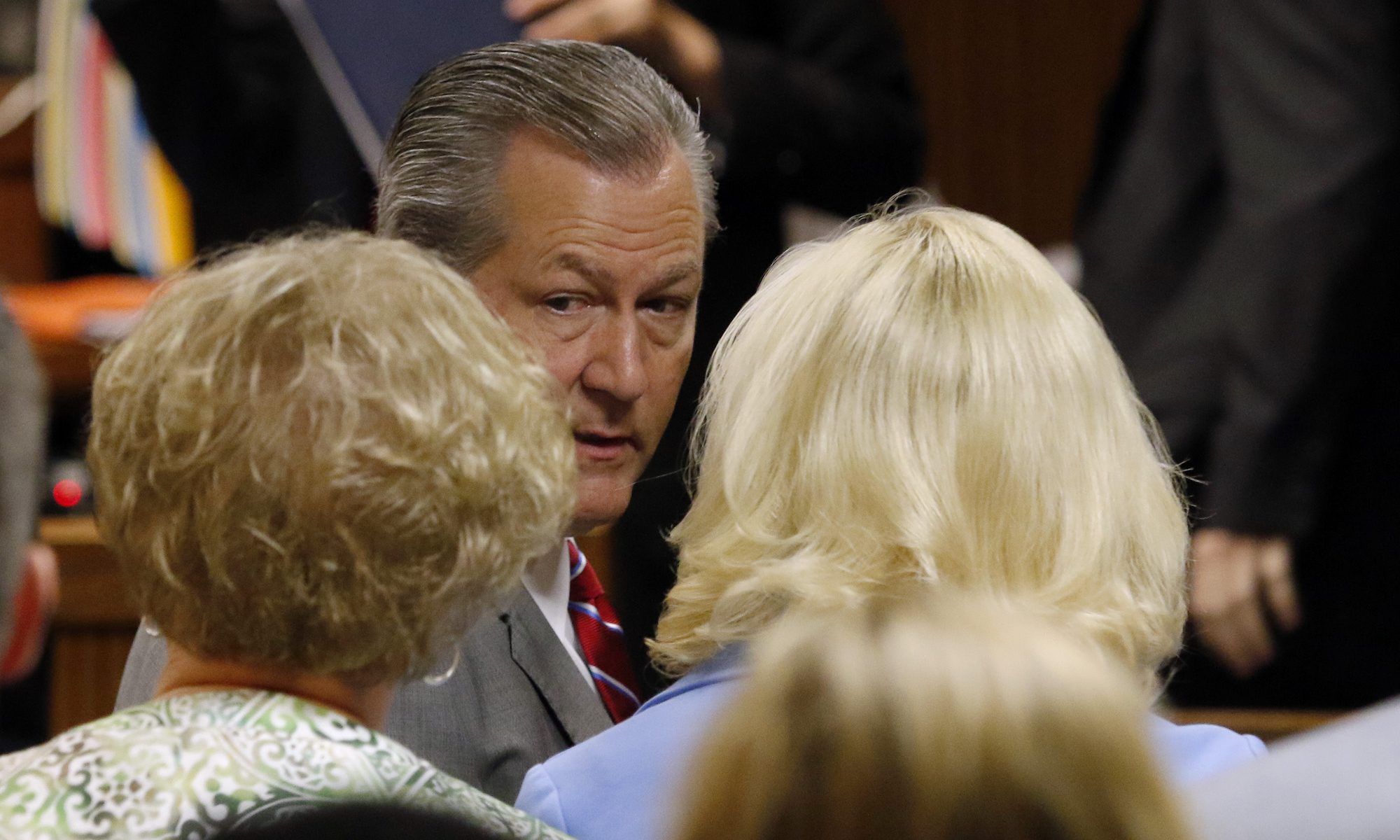 Attorneys for convicted felon, former Speaker of the House Mike Hubbard, believe he has suffered enough, and his sentence should be reduced because six of the charges against him were overturned on appeal.
The remaining six counts against Hubbard call for a prison term of four years, 16 years probation, and substantial fines independent of the charges the upper courts set aside. Therefore, there exist no reasonable grounds under which trial Judge Jacob Walker III should lessen Hubbard's sentence.
This action on Hubbard's behalf is simply another attempt to subvert justice.
A Lee County jury found Hubbard guilty of twelve counts of public corruption, most notably using his office for personal gain and using state resources and personnel to enrich himself—and those counts still stand.
The Court of Criminal Appeals rejected Count 5, and the Alabama Supreme Court struck down another five, which primarily dealt with the charges surrounding "principals."
The upper-court's finding appears more political than judicial, but most people in the state are used to jurists who bend the law for the rich and politically connected.
Of the remaining charges against Hubbard, five carry a ten-year spit sentence of two years in prison and eight years probation, and one count has a six-year split sentence with 18 months in jail with the remainder served on probation.
Why would Judge Walker reverse his judgment since the appeals process left in place the charges that carry the very sentence he imposed?
Does Judge Walker think he erred in his sentencing? Does he now, in retrospect, believe he was unfair as Hubbard's lawyers contend?
Hubbard's appeal is merely more subterfuge and trickery disguised as a legal argument.
Astonishingly, in their latest filing, lawyers, David McKnight and Joel Dillard, assert that Hubbard is not "a danger to society, nor a threat to the public" as a reason to let him out of prison.
Hubbard may not be a violent offender but his actions are a danger to society and a threat to the public.
Prison is not only for brutal inmates it is also for those who break a certain class of laws. Because a felon wears a thousand dollar suit doesn't mean they deserve less jail time.
Hubbard's crimes are some of the most heinous perpetrated against civil society.
Public corruption undermines the rule of law and the principles of good government and is an offense more potent than property theft, drug use, or other nonviolent crimes because it rips apart the very fabric of society and its trust in the foundations of the republic.
A corrupt politician's actions subvert the very meaning of representative government.
Hubbard is not now a danger to society, or a threat to the public because he is behind bars. But make no mistake he is a menace to public good. Even before his indictment, Hubbard used every scheme at his disposal to thwart justice, entice lying and manipulate public trust. And now he wants one more shot at corrupting the system.
There are only two occasions when every individual should expect equal treatment: when they stand before a court of law and when they stand before their maker. Yes, a wealthy defendant like Hubbard can afford better legal representation, but it doesn't mean he can purchase special justice.
Hubbard has been given preferential treatment by lawmakers, the media, and even some on the courts. All along the way, Hubbard was handled with kid gloves and given unwarranted privilege.
McKnight and Dillard argue with a straight face that letting Hubbard out of prison early will, "Preserve scarce prison bed-space for habitual offenders and others from whom society needs protection… [and] more likely result in the defendant's rehabilitation than incarceration."
The word rehabilitation is used several times in Hubbard's most recent court filings as if somehow allowing him to avoid prison time will serve to rehabilitate him. To this day, Hubbard doesn't believe he's committed a crime, so how is rehabilitation possible?
His attorneys lastly make the most laughable argument possible by indicating Hubbard has suffered enough.
"[The] Court should consider the punishment that Hubbard has already suffered. The convictions in this case alone have resulted in a wide range of punishments which include his removal from office, the loss of his right to vote, the divestment of his business interests, and his current incarceration."
Suffered enough?
When lawmakers break ethics laws, it upends society because it shatters trust while nullifying the social contract that binds us together in peace and safety.
State ethics laws are an attempt to force the government to rule themselves honestly.
Hubbard ignored the very ethics laws he championed and would do it all again.
He deserves punishment for his unlawful acts, and his prison sentence should stand as a reminder to others that justice doesn't play favorites.
Hubbard did the crime, and he should serve the time.