Hubbard Trial Day Seven: Only The Jury Knows

By Bill Britt
Alabama Political Reporter
OPELIKA—On Day seven of the Speaker Mike Hubbard criminal public corruption trail, we heard testimony from Bobby Abrams, Rob Burton, and Jimmy Rane.
Abrams, who owns the company Capitol Cups, paid Hubbard $10,000 a month ostensibly to sell cups. Abrams admitted that if Hubbard had secured the letter for his patent in a timely fashion, it would have saved him millions of dollars. And while Hubbard was successful in moving the process forward, it was too little-too late; but he really appreciated his help. It was evident that Hubbard would not have had any success if he were not Speaker of the House.
Up next was Tina Belfance, general manager for Capitol Cups. She testified that even though Abrams had contracted with Hubbard on October 1, 2012, for $10,000 per month, it wasn't until late November that she met with him to discuss the project: "almost two months later." She said that at their initial meeting, he offered to give her Chick-fil-A, Waffle House, and Publix buyer's contacts, but he only provided the contact information, and no further assistance with Waffle House or Publix. She did admit to the Prosecution that she was "the woman" at the Chick-fil-A meeting, which was how Josh Blades described her in earlier testimony, when he said the Speaker dropped by for a meeting with his client while on business for the State. Belfance testified that Hubbard had given her "valuable" contacts, although she has yet to sell any products to any of the companies. An email from Hubbard to Belfance was presented as evidence, where Hubbard stated he was in Scotland at a legislative conference, and had contacted a senator from Georgia who might be of help with Waffle House.
In an email to Clayton Hollis and Michael Mitchell of Publix, Hubbard stated that he was contacting them on behalf of a company in his district while not revealing Capitol Cups as his client. In the last line of the email Hubbard writes, it would "mean a great deal to me if such a meeting could be arranged." The signature line read Mike Hubbard, Speaker of the House.
On the witness stand Jimmy Rane came across as Hubbard's true friend, which definitely helped the defense. His folksy style and colorfully personality was fully on display. as he talked about the fresh-faced kid who helped Bo Jackson win the Heisman Tropy. The Yella Fella said his $150,000 investment in Hubbard's failing business was an act of friendship, but he also admitted he was a principal who hired lobbyists. State Ethics Laws clearly state a principal or a lobbyist cannot ask for or give a thing of value to a public official. He testified that he didn't know that Hubbard was getting paid $12,000 a month from the Southeaster Alabama Gas District (SEAGD) when he helped Rane try to revive an Abbeville manufacturing plant at Rane's request. And he acknowledged that Hubbard and others helped him sell his former alma mater, Marion Military Institute, to the State. Hubbard's defense lawyer, Bill Baxley, made plenty of hay out of how Hubbard and Rane were all about creating jobs that would help the folks and the children. As one court observer snidely remarked, "It always about the children, you know." All in all, Rane has been the most effective defense witness.
Rob Burton, President of the titan, Hoar Construction, was a far less credible witness. He didn't seem to know much about his own business, who did what, and even if he believed that he, himself, the head of the company and business manager, was actually the principal. He said the company hired lobbyists, but that was for business development. When shown State records showing Dax Sawtek and his firm SHR were his lobbyists, he said they didn't lobby in the State House on his company's behalf.
Burton testified that he made a $150,000 investment in Hubbard's troubled printing business because he was a friend. Under direct examination, Lead Prosecutor Matt Hart asked about the friendship. He told Hart, he and Hubbard attended football games together and that Hubbard had invited him and his son to a game where they toured the sideline and press box. When pressed on the issues, Burton acknowledged that both he and Hubbard held season tickets to Auburn games, and that only once had Hubbard given them any special treatment at a game; and that was around 2003. Burton also said he and Hubbard would often go to functions together. Again, when pressured by Hart, he confessed that these were mostly political events and fundraisers he attended because he was a republican like Hubbard.
He later said after Hubbard had pitched him on the investment, he called his old High School friend, Will Brooke. Brooke is the investment banker who drafted Hubbard's turn around plan, and had himself invested $150,000. Burton said he wanted Brooke's assurance that it was a good investment. Brooke assured him it was.
How good a day was it for Hubbard? Only the jury knows.
The testimonies of Josh Blades, Jim Sumner, and Dax Sawtek appeared to crucify him.
But, it only matters if the 12 individuals sitting in judgement believe them.
Print this piece
Jones criticized for voting to limit Trump's war powers authority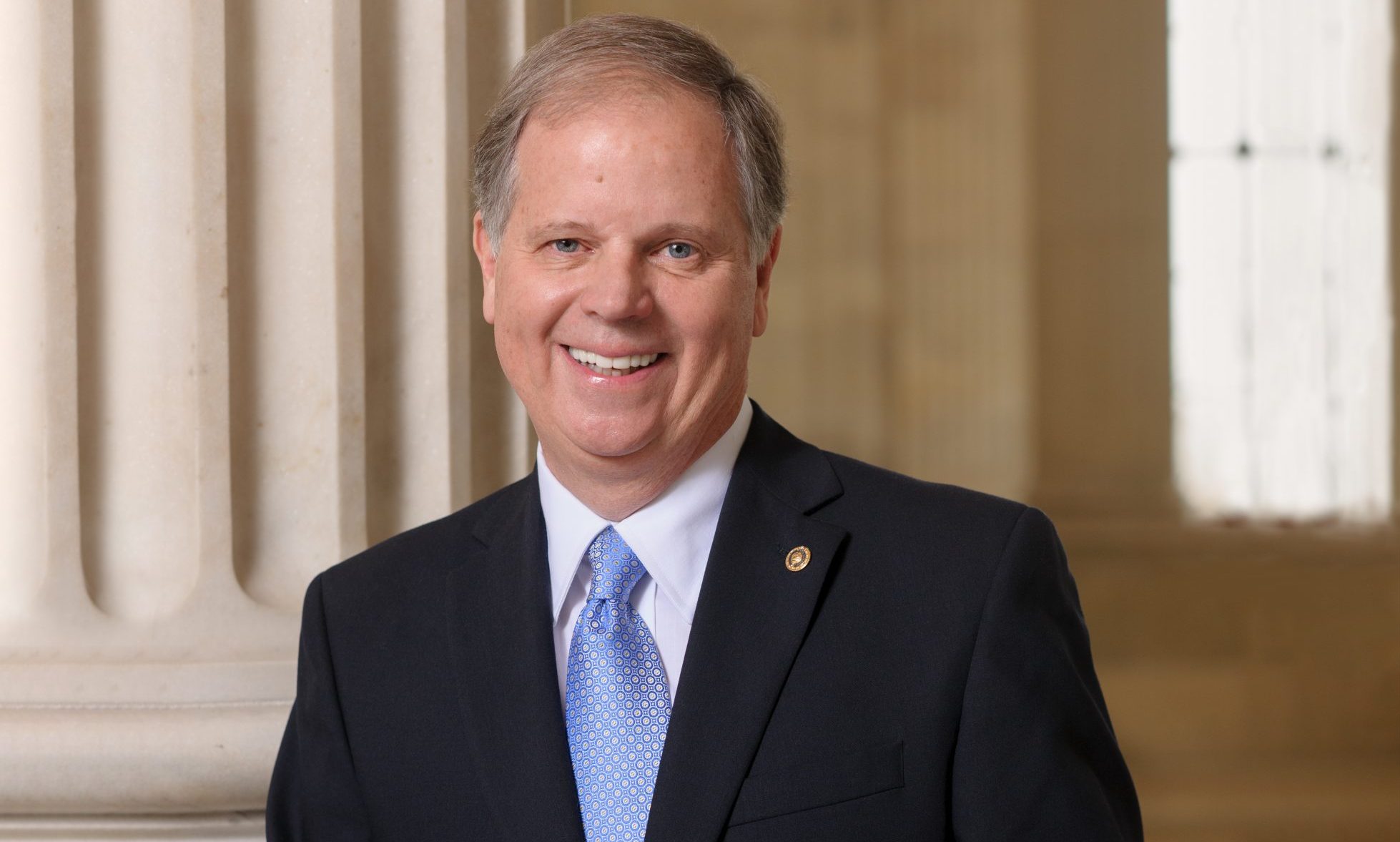 Thursday, U.S. Senator Doug Jones (D-Alabama) voted in favor of S.J.Res.68, a resolution which directs the removal of United States military from hostilities against the Islamic Republic of Iran that have not been authorized by Congress. Jones has been criticized by Republicans for voting to limit President Donald J. Trump's war powers on Iran.
"Before a President can lead us into war, he or she must first earn the support of the American people and also fulfill their solemn constitutional obligation to seek approval from Congress," Sen. Jones said in a statement. "While the President has the power to protect Americans in the case of an imminent attack, that authority does not extend to committing our service members to long-term hostilities unilaterally. This resolution sends a strong message that we will follow the Constitution and we will not send our troops into harm's way without the serious consideration and consent of the Congress."
Trump Victory National Finance Committee member Perry O. Hooper Jr. released a statement in response.
"Senator Jones once again turned his back on Alabama and voted as the leftwing Democrats commanded. He has no regard for the values, opinions or views of Alabamians," Hooper said. "He sees us as deplorables just like the elites of the Democratic party who have funded 80 percent of his doomed campaign for re-election.:
Hooper stated, "I whole heartily support the President who stated 'We are doing very well with Iran and this is not the time to show weakness… If my hands were tied, Iran would have a field day. Sends a very bad signal. The Democrats are only doing this as an attempt to embarrass the Republican Party.'"
"The Commander-in-chief must be free to work with his staff and his military leaders to conduct covert operations like the one that eliminated Iran's terrorist-in-chief General Soleimani," Hooper added. "You can't micromanage the war on terrorism. The Democrats in Congress are so filled with Trump Derangement Syndrome that no matter how much it would benefit our country and the world; they would never give Trump a "victory". If it came down to it, they would leak everything to the media no matter what the consequences."
Senator Jones is a cosponsor of the legislation and a member of the Senate Armed Services Committee. Eight moderate Republicans voted with the Democrats on the resolution.
Senator Jones has also been criticized by Republicans for his comments that he was "appalled" by Pres. Trump's actions following his acquittal on both Articles of Impeachment.
"Newsflash for Senator Doug Jones: Most Alabamians have been appalled by his actions his entire time in office," former Attorney General Jeff Sessions said. "It's about time we send Doug home, and replace him with someone who understands our values. Alabamians deserve a Senator they can be proud of again."
Sessions is a candidate for the Republican nomination for Jones' Senate seat.
The Republican primary will be on March 3.
Print this piece