It's Past Time to Lift Cuban Economic, Travel Embargo

By Joey Kennedy
Alabama Political Reporter
Ironic, isn't it, that Republican officials in Alabama are now lobbying for lifting the economic and travel embargo on Cuba?
The Republican-controlled U.S. Congress has thus far refused to do so, despite growing calls for the country to ditch the failed policy.
Still, good for those state leaders who launched the Engage Cuba Alabama State Council in Mobile on Tuesday.
To continue the embargo and travel restrictions is crazy. Americans can travel to North Korea and Vietnam. They regularly travel to communist China. We have robust trade with China and Vietnam.
But we continue the wrongheaded isolation of Cuba, which is about 90 miles off the southern Florida coast.
In a word: Crazy.
I've traveled to Cuba 12 times as a journalist, the most recent time in 2013. More than 50 years of embargo has done nothing to change Cuba's regime. The embargo only hurts the ordinary Cuban people, most of whom, by the way, love Americans.
They don't want to see unfettered capitalism that creates a few winners and many losers, but they do want to improve their lot. And they want to eat.
Fidel Castro was supposedly asked once what were the three greatest successes of socialism: Education, medicine and athletics, El Jefe responded. When asked about the three greatest failures, Castro responded: Breakfast, lunch and dinner.
Maybe Castro never said that, but it's the truth. Cuba is a country with much higher literacy rates than the United States.
Cuban medicine, while lacking some of the technology we take for granted here, is strong. Indeed, after Hurricane Katrina devastated the Gulf Coast in 2005, Castro offered to send 100 disaster doctors to help with the recovery. President George W. Bush turned Castro down.
And, of course, Cuban athletes, from boxers to baseball players are among the world's best.
In my trips to Cuba, I stayed away from politics as much as possible. I traveled there most times with a team from Beaver Dam Baptist Church in Franklin, Va. We didn't go to evangelize bu
t, rather, to be mules: We hauled stuff Cubans had a hard time getting because of the embargo – medicines, glasses, sometimes clothes, car parts.
And contrary to some myths, Cubans of faith are allowed to practice their religions openly. It wasn't always that way, but since the last 1980s, Cuban churches and synagogues – from Catholic to Baptist to Presbyterian to Jewish. Just about every faith is represented. A Mosque is under construction, and Muslims meet in specially designated prayer rooms.
We also traveled across the island freely, without being harassed by government or police. And I always had my passport stamped at immigration, because I wasn't going to hide my trips. Beaver Dam Baptist Church had a U.S. Treasury license to travel to Cuba; journalists are exempt from the travel ban.
The opportunity open for Alabama, from shipping, agriculture and tourism, is huge. We're strategically located close to Cuba and we have, in the past under humanitarian exceptions to the embargo, shipped everything from poultry to telephone poles to the island. But Bush refused to allow companies to extend credit to Cuba, so much of the exports dried up.
Demands by Republicans that the Cuban government must change before the embargo is lifted are hypocritical. We freely trade with other foreign governments who are socialist or have serious human rights issues. Again, China and Vietnam come to mind.
Cuba is a beautiful country, and Havana is one of the great cities. No doubt the island would be a tourist magnet.
But the United States' stubborn pride is in the way.
It's way past time for the United States to stop that arrogance. The Cuban people are resourceful and smart. Over the past few years, the Cuban government has allowed ordinary Cubans to start their own businesses. They can buy and sell property on a limited basis.
On one of our trips to Cuba, Beaver Dam Baptist Church actually bought a small farm for a church in Pinar del Rio.
The U.S. government shouldn't be telling Alabama businesses and tourists where they can trade and travel.
Congratulations to the officials who are encouraging Congress to lift the embargo. Best of luck to them. There are many products produced in Alabama that the Cubans can use.
Lifting the embargo is a win-win for both the United States and Cuba. Let's do it.
Joey Kennedy, a Pulitzer Prize winner, writes a column every week for Alabama Political Reporter. Email: [email protected]
Opinion | Counting on good Neighbors
Even though Neighbors is likely a long shot, he's at least got a shot. The people of District 4 need to vote in their best interest this year, not to help Aderholt get richer off the taxpayers' hard-earned money.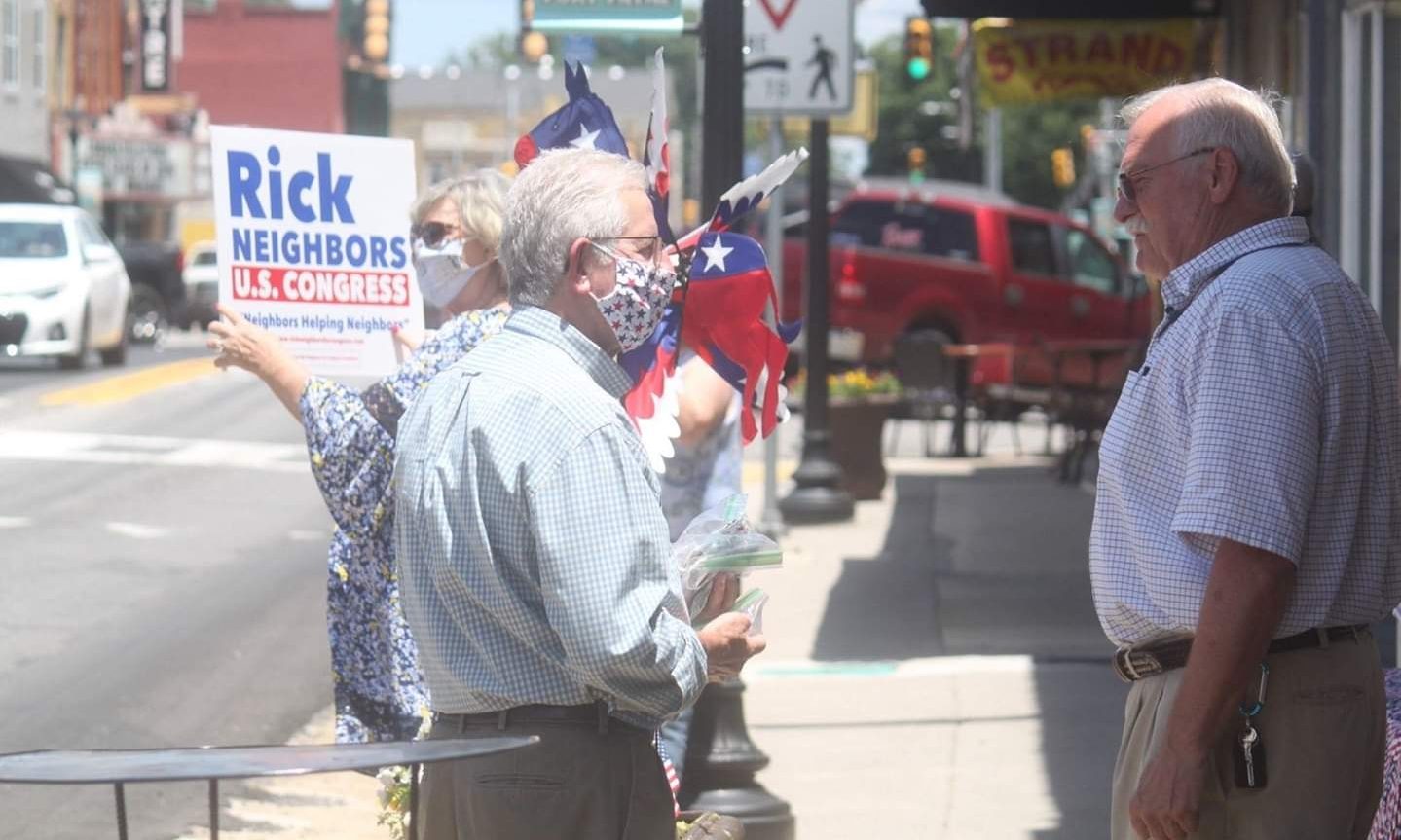 There's a lot of reasons we know it's an election year — political ads on television, presidential debates, Donald Trump super-spreader campaign rallies.
Editor's note
This is an opinion column and represents the opinion of its author. The Alabama Political Reporter does not endorse political candidates.
Oh, and Republican U.S. Rep. Robert Aderholt is back in his congressional district. Every couple years, Aderholt shows up. So he can "appear" connected to Alabama's 4th Congressional District.
The 4th Congressional District starts just north of Birmingham and stretches horizontally across the state. The district includes Colbert, Cullman, DeKalb, Etowah, Fayette, Franklin, Lamar, Lawrence, Marion, Marshall, Walker and Winston counties as well as parts of Blount, Cherokee, Jackson and Tuscaloosa counties.
Aderholt pops in for a few campaign events, and then pops out to his real residence in suburban Washington D.C. He's no more an Alabamian than Florida's Tommy Tuberville.
Aderholt does have opposition this year in Democratic nominee Rick Neighbors, a Vietnam veteran who truly helps his neighbors. Early in the pandemic, Neighbors was passing out masks door-to-door in the district. He's continued to help his neighbors throughout the pandemic with anything he can do.
"Being in Congress means being here and working with the people," Neighbors says on his website. "In 24 years, Rob Aderholt has left us behind to focus on his radical agenda and gotten rich in Congress."
That's from a campaign website, but it's absolutely true. Aderholt is still talking about expanding broadband access in his rural district. It's one of the few issues he talks about every two years, for 24 years, without ever getting anything done.
Seriously. Name something Aderholt has done for his district or Alabama in the more than two decades he's been in Congress. I won't hold my breath.
And if you don't think Neighbors's campaign isn't a little worrisome for Aderholt supporters, why are all the Neighbors signs disappearing from his district?
Adults, acting like sixth-graders, love to pull up political signs. Even in my comfortably Democratic neighborhood, some Doug Jones for Senate signs disappear. And, oddly in my neighborhood, I saw an actual Tommy Tuberville sign that had been pulled down in front of some misplaced person's yard. It happens on both sides.
But in the 4th Congressional District, and especially in the Cullman County area, it's hard for Neighbors and his staff to keep signs in place.
"Cullman has come down, and we have had to replace almost all our signs in Winston County," said Neighbors's campaign manager Lisa Ward. As for Winston County, Ward said, "we were told those are gone again."
Can anybody be more junior high?
"We've seen places where our sign was, and it's been replaced by Aderholt signs," Ward said. "When we put signs out, we leave his and put ours next to his. We joke and say everyone needs friendly neighbors around."
The Neighbors campaign does have the right spirit. They just work to replace the signs that disappear. But it is aggravating, to say the least.
"Someone told us that Aderholt is really worried if people find out he has an opponent or doesn't live here he could struggle," said Ward. "That's why he's not mentioning (Neighbors's) campaign. And why we think they're taking his signs down. So people don't know. It's really about people not getting a chance to know they have a choice. And there is no time to hear who he is."
Well, here's who he is: Neighbors served three tours in Vietnam during that war, enlisting when he was 17 years old. After the service, he got a college degree, then spent 35 years in the apparel business in North Alabama.
Neighbors and his wife, Judy, have three children, and Neighbors recently earned an MBA from the University of North Alabama.
Neighbors would be a breath of fresh air for Alabama in Washington. He won't live there. He'll be grounded in the 4th Congressional District.
If Aderholt wins, we won't see him again until 2022. Twenty-four years in Congress is plenty of time to get something done. But with Aderholt, there's not much to show for all that time.
And even though Neighbors is likely a long shot, he's at least got a shot. The people of the 4th District need to vote in their best interest this year, not to help Aderholt get richer off the taxpayers' hard-earned money.