Rogers Looking to Protect the Homeland

By Brandon Moseley
Alabama Political Reporter
On Friday, US Representative Mike Rogers (R-Saks) emailed residents of the Third District with his thoughts about the growing threat from ISIS-inspired terror attacks in our country.
Congressman Rogers wrote, "Here in the United States, this past weekend, the Chelsea neighborhood in New York City was rattled by a bomb that sent 29 people to the hospital and undetonated bombs were found by a train stop in New Jersey."
Rep. Rogers continued, "A young adult of Afghan descent was arrested for this terrorist act as of writing. He was captured carrying a journal praising Osama bin Laden and fantasizing about Jihad. It is unclear how his travels to Afghanistan and Pakistan went unnoticed by intelligence and law enforcement officials."
Rep. Rogers warned that, "Across the globe, there is unrest in Syria, a continued situation in Ukraine and Kim Jong-un in North Korea testing both nuclear weapons and his neighbors."
Rogers said that as a senior member of the House Homeland Security Committee, he attended a full committee hearing this week titled, "Stopping the Next Attack: How to Keep Our City Streets from Becoming the Battleground."
There Rogers asked state and local law enforcement officers what tools they need to combat the rise of home-grown radical Islamic terrorists.
Sen. Jeff Sessions (R-Alabama) is also concerned about domestic terrorism coming from the nation's growing Muslim community. Sessions said recently, "The Director of the FBI has testified that he cannot certify that every refugee admitted to the United States is not a security threat, and recently compared the FBI's anti-terrorism mission to 'looking for needles in a nationwide haystack' while also figuring out 'which pieces of hay might someday become needles.' Regardless, President Obama and his Administration are now pushing their extreme policies even further by stubbornly placing the requests of the United Nations above the safety of the American people by surging refugee admissions to 110,000."
In addition to the bomb attacks in New York by the Afghan terrorist, a Somali born man attacked several people with a knife in a mall in Minnesota that same weekend and a 20-year-old Turkish immigrant killed five people with a rifle in a mall in Burlington, Washington Friday night. The Somali was gunned down at the scene by an off duty police officer. The other two suspects were captured by law enforcement.
Congressman Rogers is the Chairman of the House Armed Services Committee (HASC) Strategic Forces subcommittee and is a conferee for the 55th consecutive NDAA (National Defense Authorization Act). Congressman Rogers said, "We've been working through differences in the House and Senate-passed versions over the past few weeks. It has become abundantly clear that now more than ever we must ensure our men and women in uniform have all of the tools needed to combat the variety of threats we as a country face from the brutal, but sophisticated ISIS to the next generation threats of China and Russia."
Rep. Rogers said, "Our warfighters must be focused on these fights, not the budget fights in Washington. As a member of the conference committee I'm doing everything I can to make sure they have those resources. I will always put the needs of our brave service members first."
Speaker of the House Paul Ryan (R-Wisconsin) said when the NDAA passed the House, "We need to build a 21st century military capable of confronting the evolving threats we face. However, gaping equipment and funding shortfalls are endangering our troops and making it harder for them to execute their missions. The NDAA will help close this readiness gap by modernizing and fully funding our forces. I hope the Senate will join us in passing this bill and sending it to the president's desk."
Congressman Mike Rogers represents Alabama's Third Congressional District.
Print this piece
Jones criticized for voting to limit Trump's war powers authority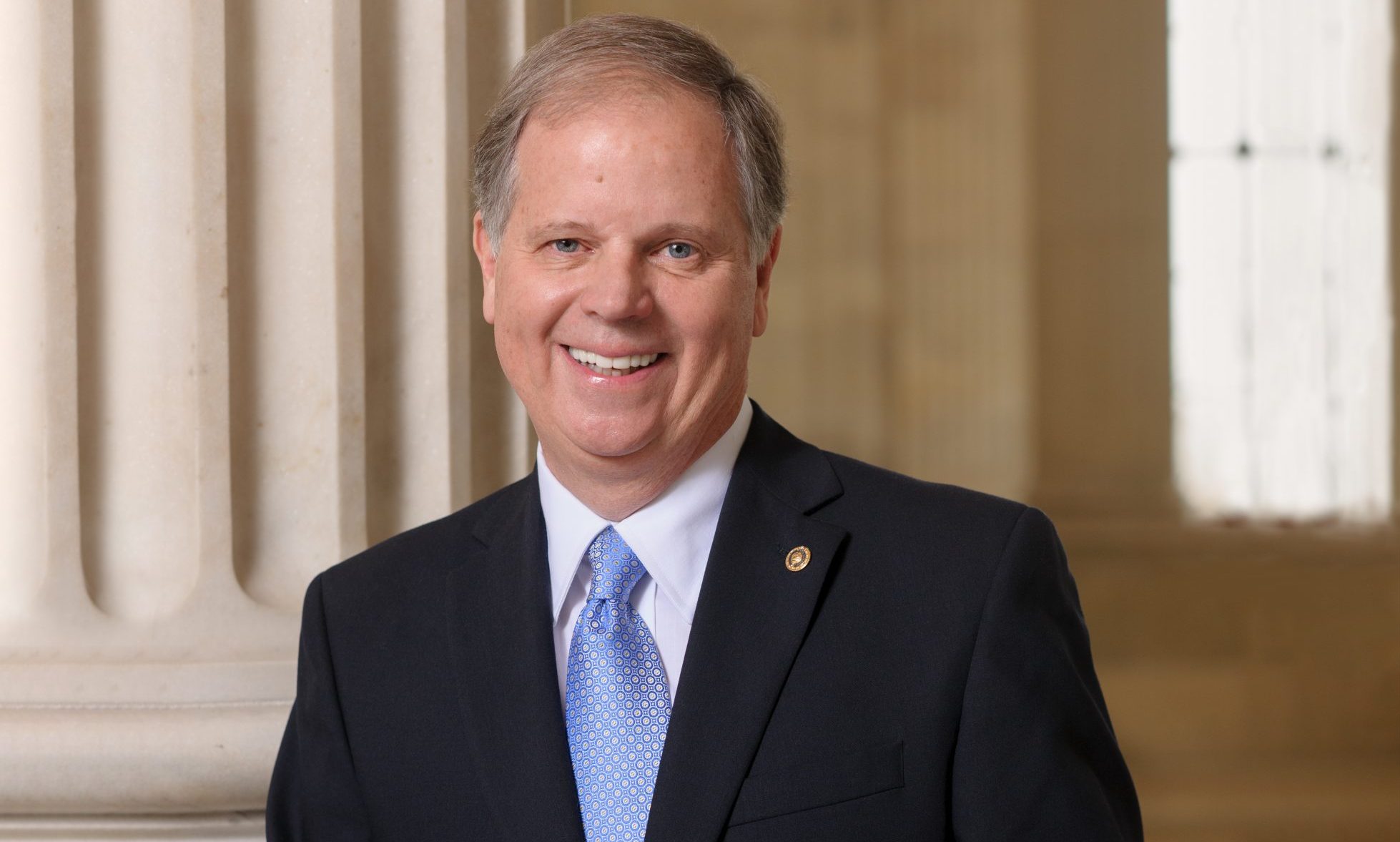 Thursday, U.S. Senator Doug Jones (D-Alabama) voted in favor of S.J.Res.68, a resolution which directs the removal of United States military from hostilities against the Islamic Republic of Iran that have not been authorized by Congress. Jones have been criticized by Republicans for voting to limit President Donald J. Trump's war powers on Iran.
"Before a President can lead us into war, he or she must first earn the support of the American people and also fulfill their solemn constitutional obligation to seek approval from Congress," Sen. Jones said in a statement. "While the President has the power to protect Americans in the case of an imminent attack, that authority does not extend to committing our service members to long-term hostilities unilaterally. This resolution sends a strong message that we will follow the Constitution and we will not send our troops into harm's way without the serious consideration and consent of the Congress."
Trump Victory National Finance Committee member Perry O. Hooper Jr. released a statement in response.
"Senator Jones once again turned his back on Alabama and voted as the leftwing Democrats commanded. He has no regard for the values, opinions or views of Alabamians," Hooper said. "He sees us as deplorables just like the elites of the Democratic party who have funded 80 percent of his doomed campaign for re-election.:
Hooper stated, "I whole heartily support the President who stated 'We are doing very well with Iran and this is not the time to show weakness… If my hands were tied, Iran would have a field day. Sends a very bad signal. The Democrats are only doing this as an attempt to embarrass the Republican Party.'"
"The Commander-in-chief must be free to work with his staff and his military leaders to conduct covert operations like the one that eliminated Iran's terrorist-in-chief General Soleimani," Hooper added. "You can't micromanage the war on terrorism. The Democrats in Congress are so filled with Trump Derangement Syndrome that no matter how much it would benefit our country and the world; they would never give Trump a "victory". If it came down to it, they would leak everything to the media no matter what the consequences."
Senator Jones is a cosponsor of the legislation and a member of the Senate Armed Services Committee. Eight moderate Republicans voted with the Democrats on the resolution.
Senator Jones has also been criticized by Republicans for his comments that he was "appalled" by Pres. Trump's actions following his acquittal on both Articles of Impeachment.
"Newsflash for Senator Doug Jones: Most Alabamians have been appalled by his actions his entire time in office," former Attorney General Jeff Sessions said. "It's about time we send Doug home, and replace him with someone who understands our values. Alabamians deserve a Senator they can be proud of again."
Sessions is a candidate for the Republican nomination for Jones' Senate seat.
The Republican primary will be on March 3.
Print this piece