Trump's Support Trending Downward, "Rigged Election" Claims Tick Upwards

By Bill Britt
Alabama Political Reporter
A new POLITICO/Morning Consult poll finds a large percentage of voters are expressing concerns that their vote will not be accurately counted on November 8. Pairing the "vote-rigging" accusation with Donald Trump's falling numbers reveal how this election is trending toward a greater polarization of the American electorate.
Polling conducted from Oct. 13-15 surveyed 1,737 likely voters and 1,999 registered voters with a margin of error of plus or minus three and two percentage points, respectively found 81 percent of Trump supporters believe the election could be "stolen" from Trump as a result of widespread voter fraud.
On Monday, Trump took to Twitter to lash out at Republicans, including House Speaker Paul Ryan, who have not embraced his message of a rigged election. In an early morning tweet Trump wrote, "Of course there is large scale voter fraud happening on and before election day. Why do Republican leaders deny what is going on? So naive!"
Ryan, who Trump is now calling a "loser," pushed back against claims of a stolen election as have other prominent GOP leaders. However, Trump's supporters are standing with their man.
The latest survey finds on the claims of a "rigged election" 48 percent of Trump supporters said they were "not too" or "not at all" confident that voting across the country will be accurately counted on Election Day, compared to 13 percent of Hillary Clinton supporters.
Voters across all political parties believe the media is biased towards Clinton with 44 percent saying the media is biased in trying to help elect Hillary Clinton, including 72 percent of Republicans, 43 percent of Independents, and 22 percent of Democrats.
In contrast, only 11 percent of Democrats, 7 percent of Republicans and 6 percent of Independents believe the media is biased in trying to elect Trump.
One-third of all voters surveyed believe polling results are also biased toward Clinton with 60 percent of Republicans, 29 percent of Independents, and 15 percent of Democrats agreeing the polls are unfairly favorable to the Democrat nominee.
There is great concern that the Russian government is playing a hand in the 2016 election with 39 percent of all voters saying Russia has influenced or tried to influence the 2016 election. While 29 percent believe they have not, 32 percent didn't know. Democrats were more likely to believe Russian (50 percent) compared to 32 percent of Republicans.
With just weeks left until the election, pollsters are working overtime to examine a political season unlike any other.
POLITICO/Morning Consult polls are seeking to mine the mood of voters leading up to Election Day.
Full results can be seen here.
Trump Truck and boat parades this weekend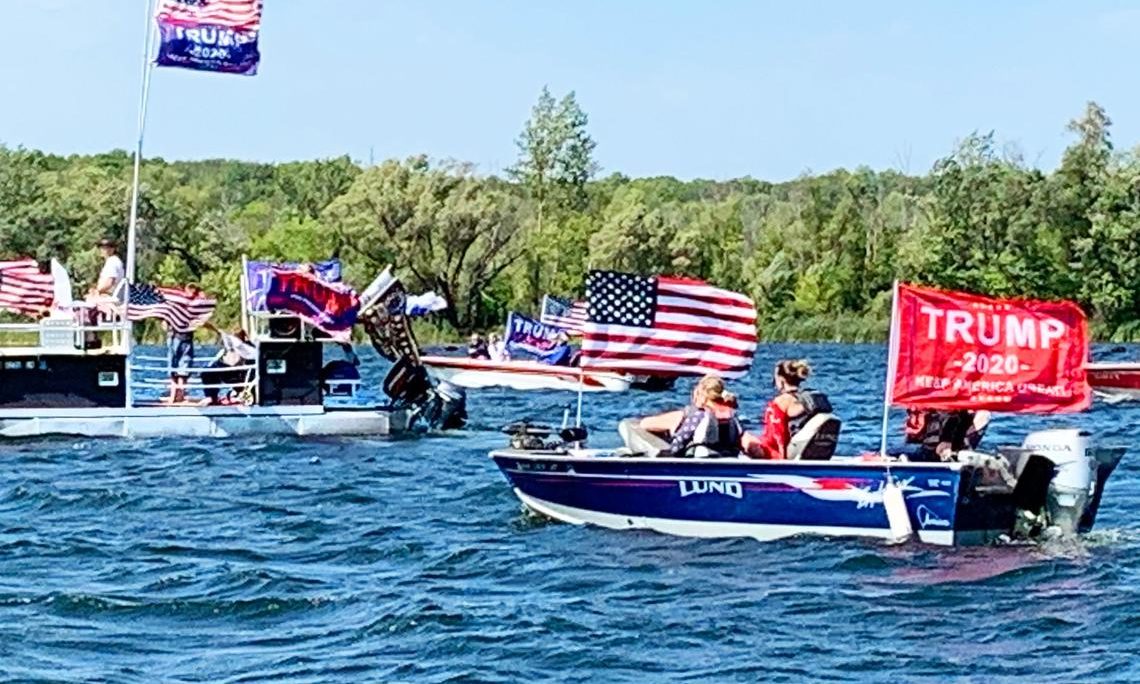 As Election Day draws near, Alabama Republicans are excited about promoting the re-election of Donald J. Trump as President and the election of Tommy Tuberville for U.S. Senate. This weekend two pro-President Trump events are happening in the state. There will be a truck parade from Ashland to Phenix City on Saturday sponsored by the Clay County Republican Party, while there will also be a boat parade on Wilson Lake in the Shoals sponsored by the Colbert County Republican Party on Sunday.
The pickup trucks will assemble at the Ashland Industrial Park in Clay County, 8240 Hwy 9, Ashland. There is a pre-departure rally at 10:00 a.m. central standard time. The trucks will depart at 11:00 a.m. and then proceed on a parade route that will take them into the bitterly contested swing state of Georgia. The Trump Pickup Parade will wind through east Alabama and West Georgia traveling through LaGrange and Columbus before concluding near the Alabama/Georgia line in Phenix City, 332 Woodland Drive, Phenix City at approximately 2:00 p.m. central time. Speakers will begin at 3:00. Trump flags will be on sale at the event.
The Phenix Motorsports Park will be hosting what sponsor hope could possibly the world's largest Pickup Tuck parade in U.S. history that is routing over 50 mile through Georgia in effort to "pickup" President Trump's numbers in GA.
A number dignitaries have been invited to address the Phenix City rally, including Coach Tuberville. Former State Sen. Shadrack McGill, Trump Victory Finance Committee member former State Rep. Perry O. Hooper Jr., and Paul Wellborn, the President and CEO of the largest Family owned Kitchen Cabinet manufacture in the USA are among the featured speakers who have committed to speak at the event.
Entertainment will be provided by: Charity Bowden, an up and coming country music singer who was the runner up on "The Voice". Charity will sing 'I am Proud to be an American' as well as songs from her Voice performances. The McGill Girls will also perform. The three beautiful and talented sisters will be singing patriotic songs in three part harmony. Geoff Carlisle, a professional DJ will be keeping the crowd pumped with music and entertainment.
Following the speakers and the entertainment there will Trump truck-vs- Joe Bidden truck races down the drag strip for the finale.
The Northwest Alabama boat parade will be on Sunday. The boats will gather at 2:00 p.m. near Turtle Point and then the flotilla will parade around the open waters of Wilson Lake til 3_00 p.m.. There will be a contest for best decorated Trump boats.
Trump supporters have held a number of large boat parades across the state to show their support for the re-election of Pres. Trump.
Boat parade sponsors say that this parade will be: pro-American, pro-law enforcement, pro-military.