"Dumpsterfire" of the Vanities Alabama-Style

By Bill Britt
Alabama Political Reporter
We often hear, "why don't you report on all the good things lawmakers are doing in the State?"
We do try, but with incompetence raging like a rampant black plague of stupidity, and illegal and legal corruption stories breaking every other day like a stampeding herd of rabid goats, there is little time to focus on good works.
The Governor's ineptitude and lack of moral grounding will most likely result in his criminal indictment. Moreover, his failure as a leader has led to massive wasteful spending on technology that doesn't work and will take millions more to fix.
"The House of Bentley" is out of control, and the foggy-stench emanating from the Capitol threatens to suffocate any well-meaning effort coming from across Union Street.
A "Bonfire of the Vanities" is needed to cleanse these sins of omission and commission, but in Alabama, the vanities of excess leaves us struggling even to rent a roll-off dumpster.
In many respects, political reporting is a bonfire upon which the excesses of the political class are scorched on timbers of facts. The founders of our Republic understood the necessity of checks on government by an outside interest. This is why freedom of the press is enshrined in our constitution.
Politicos of every stripe loathe journalists who dare expose their corruption or incompetence. This is not because of some media bias, but because politicians often live in a land of make-believe where they are special and above petty criticism of working reporters.
On a national level, it would be difficult to say which presidential candidate hates the media worse: Hillary Clinton or Donald Trump. At a recent Trump rally, a supporter wore a t-shirt that called for lynching journalists. "Rope. Tree. Journalist," the shirt read. "Some assembly required." The shirts message went viral in mere minutes, as you might expect.
Some might find the shirt's message offensive, especially given our State's history of "Strange Fruit" as sung about by Billie Holiday and others. Personally, I find it both troubling and grimly humorous.
Presidents and even local politicos love to blame the press for their failings, and so this Trump supporter like many others are accusing the media of bias against their guy. The Clinton campaign says the same.
So….what else is new?
The grim irony is that the rights and liberties of the young man in the t-shirt freely enjoys would have been stripped from him long ago if it were not for fearless journalists.
Journalists risk their lives and careers every day. Anger a top politico: you're out of a job. Make an advertiser squeamish: adios. Take a dangerous assignment or cross a bad guy and it can be all over but digging the grave.
According to the Committee to Protect Journalist (CPJ) in 2015, 50 Journalist were murdered, 17 were killed in crossfire / combat, five died on dangerous assignments for a total 72 with a motive for death confirmed. Since 1992 CPJ found 1216 journalists have been killed in the line of duty, so a lynching t-shirt is trivial in the border picture.
In our State, former Speaker and current convicted felon Mike Hubbard vilified this media outlet, even accusing me of being the Devil. He also once asked a lawmaker why I was trying to crucify him.
In a recent conversation, I learned that a lawmaker said, people should steer clear of The Alabama Political Reporter because we would write something "bad about them."
Really?
We only write bad things when people do bad things. Informing the public of a politician's idiocy or wrongdoing is our job. When there is an abundance of political malfeasance and simple-minded foolishness afoot in State government, there is no reason to write about much else.
There may come a time when we can report on good policy and sound procedure, but for now the criminal and brainless activities are keeping us occupied.
As I have told every politico in our State, who will listen, we are here to help, not harm. To do good, not evil. I am not the Devil, but I will give hell to any man or woman who tries to harm our State.
While the dumpster fire rages, we can do no less.
Who brought the marshmallows?
Opinion | Should Brooks be expelled from office?
"Like the president, Brooks has shown no remorse for inciting violence and has said he stands by his message."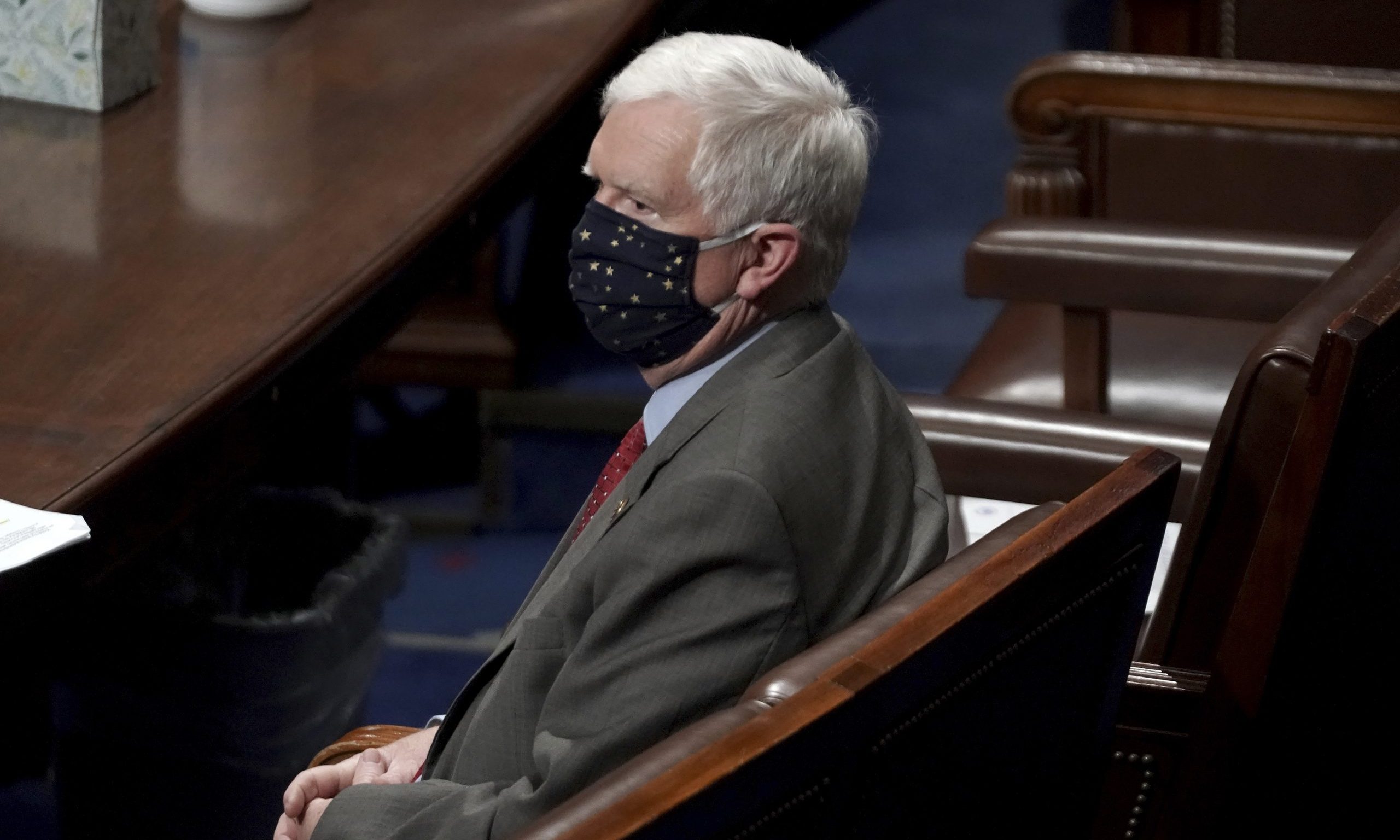 Each member of the U.S. Congress pledges a 14-word oath before taking office. It reads: "I do solemnly swear (or affirm) that I will support the Constitution of the United States." Alabama Republican Congressman Mo Brooks has failed to honor his words. He is now searching for excuses as to why he shouldn't be held accountable for abandoning his promise and betraying the Constitution.
Brooks is facing censure in the House and a resolution to have him expelled for his words and actions that led to a mob of rioters laying siege to the U.S. Capitol. Shouldn't there be greater punishment for a man who participated in what the Joint Chiefs of Staff call "sedition and insurrection?"
In a speech before a crowd of President Donald Trump supporters, Brooks incited violence against the United States of America. His words and those of Trump and others resulted in a frenzied mob ransacking the U.S. Capitol Building in an attempt to stop the certification of the Electoral College.
Six members of Alabama's congressional delegation joined Brooks in his move to steal the presidential election for Trump. Voters across the nation rejected Trump in favor of Democratic candidate Joe Biden. Still, Brooks, Robert Aderholt, Gary Palmer, Barry Moore, Jerry Carl, Mike Rogers and Sen. Tommy Tuberville voted against certifying the will of the people because they and many of their constituents didn't like the results.
Some representatives have privately said that they were following their constituents' will, but members of Congress do not swear an oath to those who vote for them but to the Constitution.
This is how the American Civil War began and why the Lost Cause remains romanticized in portions of the South.
Brooks is not backing down, texting AL.com's Paul Gattis, saying: "I make no apology for doing my absolute best to inspire patriotic Americans to not give up on our country and to fight back against anti-Christian socialists in the 2022 and 2024 elections."
Neither Trump nor Brooks is willing to accept losing the presidential election, which is beyond fantasy and more akin to constitutional heresy.
The United States system of government relies on members of Congress keeping their oath. Also, there is an unwritten rule that holds that the loser of an election acknowledges defeat.
In the book Losers' Consent: Elections and Democratic Legitimacy, the authors explain that "Democratic elections are designed to create unequal outcomes—for some to win, others have to lose." If a loser fails to acknowledge defeat, it undermines the Democratic process, making the nation eventually ungovernable because the minority forever sees the winner as illegitimate. The Constitution is clear about winners and losers and how elections are certified.
While no law says a person must concede an election, it has been a long-held tradition in the United States to ensure cohesion.
Even now, Brooks, like Trump, refuses to accept the outcome of the 2020 presidential election, citing baseless claims of voter fraud. This was the basis of his rallying cry on Jan. 6, when he called for an angry mob to start "Kicking ass," which led to a storming of the Capitol.
Trump, Brooks and others gathered a group and told them that the enemy was taking over their government and then pointed them to a specific target. That's what dictators and usurpers do.
Interestingly, the rioters who entered the Capitol Building largely spared statues and paintings. They did trash offices and steal. So, why take zip ties, poles, guns, and other weapons? Because the rioters did not intend on damaging the artifacts within the building, it was the people they were intent on harming.
The president and Brooks sent the mob to hunt the enemy who Brooks said were "Socialist Democrats," and "Republican congressmen and senators [who] love their bourbon, love their cigars, love their prestige, love their personal power, love their special interest group money more than they love America."
Brooks meant to inflame the Trump-rioters, which is apparent in his speech.
House GOP Conference Chair Liz Cheney, the third-ranking House Republican leader, said of Trump's role in encouraging the Capitol siege: "There has never been a greater betrayal by a president of the United States of his office and his oath to the Constitution. I will vote to impeach the president."
The House impeached Trump for a second time on Wednesday, charging him with inciting an insurrection. Ten Republicans voted to impeach Trump. It seems impossible that the same members of the House could excuse Brooks' part in the fateful events that led to Trump's impeachment.
How can Brooks' actions be perceived any differently than the president's? Under Article I, Section 5, clause 2, of the U.S. Constitution, Brooks can be expelled from the House with a concurrence of two-thirds of the members. 
Like the president, Brooks has shown no remorse for inciting violence and has said he stands by his message.
Like all false prophets  and would be demigods, Brooks believes he stands on a lofty pillar of history. Perhaps his mind is so muddled by the rarefied air he breathes on his imaginary holy mountain. Or it could be that his brain is delusional because he is suffering from a lack of oxygen because his head is buried deep where the sun doesn't shine.
Either way, Brooks has disobeyed his oath, disgraced his country and state, and should be removed from office before he causes more damage.