Trump's margin of victory in Alabama beats expectations

By Brandon Moseley
Alabama Political Reporter
No Democrat has carried the State of Alabama in a Presidential election since Georgia Governor Jimmy Carter (D) bested incumbent President Gerald Ford (R). As expected former Secretary of State Hillary R. Clinton (D) was not competitive in Alabama. Republican Presidential nominee, New York City billionaire and reality TV star Donald J. Trump not only won the State but beat the Democrats by a wider margin than any GOP Presidential candidate in 44 years.
Alabama House Minority Leader Craig Ford (D-Gadsden) explained, "Minority turnout on Election Day was down. Hillary Clinton got less of the vote than any other Democratic presidential candidate has in Alabama in at least 20 years. And not only did Hillary lose, but so did almost every other Democrat in the State who had a competitive race (not that there were many competitive races."
Donald J. Trump beat Sec. Hillary Clinton in Alabama by a margin of 62.9 percent to 34.6 percent. Pollsters had predicted that Trump would carry the State of Alabama, but that Trump would garner only 56 to 58 percent of the vote. They got that one wrong too apparently. Donald Trump surpassed the margin that Romney and McCain got in 2012 and 2008.
State Auditor Jim Zeigler (R) told the Alabmaa Political Reporter, "The Democrat party in Alabama was almost non-existent before the Trump election victory and is even more non-existent now. Any person or group that wants to have input into State politics must do so through the Alabama Republican Party."
Alabama Legislative Watchdogs Director Ann Eubank told the Alabama Political Reporter that, "Hillary's record loss in Alabama does not mean that we have moved more to the "right; it has more to do with the internal chaos of the AL Democrat party and the lack of enthusiasm for Hillary nationwide. In 2008 and 2012 Democrats came out in record numbers for Barack Obama to make history. A young, hip black man who would become the first black president. In 2016, AL Democrats weren't going to vote for an "old white woman" who has been around politics for 30 years saying the same old thing."
Eubank said, "In some cases Dems voted for Trump because he spoke to their economic issues, illegal aliens taking their jobs and manufacturing jobs being sent overseas. Moving "right;" No. "Changing" the direction of the country; Yes."
In 2012 former Massachusetts Governor Mitt Romney (R) carried Alabama 60.6 percent to President Barack H. Obama's 38.4 percent.
In 2008 Alabama voters preferred US Senator John McCain (R-Arizona) over then US Senator Barack H. Obama (D-Illinois) 60.3 percent to 38.7 percent.
The last time the GOP performed almost this well was in 2004 when President George W. Bush (R) was chosen over US Senator John Kerry (D-Massachusetts). 62.5 percent to 38.6 percent. Sen. Kerry still beat Sec. Clinton by four percentage points.
In 2000 then Texas Governor George W. Bush (R) beat Vice President Al Gore (D) in Alabama 56.5 percent to 41.6 percent. In 1996 US Senator Bob Dole (R-Kansas) carried Alabama 50.1 percent to President Bill Clinton's 43.2 percent. The Democrats' popular vote performance in Alabama's choice for President has been steadily dropping since that point.
Perhaps un-coincidentally since 1986 Republicans have won every Governor's race in the state, except for 1998 when then Lieutenant Governor Don Seigelman (D) bested incumbent Gov. Fob James (R).
Zeigler said, "Two political sides have developed in Alabama, both within the Republican Party. You have the Montgomery Insiders and the Alabama taxpayers. The first group has more money, but the second group has more votes. I have become the unofficial leader of the Alabama taxpayers, almost by default. No one else on the statewide level is standing up to the Montgomery Insiders. We do have a "two-party system" in Alabama, but both "parties" are operating in the Republican primary — the Montgomery Insiders vs. the People's Wing of the Republican party. We in the second group feel that we are the real, Constitutionalist Republicans."
The last time that a Democratic Party Presidential nominee actually won Alabama was 1976 when then Georgia Governor Jimmy Carter (D) defeated President Gerald Ford (R).
The last time a Republican Presidential Candidate carried Alabama by such a large margin was 1972 when President Richard Nixon (R) defeated US Senator George McGovern (D-South Dakota) 72.4 to 25.5 percent.
Rep. Ford blames Alabama Democratic Party Chair Woman Nancy Worley and Alabama Democratic Conference head Joe Reed for the party's lackluster performance, "Because Nancy and Joe not only failed to turnout the vote, but also failed to recruit candidates to vote for."
The Democrats (who have not won any statewide contest since 2008) may have much bigger problems winning back increasingly conservative Alabama voters if the voting habits of the Alabama electorate has moved further to the right.
Alabama reports record-breaking 2,164 new COVID-19 cases
Thursday's number of new cases hit 2,164 and blew past the previous daily record set on July 3 by 406 cases.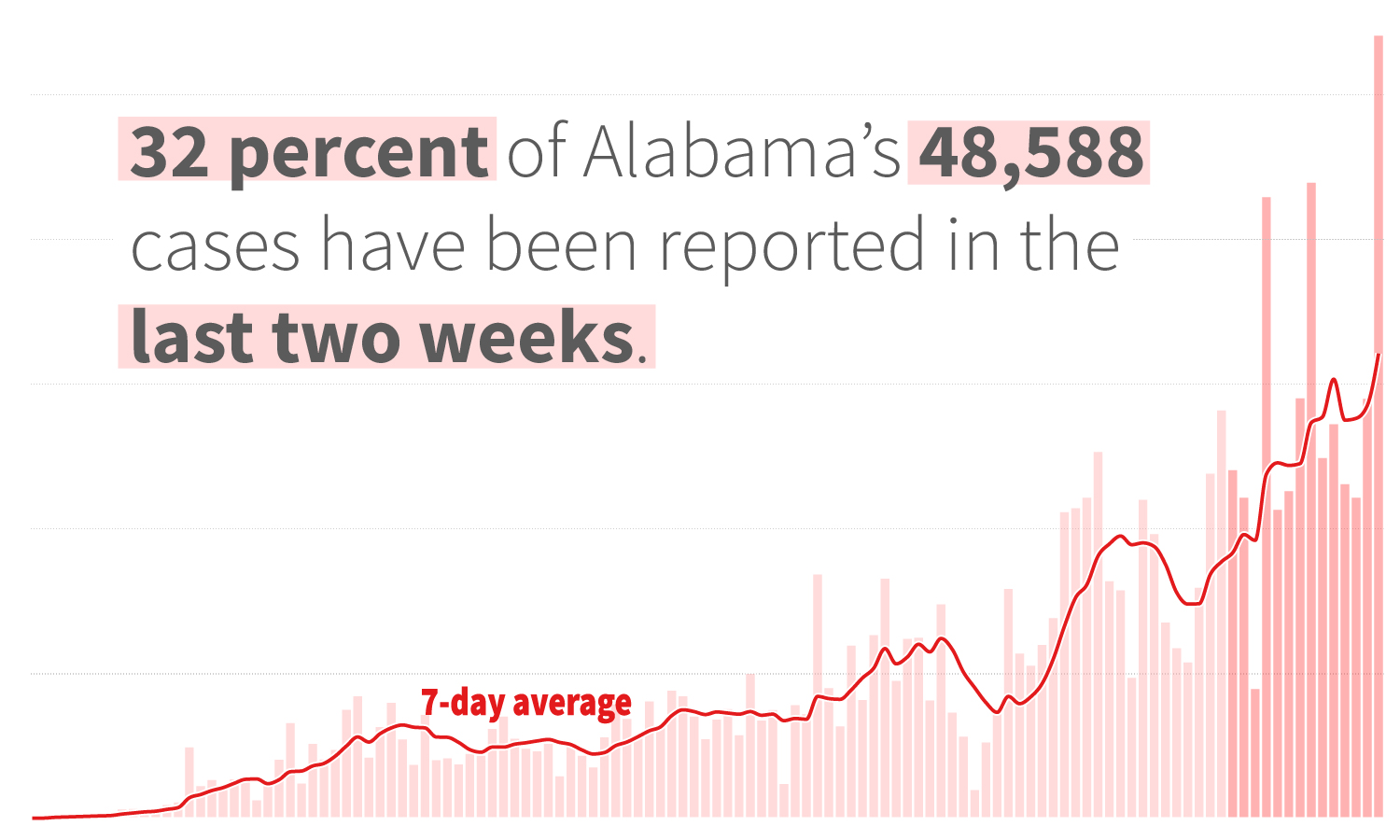 New COVID-19 cases in Alabama on Thursday jumped by nearly double from the day before, and for the first time broke 2,000 in a single day, according to the latest data from the Alabama Department of Public Health.

Thursday's number of new cases hit 2,164 and blew past the previous daily record set on July 3 by 406 cases. Both the seven-day and 14-day rolling average of new daily cases in Alabama were also at record highs Thursday. 
Thirty-two percent of the state's 48,588 cumulative confirmed cases have been added within the last two weeks. 
The Alabama Department of Public Health did not publish Wednesday an update to the total number of tests performed, which throws off the day's figures for the percentage of tests that are positive, but on average, over the last week, the state's seven-day rolling average of percent positivity has roughly 15 percent. 
Public health experts say the percent positivity should be at or below 5 percent — otherwise there isn't enough testing being done and cases are going undetected. 
Along with surging new cases, the number of COVID-19 patients hospitalized on Wednesday was higher than it's been since the beginning of the pandemic. On Wednesday 1,110 coronavirus patients were being treated in state hospitals, which was the fourth straight day of record current hospitalizations. 
UAB Hospital's COVID-19 Intensive care units were nearing their existing capacity Tuesday. The hospital has both a COVID ICU and a COVID acute care unit designated to keep patients separated from those who don't have the virus, but it has more space in other non-COVID units should it need to add additional bed space.

Hospitals in Madison County this week are also seeing a surge of COVID-19 patients. Paul Finley, the mayor of the city of Madison, told reporters Wednesday that local hospitals were reporting record numbers.

Hospitals there were at 80 to 90 percent capacity.
"Our ambulances yesterday had their greatest number of runs since this started," said Crestwood Hospital CEO Dr. Pam Hudson on Wednesday, adding that in about 20 percent of calls staff is having to wear full personal protective equipment. "That indicates that they are working with patients who have symptoms that could be compatible with COVID."
Meanwhile, Madison County set a new daily record, adding 286 cases Thursday, the first time the county has surpassed 200 cases a day. The county was largely spared early on in the pandemic, with low case counts and low death rates, but roughly 42 percent of Madison County's total case count since March has been reported in the last week as 803 new cases have been added.
Jefferson County and Madison County, over the last week, have accounted for 26 percent of the state's new cases.
Jefferson County led the state in the most new cases Thursday with 343 and has added 1,498 cases in the last week. The county's total cases increased by 33 percent from last week, and stood at 6,030 confirmed COVID-19 cases Thursday.
While Jefferson County and Madison County are seeing the state's most intense increases, other large counties including Shelby County, Baldwin County and Tuscaloosa County have also seen record increases and rising percent positive rates.
At least 81 people have died from COVID-19 in the last week, and 162 people have died in the last two weeks.
At least 1,042 people have died from COVID-19 since March, and at least 26 other deaths are listed as "probable" COVID-19 deaths.