Trump's margin of victory in Alabama beats expectations

By Brandon Moseley
Alabama Political Reporter
No Democrat has carried the State of Alabama in a Presidential election since Georgia Governor Jimmy Carter (D) bested incumbent President Gerald Ford (R). As expected former Secretary of State Hillary R. Clinton (D) was not competitive in Alabama. Republican Presidential nominee, New York City billionaire and reality TV star Donald J. Trump not only won the State but beat the Democrats by a wider margin than any GOP Presidential candidate in 44 years.
Alabama House Minority Leader Craig Ford (D-Gadsden) explained, "Minority turnout on Election Day was down. Hillary Clinton got less of the vote than any other Democratic presidential candidate has in Alabama in at least 20 years. And not only did Hillary lose, but so did almost every other Democrat in the State who had a competitive race (not that there were many competitive races."
Donald J. Trump beat Sec. Hillary Clinton in Alabama by a margin of 62.9 percent to 34.6 percent. Pollsters had predicted that Trump would carry the State of Alabama, but that Trump would garner only 56 to 58 percent of the vote. They got that one wrong too apparently. Donald Trump surpassed the margin that Romney and McCain got in 2012 and 2008.
State Auditor Jim Zeigler (R) told the Alabmaa Political Reporter, "The Democrat party in Alabama was almost non-existent before the Trump election victory and is even more non-existent now. Any person or group that wants to have input into State politics must do so through the Alabama Republican Party."
Alabama Legislative Watchdogs Director Ann Eubank told the Alabama Political Reporter that, "Hillary's record loss in Alabama does not mean that we have moved more to the "right; it has more to do with the internal chaos of the AL Democrat party and the lack of enthusiasm for Hillary nationwide. In 2008 and 2012 Democrats came out in record numbers for Barack Obama to make history. A young, hip black man who would become the first black president. In 2016, AL Democrats weren't going to vote for an "old white woman" who has been around politics for 30 years saying the same old thing."
Eubank said, "In some cases Dems voted for Trump because he spoke to their economic issues, illegal aliens taking their jobs and manufacturing jobs being sent overseas. Moving "right;" No. "Changing" the direction of the country; Yes."
In 2012 former Massachusetts Governor Mitt Romney (R) carried Alabama 60.6 percent to President Barack H. Obama's 38.4 percent.
In 2008 Alabama voters preferred US Senator John McCain (R-Arizona) over then US Senator Barack H. Obama (D-Illinois) 60.3 percent to 38.7 percent.
The last time the GOP performed almost this well was in 2004 when President George W. Bush (R) was chosen over US Senator John Kerry (D-Massachusetts). 62.5 percent to 38.6 percent. Sen. Kerry still beat Sec. Clinton by four percentage points.
In 2000 then Texas Governor George W. Bush (R) beat Vice President Al Gore (D) in Alabama 56.5 percent to 41.6 percent. In 1996 US Senator Bob Dole (R-Kansas) carried Alabama 50.1 percent to President Bill Clinton's 43.2 percent. The Democrats' popular vote performance in Alabama's choice for President has been steadily dropping since that point.
Perhaps un-coincidentally since 1986 Republicans have won every Governor's race in the state, except for 1998 when then Lieutenant Governor Don Seigelman (D) bested incumbent Gov. Fob James (R).
Zeigler said, "Two political sides have developed in Alabama, both within the Republican Party. You have the Montgomery Insiders and the Alabama taxpayers. The first group has more money, but the second group has more votes. I have become the unofficial leader of the Alabama taxpayers, almost by default. No one else on the statewide level is standing up to the Montgomery Insiders. We do have a "two-party system" in Alabama, but both "parties" are operating in the Republican primary — the Montgomery Insiders vs. the People's Wing of the Republican party. We in the second group feel that we are the real, Constitutionalist Republicans."
The last time that a Democratic Party Presidential nominee actually won Alabama was 1976 when then Georgia Governor Jimmy Carter (D) defeated President Gerald Ford (R).
The last time a Republican Presidential Candidate carried Alabama by such a large margin was 1972 when President Richard Nixon (R) defeated US Senator George McGovern (D-South Dakota) 72.4 to 25.5 percent.
Rep. Ford blames Alabama Democratic Party Chair Woman Nancy Worley and Alabama Democratic Conference head Joe Reed for the party's lackluster performance, "Because Nancy and Joe not only failed to turnout the vote, but also failed to recruit candidates to vote for."
The Democrats (who have not won any statewide contest since 2008) may have much bigger problems winning back increasingly conservative Alabama voters if the voting habits of the Alabama electorate has moved further to the right.
Baldwin, Escambia and Mobile residents impacted by Sally urged to apply for federal aid
FEMA has approved $11.1 million in housing grants to individuals and families through Sept. 28, according to the governor's office.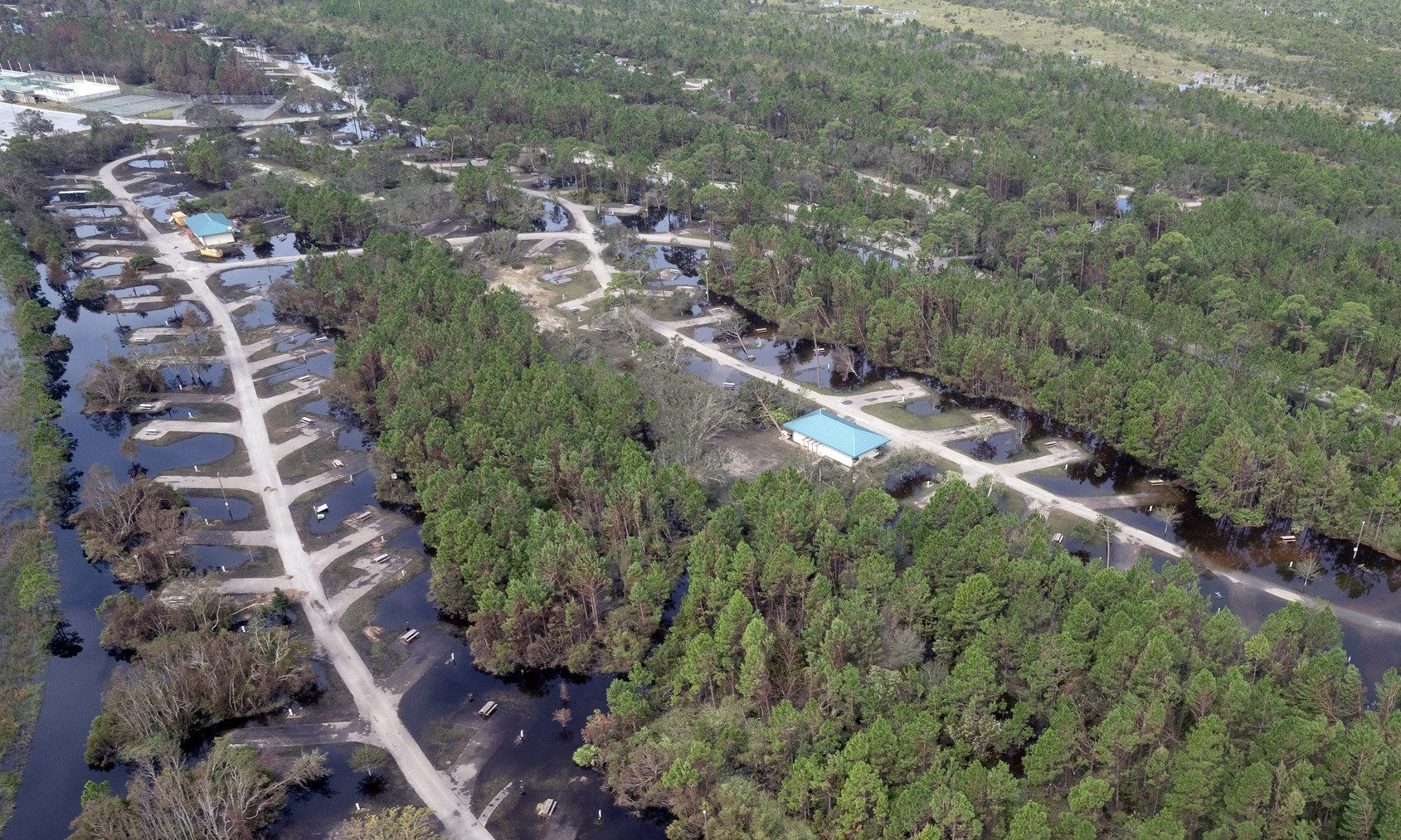 Gov. Kay Ivey on Monday announced more than $11 million in federal disaster aid has been approved for those impacted by Hurricane Sally in Baldwin, Escambia and Mobile counties.  
FEMA has approved $11.1 million in housing grants to individuals and families through Sept. 28, according to Ivey's office. 
"Hurricane Sally took a punch to our coastal areas, but thanks in part to the millions of dollars in federal assistance, the people of Alabama are moving along the road to recovery," Ivey said. "I remain grateful to President Trump, Administrator Gaynor and their teams for prioritizing the people of Alabama reeling from Hurricane Sally. We will get through this together; we have done it before, and we will do it again."
Federal grants to repair homes or for renting temporary housing made up $8.9 million of the FEMA funding. Grants for childcare, moving and storage, medical and dental comprised the remaining $2.1 million. 
The U.S. Small Business Administration has approved an additional $570,900 in disaster home repair loans for those impacted by Sally.
Ivey's office encourages homeowners and renters in Baldwin, Mobile and Escambia counties to apply to FEMA for federal disaster assistance as soon as possible. Residents of these three Alabama counties may also be eligible to receive assistance for uninsured and underinsured damage and losses resulting from the hurricane.
Residents in those three counties impacted by Hurricane Sally may register for FEMA disaster assistance online by visiting disasterassistance.gov or by calling 800-621-3362. Persons who are deaf, hard of hearing or have a speech disability and use a TTY may call 800-462-7585. Multi-lingual operators are available. The toll-free lines are open daily from 6 a.m. to midnight CST.
Those with a homeowner's insurance policy are encouraged to file an insurance claim before applying for federal assistance. 
Information that may be useful to have when you register include:
Address of the damaged primary dwelling where the damage occurred

Current mailing address

Current telephone number

Insurance information and description of disaster-caused damage and loss

Total household annual income

Names and birth dates of family members who live in the household

Name and Social Security number of co-applicant (if applicable)

Routing and account number for checking or savings account so FEMA may directly transfer disaster assistance funds
 For more information on Hurricane Say visit FEMA's website here.