Thanksgiving Day brings little to be thankful for in State government
By Bill Britt
Alabama Political Reporter
For those who honestly care about the future of our State, there are few bright spots this Thanksgiving. Even as we engage in polite conversation over turkey and dressing or pecan pie, the subject will naturally turn to the state of the State.
While, "Who will replace Senator Jeff Sessions and the political dominos to follow" is a fun parlor game, it's the nagging reality that Governor Robert Bentley used the tools of government to destroy political enemies, carry on an affair and deceive the public, that is the "Sword of Damocles" hanging over our State.
There are supposed to be checks and balances in government, but the only checks on Alabama's political class are the Special Prosecution Division of the Attorney General's Office and a few members of the press.
Abuse of power, both legal and illegal within the highest offices of government is an ever-present evil, but over the last six years, it has risen to new heights under former Speaker Mike Hubbard and Gov. Bentley.
It also seems apparent that the Judiciary branch is not immune from this ill, as witnessed by its prosecution of Chief Justice Roy Moore, and the refusal to unseal the court documents in his case.
The Alabama Political Reporter is the only media outlet in the entire State to sue to have the records in the Moore case unsealed.
Moore's removal from the bench by way of "suspension" is not only legally questionable, it is suspect of being nothing more than political intrigue in the guise of justice. In our State, we pride ourselves in our firm belief in the rule of law, but when carrying out the removal of an elected Chief Justice, the action of the court must not only be right, they must look right. But where is the check of the Judicial Inquire Commission that indicted Moore, for a complaint by the Southern Poverty Law Center? The media by-and-large is silent on the Moore issue because they agree with his removal. But, there can be no satisfaction with an outcome achieved through unlawful means.
Sen. Dick Brewbaker has pre-filed a bill for the 2017 Session to address the abuses of the JIC, so there is one lawmaker who will not sit by and watch the State Judicial system fall prey to a "Star Chamber-like" court.
As for Bentley, no one knows for certain what he will do next. He is said to be planning a late January Special Session to reintroduce his billion dollar prison or bust bill. Our prisons are wretched abominations unfit for a third world country and unconstitutional under US law. But building new prisons will not remedy the horrors within State prisons where violence, mental illness and neglect are widespread.
Bentley may use the appointment to the US Senate as a carrot to convince lawmakers to back his prison plan. Beware of a Governor promising political appointments in exchange for favors. Is a US Senate seat a thing of value?
There are a few bright spots, like the workforce development plan being implemented under AlabamaWorks. With nearly 80 percent of working-age Alabamians lacking a college education, AlabamaWorks is a reason for hope.
As the Thanksgiving feast brings the Iron Bowl, football will take center stage as the Titans of college sports battle for glory. Then it is off to the 2017 Legislative Session where the fight for good government meets the forces of ignorance, corruption and greed.
We should be thankful for our State government, because as bad as it is, the alternative is worse.
Happy Thanksgiving
Opinion | Hubbard did the crime; he should do the time
Hubbard may not be a violent offender but his actions are a danger to society and a threat to the public.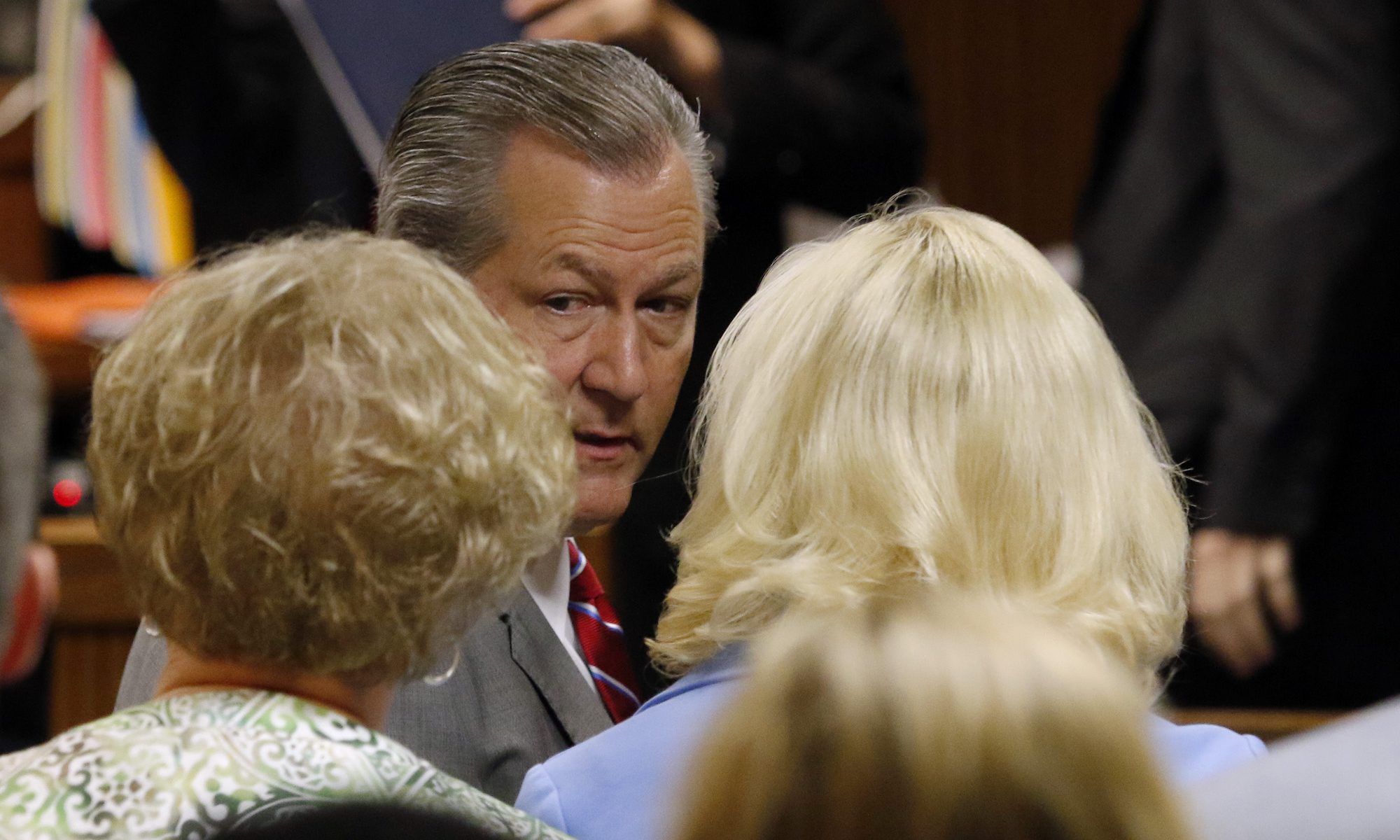 Attorneys for convicted felon, former Speaker of the House Mike Hubbard, believe he has suffered enough, and his sentence should be reduced because six of the charges against him were overturned on appeal.
The remaining six counts against Hubbard call for a prison term of four years, 16 years probation, and substantial fines independent of the charges the upper courts set aside. Therefore, there exist no reasonable grounds under which trial Judge Jacob Walker III should lessen Hubbard's sentence.
This action on Hubbard's behalf is simply another attempt to subvert justice.
A Lee County jury found Hubbard guilty of twelve counts of public corruption, most notably using his office for personal gain and using state resources and personnel to enrich himself—and those counts still stand.
The Court of Criminal Appeals rejected Count 5, and the Alabama Supreme Court struck down another five, which primarily dealt with the charges surrounding "principals."
The upper-court's finding appears more political than judicial, but most people in the state are used to jurists who bend the law for the rich and politically connected.
Of the remaining charges against Hubbard, five carry a ten-year spit sentence of two years in prison and eight years probation, and one count has a six-year split sentence with 18 months in jail with the remainder served on probation.
Why would Judge Walker reverse his judgment since the appeals process left in place the charges that carry the very sentence he imposed?
Does Judge Walker think he erred in his sentencing? Does he now, in retrospect, believe he was unfair as Hubbard's lawyers contend?
Hubbard's appeal is merely more subterfuge and trickery disguised as a legal argument.
Astonishingly, in their latest filing, lawyers, David McKnight and Joel Dillard, assert that Hubbard is not "a danger to society, nor a threat to the public" as a reason to let him out of prison.
Hubbard may not be a violent offender but his actions are a danger to society and a threat to the public.
Prison is not only for brutal inmates it is also for those who break a certain class of laws. Because a felon wears a thousand dollar suit doesn't mean they deserve less jail time.
Hubbard's crimes are some of the most heinous perpetrated against civil society.
Public corruption undermines the rule of law and the principles of good government and is an offense more potent than property theft, drug use, or other nonviolent crimes because it rips apart the very fabric of society and its trust in the foundations of the republic.
A corrupt politician's actions subvert the very meaning of representative government.
Hubbard is not now a danger to society, or a threat to the public because he is behind bars. But make no mistake he is a menace to public good. Even before his indictment, Hubbard used every scheme at his disposal to thwart justice, entice lying and manipulate public trust. And now he wants one more shot at corrupting the system.
There are only two occasions when every individual should expect equal treatment: when they stand before a court of law and when they stand before their maker. Yes, a wealthy defendant like Hubbard can afford better legal representation, but it doesn't mean he can purchase special justice.
Hubbard has been given preferential treatment by lawmakers, the media, and even some on the courts. All along the way, Hubbard was handled with kid gloves and given unwarranted privilege.
McKnight and Dillard argue with a straight face that letting Hubbard out of prison early will, "Preserve scarce prison bed-space for habitual offenders and others from whom society needs protection… [and] more likely result in the defendant's rehabilitation than incarceration."
The word rehabilitation is used several times in Hubbard's most recent court filings as if somehow allowing him to avoid prison time will serve to rehabilitate him. To this day, Hubbard doesn't believe he's committed a crime, so how is rehabilitation possible?
His attorneys lastly make the most laughable argument possible by indicating Hubbard has suffered enough.
"[The] Court should consider the punishment that Hubbard has already suffered. The convictions in this case alone have resulted in a wide range of punishments which include his removal from office, the loss of his right to vote, the divestment of his business interests, and his current incarceration."
Suffered enough?
When lawmakers break ethics laws, it upends society because it shatters trust while nullifying the social contract that binds us together in peace and safety.
State ethics laws are an attempt to force the government to rule themselves honestly.
Hubbard ignored the very ethics laws he championed and would do it all again.
He deserves punishment for his unlawful acts, and his prison sentence should stand as a reminder to others that justice doesn't play favorites.
Hubbard did the crime, and he should serve the time.