Roby supports Faster Care for Veterans Act

By Brandon Moseley
Alabama Political Reporter
Tuesday, December 6, 2016, the US House of Representatives passed the Faster Care for Veterans Act, HR4352. US Representative Martha Roby (R-Montgomery) supported the legislation to reform the troubled Veterans Administration (VA) Health Care System). Roby said that the bill would allow veterans to self schedule their own medical appointments.
Rep. Roby said, "Pleased to report that the Faster Care for Veterans Act passed the House today. This means we are one step closer to providing our veterans with 21st century convenience in appointment self-scheduling."
Congresswoman Roby said, "My friend Congresswoman Cathy McMorris Rodgers, who is the lead Republican sponsor of this bill, said it best: "Self-scheduling is only one example of the endless possibilities for a 21st century VA — one that treats our veterans with dignity and respect, and ensures our heroes' sacrifices don't continue after their tours end. It just takes the imagination and willpower to make it happen.""
Rep. Roby said, "It's an innovative piece of legislation designed to establish a self-scheduling appointment system for the VA, among other things. The bill would allow patients to quickly and easily self-schedule appointments from their smart phones or computers."
Roby continued, "This type of technology has worked well for the private sector and has really improved patient experience. I believe our veterans deserve the same options and convenience in scheduling doctor visits that people have in doctors' offices across the US."
HR4352 directs the Secretary of Veterans Affairs to carry out a pilot program establishing a patient self-scheduling appointment system, and for other purposes. The system is have to the capability to schedule, modify, and cancel appointments for primary care, specialty care, and mental health. It also must have the capability to support appointments for the provision of health care regardless of whether such care is provided in person or through telehealth services. It is also required to have the capability to view appointment availability in real time, including appointments that were previously filled but later cancelled by other patients. The system would also provide prompts or reminders to veterans to schedule follow-up appointments and would be available for use 24 hours per day, seven days per week.
Congresswoman Martha Roby represents Alabama's Second Congressional District. The conservative congresswoman was first elected in 2010, defeating then incumbent Bobby Bright (D-Montgomery). Roby is an attorney and was a Montgomery City Councilwoman before being elected to the Congress. Rep. Roby has made VA reform a major focus of her tenure in the House.
Alabama reports record-breaking 2,164 new COVID-19 cases
Thursday's number of new cases hit 2,164 and blew past the previous daily record set on July 3 by 406 cases.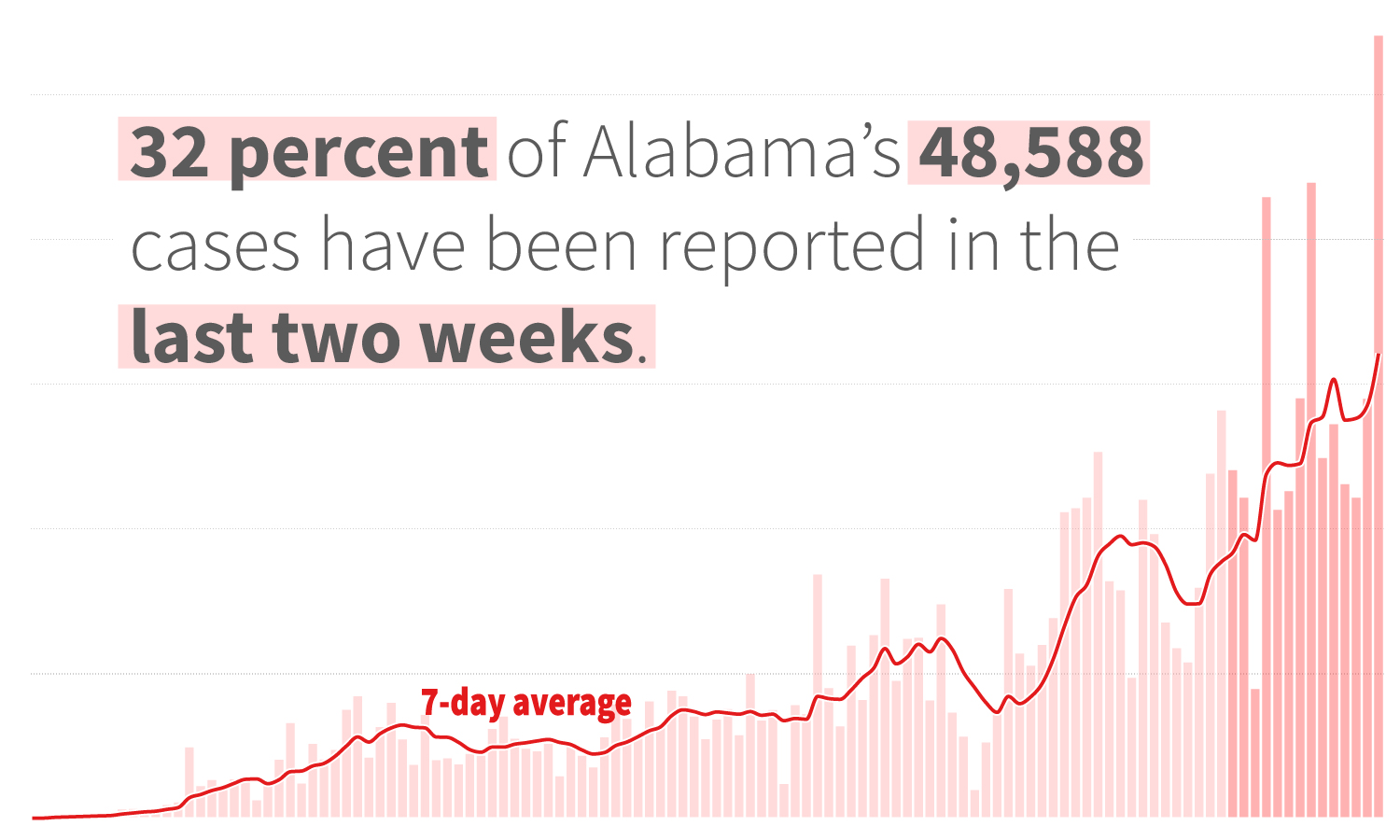 New COVID-19 cases in Alabama on Thursday jumped by nearly double from the day before, and for the first time broke 2,000 in a single day, according to the latest data from the Alabama Department of Public Health.

Thursday's number of new cases hit 2,164 and blew past the previous daily record set on July 3 by 406 cases. Both the seven-day and 14-day rolling average of new daily cases in Alabama were also at record highs Thursday. 
Thirty-two percent of the state's 48,588 cumulative confirmed cases have been added within the last two weeks. 
The Alabama Department of Public Health did not publish Wednesday an update to the total number of tests performed, which throws off the day's figures for the percentage of tests that are positive, but on average, over the last week, the state's seven-day rolling average of percent positivity has roughly 15 percent. 
Public health experts say the percent positivity should be at or below 5 percent — otherwise there isn't enough testing being done and cases are going undetected. 
Along with surging new cases, the number of COVID-19 patients hospitalized on Wednesday was higher than it's been since the beginning of the pandemic. On Wednesday 1,110 coronavirus patients were being treated in state hospitals, which was the fourth straight day of record current hospitalizations. 
UAB Hospital's COVID-19 Intensive care units were nearing their existing capacity Tuesday. The hospital has both a COVID ICU and a COVID acute care unit designated to keep patients separated from those who don't have the virus, but it has more space in other non-COVID units should it need to add additional bed space.

Hospitals in Madison County this week are also seeing a surge of COVID-19 patients. Paul Finley, the mayor of the city of Madison, told reporters Wednesday that local hospitals were reporting record numbers.

Hospitals there were at 80 to 90 percent capacity.
"Our ambulances yesterday had their greatest number of runs since this started," said Crestwood Hospital CEO Dr. Pam Hudson on Wednesday, adding that in about 20 percent of calls staff is having to wear full personal protective equipment. "That indicates that they are working with patients who have symptoms that could be compatible with COVID."
Meanwhile, Madison County set a new daily record, adding 286 cases Thursday, the first time the county has surpassed 200 cases a day. The county was largely spared early on in the pandemic, with low case counts and low death rates, but roughly 42 percent of Madison County's total case count since March has been reported in the last week as 803 new cases have been added.
Jefferson County and Madison County, over the last week, have accounted for 26 percent of the state's new cases.
Jefferson County led the state in the most new cases Thursday with 343 and has added 1,498 cases in the last week. The county's total cases increased by 33 percent from last week, and stood at 6,030 confirmed COVID-19 cases Thursday.
While Jefferson County and Madison County are seeing the state's most intense increases, other large counties including Shelby County, Baldwin County and Tuscaloosa County have also seen record increases and rising percent positive rates.
At least 81 people have died from COVID-19 in the last week, and 162 people have died in the last two weeks.
At least 1,042 people have died from COVID-19 since March, and at least 26 other deaths are listed as "probable" COVID-19 deaths.