Roby defends controversial F-35 program
By Brandon Moseley
Alabama Political Reporter
Tuesday, December 13, 2016 US Representative Martha Roby (R-Montgomery) defended the controversial F-35 fighter program.
Congresswoman Roby wrote, "You may have seen a lot of discussion today about President-elect Donald Trump's tweet about the F-35 Joint Strike Fighter. As I told WSFA earlier, I don't think the president-elect was necessarily threatening the program itself, but rather using the cost overruns in years previous to send a message to the Pentagon about future procurements."
Rep. Roby continued, "There's no question our Armed Forces need a next-generation aircraft to replace the F-16, and that aircraft is the F-35. What's important to know about the F-35 is that the cost concerns mostly came in the development stage, which is in the past and already paid for. At this point it would be a mistake to throw away the significant investment already spent on developing this aircraft that is now battle-ready and in production. But again, I don't think that's what he's talking about. Donald Trump is known for his negotiation skills. It may seem unconventional, but I believe what he is doing is putting the Pentagon on notice that inefficiency and cost overruns won't be tolerated for future acquisitions. And that's a good thing. I've been an advocate for acquisition reform for some time, so I'm eager to see any specifics he might offer."
Rep. Roby said, "I'm glad to see President-elect Trump is concerned about spending, and there have certainly been problems with cost overruns on military programs, including the F-35. The incoming administration and Congress must work together to be good stewards of taxpayer dollars when it comes to military programs. Part of that is not wasting past investments like the F-35, and I'm confident Mr. Trump and his advisers understand that."
On Friday, September 9 Rep. Roby announced that Alabama's 187th Fighter Wing, better known as the "Red Tails", is being considered to field the Air Force's new F-35 Joint Strike Fighter.
Congresswoman Roby said, "The 187th is one of several Air National Guard units nationwide currently under consideration to field the new F-35 aircraft. That list is expected to be culled soon, which is why I took the opportunity to brag on the 187th at a breakfast meeting this past week with the Secretary of the Air Force Deborah Lee James and Chief of Staff Gen. David Goldfein."
Rep. Roby said, "As you may know, the F-35 Joint Strike Fighter is the Air Force's long-anticipated stealth fighter that will eventually replace many Cold War-era aircraft, including the F-16 Falcons currently flown by the 187th. The F-35's next-generation capabilities will give American fighter pilots unquestioned supremacy in air combat situations anywhere on the globe."
The conservative congresswoman said, "I believe the 187th Fighter Wing is a great candidate for the F-35 program. This is the military's most cutting-edge war machine, so certainly the Air Force has a lot of specifications."
Rep. Roby said, "As the selection process continues, I am eager to help make the case for why the 187th at Dannelly Field could be an ideal fit."
The 187th Fighter Wing is currently flying F-16 Fighting Falcons. The first F-16 flew in December 1973.
Pres.-elect Trump tweeted on Monday, December 12 "The F-35 program and cost is out of control. Billions of dollars can and will be saved on military (and other) purchases after January 20th."
According to original reporting by the Atlantic in October Trump told talk radio host Hugh Hewitt, "I do hear that it's (the F-35) not very good." "I'm hearing that our existing planes are better. And one of the pilots came out of the plane, one of the test pilots, and said this isn't as good as what we already have."
The Lockheed Martin F-35 Lightning II remains a highly controversial and expensive. The new generation of fighter combines the functions of several current aircraft types into one airframe. Variants of the F-35 are to be widely deployed by the Air Force, Marine Corps, and Navy, as well as by key allied partners. The F-35 is a single-seat, single-engine, all-weather stealth multirole fighter. The F-35's top speed is reportedly 1,199 mph, its projected range is 1,379 miles, its wing span is 35 feet, and the length is 51 feet. The plane is powered by the Pratt & Whitney F135 engine.
Critics of the F-35 program (which would be the costliest weapons procurement system in history) argue that the plane is unnecessary, excessively costly, and has proven difficult to keep operational. Critics that the program could be cut short and existing F16s, F/A-18s, and A-10s could be replaced by new planes for a fraction of the next generation strike fighter.
Congresswoman Roby represents Alabama's Second Congressional District.
COVID-19 hospitalizations in Alabama continue surge
On Monday, 1,335 patients with COVID-19 were being cared for in hospitals statewide, the most to date.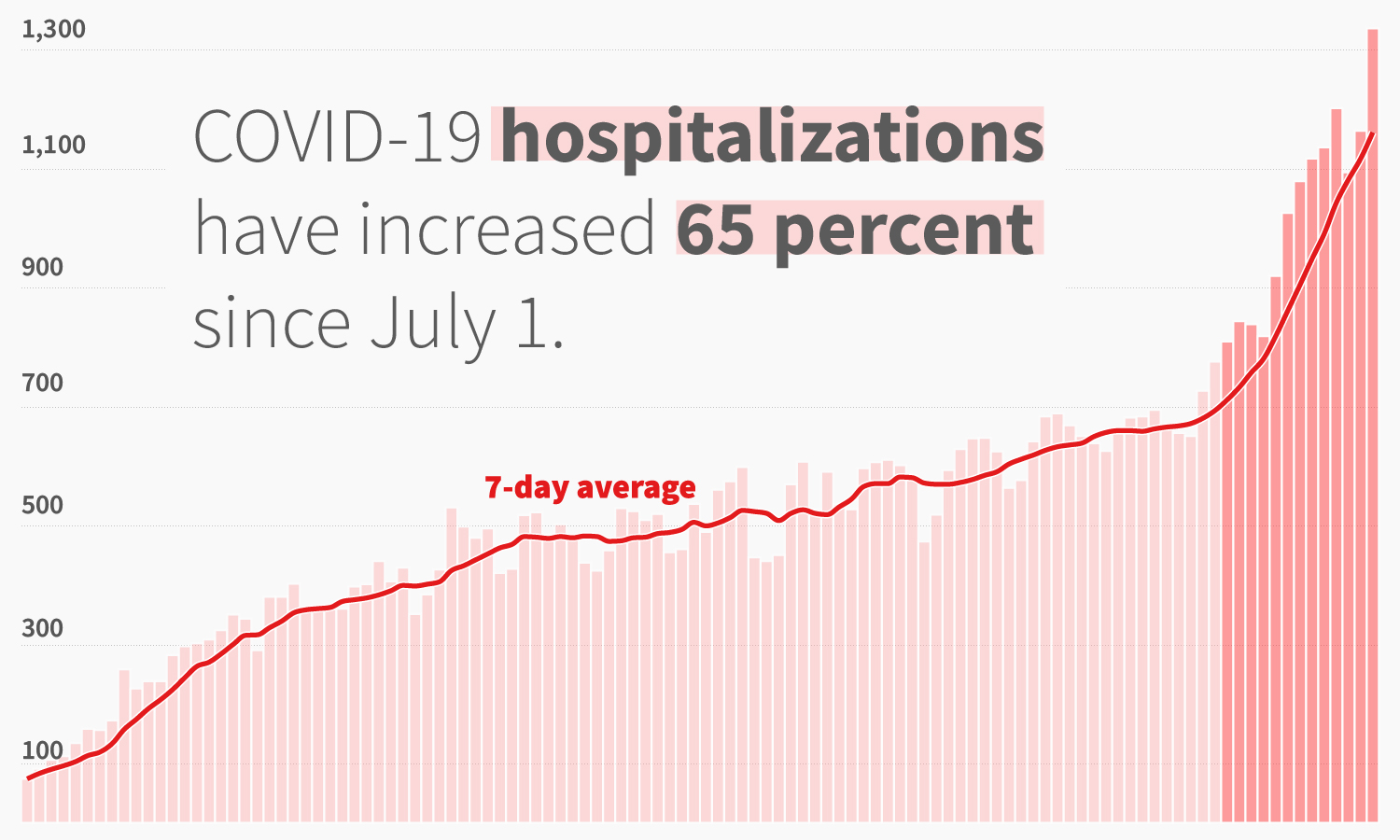 Alabama on Monday saw the highest number yet of COVID-19 patients in hospitals since the start of the pandemic, and the second-highest single-day increase in coronavirus cases on record. 
On Monday, 1,335 patients with COVID-19 were being cared for in hospitals statewide. That was 172 more COVID-19 patients than were hospitalized the previous day — and the largest single-day increase in hospitalization numbers reported by the Alabama Department of Public Health.

The last record number of hospitalized COVID-19 patients in Alabama was on Friday, when 1,201 people were being treated statewide. The increase Monday is also 134 more patients than were being care for on Friday.
Friday was the sixth straight day of record-breaking COVID-19 hospitalizations in Alabama. Friday also saw the second-highest number of deaths in a single day in the state, when ADPH confirmed 35 new deaths as a result of COVID-19, nearly breaking the previous record of 37 set on May 12.
On Monday, the state also added 1,860 to Alabama's total case count, bringing the cumulative total now to 54,768 confirmed cases. That's the second-highest single-day increase in cases since the start of the pandemic. With 25,783 people presumed to have recovered from the virus, and at least 1,096 dead, more than half of the state's cases, or 27,889, are presumed to be active.

Testing has ticked up slightly in the last few weeks — Alabama's seven-day average of tests conducted was 9,176 on Monday, 93 more than the previous high set on July 5 — but the percentage of tests that are positive continues to increase as well, a sign that new cases aren't just due to more testing. 
The seven-day average positivity rate Monday was 16.18 percent, which was almost 30 percent higher than it was a week ago. Taking into account the Alabama Department of Public Health's incomplete testing data on July 9 and in early April, which threw off the positivity rate, Monday's seven-day average was the highest on record for Alabama. 
Public health officials say that the percent of tests that are positive should be at or below 5 percent or there's not enough testing being done and cases are going undetected. 
Madison County continues to see a surge in new cases. The county added 267 new coronavirus cases on Monday, and over the last week added 1,044 new cases, which was 70 percent more than were added the week before. Madison County's positivity rate this week has been roughly 16 percent. 
Jefferson County followed closely behind Madison County, adding 266 new cases Monday and 1,602 cases within the last week, which was a 30 percent increase from the week before. 
In Mobile County, there were 157 new cases Monday.
Mobile County's weekly total of new cases for the last week was 23 percent higher than the previous week.