It is well past the hour for responsible State government

By Bill Britt
Alabama Political Reporter
As the State Legislature cues up for the 2017 Regular Legislative Session, the problems that vexed our State last year continue to this day. The same troubles neglected for decades by Democrats are the identical ones left unresolved by Republicans. The problems facing our State are not new, and the solutions need not be original in nature, but the prescription should fit the disease.
Two things our State has lacked is a New South Governor and a conservative legislature. While hopes for a New South Governor are still a dream, the makings of a conservative legislature can be assembled from the existing stock.
Conservative icon, scholar, and writer Russell Kirk wrote, "[P]rudence is chief among virtues. Any public measure ought to be judged by its probable long-run consequences, not merely by temporary advantage or popularity."
In last week's interview on The Voice of Alabama Politics, House Speaker Mac McCutcheon said he was looking at long-term solutions not temporary fixes to the State's many troubles. This is an encouraging change from the past.
Kirk also found that a conservative "declares that he acts only after sufficient reflection, having weighed the consequences." This brand of conservative thought has been sorely lacking for the last six years. We have seen over and again what Kirk calls "sudden and slashing reforms" which "are as perilous as sudden and slashing surgery," he concludes.
Under the leadership of former Speaker and convicted felon Mike Hubbard, the so-called Conservative House took a meat cleaver approach to reforms mainly to enrich Hubbard and his cronies. With McCutcheon, we will expect better, and for now, I believe that is what we will see.
New South Governors like North Carolina's Terry Sanford, Florida's Reubin Askew, and Arkansas' Dale Bumpers all elected in 1970 turned away from the old form of race-based regional politics and focused on education, infrastructure, and economic development. Florida and North Carolina prospered greatly and continue to do so, while Arkansas has been a mixed bag of fits and starts. The closest Alabama has ever come to having an actual New South Governor was Albert Brewer who was defeated by the same machine that has kept our state near the bottom in every measurable category of success.
Borrowing nearly a billion dollars to build new prisons, saving the Medicaid RCOs, tackling an anemic General Fund Budget, redistricting and the threat of privatizing the state pension plan seem to top the list of to-dos in the upcoming session. Also, there is the need to strengthen, clarify and further codify the tough ethics laws that sent Hubbard to prison. But, there is a clever scheme afoot to gut the ethics laws.
This perhaps above all will be Speaker McCutcheon's greatest test. Will he stand strong or kowtow to those who prosper when ethics laws are weak?
Kirk believed a conservative endeavors to limit and balance political power, a juggling act not seen in this current environment.
Other challenges facing our State is the need to address crumbling bridges and highways which is an issue that many would like to see addressed now rather than later. And there is a need to expand the Port of Mobile, to invest in workforce development and. for once. make commonsense decisions to shore up failing schools without giving bushels of money for silly, sinister plans like the Accountability Act.
Speaker McCutcheon says he is ready to face the daunting task of honest reform with a sober mind without political consideration.
President Donald Trump wants to Make America Great Again, and here in Alabama, the fervor behind that banner could be a rallying cry to get things done. But, as mused in Shakespeare's "The Tempest" said, "Good wombs have borne bad sons."
President Trump in his inauguration speech said the government was being given back to the people. Is that so in our state? Will the legislature give the people a vote on a gaming bill?
For far too long the citizens have been victims of small thinking on the part of our State Legislature. And, as the 2017 Session rides on the heels of the 2018 General Election there will be an inclination to play it safe.
With the election season beginning at the end of the 2017 Session, the temptation will be to risk nothing and do nothing controversial. If not a time for bold action it is well past the hour for those responsible for State government to begin taking logical steps to fix persistent problems with long-term solutions. McCutcheon says that is the plan.
The question is, will our lawmakers hide their heads in bushes like ostriches or will they face these long-ignored challenges with a determined will, an honest mind, using fact-based ideas to build a better Alabama?
We will know soon enough.
Opinion | Let's hope for Reed's success
Reed's temperament and style appear right for this moment in Alabama's history.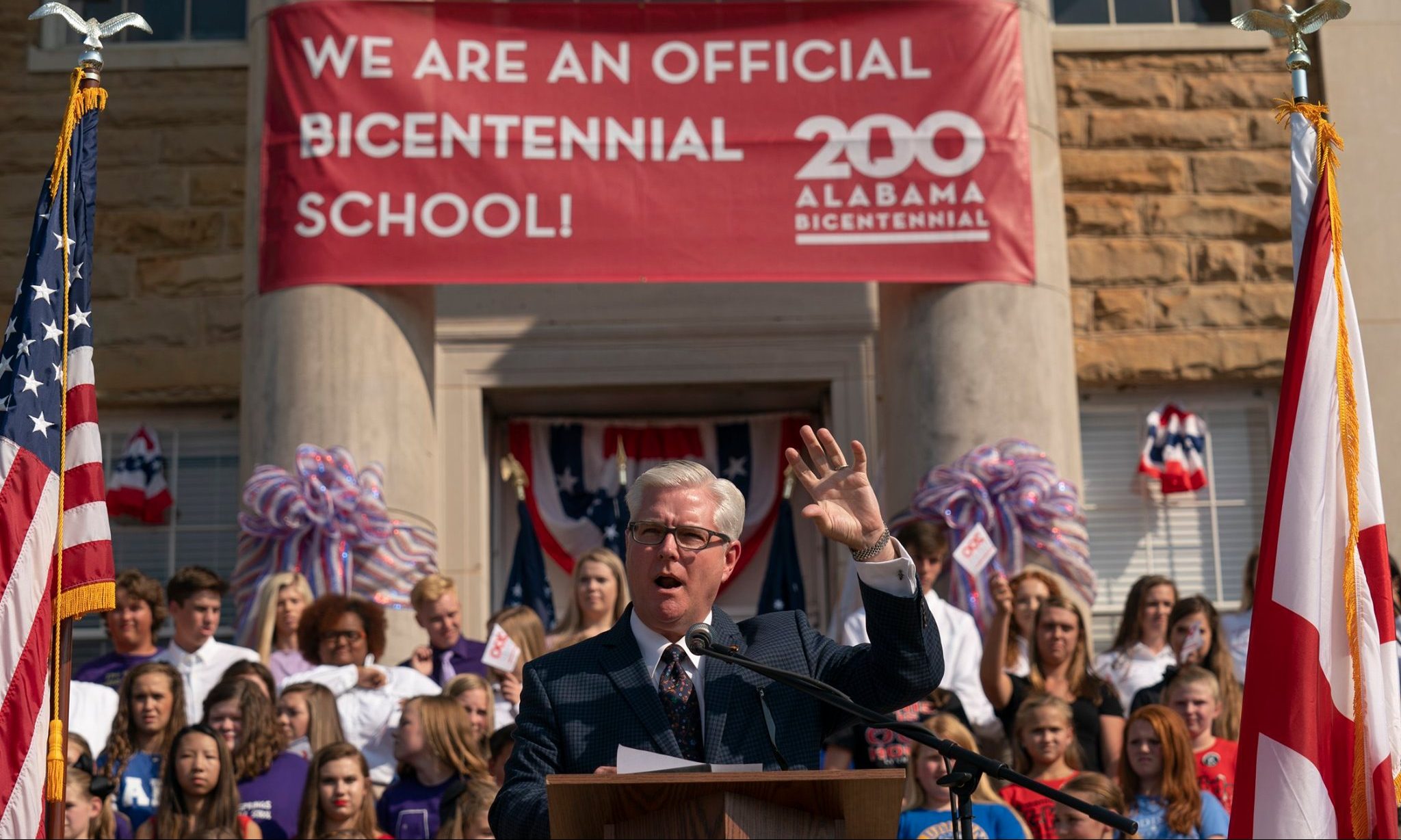 State Sen. Greg Reed, R-Jasper, will lead the Alabama Senate as president pro tem during the upcoming 2021 legislative session. What changes will Reed bring to the upper chamber, and how will his leadership differ from his predecessor? No one knows for sure.
Reed succeeds Sen. Del Marsh, who has served as president pro tem since Republicans took control of the Statehouse in 2010. Marsh, along with then-Gov. Bob Riley, current felon Mike Hubbard and ousted BCA Chair Billy Canary orchestrated the 2010 takeover that saw the Republican rise to dominance.
Reed, who won his Senate seat the same year, was not a charter member of the Republican ruling class, but he benefited from the power sift.
Mild-mannered and studious with a quiet charm, Reed has steadily ascended the ranks of Senate leadership. His silver hair and calm determination have served him well. Reed is a senatorial figure straight out of Hollywood's central casting.
In all, Reed is nearly universally liked and respected, which in the near term is a hopeful sign of potential success. But political leadership always comes with a warning: "Friends come and go, enemies accumulate."
Reed's relationship with Gov. Kay Ivey is certainly less contentious than Marsh's and gives rise to the belief that there will be greater cooperation between the executive and the Senate.
With the economy and public health under dire stress due to the ravages of COVID-19, legislative priorities are fixed: get people back to work and eradicate the coronavirus.
However, one of Reed's first tests will be whether he can cool the smoldering anger of those senators who still feel the sting of Ivey's rebuke over the allocation of CARES Act funds. He will also need to resist those who want to punish the administration over its use of public health statutes to implement mask mandates and other safety measures to prevent the deadly coronavirus spread.
Despite outward declarations of a unified body, the State Senate is a small, insular and unwieldy beast where egos loom large and consensus on policies is often tricky to achieve except on "red meat issues."
Building a coalition on policy in the Senate is often a combination of horse-trading, cajoling and carefully applied pressure. The way forward in the near term is exact: pass legislation that spurs economic recovery and mitigates the health crisis at hand.
But Reed will also simultaneously need to recognize what comes next for justice reform, prison construction, gambling and a myriad of other pressing issues. His job will be to understand the prevailing winds, which are evolutionary, not revolutionary.
As author Doris Kearns Goodwin noted in Lyndon Johnson and the American Dream: "For political leaders in a democracy are not revolutionaries or leaders of creative thought. The best of them are those who respond wisely to changes and movements already underway. The worst, the least successful, are those who respond badly or not at all, and those who misunderstand the direction of already visible change."
Reed's temperament and style appear right for this moment in Alabama's history.
As President Abraham Lincoln said, "If you want to test a man's character, give him power."
Let's all hope that Reed passes the test.