House set to move forward with release of Bentley report, impeachment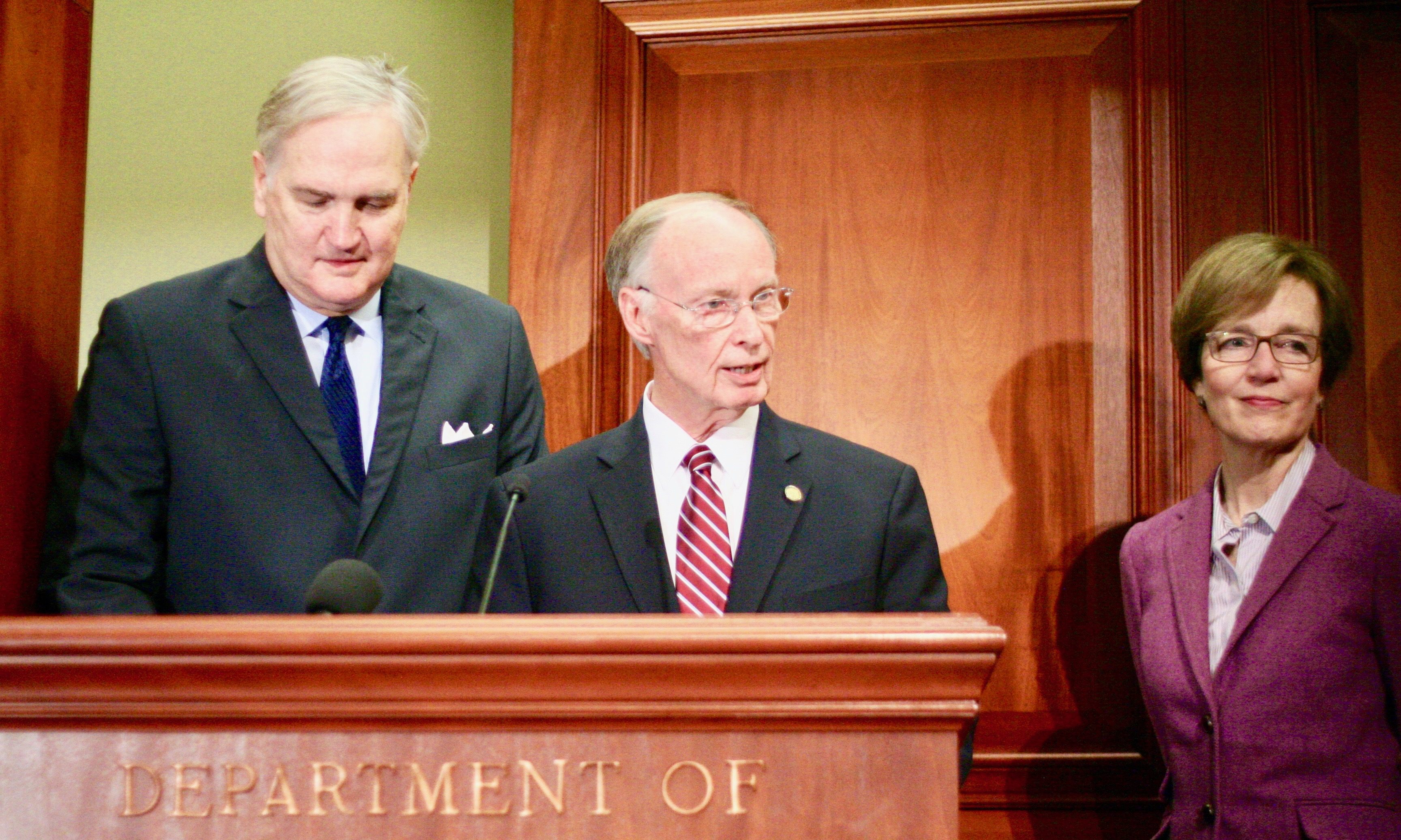 By Chip Brownlee
Alabama Political Reporter
MONTGOMERY — Despite efforts from Gov. Robert Bentley's attorneys, the House of Representatives plans to move forward with impeachment hearings next Monday and with the release of a written report this afternoon detailing the House's investigation into the Governor.
The release of the report this afternoon will come only two days after the Alabama Ethics Commission recommended four criminal charges against Bentley on Wednesday. The commission found probable cause that Bentley violated state ethics and campaign finance laws. Those charges have been forwarded to the Montgomery District Attorney's Office for an independent investigation.
On the floor of the House Thursday, Judiciary Committee chairman, Rep. Mike Jones, R-Andalusia, gave official notice to the House that impeachment hearings would begin next week. The House plans to alter their normal meeting hours to allow the hearings to take place.
House leadership wants to avoid losing any legislative days because three major priorities — redistricting, budgets and prisons — still remain in limbo, and they're worried they could run out of time to handle them.
But they have no plans to halt the impeachment process, which is now included on their priority list.
On Tuesday, Ross Garber, an attorney for the Governor, requested an alternative plan that would have meant no published written report on Friday. He said the Governor deserves due process and fairness, even in the House's investigatory phase.
Jones has so far ignored Garber's attempts to halt the release of the written report, which should detail any impeachable offenses committed by the Governor. The report is expected to revolve around Bentley's relationship with a former top staffer, Rebekah Mason, and whether he used State resources to facilitate it.
Garber asked for an emergency hearing last week and for a revised plan, but Jones ignored both requests, opting to move forward with the plan devised by Jack Sharman, the Judiciary Committee's special counsel.
"At the end of the day, the House has worked very hard to put in place a procedure for this impeachment," House Speaker Mac McCutcheon said. "We are going to move forward as we have planned. We are going to make sure we do this the right way."
On Monday, the Committee will meet to hear Sharman's presentation against Bentley. On Tuesday, Bentley's attorneys will present a defense. And on Wednesday, Sharman will offer a rebuttal to the defense.
The Judiciary Committee should vote as soon as next Friday, April 14, on whether to recommend impeachment of Bentley.
"This is going to be a very long week," Jones said. "It's going to be something that I wanted to make the members fully aware of. But we are at the point where it's time for us to put this in front of us, let's address it, and let's get it behind us."

The charges from the Ethics Commission, as one might expect, added fuel to the impeachment flames at the State House, with members publically and privately calling for Bentley to step down. The most powerful man in the Senate, President Pro Tem Del Marsh, called for Bentley to resign.
But the charges haven't changed the course of the impeachment committee, mainly because the will for impeachment was already there to begin with. Republicans and Democrats are still favoring a full-steam-ahead approach for impeachment.
Rep. Chris England, D-Tuscaloosa, a member of the Judiciary Committee, said Thursday that there was already an appetite for impeachment before the Ethics Committee's vote, and he expects the committee to move ahead in "full motion" on Monday.
Bentley has been under fire from lawmakers since former ALEA Secretary Spencer Collier accused him of having an affair last year. Collier also accused the Governor of trying to prevent him from cooperating with the investigation into former House Speaker Mike Hubbard.
Less than a month later, impeachment articles were filed against him. Over the summer, the House committee held several hearings on impeachment and even went so far as to subpoena the Governor, but to little avail.
For months the impeachment effort stalled at the request of former Attorney General Luther Strange, who said his office was conducting "necessary related work." A few months after that, Strange interviewed for a Senate seat and in February was later sent to Washington by Bentley himself.
That apparent conflict of interest was the last straw for some legislators. Calls for impeachment increased, and some members who had previously voted against impeachment began devising ways to get a new resolution on the House floor for a vote.
In March, the House gave Sharman the go-ahead to resume his investigation of Bentley. McCutcheon said Thursday that he didn't believe the House mood has changed much since then.
"I don't think they're hearing anything they haven't already heard from their districts," McCutcheon said. "They're in the mindset of, hey, what they were thinking last week is what they're thinking this week.
"Now that we're ready to start hearings, they're very interested in the facts that will come out. They're willing to listen to these facts. Now they're starting to formulate in their minds how this is going to play out. They're more focused now."
The House's investigation is just one of three Bentley is currently facing. With the addition of the Ethics Commission's referral, both the Montgomery District Attorney and a special prosecutor from the Attorney General's Office are overseeing two additional criminal investigations.
An impeachment could remove Bentley from office, but the criminal investigations could result in something far worse for the Governor, including thousands of dollars in fines and several years in prison.
"This is a difficult time," McCutcheon said Thursday, reflecting on the Ethics Commission's findings. "Yesterday was a sad day for Alabama. It really was. "
---
Email Chip Brownlee at [email protected] or follow him on Twitter.
Print this piece