Here's a closer look at Robert Bentley's plea agreement, sentence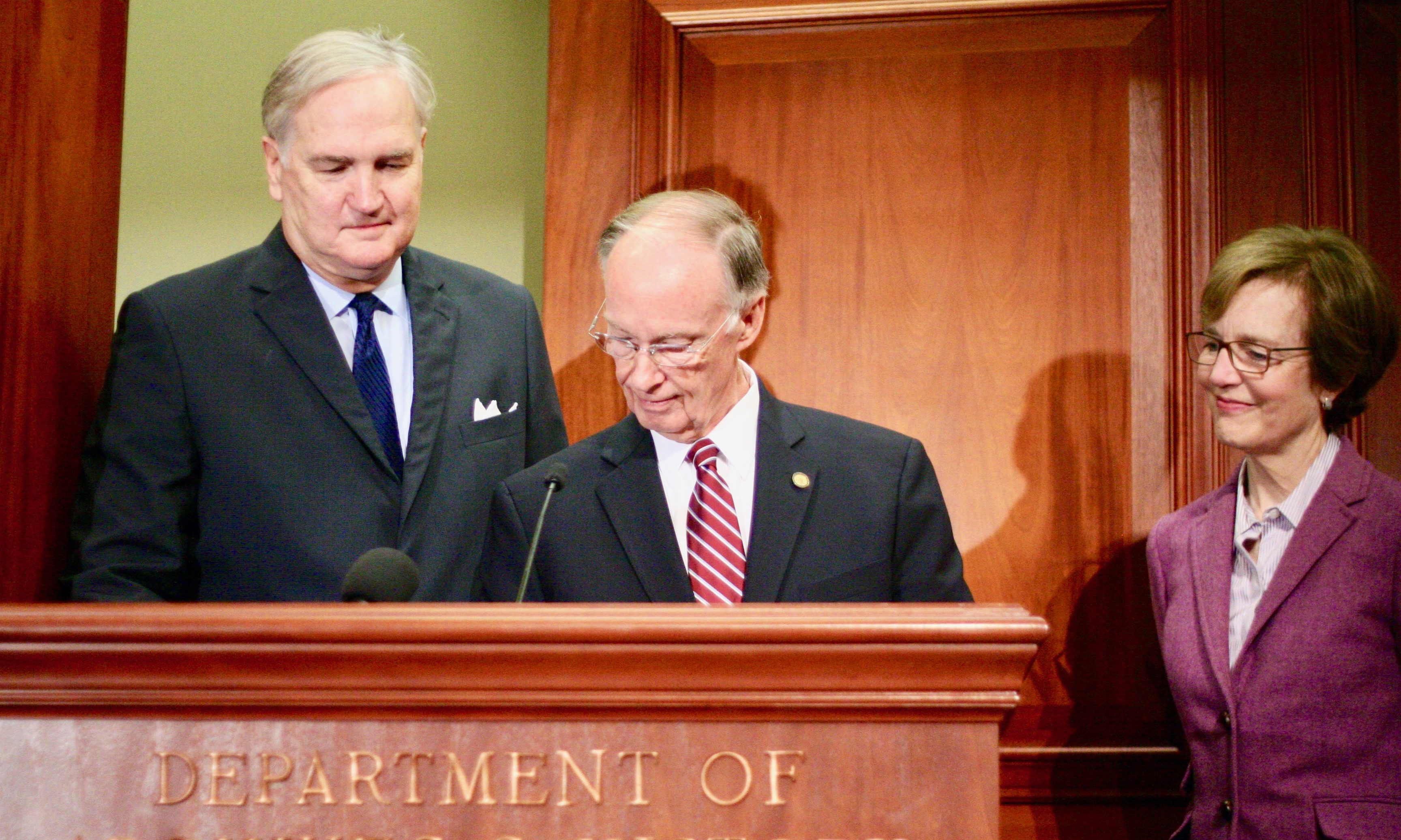 MONTGOMERY, Ala. — The scene was set: Alabama's Legislature was ready to conduct its first impeachment hearings since 1915. The House's special counsel had released his bombshell report. He had begun presenting his case. But then it turned out all to be for nothing.
Or was it?
Instead of being impeached, Gov. Robert Bentley decided to bow out on his own accord, on his own terms. Well, kind of. Instead of being impeached, Bentley pleaded guilty to two misdemeanor campaign finance violations and submitted his resignation, allowing Lt. Gov. Kay Ivey to become governor.
"I think this states to all of us that no one is above the law, even the governor," said Ellen Brooks, the acting attorney general who has been overseeing Bentley's case since February. "It states to us that you must do what is right."
The impeachment hearings were real, they weren't just a show, sources close to the committee tell APR. If Bentley had not resigned, the committee would have continued on through the process and likely would have voted to make a recommendation for Bentley's impeachment.
They were real, but they weren't just about impeachment. They were about getting Bentley gone. Several lawmakers believed Bentley would only resign if the House actually moved forward with the effort to impeach him. And they were right.
By the time House Judiciary Committee Chairman Mike Jones, R-Andalusia, gaveled in the committee for its first day of hearings, the governor agreed to step down, as APR reported first early Monday morning. The rest of the day was spent finalizing the deal with officials from the attorney general's Special Prosecutions Division and Brooks herself.
Meanwhile, Jack Sharman, the committee's special counsel, explained the separation of powers to legislators and read the executive summary from his 130-page report into the governor's actions. Shortly after returning for lunch, the House Judiciary Committee abruptly ended their hearings.
The governor was resigning.
David Byrne, the governor's chief legal counsel, had gone to meet Bill Athanas and Lewis Gillis, two of Bentley's personal attorneys, at the Montgomery County Courthouse, where Bentley would sign a plea agreement only a few hours later.
The legal team, on Bentley's behalf, met with the muscle of the Special Prosecutions Division, including division chief Matt Hart and Brooks, to get Bentley a good deal in exchange for his resignation. In fact, they had been meeting over the weekend as well, urging the governor to take a deal.
A tentative deal was reached Sunday night, sources told APR. It wasn't done, though, and Bentley had to sleep on it. He woke up the next day defiant but was eventually coaxed back into resigning by Monday morning around the start of the impeachment hearings.
At about 4 p.m., Bentley was booked into the Montgomery County Jail and charged with the two crimes.
Brooks later said they worked Sunday night into Monday morning.
"It became clear to me that the people of Alabama deserved an end to this," she said. "Part of our requirement was that it be done today, that it be completed. This is now over as to this defendant."
In the end, Bentley agreed to plead guilty to two class B misdemeanor charges — far less than the four class B felonies referred to the attorney general by the Alabama Ethics Commission, for which Bentley could have potentially been prosecuted. And the sentence was far more lenient, too. Instead of two to 20 years for each count, Bentley will serve no jail time.
"The misdemeanor punishments were most appropriate for these offenses," Brooks said. "You have to look at the big picture."
Montgomery County District Judge Troy Massey, who was assigned to Bentley's case at about 4 p.m. on Monday, accepted Bentley's guilty plea and sentenced him — in accordance with the plea — to 12 months unsupervised probation and fined him, in total, about $7,100 in addition to court costs.
According to the plea agreement, Bentley will also pay back $8,912.40 to his campaign committee's bank account, and then he will turn over the $36,912 left in his account to the state. He has agreed never to run for office again, has waived his rights to appeal and has promised to perform 100 hours of community service.
"I think the judge was fair considering the fact that Bentley was 74 years old," Brooks said. "He has lost his job. He has lost his church. He has lost his family. Don't take that to say I feel sorry for him. He did what he did. Now, he deserves to be called a criminal."
Bentley also agreed to forfeit his state retirement package and security needs, which Brooks said will save the cash-strapped General Fund budget about $1 million.
The two charges around which the plea agreement was based were related to campaign finance disclosures with the secretary of state's office. On one charge, Bentley pleaded guilty to failing to report a $50,000 loan he gave himself within the required 48-hour notice period. The other charge was over his top aide, Rebekah Mason, with whom he was accused of having an affair.
Bentley paid $8,912.40 in the form of a check out of his campaign account to cover Mason's legal fees. He will now reimburse all of that back to the state, according to the plea agreement.
Toward the end of his hearing, an emotional Bentley admitted his guilt in front of the court. He said he did not disagree with anything that had been said in the hearing Monday, and when Massey asked Bentley if he was guilty of the charges, he said only, "Yes sir."
An investigation may be conducted into Mason or others and their involvement in the governor's office, Brooks said Monday. According to the report from House special counsel, Mason had a strong grip on policy and political power in the governor's office during her relationship with Bentley.
"The other subjects that may appear will be followed up," Brooks said. "I cannot comment on any particular people at this time."
Brooks also said there were "other matters" that are still open with the attorney general's office and other law-enforcement agencies, including the FBI.
"I will now go to the Attorney General and see if my job is done," Brooks said. "I am hopeful that tomorrow is a new day for the state of Alabama and that this sends a message to all public officials, and want-to-be public officials: follow the law."
House passes General Fund Budget
By Brandon Moseley
Alabama Political Reporter
The Alabama House of Representatives passed the state General Fund Budget on Tuesday.
The General Fund Budget for the 2019 fiscal year is Senate Bill 178. It is sponsored by Sen. Trip Pittman, R-Montrose. State Rep. Steve Clouse, R-Ozark, carried the budget on the House floor. Clouse chairs the House Ways and Means General Fund Committee.
Clouse said, "Last year we monetized the BP settlement money and held over $97 million to this year."
Clouse said that the state is still trying to come up with a solution to the federal lawsuit over the state prisons. The Governor's Office has made some progress after she took over from Gov. Robert Bentley. The supplemental we just passed added $30 million to prisons.
The budget adds $50 million to the Department of Corrections.
Clouse said that the budget increased the money for prisons by $55,680,000 and includes $4.8 million to buy the privately-owned prison facility in Perry County.
Clouse said that the budget raises funding for the judicial system and raises the appropriation for the Forensic Sciences to $11.7 million.
The House passed a committee substitute so the Senate is either going to have to concur with the changes made by the House or a conference committee will have to be appointed. Clouse told reporters that he hoped that it did not have to go to conference.
Clouse said that the budget had added $860,000 to hire more Juvenile Probation Officers. After talking to officials with the court system that was cut in half in the amendment. The amendment also includes some wording the arbiters in the court lawsuit think we need.
The state General Fund Budget, SB178, passed 98-1.
Both budgets have now passed the Alabama House of Representatives.
The 2019 fiscal year begins on Oct. 1, 2018.
In addition to the SGF, the House also passed a supplemental appropriation for the current 2018 budget year. SB175 is also sponsored by Pittman and was carried by Clouse on the floor of the House.
SB175 includes $30 million in additional 2018 money for the Department of Corrections. The Departmental Emergency Fund, the Examiners of Public Accounts, the Insurance Department and Forensic Sciences received additional money.
Clouse said, "We knew dealing with the federal lawsuit was going to be expensive. We are adding $80 million to the Department of Corrections."
State Representative Johnny Mack Morrow, R-Red Bay, said that state Department of Forensics was cut from $14 million to $9 million. "Why are we adding money for DA and courts if we don't have money for forensics to provide evidence? if there is any agency in law enforcement or the court system that should be funded it is Forensics."
The supplemental 2018 appropriation passed 80 to 1.
The House also passed SB203. It was sponsored by Pittman and was carried in the House by State Rep. Ken Johnson, R-Moulton. It raises securities and registration fees for agents and investment advisors. It increases the filing fees for certain management investment companies. Johnson said that those fees had not been adjusted since 2009.
The House also passed SB176, which is an annual appropriation for the Coalition Against Domestic Violence. The bill requires that the agency have an operations plan, audited financial statement, and quarterly and end of year reports. SB176 is sponsored by Pittman and was carried on the House floor by State Rep. Elaine Beech, D-Chatham.
The House passed Senate Bill 185 which gives state employees a cost of living increase in the 2019 budget beginning on October 1. It was sponsored by Sen. Clyde Chambliss, R-Prattville and was being carried on the House floor by state Rep. Dimitri Polizos, R-Montgomery.
Polizos said that this was the first raise for non-education state employees in nine years. It is a 3 percent raise.
SB185 passed 101-0.
Senate Bill 215 gives retired state employees a one time bonus check. SB215 is sponsored by Senator Gerald Dial, R-Lineville, and was carried on the House floor by state Rep. Kerry Rich, R-Guntersville.
Rich said that retired employees will get a bonus $1  for every month that they worked for the state. For employees who retired with 25 years of service that will be a $300 one time bonus. A 20-year retiree would get $240 and a 35-year employee would get $420.
SB215 passed the House 87-0.
The House passed Senate Bill 231, which is the appropriation bill increase amount to the Emergency Forest Fire and Insect and Disease Fund. SB231 is sponsored by Sen. Steve Livingston, R-Scottsboro, and was carried on the House floor by state Rep. Kyle South, R-Fayette.
State Rep. Elaine Beech, D-Chathom, said, "Thank you for bringing this bill my district is full of trees and you never know when a forest fire will hit.
SB231 passed 87-2.
The state of Alabama is unique among the states in that most of the money is earmarked for specific purposes allowing the Legislature little year-to-year flexibility in moving funds around.
The SGF includes appropriations for the Alabama Medicaid Agency, the courts, the Alabama Law Enforcement Agency, the Alabama Department of Corrections, mental health, and most state agencies that are no education related. The Alabama Department of Transportation gets their funding mostly from state fuel taxes.
The Legislature also gives ALEA a portion of the gas taxes. K-12 education, the two year college system, and all the universities get their state support from the education trust fund (ETF) budget. There are also billions of dollars in revenue that are earmarked for a variety of purposes that does not show up in the SGF or ETF budgets.
Examples of that include the Public Service Commission, which collects utility taxes from the industries that it regulates. The PSC is supported entirely by its own revenue streams and contributes $13 million to the SGF. The Secretary of State's Office is entirely funded by its corporate filing and other fees and gets no SGF appropriation.
Clouse warned reporters that part of the reason this budget had so much money was due to the BP oil spill settlement that provided money for the 2018 budget and $97 million for the 2019 budget. Clouse said they elected to make a $13 million repayment to the Alabama Trust fund that was not due until 2020 but that is all that was held over for 2020.
Clouse predicted that the Legislature will have to make some hard decisions about revenue in next year's session.