Alabama's political candidates and their capacity to care for orphans

By Sam McLure
Alabama Political Reporter
"Oh I say the measure of a man
Is not how tall you stand."
4 Him, The Measure of a Man, 1995
Alabama has exciting days ahead of it.  Our next US Senator will likely be decided August 15, 2017.  Almost every other statewide elected official and every member of the Legislature will be up for election on November 6, 2018.
Over the coming weeks and months, we will be inundated with announcements of men and women running for office, with their accompanying propaganda.  Alabama's legendary Chief Justice Roy Moore is slated to announce whether he will pursue US Senate or Governor on Wednesday, April 26, at 1:30 on the Capitol Steps in Montgomery.
Rep. Ed Henry, the respected legislative truth-speaker, has announced his run for US Senate and has the backing of the North Alabama brain-trust. His experience with Federal politics is limited, but his track-record of shedding light into the darkness of Montgomery is nearly unmatched.
With the onslaught of announcements to come, how should we evaluate the candidates vying for leadership of our Great State? An often overlooked factor – yet historically, scientifically, and sociological essential – is caring for abused, neglected, and at-risk youth.
————
"An orphan is a child left without adequate familial provision and protection from evil." In the book, The End of Orphan Care, I spend a lot of ink supporting that definition of "orphan." Why?
When a child is classified as an orphan, a great duty is triggered in the mind of a Christian. James, speaking to the early Church, summarizes the duty: "Pure religion that is undefiled before God the Father is this: visit orphans and widows in their affliction, and keep yourself undefiled from the world."
By any estimation, visiting orphans "in their affliction" is a fundamental aspect of true Christianity.  Early Church leaders considered the lack of orphan care to be a litmus test by which heretics could be identified, and the presence of orphan care an indicator of a man's readiness for the office of Elder.
Around 700 BC, when a Watchman-on-the-Wall spoke of impending judgment to the nation of Israel, he diagnosed that this coming destruction was, in part, a result of the political elite's disregard for seeking out and making safe the orphan: "How the faithful city has become a whore, she who once was full of justice." (Isaiah 1)
What relevance does this have for us today?  The "orphans" that James identifies are not just the kids whose parents died in a tornado; they aren't just the children of war-torn Congo.  I believe the "orphans" to which James draws our attention are also the children in our inner cities who lack permanent, stable father-figures, and are drawn like a magnet to the security of gangs; they are the children in foster-care whose parents have abused or  neglected them and who desperately yearn for permanency; they are the 16 pre-born children who are murdered by their parents every day in Alabama; and dozens of other scenarios where the weakest in society, children without adequate familial protection, need the protection of the strong.
We all have a private individual duty to seek out and make safe the orphans in our community. Much, much more do our elected officials have a duty to use all means at their disposal to protect the orphan from the inertia of evil.  Isaiah made remedying lack-of-orphan-care a top political priority for the political elites of his day.  Will you make a political candidate's convictions, character, and competency in orphan-care a fundamental component of your voting decision?
Here are six launching points to make any candidate's capacity to care for orphans a deciding factor in the next election:
Does the candidate have a track-record, in their private life, of spending time, money, and energy caring for abused, vulnerable, and at-risk youth?
Has the candidate been a leader in their community for serving abused, vulnerable, and at-risk kids?
What has the candidate accomplished in their political career to help protect abused, vulnerable, and at-risk kids?
If the candidate is seeking office to the Legislature:

and if they are an incumbent, what have they done to support pro-life bills? Don't accept just voting in support of pro-life bills, every Republican in Alabama does that. Has the candidate been a silent observer of the work of others, or have they spent their time, energy, and talents to promote the cause of orphans in the womb?
and if they are an incumbent, have they ever promoted the argument that Alabama shouldn't pass pro-life bills because it costs so much money for the State to defend them? If so, then they don't understand the fundamental duty of government to protect the weak; and the duty of elected officials to protect orphans in particular.
Are they paying attention to foster care? What ideas do they have to improve the foster care system?

If the candidate is seeking office of Attorney General or Governor:

How can they use their powers as AG or Governor to protect babies in the womb from murder?
Are they willing to use their executive powers to protect babies from murder even though the Federal Government says they can't?
Are they prepared to continue protecting babies from murder even when a Federal Court tells them to stop?
Are they willing to prioritize resources to DHR's foster care program? What other aspects of government are they willing to neglect to prioritize protecting abused, vulnerable, and at risk youth?
What legislation or regulations needs to be repealed to make it easier for the community to care for abused, vulnerable, and at-risk children?
If Federal regulations are incentivizing systems of abuse and neglect for children, are they willing stop enforcement of these regulations, even if it means loss of Federal money?

If the candidate is seeking a Judicial office:

The law says that if a child comes into foster care through neglect, the parent has one year to be "rehabilitated"; if the parent does not resolve whatever issue led to the neglect, DHR must ask the court to terminate the parental rights of the child. If a parent has not been "rehabilitated" in one year, what will the candidate value more, a child's ability to flourish in a permanent adoptive home, or a biological parent's rights to the child?
Does the candidate understand that delaying permanence for a child in foster care is harmful to the child?
The bottom line is that if caring for at-risk kids came naturally, we would not need commands from a higher authority to do it. We don't need anyone to tell us to drink water or eat ice cream. All that comes naturally.  Spending our time, talent, and energy on protecting and caring for the weak does not come naturally.  Alabama needs men and women in office who have the conviction, character, and competence to do the unnatural – visit orphans in their affliction.
May these questions guide us in measuring Alabama's next political leaders.
Opinion | Electing Tuberville could cost Alabama billions
If your conscience or decency isn't enough, vote your wallets.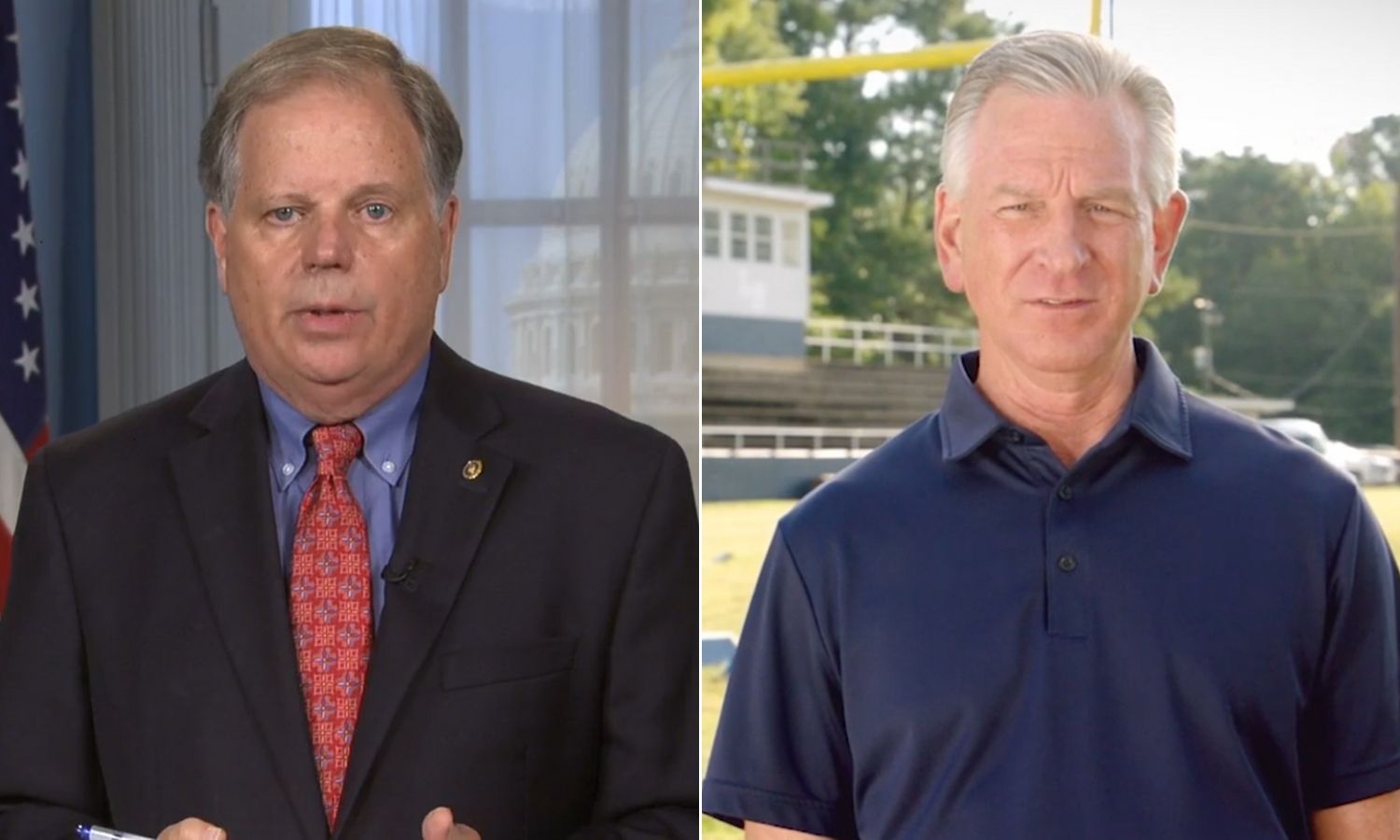 Money matters in Alabama. Oh, I know that we're not supposed to say that out loud. That we're supposed to promote our image of southern grace and hospitality, of churchiness and care, of rich people never getting into heaven. 
But the truth is greed is our biggest character flaw in this state. 
Every problem we have can be traced back to our unending thirst for dollars. Our ancestors didn't keep slaves because they hated black people. They did it because they loved money and the difference in skin color gave them an excuse — a really, really stupid excuse — to mistreat other humans to take advantage of the free labor. 
Our rivers and lakes and dirt aren't filled with poisons from factories because we're too dumb to understand how this works. They're that way because our politicians are paid off to turn a blind eye to the dumping of toxic waste. 
Our schools aren't terrible because we have dumb kids or bad teachers. It's because we're too cheap to pay for them. 
You see what I mean? It's our lust for the almighty dollar. Every time. 
We love money. 
Which makes me seriously wonder why so many people in this state are going to vote for a man who will cost us all — and especially our biggest businesses — so much of it. 
Tommy Tuberville will be like a money vacuum for Alabama. Billions of dollars will vanish for this welfare state that relies so much on federal contracts, federal programs and federal dollars. 
If you doubt this, don't simply take my word for it. Just Google up the press releases from Sen. Richard Shelby's office from the last, say, six years — the most recent span in which Republicans have controlled the Senate. 
Almost every single release is about Shelby securing millions or billions of dollars in federal funding for this project or that project, getting the state's share of dollars from a variety of different programs and initiatives implemented by Congress. 
Shelby and I obviously have different political viewpoints, but it's hard to argue that the man has been successful in securing money for Alabama. Lots and lots of money. 
Money for airports and roads. Money for defense contractors in Huntsville. Money for the port in Mobile. Money for car manufacturers. Money for farmers. 
Money. Money. Money. 
Shelby can do that because of three things: He's on the right committees, he's a member of the party in power and he's liked by the right people.
Tuberville will be none of those things. 
Most pundits are predicting that Democrats will take over the Senate, tipping the balance of power and giving the party control of both houses and the White House. 
That automatically means that a first-time senator in the opposition party will have little to no say in any decisions. 
But what's worse for Tuberville, and for Alabama, is that other Republicans don't like him either. 
Establishment Republicans essentially openly campaigned against Tuberville in the primary, tossing tens of millions of dollars behind his opponent, Jeff Sessions. They even favored third-place finisher Bradley Byrne over Tuberville. 
It's not hard to understand why — he's clueless. 
I know that's a Doug Jones talking point, but this one happens to be true. Let me give you an example: On Thursday, Tuberville tweeted out what was meant to be a shot at Jones, claiming that Alabama's current senator wouldn't meet with Trump's Supreme Court nominee because Jones knows "he won't have much time in the Senate to work with her."
If you're unaware, the Senate doesn't "work with" the Supreme Court. They're separate entities. 
Combine that with his other nonsensical answers on COVID relief, school reopenings, the Voting Rights Act, senate committee assignments, education, foreign affairs — really, the list is almost endless — and it shows how little work he's put in over the last two years to understand this job he's applying for. 
Now, that might be just fine with Alabama voters who care more about the party affiliation and owning the libs, but it's not OK with grownups who take the job of running the country seriously. 
And those people — both Rs and Ds — don't like Tuberville or his here-for-an-easy-check-like-always approach to one of the most serious jobs in the world. 
He will be frozen out of the most sought after committee assignments. His voice will carry zero weight. His presence will be all but forgotten. 
And in the process, so will Alabama. Especially in two years, when Shelby retires and his senior status is lost. 
In the meantime, Jones is highly respected by senators on both sides of the aisle. He already has a presence on top committees, and is so well liked within the Democratic Party that he's on the short list to be Joe Biden's AG, should he not be re-elected. 
The choice seems pretty simple. On the one hand is a competent, prepared and serious statesman who knows how to maneuver his colleagues to get the most for the state. On the other hand is an unprepared, uncaring, lazy carpetbagger who doesn't understand any process. 
If your conscience or decency isn't enough, vote your wallets.