Separating fact from fiction about "Gun Bill"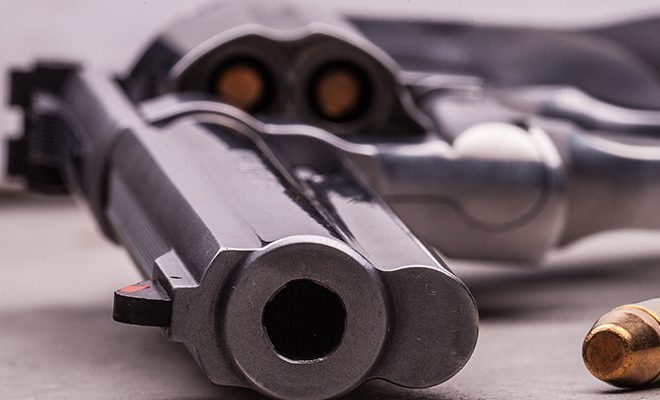 By Bill Britt
Alabama Political Reporter
The Alabama Senate passed Senate Bill 24, which would allow Alabamians, who are lawfully permitted to own a firearm, to carry them concealed on their person without having to purchase a concealed carry permit (sometimes popularly called a "pistol permit") from their Sheriff's Office. However, the Alabama Sheriff's Association is fighting hard against this bill claiming it will jeopardize the public's safety.
Anyone who has attended public hearings or has heard arguments from lobbyists knows that separating fact from fiction can be a challenging task that requires doing research on the legislation.
Most people born in the South cling to God, guns, and State's rights to paraphrase former President Barack Obama.
In Alabama, 2nd Amendment Advocates, Constitutionalists, the NRA, Bama Carry, Jefferson County Sheriff Mike Hale, and others support SB24. On the other side sit the Alabama Sheriffs Association, the SPLC, ACLU and those who would strip Alabamians of all their guns. Surprisingly, this strange coalition has joined forces to kill what has come to be known as "The Gun bill."
Sheriffs, as well as all Law Enforcement officers, should be respected, and when their association lobbies the Legislature, it should do so with the same honesty and integrity that is the underpinning of an officer's oath of office.
As Sergeant Joe Friday said on the TV series Dragnet, "Just the facts, ma'am."
SB24 will be in House Committee on Wednesday. So, for those who don't have time to scourer the bill, here are the facts:
The "Gun Bill" is not groundbreaking Legislation. States as diverse as Vermont and Wyoming have passed similar bills. Other states that have comparable statutes include:
Arizona
Idaho
Kansas
Maine
Mississippi
Missouri
New Hampshire
North Dakota
West Virginia
Oklahoma
The foundational argument being made by the Sheriffs' Association is that passage of SB24 would pose a grave threat to officer safety. Yet, states that have passed similar Legislation have not seen an uptick in violence against police officers. Statistics from Officer Down Memorial which tracks data concerning officer-involved homicides found that Arizona, Alaska, and Wyoming, states that have enacted laws similar to SB24, have not seen an increase in gun violence against Law Enforcement.
Officer Down Memorial. Org PDF
But, there are many more so-called "facts" being cited by the Sheriffs Association and its allies opposing the Legislation that have little or nothing to do with the actual bill at all.
Sen. Gerald Allen who sponsored the bill in the Senate has tried to separate the truth from fiction surrounding other parts of the Legislation: "Under this proposal, the requirement for a permit would be repealed, but Alabamians could still apply for a pistol permit in order to carry a gun in states that have reciprocity laws with Alabama."
The Sheriff's Association has alleged that SB24 eliminates the ability for Sheriffs to issue permits. But Allen's statement and the bill itself makes clear that Sheriffs will still need to sell conceal carry pistol permit to carry a firearm across state lines.
SB24 does not, in any way, eliminate the ability for Sheriffs to issue permits. In fact, states with similar laws have seen an increase in permit sales, not a decrease.
Crime Prevention Research Center PDF
Arizona which passed similar legislation in 2010 has seen an upswing in permit sales, not a decrease, as predicted by the Alabama Sheriff's Associations. Not only has Arizona enjoyed an increase in permit sales, so has Kansas, Alaska, and Wyoming. So, the facts contradict the assertion that permit sales are in jeopardy.
Another fact versus fiction item is the notion that SB24 eliminates background checks on people who purchase firearms. Under Alabama law, anyone who buys a handgun has to complete a thorough background check. SB24 does not change that provision of the law. Even after the passage of SB24, every person who walks into a gun shop to make a legal purchase will have to pass the same background check that they do now.
"Currently, Alabama conceal-carry permit holders can carry guns in Mississippi, Georgia, Tennessee, and Florida, among other states, due to State reciprocity laws," said Senate sponsor Allen. "You will still need a permit if you're going to legally carry a gun in other states, so I anticipate that a large majority of gun owners in Alabama will continue to purchase a permit from their local Sheriff."
In fact data from other states with similar laws shows that those states have not experienced a decrease in permit purchases. Many states have seen their permit sales increase. Therefore, funding for local Sheriffs' operations is not negatively impacted by SB24.
The Sheriffs Association has also intimated that SB24 eliminates an important tool for the apprehension of criminals. However, most criminals do not seek concealed carry permits. Only a fool would apply for a pistol permit from their local Sheriff before going on a crime spree. But why let a good argument stand in the way of facts.
Here again, Allen addresses the issues saying, "My goal is to remove unnecessary burdens on law-abiding citizens who own and carry guns since most criminals and thugs don't bother applying for a permit anyways."
Integrity, honesty, and candor are important traits for the women and men in Law Enforcement who serve and protect the citizens of our State. The same goes for their lobbyists.
The arguments against passing SB24 are not grounded in facts as proven by historical data and research. The people of Alabama and their elected officials deserve facts, not fiction. Legislators need to be able to trust that those representing men and women in uniform are being fully truthful. They deserve data-driven answers and not hype. Empirical evidence leads to better policy and in a matter as important to the people's right to bear arms, there should be no question about the facts. Let's hope that those representing the opposition to this bill remember that the men and women in uniform that they represent need to them to stick to the facts and nothing but the facts.
Opinion | Prisons, justice reform and the art of the possible
Politics is bound by the art of what's possible. It is also true that those who never dare the impossible rarely achieve even the possible.
For years, prison reform advocates, media outlets and even a few public officials have called for new correctional facilities to address Alabama's dangerously overcrowded prisons.
Now that it's happening, some aren't happy with how Gov. Kay Ivey is addressing the problem.
Is the Ivey Administration's plan perfect? No. But building new facilities along with criminal justice reform — while all imperfect — is the last best hope to correct generations of cruel treatment, endangered correctional officers and corrupt practices.
German chancellor and statesman Otto von Bismarck said "Politics is the art of the possible, the attainable — the art of the next best," this is the state of a workable solution to Alabama's prison needs and criminal justice reform.
Yet, there is a concerted effort underway to stop the Ivey Administration from acquiring three new men's prisons under a build-lease agreement.
Some lawmakers want another crack at financing additional facilities through a bond issue, and others want more say in the process. Still, the fact is that Ivey's actions are the result of decades of legislative indifference and inaction to adequately address the appalling conditions at Alabama's correctional facilities.
Even some advocates are working against the prison plan and while their intentions may be good it seem to their hand wringing is almost as disingenuous as lawmakers whining.
What's worse are those who spread disinformation to discredit process.
Many good people have worked hard to bring about an end to the state's barbaric prison system and unfair justice, but lately it seems there is an outright movement to derail much needed change— simply because it's not enough. As the saying goes, "Don't let the perfect be the enemy of the good."
There have been so many false claims and sly manipulations of facts about the prison plan as to make even a hardened journalist want to cry "fake news."
But as for Ivey, frankly, my dears, I don't think she gives a damn.
Here's the hard truth. The Ivey Administration is building three new men's prisons, and nothing will stop it. The fact is that three prisons are not enough; the administration should move forward to build a new women's facility as soon as practicable.
Politics is bound by the art of what's possible. It is also true that those who never dare the impossible rarely achieve even the possible.
Failing to recognize when the once impossible is coming to fruition is a sad reality. Still, in politics, as in life, good things happen while most people are navel-gazing or complaining.
Having visited three state prisons, St. Clair, Elmore, and Tutwiler, I can say without a doubt, the conditions in those places are a living hell.
A report from the U.S. Department of Justice released in April 2019, found "reasonable cause to believe that Alabama fails to provide constitutionally adequate conditions and that prisoners experience serious harm, including deadly harm, as a result."
DOJ's investigation revealed that prisoners were susceptible to "an enormous breath" of sexual abuse and assault but other types of violence as well, including gruesome murder and beatings that went without intervention.
When the state incarcerates a criminal, it assumes custodial care for that individual. No matter how heinous the crime or foul the person, the state has an obligation to feed, clothe, house and provide essential human services for their care and welfare. Another element is often overlooked; when a person is committed to prison, they lose their freedom, not their humanity. Therefore, under the law, they cannot be subject to cruel and unusual punishment.
Building three new men's prisons is just the start; it must be accompanied by criminal justice reform.
"We are able to have a serious discussion about prison reform in Alabama because we have a governor who is serious about putting solutions into place," Ivey's press secretary Gina Maiola recently told APR. "Prison infrastructure is a key part of the equation, but criminal justice reform is also needed," Maiola said.
By executive order on July 18, 2019, Ivey established the Study Group on Criminal Justice Policy. The Study Group released its findings on Jan 31, 2020.
The Study Group entered its mission with one pressing question; "What policies and programs can the State of Alabama implement to ensure the long-term sustainability of our prison system without jeopardizing public safety?" according to Supernumerary Associate Supreme Court Justice Champ Lyons, Jr., who led the effort.
In a letter to Ivey on the Study Groups finding, Lyons wrote [T]he challenges facing our prison system are exceedingly complex—ranging from the elimination of contraband weapons and drugs to the recruitment, retention, and training of correctional staff to the size of the inmate population and to the physical condition of an aging and far-flung prison infrastructure." He further wrote, "But having thought through many of these issues with my Study Group colleagues, especially our legislative members, I can report to you that some meaningful answers to this question are not just possible; they are within our grasp."
Prisons without justice reform is a hollow victory, and the Ivey Administration is committed to bringing about reasonable reforms.
"Prison infrastructure is a key part of the equation," said Maiola, "but criminal justice reform is also needed."
The issues facing Alabama's prisons and criminal justice system are complex, and generations in the making; therefore, arriving at a universally acceptable solution is not imaginable for the moment if ever. But what once seemed impossible is soon to be realized.
No one gets everything they want, but it's a great step toward getting what is needed simply because it's possible.