Democrats use delay tactics to stall House in Spat over Redistricting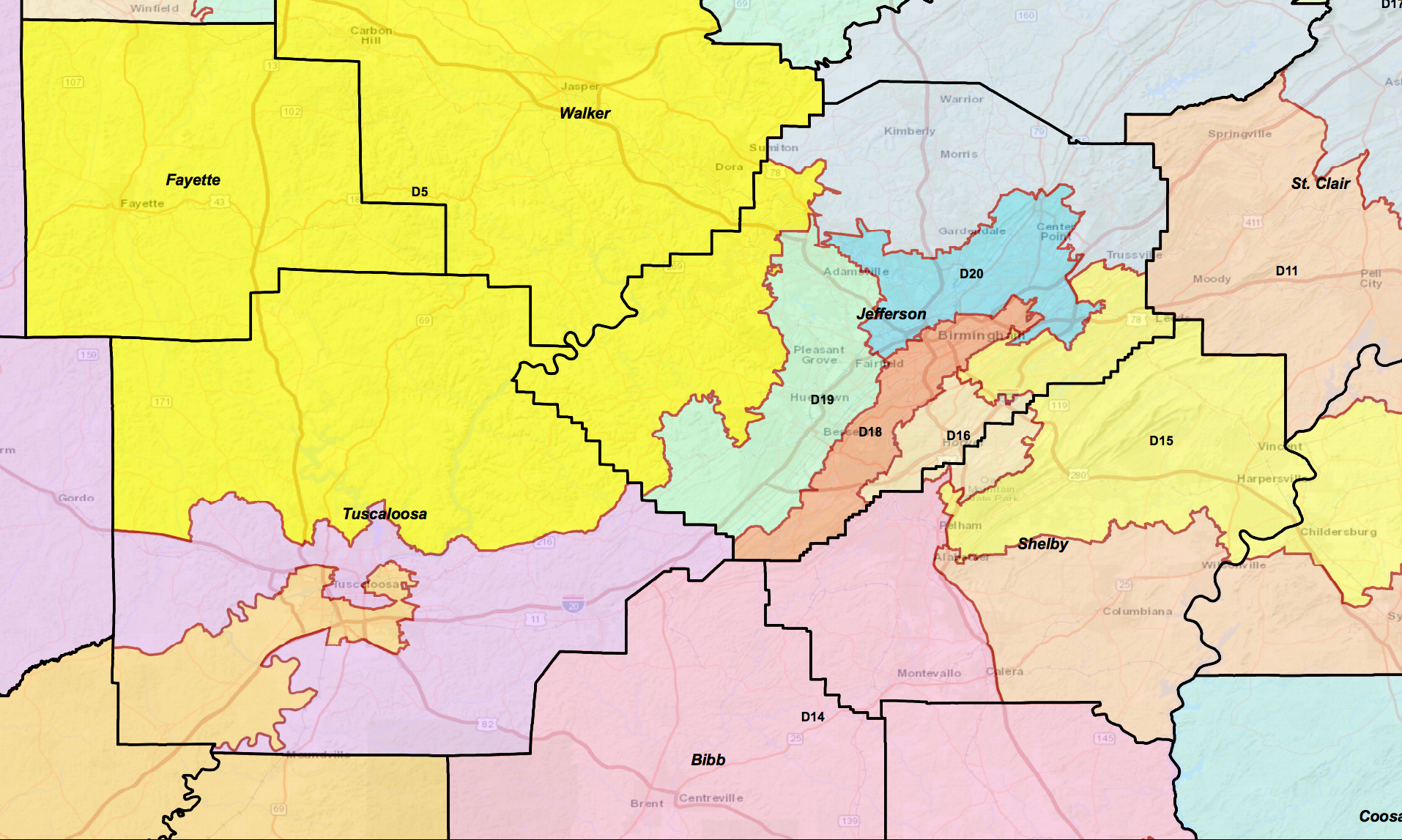 By Brandon Moseley
Alabama Political Reporter
Tuesday, May 9, 2017, the Alabama House of Representatives took up the controversial court ordered redistricting bill for the Alabama House, HB571, sponsored by State Representative Randy Davis (R-Daphne).
When it became apparent that the Democrats did not have the votes to stop the bill, State Representative Thomas Jackson (D-Thomasville) demanded that the bill be read at length. Since the redistricting bill is over 500 pages this will take approximately 15 hours, during which time the House has to maintain a quorum present.
One key points of dispute between the two parties is how to redistrict Jefferson County, the State's largest county which is transitioning from a white majority Republican County to a black majority Democratic County.
The House Democratic Caucus wrote in a statement: "The Reapportionment Committee's House redistricting plan, HB571, passed by House Republicans, contains an unconstitutional racial gerrymander of Jefferson County. Only 15 incumbent House members reside in Jefferson County, seven of whom are white and eight of whom are black. Solely for the purpose of maintaining white control of the Jefferson County House delegation."
The Democrats continued, "HB571 extends the districts of nonresident incumbents Wadsworth, HD 14, and South, HD 16, inside Jefferson County to provide representatives of majority-white districts a 9-8 majority in the delegation.  HB 14 is 95 percent white, and its 5,338 Jefferson County residents make up only 11 percent of the district's population.  HB 16 is 87 percent white, and its 12,716 Jefferson County residents make up only 28 percent of the district's population.  Taken together, HD 14 and HD 16 are 91 percent white, and their 18,054 Jefferson County residents comprise just 20 percent of the population in the two districts.  In addition, the districts of three white House members who reside in Jefferson County, HD 15, HD 45 and HD 48 extend beyond the county boundaries. The districts of all eight black House members are wholly contained inside Jefferson County.  To accomplish the Jefferson County gerrymander, HB571 subordinates traditional districting principles to race, by splitting county boundaries in particular. It allows 110,153 persons residing in 6 other counties,1 89 percent of whom are white, to vote for members of Jefferson County's House delegation."
The Black Legislative Caucus wanted a plan, introduced as HB583, which takes HD 14 and HD 16 out of Jefferson County and adds part of HD 49 (anchored in Bibb County), leaving eight white and eight black members of the Jefferson County delegation.
The Joint Committee on Reapportionment did agree to reduce the number of majority white Districts in Jefferson County from ten to just nine.
Rep. Davis said that his plan was developed by, "Working with the ladies and gentlemen across the chamber we have worked for hundreds of hours."
State Representative John Rogers (D-Birmingahm) said, "How in the Sam Hill do you divide Jefferson County into 17 districts? I don't care about this plan and am ready to go to court. I am begging to go to court, because I have an idea of what is going to happen. In 2020 it will a whole different ball game."
State Representative John Knight (D-Montgomery) said, "Reapportionment is a very serious business. You should go back to your district and give your people input. Not only did we shut the public out of the process we shut member of this legislature out of the process. This plan is wrong it is concepted wrong.  It does not comply with the supreme court it does not comply with the Alabama Constitution. Lets take our time and come up with a compromise."
Rep. Rogers said, "The Senate plan is better than the House plan but the House plan is just terrible. I guarantee if you pass this one here we will be back in court and take our chances. This racially gerrymandered plan will not stand scrutiny of the United States Supreme Court no matter who the President puts on the Supreme Court."
The Budget Isolation Resolution passed 71 to 31.
Chairman Davis said that 14 plans were submitted to the office.  Close to 70 districts were a part of this Plan 2 apportionment. There is a standard deviation of 545 people between districts.
Davis introduced a substitute bill on the floor of the House.
Rep. Laura Hall said, "That is not right.  That is just wrong.  We have not had the opportunity to see that substitute we have not even seen the whole map.  Maybe if we saw it we would say that everything is ok."
State Representative Mary Moore (D-Birmingham) said, "Part of our concern is the process. A house divided can not stand." Moore lamented that legislators who were in the Jefferson County Delegation who live 2 or 3 counties over do "not even understand the culture of Jefferson County."
Rep. Dexter Grimsley (D-Newville) was very upset that his district was changed from majority black to just 44 percent black. He compared it to what the Sanhedrin did to Jesus.
Rep. A.J. McCampbell (D-Livingston) was disturbed that his multi county district will now be 44 percent in Tuscaloosa.
Chairman Davis said that our smallest county is Greene with 9000 people and our largest is Jefferson with 670,000 people.
Rep. Marcel Black (D-Tuscumbia) told Davis, I stood in your shoes in 2001 as Chairman of the Joint Committee on Reapportionment.  One think I was proud in the legislature that we passed a House plan without it being nested. Before then each senate district had 3 house districts inside it.  The senate can draw their plan and the House passed the Senate plan,  It was challenged and upheld.  The chief reason for that is that it was a bipartisan effort."
The bill reading robot started reading the bill just after 7:00 pm and went until midnight.  It will resume its task on Thursday.
State Representative Mack Butler (R-Rainbow City) said on social media, "The House of Representatives is basically shut down for the rest of the night and all day Thursday unless the Democrats withdraw their motion to have the 538 page reapportionment bill read at length. If you have an interest in the budgets or other legislation please know everything is shut down and can't move for the time being. We have to keep a quorum in the chamber. Listening to a computer speed read a bill 538 pages long is similar to watching paint dry. Roll Tide!"
State Representative Koven L. Brown (R-Jacksonville) said on social media, "Well, I had hoped the filibuster would end, but it looks like we will carry on until midnight and then come in early Thursday morning and resume for 7 more hours. Not a good use of time when we have 5 legislative days left in this session."
The Republicans had successfully used cloture on the Democrats and passed the substitute so final passage is almost certain on Tuesday when the robot is done reading the bill.
House passes General Fund Budget
By Brandon Moseley
Alabama Political Reporter
The Alabama House of Representatives passed the state General Fund Budget on Tuesday.
The General Fund Budget for the 2019 fiscal year is Senate Bill 178. It is sponsored by Sen. Trip Pittman, R-Montrose. State Rep. Steve Clouse, R-Ozark, carried the budget on the House floor. Clouse chairs the House Ways and Means General Fund Committee.
Clouse said, "Last year we monetized the BP settlement money and held over $97 million to this year."
Clouse said that the state is still trying to come up with a solution to the federal lawsuit over the state prisons. The Governor's Office has made some progress after she took over from Gov. Robert Bentley. The supplemental we just passed added $30 million to prisons.
The budget adds $50 million to the Department of Corrections.
Clouse said that the budget increased the money for prisons by $55,680,000 and includes $4.8 million to buy the privately-owned prison facility in Perry County.
Clouse said that the budget raises funding for the judicial system and raises the appropriation for the Forensic Sciences to $11.7 million.
The House passed a committee substitute so the Senate is either going to have to concur with the changes made by the House or a conference committee will have to be appointed. Clouse told reporters that he hoped that it did not have to go to conference.
Clouse said that the budget had added $860,000 to hire more Juvenile Probation Officers. After talking to officials with the court system that was cut in half in the amendment. The amendment also includes some wording the arbiters in the court lawsuit think we need.
The state General Fund Budget, SB178, passed 98-1.
Both budgets have now passed the Alabama House of Representatives.
The 2019 fiscal year begins on Oct. 1, 2018.
In addition to the SGF, the House also passed a supplemental appropriation for the current 2018 budget year. SB175 is also sponsored by Pittman and was carried by Clouse on the floor of the House.
SB175 includes $30 million in additional 2018 money for the Department of Corrections. The Departmental Emergency Fund, the Examiners of Public Accounts, the Insurance Department and Forensic Sciences received additional money.
Clouse said, "We knew dealing with the federal lawsuit was going to be expensive. We are adding $80 million to the Department of Corrections."
State Representative Johnny Mack Morrow, R-Red Bay, said that state Department of Forensics was cut from $14 million to $9 million. "Why are we adding money for DA and courts if we don't have money for forensics to provide evidence? if there is any agency in law enforcement or the court system that should be funded it is Forensics."
The supplemental 2018 appropriation passed 80 to 1.
The House also passed SB203. It was sponsored by Pittman and was carried in the House by State Rep. Ken Johnson, R-Moulton. It raises securities and registration fees for agents and investment advisors. It increases the filing fees for certain management investment companies. Johnson said that those fees had not been adjusted since 2009.
The House also passed SB176, which is an annual appropriation for the Coalition Against Domestic Violence. The bill requires that the agency have an operations plan, audited financial statement, and quarterly and end of year reports. SB176 is sponsored by Pittman and was carried on the House floor by State Rep. Elaine Beech, D-Chatham.
The House passed Senate Bill 185 which gives state employees a cost of living increase in the 2019 budget beginning on October 1. It was sponsored by Sen. Clyde Chambliss, R-Prattville and was being carried on the House floor by state Rep. Dimitri Polizos, R-Montgomery.
Polizos said that this was the first raise for non-education state employees in nine years. It is a 3 percent raise.
SB185 passed 101-0.
Senate Bill 215 gives retired state employees a one time bonus check. SB215 is sponsored by Senator Gerald Dial, R-Lineville, and was carried on the House floor by state Rep. Kerry Rich, R-Guntersville.
Rich said that retired employees will get a bonus $1  for every month that they worked for the state. For employees who retired with 25 years of service that will be a $300 one time bonus. A 20-year retiree would get $240 and a 35-year employee would get $420.
SB215 passed the House 87-0.
The House passed Senate Bill 231, which is the appropriation bill increase amount to the Emergency Forest Fire and Insect and Disease Fund. SB231 is sponsored by Sen. Steve Livingston, R-Scottsboro, and was carried on the House floor by state Rep. Kyle South, R-Fayette.
State Rep. Elaine Beech, D-Chathom, said, "Thank you for bringing this bill my district is full of trees and you never know when a forest fire will hit.
SB231 passed 87-2.
The state of Alabama is unique among the states in that most of the money is earmarked for specific purposes allowing the Legislature little year-to-year flexibility in moving funds around.
The SGF includes appropriations for the Alabama Medicaid Agency, the courts, the Alabama Law Enforcement Agency, the Alabama Department of Corrections, mental health, and most state agencies that are no education related. The Alabama Department of Transportation gets their funding mostly from state fuel taxes.
The Legislature also gives ALEA a portion of the gas taxes. K-12 education, the two year college system, and all the universities get their state support from the education trust fund (ETF) budget. There are also billions of dollars in revenue that are earmarked for a variety of purposes that does not show up in the SGF or ETF budgets.
Examples of that include the Public Service Commission, which collects utility taxes from the industries that it regulates. The PSC is supported entirely by its own revenue streams and contributes $13 million to the SGF. The Secretary of State's Office is entirely funded by its corporate filing and other fees and gets no SGF appropriation.
Clouse warned reporters that part of the reason this budget had so much money was due to the BP oil spill settlement that provided money for the 2018 budget and $97 million for the 2019 budget. Clouse said they elected to make a $13 million repayment to the Alabama Trust fund that was not due until 2020 but that is all that was held over for 2020.
Clouse predicted that the Legislature will have to make some hard decisions about revenue in next year's session.