Jenny Cataldo is in jail, her friends are in disbelief after fake cancer scam exposed

By Josh Moon
Alabama Political Reporter
Jenny Flynn Cataldo fooled a lot of people with her cancer scam.
Since I wrote about Cataldo and her long-running scam last week, exposing it for the first time, dozens of her (former) friends and co-workers have sent me messages to discuss their interactions with her.
They are, understandably, hurt. They are confused. They are angry.
Looking back, most all of them said, they can't believe they didn't see the signs of deception. Or even worse: many said they saw the signs, had serious doubts about Cataldo's claims, but they either shook them off or simply backed away from her. They didn't confront her. And now they feel used and stupid.
They shouldn't.
I didn't know Cataldo. I never worked with her, never heard her laugh that so many of her friends talk about, never shared any stories with her, never trusted her. And even so, up until the AG's office confirmed what I suspected, I wasn't 100 percent sure that Cataldo was faking her illness.
Oh, I knew she had lied and misled her parents about a crazy series of legal events, including a $17 million malpractice lawsuit verdict that she won. I knew she couldn't possibly be as sick as she claimed. I knew her claims about visiting various doctors and using a hospice care company were bogus.
But still, doubt lingered.
Because, dammit, who fakes cancer? Who upends their life to such a stunning degree? Who allows their 6-year-old child to believe that his parent is on the verge of death? Who does that?
It's so abnormal, why would you suspect that of anyone, much less a friend?
Even the Attorney General's Office investigator on the case, Jake Frith – a guy who deals with deception and awful humans on a regular basis – had his doubts until the subpoenaed documents came rolling in.
So, stop feeling bad that you didn't suspect a friend of committing an awful deception.
And make no mistake, it was awful and it was large.
Dozens upon dozens of people donated to Cataldo – we knew that much from the GoFundMe accounts totaling $38,000. But what AG's office investigators are now learning is that the deception went well beyond that.
Cataldo was utilizing Facebook and a network of church connections to solicit private donations. Copies of messages forward to me from Cataldo's friends and acquaintances show Cataldo almost begging for money and using prayer and church messages to pressure people near to her into sending more and more money to her.
And they provided.
In the week before her arrest, a friend sent Cataldo a $5,000 check. Another friend donated over $23,000 over a period of several months. Others paid her bills, writing out checks to pay her electric and phone bills, even paying her mortgage. And all the while, Cataldo was either taking money from her parents for those same bills or taking in funds from her husband's employment, or both.
Dozens of friends and strangers sent private donations or picked up the tab for Cataldo and her family to visit Disney World and Chattanooga.
At one point, Cataldo told her friends that her son had been diagnosed with non-Hodgkins lymphoma and needed a bone marrow transplant. Money poured in to help with medical bills and the cost of a non-existent trip to St. Jude Hospital. She appears to have pulled this scam at least twice – once back in 2011-12, when her former co-workers at Calera Elementary School held a fundraiser for her, and again more recently.
Both times, the money came rolling in.
Which brings us to the biggest question – the one I get most often: What happened to all of that money.
The best answer I can give you: she spent it.
Sources familiar with the investigation said the money she hauled in essentially went to pay for relatively mundane things: junk from Amazon, various bills, expenses on trips, stuff for her son and restaurant meals – lots and lots of restaurant meals.
There was no large expense, no big secret, and so far, there doesn't appear to be evidence of excessive drug use.
Instead, Cataldo seemed to be wrapped up more in the scam – adding twists and details to keep her story afloat and working over her friends and contacts. Her Facebook page is filled with posts and videos, some of which include her lecturing people on the value of life and taking nothing for granted. Most are her providing updates on her phony ailments and discussing personal conversations she's held with her son and family that investigators aren't sure took place.
To be certain, Cataldo was quite masterful at weaving a tale – one that provided the requisite details to keep money pouring in, but one that left hard facts and reality just out of reach for those closest to her.
She knew what she was doing, and she knew it was wrong. When I contacted her father the first time after he sent me the initial email, he must have told her later that day. Because by the following day, she had sent a text message to Jamie Moncus – the attorney who her father said had all of the records relating to the long-running legal battle over Cataldo's court winnings. Catlado's message to Moncus asked that he ignore me, telling him I was crazy and that I had been harassing her sick father.
In a phone call with me a couple of days later, Cataldo, unaware that I had spoken with Moncus and suspected her of lying, said she had tried desperately to get Moncus on the phone and to get him to turn over the documents relating to her case.
In a text message to me, Cataldo said she argued with Moncus over the documents. "I just spoke with Jamie, he is saying that if we speak out then anything he is working on they will not work with him," Cataldo wrote to me. "I told him I want my own evidence and I will do it myself!"
Obviously, those conversations never occurred, and I never received the non-existent evidence.
What I did come to believe was that somewhere, for some reason, Jenny Cataldo went off the rails. She became a different person from the one her friends knew, and I suspect, from the one even Cataldo knew.
Earlier this week, a source close to the case said Cataldo attempted suicide in her cell in the Shelby County jail. She was placed on 24-hour suicide watch.
It was the latest sad chapter in a life that has spiraled downward in unimaginable ways. And taken so many good, well-intentioned people along for a horrible ride.
Opinion | Electing Tuberville could cost Alabama billions
If your conscience or decency isn't enough, vote your wallets.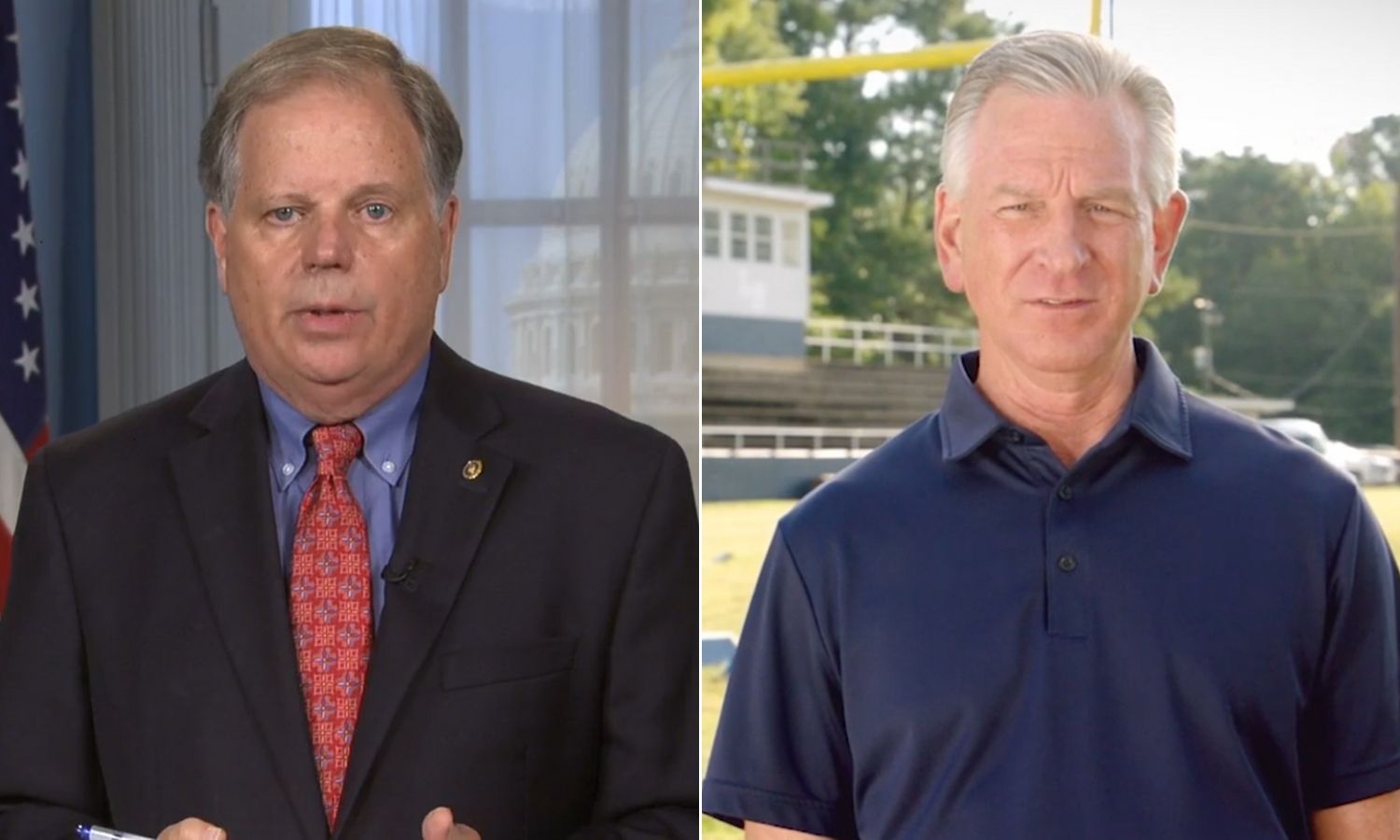 Money matters in Alabama. Oh, I know that we're not supposed to say that out loud. That we're supposed to promote our image of southern grace and hospitality, of churchiness and care, of rich people never getting into heaven. 
But the truth is greed is our biggest character flaw in this state. 
Every problem we have can be traced back to our unending thirst for dollars. Our ancestors didn't keep slaves because they hated black people. They did it because they loved money and the difference in skin color gave them an excuse — a really, really stupid excuse — to mistreat other humans to take advantage of the free labor. 
Our rivers and lakes and dirt aren't filled with poisons from factories because we're too dumb to understand how this works. They're that way because our politicians are paid off to turn a blind eye to the dumping of toxic waste. 
Our schools aren't terrible because we have dumb kids or bad teachers. It's because we're too cheap to pay for them. 
You see what I mean? It's our lust for the almighty dollar. Every time. 
We love money. 
Which makes me seriously wonder why so many people in this state are going to vote for a man who will cost us all — and especially our biggest businesses — so much of it. 
Tommy Tuberville will be like a money vacuum for Alabama. Billions of dollars will vanish for this welfare state that relies so much on federal contracts, federal programs and federal dollars. 
If you doubt this, don't simply take my word for it. Just Google up the press releases from Sen. Richard Shelby's office from the last, say, six years — the most recent span in which Republicans have controlled the Senate. 
Almost every single release is about Shelby securing millions or billions of dollars in federal funding for this project or that project, getting the state's share of dollars from a variety of different programs and initiatives implemented by Congress. 
Shelby and I obviously have different political viewpoints, but it's hard to argue that the man has been successful in securing money for Alabama. Lots and lots of money. 
Money for airports and roads. Money for defense contractors in Huntsville. Money for the port in Mobile. Money for car manufacturers. Money for farmers. 
Money. Money. Money. 
Shelby can do that because of three things: He's on the right committees, he's a member of the party in power and he's liked by the right people.
Tuberville will be none of those things. 
Most pundits are predicting that Democrats will take over the Senate, tipping the balance of power and giving the party control of both houses and the White House. 
That automatically means that a first-time senator in the opposition party will have little to no say in any decisions. 
But what's worse for Tuberville, and for Alabama, is that other Republicans don't like him either. 
Establishment Republicans essentially openly campaigned against Tuberville in the primary, tossing tens of millions of dollars behind his opponent, Jeff Sessions. They even favored third-place finisher Bradley Byrne over Tuberville. 
It's not hard to understand why — he's clueless. 
I know that's a Doug Jones talking point, but this one happens to be true. Let me give you an example: On Thursday, Tuberville tweeted out what was meant to be a shot at Jones, claiming that Alabama's current senator wouldn't meet with Trump's Supreme Court nominee because Jones knows "he won't have much time in the Senate to work with her."
If you're unaware, the Senate doesn't "work with" the Supreme Court. They're separate entities. 
Combine that with his other nonsensical answers on COVID relief, school reopenings, the Voting Rights Act, senate committee assignments, education, foreign affairs — really, the list is almost endless — and it shows how little work he's put in over the last two years to understand this job he's applying for. 
Now, that might be just fine with Alabama voters who care more about the party affiliation and owning the libs, but it's not OK with grownups who take the job of running the country seriously. 
And those people — both Rs and Ds — don't like Tuberville or his here-for-an-easy-check-like-always approach to one of the most serious jobs in the world. 
He will be frozen out of the most sought after committee assignments. His voice will carry zero weight. His presence will be all but forgotten. 
And in the process, so will Alabama. Especially in two years, when Shelby retires and his senior status is lost. 
In the meantime, Jones is highly respected by senators on both sides of the aisle. He already has a presence on top committees, and is so well liked within the Democratic Party that he's on the short list to be Joe Biden's AG, should he not be re-elected. 
The choice seems pretty simple. On the one hand is a competent, prepared and serious statesman who knows how to maneuver his colleagues to get the most for the state. On the other hand is an unprepared, uncaring, lazy carpetbagger who doesn't understand any process. 
If your conscience or decency isn't enough, vote your wallets.