It's never racism in the Alabama Legislature

By Josh Moon
Alabama Political Reporter
It's never racism.
So, just stop it with that. You're ruining racism for the people who really experience it – the kind where someone burns a cross in your yard, makes you drink from a different water fountain, won't let you sit in the front of the bus, makes your kids attend a different school.
You know, real racism.
Not an email.
An email isn't racist. Be serious. That was a joke – an innocent attempt at lightening the mood.
That's all Rep. Lynn Greer's email – the one about training monkeys — was about on Wednesday. A simple joke.
Hell, he didn't even write it. It's an old, well-known study about learned behavior and the pack mentality. And that's why Greer was sending it around.
Because if there's one thing the Alabama Legislature is famous for, it's Legislators passing around scientific studies in the hopes of making the most intelligent decisions when deeply considering the pieces of legislation that pass before them.
OK, that's a lie. Most of Alabama lawmakers don't pass around scientific studies even when they're voting on science-related issues. And in many cases, they willingly and ignorantly take positions exactly opposite of that of the scientific community.
Still, that doesn't mean Greer's email about the training of monkeys was racist.
Sure, it was sent during a time when the Legislature was busy arguing over a redistricting issue that has bogged down both houses because lawmakers can't agree on the split of predominantly white and predominantly black districts. There was a very heated exchange over the issue to start the morning on Wednesday.
But still, that doesn't mean it was racism.
OK, it's true enough that the "study" referenced in the email never happened, despite the Alabama GOP, with the help of its fixer, David Azbell, sending out a statement with a number of links showing that the "study" was referenced often in various publications.
And yes, one of those links provided in the statement from Greer linked to a psychologytoday.com post, which was written to specifically point out that the study never happened.
Still, it's not racism.
Because it's never, ever racism.
It's not racism when black voters are stacked and packed into districts to ensure that they won't influence white, Republican control of Alabama's State Government.
It's not racism when lawmakers draw a white Republican into Jefferson County to ensure the party maintains control over the blacks.
It's not racism when the GOP forces through a voter-ID law that will literally stop no fraud, ignore the most common fraud and disenfranchise hundreds of thousands of black voters.
It's not racism when the Governor and GOP leadership back a plan to close driver's license offices, which issue the aforementioned IDs, in most majority-black counties.
It's not racism when the Alabama GOP leadership makes every effort for years to close the legally-operating casinos in majority-black counties – shutting down the only real job-producing businesses in those counties and crippling schools and government services.
It's not racism when lawmakers set up a system to legally embezzle public school money and hand it to private schools, allowing the wealthy a tax break and leaving poor, minority students stuck in the underperforming and even more poorly-funded schools.
It's not racism when Alabama's lawmakers refuse to change embarrassing, decades-old language in the State Constitution that prevents wealthy land owners (read: plantation owners) from paying for the education of black children.
It's not racism when a good chunk of this Session – in 2017 – was devoted to preserving Confederate monuments – the country's original participation trophies.
It's not racism when bills sponsored for years by black lawmakers to reform criminal sentencing and end judicial override fail time and again, but identical bills sponsored by white Republicans sail through on the first try.
It's not racism when a House member proclaims – out loud and during a committee meeting – that minorities' poor decisions are the reason they're three times more likely to be arrested for a crime that whites commit at a much higher rate.
None of that is racism.
Because in the Alabama Legislature, it's never, ever racism.
Even when it clearly is.
Opinion | All politics is local. All of Alabama's mayors races this year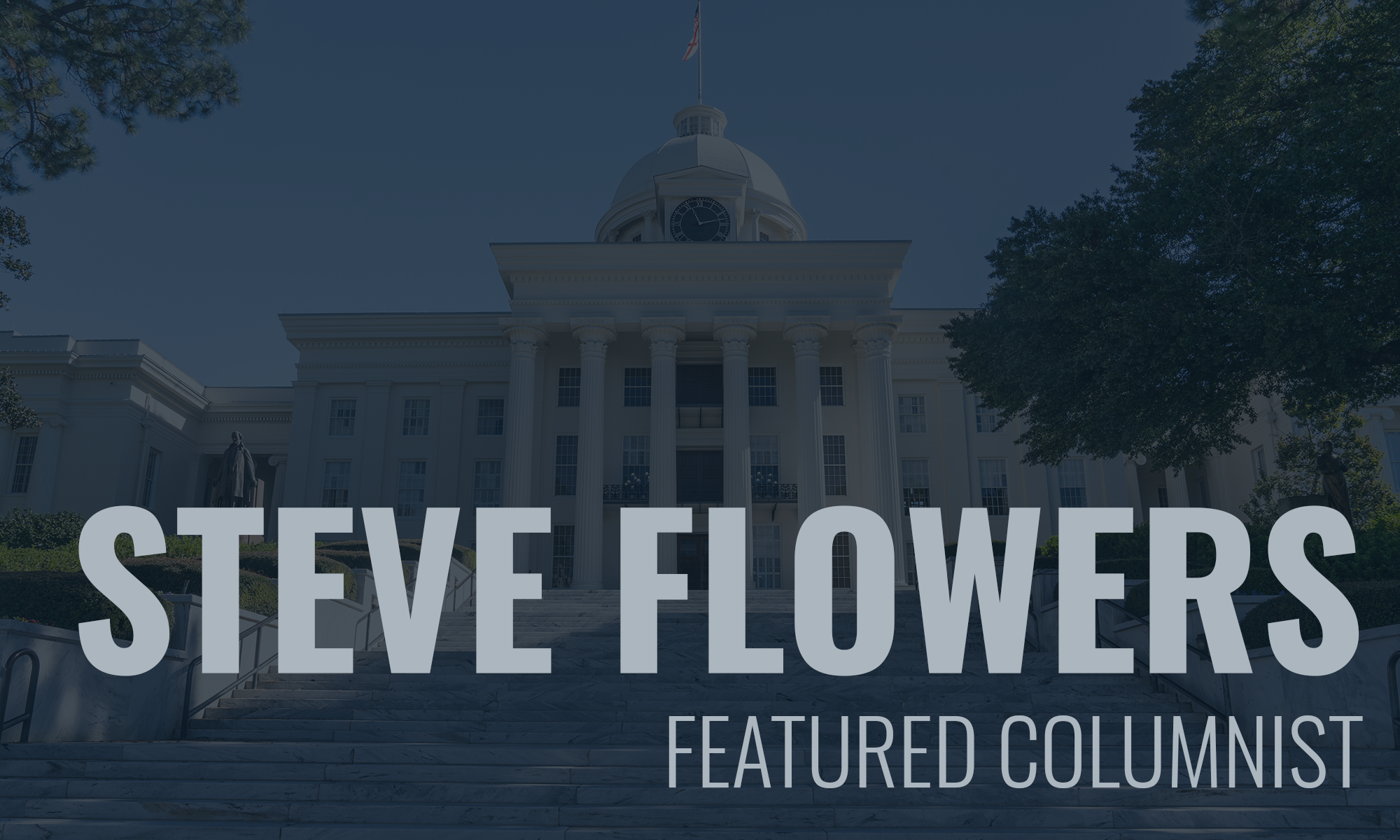 With it being a presidential election year and an election for one of our United States Senate Seats and all of the interest that goes along with those high-profile contests, it has gone under the radar that most of our cities in the state had elections for mayor and city council last month.
Mayors serve four-year terms and to most Alabamians they are the most important vote they will cast this year.
The job of mayor of a city is a difficult and intricate fulltime, 24-hours-a-day dedication to public service.
They make more decisions that affect the lives of their friends and neighbors than anyone else. The old maxim, "All politics is local," is epitomized in the role of mayor. Folks, being mayor of a city is where the rubber meets the road.
In looking all over the state, it appears that most Alabamians are content with the jobs their mayor is doing.  In almost every contest around the state, the incumbent mayor turned away the challenger usually by a wide margin.  Indeed, a good many of the incumbent mayors in the Heart of Dixie had no opposition.
Many of these incumbent mayors were reelected without opposition. Gordon Stone, the mayor of Alabama's fastest growing community, Pike Road, will be entering his fifth term as mayor.  Pretty soon Pike Road will have to start calling themselves a city.
Vestavia's Mayor, Ashley Curry, won a second term without opposition.  This former retired FBI agent has done a yeoman's job managing this upscale, Jefferson County suburb.
Jasper Mayor, David O'Mary, who escaped opposition, will begin a second term.  He has run Jasper like a well-tuned engine. Albertville mayor, Tracy Honea, garnered a third term without opposition. Luverne Mayor Ed Beasley was also unopposed.
In the contested races, most of the matchups were no contest. Two of Alabama's largest and most prosperous cities, Huntsville and Hoover, had mayoral races. Tommy Battle coasted to an easy 78 to 22 reelection victory in Huntsville. If Kay Ivey opts to not run for reelection in 2022, Battle will be favored to win the governor's race. However, being Governor of Alabama would be a demotion to being Mayor of Huntsville.
Hoover citizens must approve of Mayor Frank Brocato's job performance. Brocato trounced Hoover City Council President Gene Smith by a 76 to 24 margin.
Opelika's popular and effective, longtime mayor, Gary Fuller, turned back his challenger 66 to 34 to win a fifth term.
In Cullman incumbent mayor, Woody Jacobs, won a second term overwhelmingly. Hamilton Mayor Bob Page won a second term. Troy's 48-year-old mayor, Jason Reeves, won reelection to a third four-year term with 74 percent of the vote. Incumbent Eufaula Mayor Jack Tibbs won an impressive 68 percent victory for reelection over two opponents.
Prattville Mayor Bill Gillespie may have turned in the most impressive showing.  He shellacked former City Councilman Dean Argo 70 to 30.  His fellow citizens must approve of frugality with their city finances. Wetumpka's popular and hardworking, longtime mayor, Jerry Willis, turned back his challenger by a 69 to 31 margin. In neighboring Millbrook incumbent mayor, Al Kelley, won reelection 67 to 33. Mayor Kelley has overseen the growth of his city from 6,000 in population to over 20,000. Tallassee reelected Mayor John Hammock to a second term.
Clanton lost their mayor of three decades, Billy Joe Driver, to COVID-19 this year. His successor will be Jeff Mims, who won the election in the Peach City. Mike Oakley won the mayor's race in Centreville with a 60 percent margin.  It is proper and fitting that an Oakley will be Mayor of Centreville.
Bessemer Mayor Kenneth Gulley won a landslide reelection garnering 68 percent of the vote. Incumbent Pell City Mayor Bill Pruitt won reelection by an impressive 73 to 27 margin.Longtime Greenville Mayor Dexter McLendon won reelection in the Camellia City. Opp's first female mayor, Becky Bracke, won a second term with 60 percent of the vote.
There were two mayoral upsets on August 25. Scottsboro's incumbent mayor was defeated by challenger Jimmy McCamy.In the thriving, growing city of Fairhope challenger Sherry Sullivan trounced incumbent mayor Karin Wilson.
There are runoffs for mayor in several major cities, including Enterprise, Ozark, Selma, Tuskegee, Alexander City and Northport.  These cities will elect their mayors on October 6 in runoff elections.
Some of you may be wondering about two of the most populous cities. Tuscaloosa and Dothan have their mayoral races next year in August 2021. Tuscaloosa's Walt Maddox and Dothan's Mark Saliba will be tough to beat. All politics is local.
If you have not been counted in the census, you have not got many more shopping days to Christmas.