Education Matters
Larry Lee
According to its website, The Alabama Policy Institute "is a non-profit, non-partisan research and education organization dedicated to influencing public policy…We do this by providing fact-based, objective analysis of key issues."
However, when you dissect the following op-ed written by Taylor Dawson about the recent defeat of an amendment to the Alabama Accountability Act, it is hard to figure out where the facts are:
"Parents with children trapped in failing schools did not have a real school-choice option in Alabama prior to 2013. With the passage of the Alabama Accountability Act (AAA), families zoned for Alabama's worst-performing schools finally had better opportunities through scholarships and tax credits."
Really?  The writer should look at the Alabama Department of Revenue website that shows in the first quarter of 2017 only three scholarship granting organizations were active.  There are 3,897 students on AAA vouchers.  But only 1,302 (33.4 percent) "zoned" to attend a "failing" school.  And this is mis-leading since it does not show how many students were ACTUALLY attending a "failing school."
As to "better opportunities," API should point out that of the 201 private schools now participating in the AAA, 80 of them (39.8 percent) are not accredited.
"After a drop of $5.9 million in scholarship donations through the AAA last year, some lawmakers came to this year's session prepared to remedy the funding problem. Amendments would have improved the law by raising the limit on tax credits that could be claimed for donating to student scholarships, adding a tax credit for utility tax, allowing estates and trusts to donate, and reserving half of the cumulative cap–which would remain unchanged–on donations for individual donors."
AAA has never reached its cap in any year.  Could it be the general public realizes this is not the panacea some politicians claimed it was and have grown reluctant to contribute?  Since 90 percent of all students in Alabama attend public schools, maybe some folks have decided we should put our money where it can help the most students.  There are 730,000 in public schools and only 3,897 on vouchers.
And nowhere does API mention that we have now diverted $86 million from the education trust fund to provide vouchers.  Nor do they mention that the scholarship granting organizations can keep five percent of all donations.  That's $4.3 million through the end of 2016.
"In February, these amendments passed by a close margin in the Senate. It wasn't until the last forty-eight hours of the legislative session that SB 123 hit the floor of the House."
Senator Marsh's amendment only passed the Senate by a 17-15 margin as seven Republicans voted against it.  Many of these "no" vote Republicans are senators who have grown weary of asking questions about the effectiveness of AAA and not getting answers.
Getting the bill to the House floor wasn't an easy task, but education reforms rarely are. Enough Legislators were swayed by the voices of public-education superintendents and the Alabama Education Association (AEA) to kill the bill.
This bill was not just killed, it was stomped flat and left to die.  While only 28 Republicans voted for it, 29 Republicans voted against it.  The final tally was 59-28.  And why would a Legislator not be swayed by their local school superintendents?  After all, who knows better, the Alabama Policy Institute or a local educator, where money should be spent?
This op-ed does not mention what happened after Senator Marsh bill's died on the last day.  At that point there was a $41 million supplemental appropriation for education waiting for Senate action.  But Senator Marsh killed it.  Apparently he decided that if the Legislature was not going to provide additional tax breaks for big business, then he wasn't going to provide additional monies for school kids.
Larry Lee is a public school advocate and co-author of the study, Lessons Learned From Rural Schools. [email protected]
Print this piece
Opinion | Finding the new normal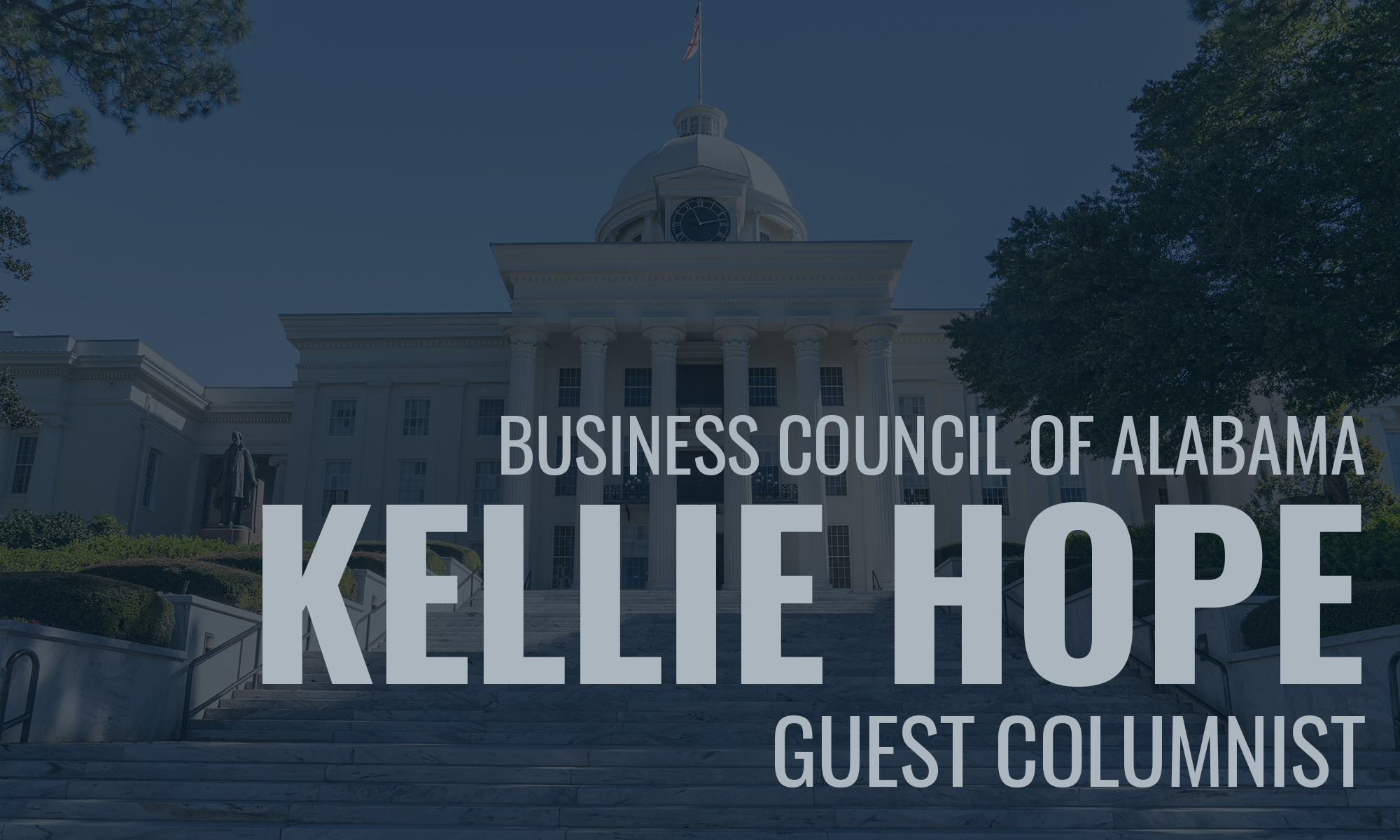 I spent my professional career getting dressed, usually in business attire, leaving my house and driving to another location – office tower, free standing building, hospital – to begin my work day. All of that changed late last year, when I joined the Business Council of Alabama as Regional Director, a newly created role in the organization. One of the best perks (among many) of joining BCA is my ability to work from home. The past four months have been filled with transition and some trial and error. Making the shift from an "office" office to a home office environment can be seamless, but it takes effort, discipline and a healthy dose of humor.
Before the Coronavirus pandemic, remote work in the United States was already on the rise. According to the Federal Reserve, the share of the labor force that works from home has tripled in the past 15 years. Prior to the outbreak, the Bureau of Labor and Statistics noted 29% of the American workforce could and did work from home. This has only increased as "social distancing" has become the new normal. In our current coronavirus reality, hundreds of thousands of workers across multiple disciplines and industries are now joining me in my slippers in front of my computer first thing in the morning. Before I made my transition, I asked friends and colleagues for advice. The overwhelming response was "it's great; you'll love it", quickly followed by "make sure you're organized; it's very different."  That advice is 100 % true – It's great, AND it's quite an adjustment. Their advice has never been more pertinent, and I thought it timely to share it with you. Here are my best suggestions for making the transition:
Have a defined workspace

: An actual home office, the dining room table, a set up on the back porch – it's critical to have a dedicated space where you work that isn't your bedroom. (Although, an occasional conference call from your bed isn't the end of the world.)

Maintain a routine

: Wake up at a consistent time, have breakfast, get dressed, spend some time preparing for your day just as you would if you were leaving the house. The same way you use your drive to make calls or ease into your day, do it at home. Same with the end of the day – download the day's events and prepare for the next day, just as you would before you leave the office. In these very uncertain times, routine not only helps maintain productivity, but it provides a sense of normalcy.

Have defined work time

: This was one of my biggest challenges. It's so easy to jump into work as soon as you open your eyes and find you are still at it when the 9:00 news is on. Conversely, it's tempting to do a few loads of laundry or run a quick errand, and the next thing you know, your day is off the rails.  It's important to take breaks (just as you would if you were in an office)

but work time is for work

.  

Get out of the house:

*Disclaimer: this was much easier before COVID-19 became a part of our daily vocabulary* Looking ahead to the day we return to some semblance of normalcy, set appointments outside your home – at a coffee shop, a colleague's office, etc. For now, take a walk, go to Starbucks drive through – something to break the monotony of being inside all day, every day.

Be patient with yourself

: Working from home requires a different type of discipline than going into the office, especially with kids and others likely in the house also. Be kind to yourself and others. Allow yourself time to adjust to the new routine.

Stay connected

: Communicate with colleagues and peers through the multitude of available outlets – video conference, webinars, conference calls, group chats. This helps maintain the rapport and productive teamwork that exists in the office environment. Connection also benefits our mental and emotional well-being, which we should all pay attention to, especially now.

Enjoy the perks!:

Jeans instead of a business suit – that's great! If you aren't going out, wear your cozy slippers or flip flops all day. If the weather is nice, make calls or handle emails from your backyard or patio and get your daily dose of vitamin D. (Multitasking!) There is wonderful flexibility and creativity when working from home. Enjoy it!
Countless tips and strategies to make the work-from-home transition a success are readily accessible. A quick Google search will yield all sorts of articles and helpful hints. My transition to working from home was the right decision for me and my family.  Coronavirus made that decision for so many others in the last few weeks. It's important that you find a strategy that works best for you and your family, and just do it! Good luck and best wishes.
Kellie Hope is the Business Council of Alabama's regional director based out of Mobile.
Print this piece