Longtime West Alabama prosecutor Chris McCool announces run for Court of Criminal Appeals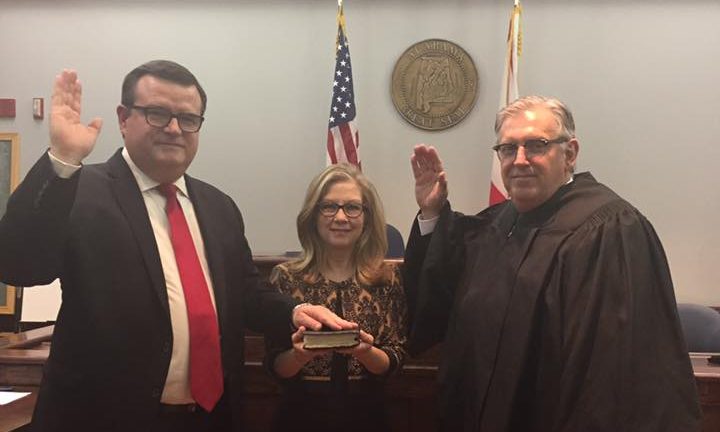 By Chip Brownlee
Alabama Political Reporter
In Alabama legal circles, you can't go too far without hearing Chris McCool's name. The West Alabama district attorney has been on the job for nearly two decades and has served as the president, vice president and treasurer of the Alabama District Attorney's Association.
Now, he's ready to change sides of the bench.
On Wednesday, McCool announced he would seek a seat on Alabama's Court of Criminal Appeals ― a five-member panel that handles all felony and misdemeanor appeals cases in the State.
"We need to have judges that are people that are fair and will abide the law across the board no matter who is in front of them, no matter what," McCool said in an interview with APR. "Whether it helps you or hurts you, judges should be focused on justice."
McCool has been a prosecutor for more than 22 years, joining the team in Pickens County as an assistant district attorney in 1995. He spent two years before that in private practice in his hometown of Gordo, Alabama. Since 2001, McCool has been the district attorney for Lamar, Fayette and Pickens Counties in Alabama's 24th Judicial Circuit.
He has said he will run as a Republican in the 2018 election for the Appeals Court, which is often handed high-profile cases such as former House Speaker Mike Hubbard's appeal.
In addition to upholding and overturning criminal convictions, the Court's decisions set precedent for how legal cases in Alabama are interpreted in the future, much like the Alabama Supreme Court.
McCool could have a hand in that if he wins a seat on the panel.
"In my career as a prosecutor, I've prosecuted capital murder. I've prosecuted juvenile cases. I've prosecuted child abuse, child sex abuse, and I've prosecuted public corruption cases," McCool said. "Whatever the law is, is whatever I follow as a prosecutor, and I would follow it as a judge as well."
Unlike many states, judgeships on Alabama's Court of Criminal Appeals — along with circuit and district judgeships and the Supreme Court for that matter — are elected positions. There is no requirement that the judges even by experienced lawyers or jurists.
But McCool has quite the background, serving in a number of law enforcement leadership roles since becoming a prosecutor nearly 20 years ago. For the past decade, he's been on the Alabama District Attorneys Association Executive Committee. He's been named a prosecutor of the year by the Victims of Crime and Leniency and DA of the year by the ADAA.
In 2010, he was appointed as a member of the Supreme Court's Standing Committee on the Alabama Rules of Evidence, and, for years, he's been a member of the U.S. District Attorney for North Alabama's Law Enforcement Coordinating Committee.
To McCool, that form of experience ― experience prosecuting thousands of felony cases and dozens of jury trials ― is a necessity for anyone who wishes to sit on the court.
"There's a steep learning curve if you don't have that experience," he said. "I've had the experience of standing there in front of 12 jurors and advocating for justice ― even unfortunately asking for the death penalty."
"The law is not something that should be taken lightly, and it's not something that should be applied lightly."
Earlier this year, when then-Attorney General Luther Strange was appointed by then-Gov. Robert Bentley to the US Senate, replacing Jeff Sessions, McCool's name was floated as a possible replacement for Strange.
But Bentley ended up choosing Marshall County District Attorney Steve Marshall as the attorney general, and McCool said he's happy to run for the Court of Criminal Appeals instead.
The Court was actually his Plan A before, and remained his Plan A after Bentley chose Marshall.
McCool has taught at the University of Alabama Law School as an adjunct professor in the Trial Advocacy Program, and has worked as a Municipal Court Judge for Reform and Pickensville, Alabama. He's also a member of the Pickens County Republican Executive Committee and the Alabama Republican Party Executive Committee.
Back home, McCool pastors Zion Primitive Baptist Church, where his wife, four kids and son-in-law attend.
House passes General Fund Budget
By Brandon Moseley
Alabama Political Reporter
The Alabama House of Representatives passed the state General Fund Budget on Tuesday.
The General Fund Budget for the 2019 fiscal year is Senate Bill 178. It is sponsored by Sen. Trip Pittman, R-Montrose. State Rep. Steve Clouse, R-Ozark, carried the budget on the House floor. Clouse chairs the House Ways and Means General Fund Committee.
Clouse said, "Last year we monetized the BP settlement money and held over $97 million to this year."
Clouse said that the state is still trying to come up with a solution to the federal lawsuit over the state prisons. The Governor's Office has made some progress after she took over from Gov. Robert Bentley. The supplemental we just passed added $30 million to prisons.
The budget adds $50 million to the Department of Corrections.
Clouse said that the budget increased the money for prisons by $55,680,000 and includes $4.8 million to buy the privately-owned prison facility in Perry County.
Clouse said that the budget raises funding for the judicial system and raises the appropriation for the Forensic Sciences to $11.7 million.
The House passed a committee substitute so the Senate is either going to have to concur with the changes made by the House or a conference committee will have to be appointed. Clouse told reporters that he hoped that it did not have to go to conference.
Clouse said that the budget had added $860,000 to hire more Juvenile Probation Officers. After talking to officials with the court system that was cut in half in the amendment. The amendment also includes some wording the arbiters in the court lawsuit think we need.
The state General Fund Budget, SB178, passed 98-1.
Both budgets have now passed the Alabama House of Representatives.
The 2019 fiscal year begins on Oct. 1, 2018.
In addition to the SGF, the House also passed a supplemental appropriation for the current 2018 budget year. SB175 is also sponsored by Pittman and was carried by Clouse on the floor of the House.
SB175 includes $30 million in additional 2018 money for the Department of Corrections. The Departmental Emergency Fund, the Examiners of Public Accounts, the Insurance Department and Forensic Sciences received additional money.
Clouse said, "We knew dealing with the federal lawsuit was going to be expensive. We are adding $80 million to the Department of Corrections."
State Representative Johnny Mack Morrow, R-Red Bay, said that state Department of Forensics was cut from $14 million to $9 million. "Why are we adding money for DA and courts if we don't have money for forensics to provide evidence? if there is any agency in law enforcement or the court system that should be funded it is Forensics."
The supplemental 2018 appropriation passed 80 to 1.
The House also passed SB203. It was sponsored by Pittman and was carried in the House by State Rep. Ken Johnson, R-Moulton. It raises securities and registration fees for agents and investment advisors. It increases the filing fees for certain management investment companies. Johnson said that those fees had not been adjusted since 2009.
The House also passed SB176, which is an annual appropriation for the Coalition Against Domestic Violence. The bill requires that the agency have an operations plan, audited financial statement, and quarterly and end of year reports. SB176 is sponsored by Pittman and was carried on the House floor by State Rep. Elaine Beech, D-Chatham.
The House passed Senate Bill 185 which gives state employees a cost of living increase in the 2019 budget beginning on October 1. It was sponsored by Sen. Clyde Chambliss, R-Prattville and was being carried on the House floor by state Rep. Dimitri Polizos, R-Montgomery.
Polizos said that this was the first raise for non-education state employees in nine years. It is a 3 percent raise.
SB185 passed 101-0.
Senate Bill 215 gives retired state employees a one time bonus check. SB215 is sponsored by Senator Gerald Dial, R-Lineville, and was carried on the House floor by state Rep. Kerry Rich, R-Guntersville.
Rich said that retired employees will get a bonus $1  for every month that they worked for the state. For employees who retired with 25 years of service that will be a $300 one time bonus. A 20-year retiree would get $240 and a 35-year employee would get $420.
SB215 passed the House 87-0.
The House passed Senate Bill 231, which is the appropriation bill increase amount to the Emergency Forest Fire and Insect and Disease Fund. SB231 is sponsored by Sen. Steve Livingston, R-Scottsboro, and was carried on the House floor by state Rep. Kyle South, R-Fayette.
State Rep. Elaine Beech, D-Chathom, said, "Thank you for bringing this bill my district is full of trees and you never know when a forest fire will hit.
SB231 passed 87-2.
The state of Alabama is unique among the states in that most of the money is earmarked for specific purposes allowing the Legislature little year-to-year flexibility in moving funds around.
The SGF includes appropriations for the Alabama Medicaid Agency, the courts, the Alabama Law Enforcement Agency, the Alabama Department of Corrections, mental health, and most state agencies that are no education related. The Alabama Department of Transportation gets their funding mostly from state fuel taxes.
The Legislature also gives ALEA a portion of the gas taxes. K-12 education, the two year college system, and all the universities get their state support from the education trust fund (ETF) budget. There are also billions of dollars in revenue that are earmarked for a variety of purposes that does not show up in the SGF or ETF budgets.
Examples of that include the Public Service Commission, which collects utility taxes from the industries that it regulates. The PSC is supported entirely by its own revenue streams and contributes $13 million to the SGF. The Secretary of State's Office is entirely funded by its corporate filing and other fees and gets no SGF appropriation.
Clouse warned reporters that part of the reason this budget had so much money was due to the BP oil spill settlement that provided money for the 2018 budget and $97 million for the 2019 budget. Clouse said they elected to make a $13 million repayment to the Alabama Trust fund that was not due until 2020 but that is all that was held over for 2020.
Clouse predicted that the Legislature will have to make some hard decisions about revenue in next year's session.