Government affairs or an orgy of greed and corruption?

By Bill Britt
Alabama Political Reporter
How much food and booze does it take to wash away embarrassment and shame? Is money the seductive elixir that so easily chills honest introspection, that allows our State's leaders to dine freely on the spoils of corruption?
In August, many of the State's top leaders will embark on an annual pilgrimage to Point Clear for the Business Council of Alabama's (BCA) Governmental Affairs Conference.
Even though several BCA board members and its CEO, Billy Canary, were deeply involved in some of the schemes related to former Speaker Mike Hubbard's conviction on 12 felony counts of public corruption, many State lawmakers, Supreme Court Justices, and the current Attorney General will be on hand at the BCA affair to pay homage to the lords of business. It is surprising that so many so-called public servants willingly feast at a table set by Canary and paid for by those who hope to use the guests for political gains. But perhaps they see Canary as a kind of  King Ferrante I of Naples who kept his people in submission and many of his enemies killed and mummified so that he could dine with them in peace.
What does this say about the integrity of these so-called public servants? Can an elected official eat at a table provided by those who according to the Hubbard trial sought to "buy the Speaker of the House" and serve in the House at the same time?
As scripture teaches, "As a dog returns to his vomit, so a fool repeats his folly." — Book of Proverbs (KJV) 26:11.
Can the State Justices partake of the BCA's riches and hospitality and remain impartial under the law?
Is the public to believe this is an educational experience and not merely a political buffet to fatten the bellies and egos of our State's office holders? Isn't it the wining and dining that leads to a roll in the sheets?
Canary, as head of BCA, has turned that once proud association into little more than a whorehouse for political elites and wannabes.
Canary and his kind put the "Affair" in government conferences. Psychology Today says, "an affair means you're living a lie in some form… but if you fool yourself about the reasons for your affair and what it may set in motion, you can squander irreplaceable years, trapped within illusions and rationalizations."
Sound familiar?
This passage is followed by the consequences: "When it all comes crashing down, loneliness and emptiness may be all that remains."
Recently Canary had his underlings call several State lawmakers to uninvite them the summer gathering because they dared vote for the Autism bill that helps parents aid children with this debilitating malady.
After APR had reported on the uninvited, we received an email asking, "If you have to do something a certain way to get invited to the BCA conference, does conference attendance not then become a quid pro quo gratuity or thing of value?"
That would be a good question for Ethics Director Tom Albritton. Wonder if he's invited?
BCA's Senior Vice President for Communications, Nancy Hewston, recently told Yellowhammer News no one was uninvited calling our reports "Fake News."
"The implication that our guest list was developed solely on one issue is false, and anyone who writes that is promoting fake news," said Hewston.  "Let me be clear – no one was uninvited from this event."
Hewston, it appears, like her boss Canary, has a rare relationship with the truth, in that it's seldom used. Or perhaps she holds it in such high regard that she thinks it is too precious to be wasted on the public.
Hewston, also informed Yellowhammer—once Hubbard's chosen forum for his news—"[W]e are proud that this annual event has such widespread interest and appeal."
Former Attorney General Luther Strange was unwelcome at BCA events once his team began to investigate Hubbard. So what does it say about Strange's replacement Steve Marshall who is not only a welcome guest he will also be a principal speaker at the BCA's breakfast soiree, sponsored by Alliance for Alabama's Infrastructure. And what is the Alliance for Alabama's Infrastructure? It's sleekly designed website claims it is a non-profit, which is focused on developing the State's infrastructure. Oddly, its board is comprised of several individuals who could potentially profit personally from legislation funding of infrastructure projects.
Its web address is alabamaroads.org, and there are plenty of road builders and their partner's listed on the site. Wonder if any of them deal in Astro-turf? A search of the Secretary of State's records doesn't return an Alabama Roads or Alliance for Alabama's Infrastructure. Perhaps it's listed some other way. What is evident from the nonprofit's website is that BCA is playing a prominent role in this alliance.
Canary was very cross with Speaker Mac McCutcheon for not pushing through a gas tax for infrastructure. Was the Speaker uninvited? I doubt it.
BCA is the 800-pound gorilla for now, but it is as stinky and unruly as any wild beast. But is there anyone willing to bring it to heel?
There are those honest souls in Montgomery and Washington DC that are fighting for a change of leadership at BCA. There are a few who have no appetite for Canary tainted delights.
Hubbard, Canary, and former Gov. Bob Riley have feasted at an orgy of greed and corruption for years; this Summer's BCA affair is just the scraps from their table.
Perhaps it is they who should be seated around King Ferrante's table.
APR hopes to obtain a list of attendees for publication.
Print this piece
Opinion | Marsh hurls accusations at Gov. Ivey. Is he barking mad?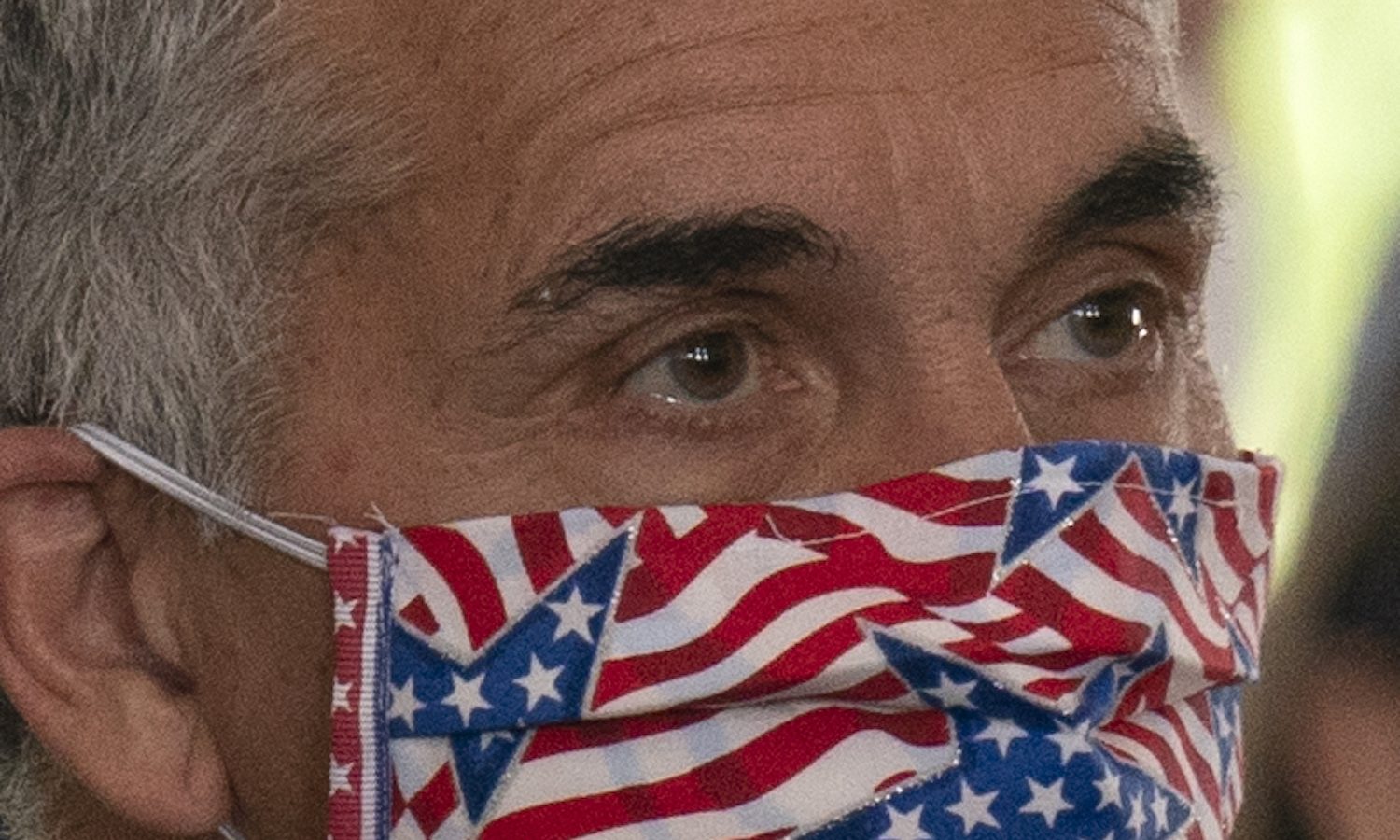 Appearing on the latest edition of Alabama Public Television's "Capitol Journal," Sen. President Pro Tem Del Marsh, R-Anniston, blamed Gov. Kay Ivey for the loss of some 450,000 jobs in Alabama.
It's an absurd accusation that any thinking Alabamian knows is a lie. But Marsh wants to hurt Ivey because she exposed him as little more than a petty, greedy-gut politico.
Still stinging from the public humiliation he suffered after Ivey revealed his "wish list" — which included taking $200 million in COVID-19 relief money to build a new State House — Marsh is leveling a cascade of recriminations against the popular governor.
However, what is astonishing is that he would spew brazen lies about Ivey during raging loss and uncertainty caused by a worldwide pandemic. This latest fiction about Ivey creating widespread economic calamity is the unseemly work of a hollow man without empathy, wisdom or decency.
This insane assertion that Ivey is somehow responsible for thousands suffering is as cravenly evil as it is politically stupid.
"The policies that have been put in place by the [Ivey] administration have 450,000 people out of work," Marsh told show host Don Daily.
Only a fool, a nutjob or a politician would blame Ivey for losing some 450,000 jobs, but there was Marsh, on public television, showing he is perhaps all three.
In the middle of his barking-mad comments, Marsh somehow forgot to mention that he was a member of Ivey's Executive Committee on the COVID-19 task force and helped make the very policies he now claims led to joblessness and financial ruin for many Alabamians.
Marsh is merely making it up as he goes because his fragile ego, pompous character and rank inhumanity suddenly became fully displayed for every Alabamian to see when he doubled down on building a new State House.
And so, like a guy caught with his pants down, Marsh is pointing his finger at Ivey to distract from his naked indifference toward the struggles of his fellow Alabamians.
Marsh's plan to spend the CARES Act funds on a State House and other pet projects ignored the sufferings of hundreds of thousands of the state's most vulnerable citizens and businesses.
Ivey wanted the nearly $1.9 billion in CARES funds to go to help those individuals, businesses and institutions affected by COVID-19. Marsh wanted it as a Senate piggybank, so, he lashes out at her rather than reflect on how he and the State Senate could do better in the future.
Anyone who blames others for their failings is a weakling, not a leader.
Marsh came to power under a scheme hatched around 2008, by then-Gov. Bob Riley. The plan was to make Mike Hubbard the speaker of the House, Marsh as pro tem and Bradley Byrne as governor. Riley would act as the shadow puppet master pulling the strings of power from behind a thin curtain of secrecy, allowing him to make untold riches without public accountability.
Byrne losing the governor's race to the hapless State Rep. Dr. Doctor Robert Bentley was the first glitch in the plan (yes, during the 2010 campaign for governor, Bentley changed his name to Doctor Robert Julian Bentley so the title Doctor would appear next to his name on the primary ballot).
The second problem for the venture was Hubbard's avarice, which landed him on the wrong side of the ethics laws he, Riley, Byrne and Marsh championed. Of course, the ethics laws were never meant to apply to them. They were designed to trap Democrats.
Marsh has floundered since Hubbard's grand departure and with Riley sinking further into the background, it is now apparent that Riley was the brains, Hubbard the muscle and Marsh the errand boy, picking up bags of cash to finance the operation.
Gofers rarely rise to power without the public noticing they're not quite up for the job, and so it is with Marsh that his office has shown the limits of his abilities.
Marsh wanted to control the COVID-19 relief money to spend on pork projects as he'd done in the past, but Ivey didn't allow it. To be outsmarted is one thing, but to be beaten by a woman is too much for a guy like Marsh.
Ivey burned Marsh like a girl scout roasting marshmallows over a campfire.
Senator Marshmallow, anyone?
Poor Marsh, with his political career in turmoil, picked the wrong target in Ivey.
Some look at Ivey and see a kind, grandmotherly figure. Ivey is as tough as a junkyard dog, and now Marsh knows what her bite feels like.
Ivey didn't cause massive job losses. COVID-19 did that. But Marsh got his feelings hurt, bless his heart, so he wants to take Ivey down.
Just like his scheme to commandeer the COVID-19 funds from the people didn't work, his attack on Ivey won't either.
People see Marsh for what he is, and it's neither strong nor competent; it's weak and ineffectual.
Marsh stood behind Ivey when she announced the state's health orders wearing an American flag style mask.
He voted for her executive amendment.
And now he lies.
In times of real crisis, true leaders emerge while others of lesser abilities whine. Marsh is complaining. Ivey is leading.
And so the public watches as The Masked Marshmallow takes on Iron-jawed Ivey. It's not tricky to see how this cage match turns out.
Marshmallow, down in three.
Print this piece