What's the prescription for the opioid problem?

By Bill Britt
Alabama Political Reporter
If you've lost a loved one to drug abuse, as I have, anger and sadness might color your resolve to fight a war against a substance, rather than address the causes that drive someone into the arms of darkness.
We have been told by the President of the United States and the US Attorney General that there is an opioid epidemic and that war has been declared against it. But, we are ignoring the factors that lead to its use.
For decades, the government has engaged in a failed effort to attack the "supply-side" of the drug trade, while turning a blind eye to the real problem.
This week, Gov. Kay Ivey signed an Executive Order to create the Alabama Opioid Overdose and Addiction Council. Ivey said in a statement, "We must find ways to curtail this crisis in Alabama. I look forward to reviewing the Council's recommendations for strategies to reduce the number of deaths and other effects caused by opioid misuse in our state."
Gov. Ivey is right that we must find ways to curtail the crisis, but how we address it will be crucial to any hope for success.
Prescription opioids like Vicodin, Percocet and OxyContin are now so-called gateway drugs. And while the use of prescription opioid has decreased (just as the government found it a problem) deaths from narcotics such as heroin and fentanyl are rising.
All of these drugs have one thing in common: they dull the perception of pain, physically, mentally, and emotionally.
The President, during an August address to Congress, gave his thoughts on the proliferation of drug use and illegal distribution saying, "We must set realistic objectives, giving our foremost attention domestically to those drugs that pose the greatest threat to health, and to our ability to reduce crime. Since heroin, barbiturates and other sedative/hypnotic drugs account for 90 percent of the deaths from drug abuse, they should receive our principal emphasis."
Sounds relevant? It was President Jimmy Carter who spoke those words on August 2, 1977, almost 40 years to the date.
It is abundantly apparent the endless war on drugs is a failure because the government is attacking a thing and not confronting the very human problems.
Yet, it now seems inevitable that we will engage in another costly "War on Drugs" while ignoring mental illness, poverty, and the other causes of drug use.
A border wall is one proposal from the current administration to stop illegal opioids from entering the country. But a wall between Mexico and the United States will be about as effective in stopping drug trafficking as The Maginot Line was in stopping German hordes during The Battle of France.
Many individuals who once depended on a doctors prescription for opioids have turned to street drugs like heroin because it is "cheaper" and "easier to find" despite the legal problems not associated with prescription opioids.
Perhaps Wal Mart and CVS are better suppliers of painkillers than street gangs or cartels.
Four decades after Carter's address, bold headlines like, "STAT Forecast: Opioids could kill nearly 500,000 Americans in the next decade" are rallying lawmakers and law enforcement officers to act. But what action? To what end?
STAT forecast: Opioids could kill nearly 500,000 Americans in the next decade
Attacking a substance will never stop what drives an individual to drug abuse, nor will it cure the ills that father such madness. Perhaps more alarming in this new fight against substance abuse is that lawyers stand to personally profit by suing drug manufacturers as they did in the 1990s with tobacco makers.
Multiple states are pursuing litigation that targets big pharma just as they did big tobacco. Is this the best means of stemming a tide of substance abuse that may already be in decline or is this something else?
Lawyers see big profits from a renewed war on drugs as do state lawmakers. Law enforcement enabled by Legislators to fight one more war on drugs is folly and a futile remedy which may be worse than the cure.
In Alabama, thousands of good paying jobs go unfilled because the applicant can't pass a drug test. It is also a fact that many can't fill out the job applications because they can't read or spell. Is there a cause and effect here?
Lack of education, poverty, and little hope for gainful employment are soul killers.
Many times, the quiet agony of living a life void of purpose is filled with the escape provided by an alluring chemical. Similarly, physical pain, real or imagined, cries out for simple relief. Few families avoid the disruptions and heartache caused by loved one who turns to substance abuse.
My older brother Tony's wife (his "high school sweetheart") found him lifeless in their bed with a syringe in his arm, dead at 29 years old. On a bright Carolina blue morning, I said the last words over my brother's coffin. My mother's pale green eyes, glistening in the sun without tears, watched as her first born was lowered into the ground never to see his face again.
A lethal mixture of heroin and cocaine was the compound, but eradicating opioids from the earth would not have saved his life because he would have founds another escape from a life he found unbearable. Could he have been saved by other means? We will never know.
My mother, rarely if ever, spoke of my brother's death. But what she did talk about often was how it is our responsibility to tackle the hard things, not to avoid doing what's right, even if it is difficult.
In one of our last conversations before her passing, she said to me as she had many times before, "It's easy to do nothing, it's is easy to do what is convenient. But life is not about what is easy or convenient. It is about making a difference."
Drug abuse is a horrible thing but nipping around the edges of a problem while ignoring mental illness, poverty and a lack of education is not an answer it is what is easy and convenient.
Gov. Ivey is not known for taking the easy way out. Hopefully, she will continue on that path when it comes to finding a prescription for our present opioid problem.
Opinion | Let's hope for Reed's success
Reed's temperament and style appear right for this moment in Alabama's history.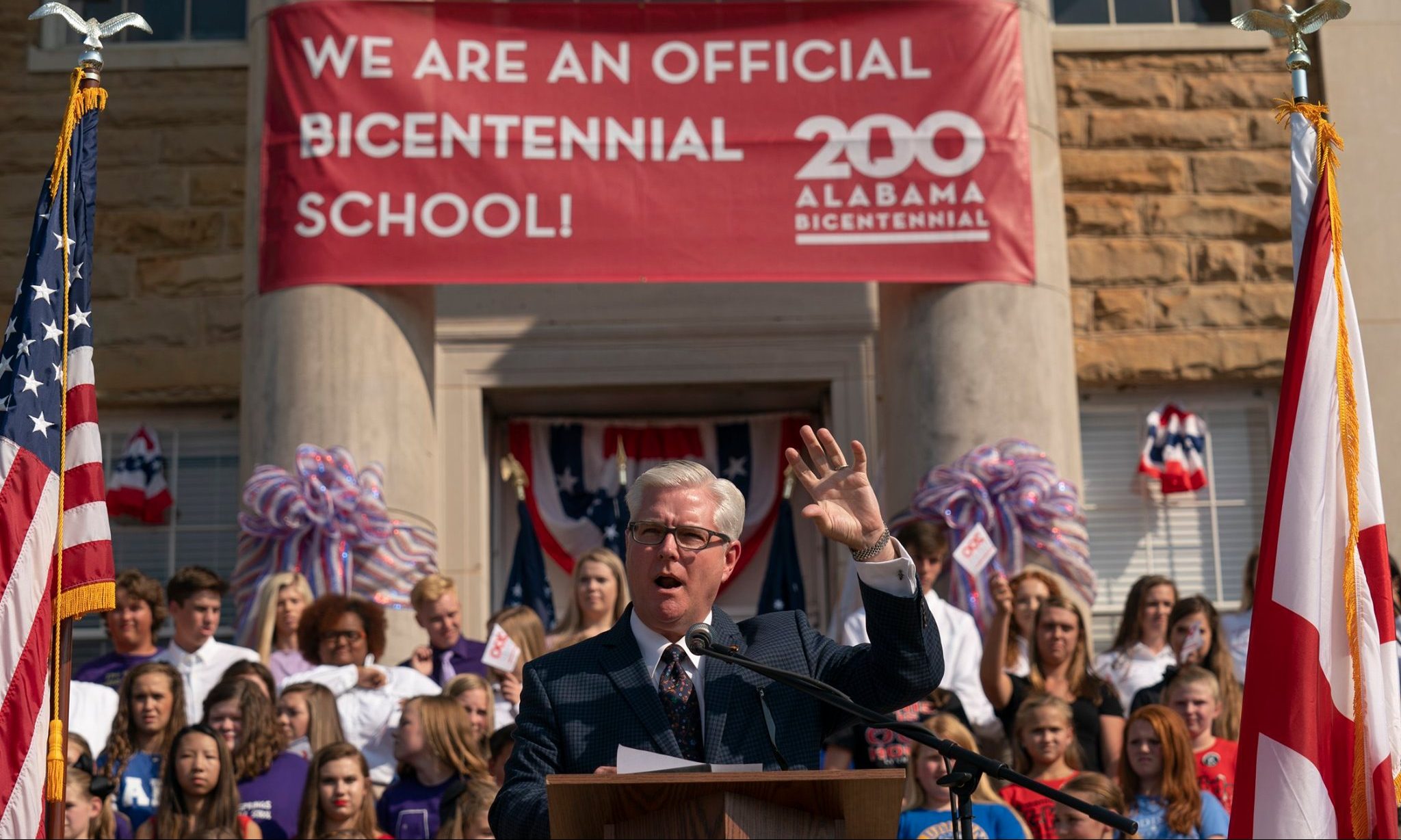 State Sen. Greg Reed, R-Jasper, will lead the Alabama Senate as president pro tem during the upcoming 2021 legislative session. What changes will Reed bring to the upper chamber, and how will his leadership differ from his predecessor? No one knows for sure.
Reed succeeds Sen. Del Marsh, who has served as president pro tem since Republicans took control of the Statehouse in 2010. Marsh, along with then-Gov. Bob Riley, current felon Mike Hubbard and ousted BCA Chair Billy Canary orchestrated the 2010 takeover that saw the Republican rise to dominance.
Reed, who won his Senate seat the same year, was not a charter member of the Republican ruling class, but he benefited from the power sift.
Mild-mannered and studious with a quiet charm, Reed has steadily ascended the ranks of Senate leadership. His silver hair and calm determination have served him well. Reed is a senatorial figure straight out of Hollywood's central casting.
In all, Reed is nearly universally liked and respected, which in the near term is a hopeful sign of potential success. But political leadership always comes with a warning: "Friends come and go, enemies accumulate."
Reed's relationship with Gov. Kay Ivey is certainly less contentious than Marsh's and gives rise to the belief that there will be greater cooperation between the executive and the Senate.
With the economy and public health under dire stress due to the ravages of COVID-19, legislative priorities are fixed: get people back to work and eradicate the coronavirus.
However, one of Reed's first tests will be whether he can cool the smoldering anger of those senators who still feel the sting of Ivey's rebuke over the allocation of CARES Act funds. He will also need to resist those who want to punish the administration over its use of public health statutes to implement mask mandates and other safety measures to prevent the deadly coronavirus spread.
Despite outward declarations of a unified body, the State Senate is a small, insular and unwieldy beast where egos loom large and consensus on policies is often tricky to achieve except on "red meat issues."
Building a coalition on policy in the Senate is often a combination of horse-trading, cajoling and carefully applied pressure. The way forward in the near term is exact: pass legislation that spurs economic recovery and mitigates the health crisis at hand.
But Reed will also simultaneously need to recognize what comes next for justice reform, prison construction, gambling and a myriad of other pressing issues. His job will be to understand the prevailing winds, which are evolutionary, not revolutionary.
As author Doris Kearns Goodwin noted in Lyndon Johnson and the American Dream: "For political leaders in a democracy are not revolutionaries or leaders of creative thought. The best of them are those who respond wisely to changes and movements already underway. The worst, the least successful, are those who respond badly or not at all, and those who misunderstand the direction of already visible change."
Reed's temperament and style appear right for this moment in Alabama's history.
As President Abraham Lincoln said, "If you want to test a man's character, give him power."
Let's all hope that Reed passes the test.