APR holds first post-announcement interview with Gov. Kay Ivey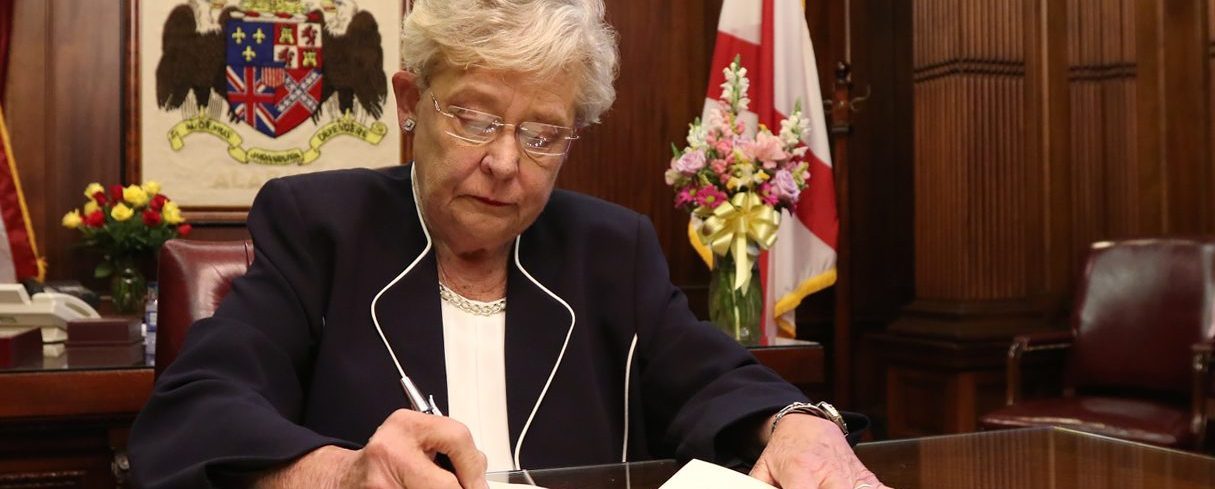 By Bill Britt
Alabama Political Reporter
In her first post announcement interview, Gov. Kay Ivey spoke with the Alabama Political Reporter about her priorities, how she views the governor's role in facing the challenges and changes that she sees will in the coming years and how she will lead the state with selfless devotion.
"The people of Alabama deserve a governor that's focused on the issues, the people's issues not the politicians," Ivey said. "Good jobs and bigger paychecks, that allows them to provide for their families and I'm up to the task."
More jobs and better opportunities for the people of the state underline the broad themes Ivey sees as her administration's tasks.
Soon after taking office Ivey embarked on a "Listen, Learn, Help & Lead Tour," which has taken her around the state to learn the needs of the individual communities she travels through with site visits and roundtable discussions with local government officials, business leaders and educators.
"We know that by the year 2020, 62 percent of all the jobs in Alabama will require some kind of certification past high school, such a two-year certificate, or a two-year or four-year degree," said Ivey. "So I'll certainly be supporting education, and economic development both are high on my list."
She says that along with educating a qualified work force, the state will require infrastructure improvements that will support economic growth. Ivey believes this will demand government operates "leaner and more efficient."
For education, Ivey emphasized not only the role of Pre-K through 12, but also expanding higher education that produces top engineers, scientists and other Ph.D. level programs.
In a recent trip to her alma mater Auburn University, Ivey said, "Education is the heartbeat of our state," as reported by The Auburn Plainsman.
On the topic of ethics laws, Ivey told APR she favors the state's current stringent ethics code but wants to clarify existing laws so that individuals "Don't get caught up in confusion." Adding, "I'll be proud to look at the recommendations from the attorney general and the Legislature to provide clarity to the ethics laws."
Current Attorney General Steve Marshall, a former Democrat appointed by disgraced former Gov. Robert Bentley, failed to bring forward a widely accepted ethics reform bill last Legislative Session. The bill was painstakingly constructed and supported in the Senate by President Pro Tem Del Marsh, in the House by Speaker Mac McCutcheon as well as business leaders and lobbyists.
Marshall reportedly will come with a package in the next session, but there are concerns he is being influenced by those who would "clarify" current laws in a way that would weaken them.
Marshall, as well as Ivey, have accepted substantial campaign contributions from those with interests in amending ethics statutes in a manner that run contrary to the legislation studiously drafted under the leadership of former Attorney General Chief Deputy Alice Martin and Public Corruption Prosecutor Matt Hart.
In her APR interview, Ivey said there are many ways to restore public trust in government.
"The bottom line is, for too long the culture of state government in Montgomery has been to put politicians' needs ahead of the public's needs," said Ivey. "And I'll continue to work hard to keep the people in focus with my mission and duty being to lead state departments and our state by serving the public trust."
On a state lottery, Ivey previously said she "absolutely supported the people's right to vote on a lottery," but failed to engage when asked by APR for specifics, retiring to talking points on how the state needed to operate within its means.
With what seems to be a never-ending lack of ready cash to fund government's essential services a lottery is proposed to shore-up the anemic general fund budget. Very few people still believe there is much fat left to cut from basic services without further diminishing the state's ability to meet even modest civil demands, such as police, fire and prison funding.
Ivey also expressed her concern with the state's retirements system, which requires the state's taxpayer provided some of its financings.
"Well certainly we want to provide a very – quality retirement system for all who are eligible to receive it," said Ivey. "First of all, the people of Alabama don't even realize they are providing almost a billion dollars a year for the retirement, in addition to what people pay for it, so that's a huge issue."
Ivey says her administration will be addressing the matter at an appropriate time, "Because it's our duty to provide a quality retirement program for our people."
In conclusion, Ivey said she would use the Governor's Bully Pulpit to press an agenda that moves the people's business forward while working with state leadership.
"Well, one of my priorities always has been to work with full communication to the members of the Legislature, House and Senate majority and minority," Ivey said. "And I will continue to do that."
Ivey says she enjoys a "trustworthy relationship" with lawmakers and thinks, "There are more legislators who want to move the state forward than there are who don't. So yes, I will be using my influence in a positive way to move this state forward with the help of the Legislature and other officials who are elected by the people."
Ivey is intent on working across the aisle as well to ensure that all the state's citizens are represented and not just a few.
"Recently I met with the Senate caucus – minority caucus in Birmingham and had a good discussion with them. Certainly, I know [Minority leader] Anthony [Daniels], and he is a fine young man who's providing solid leadership, and we'll be having more dialogue and interaction with legislators as we move forward," Ivey said.
Ivey's conservative credentials are solid and well known, which is why she doesn't need to pretend there is an us-against-them mentality in her administration. Ivey says she is governor of all the state, and that her priorities include everyone.
House passes General Fund Budget
By Brandon Moseley
Alabama Political Reporter
The Alabama House of Representatives passed the state General Fund Budget on Tuesday.
The General Fund Budget for the 2019 fiscal year is Senate Bill 178. It is sponsored by Sen. Trip Pittman, R-Montrose. State Rep. Steve Clouse, R-Ozark, carried the budget on the House floor. Clouse chairs the House Ways and Means General Fund Committee.
Clouse said, "Last year we monetized the BP settlement money and held over $97 million to this year."
Clouse said that the state is still trying to come up with a solution to the federal lawsuit over the state prisons. The Governor's Office has made some progress after she took over from Gov. Robert Bentley. The supplemental we just passed added $30 million to prisons.
The budget adds $50 million to the Department of Corrections.
Clouse said that the budget increased the money for prisons by $55,680,000 and includes $4.8 million to buy the privately-owned prison facility in Perry County.
Clouse said that the budget raises funding for the judicial system and raises the appropriation for the Forensic Sciences to $11.7 million.
The House passed a committee substitute so the Senate is either going to have to concur with the changes made by the House or a conference committee will have to be appointed. Clouse told reporters that he hoped that it did not have to go to conference.
Clouse said that the budget had added $860,000 to hire more Juvenile Probation Officers. After talking to officials with the court system that was cut in half in the amendment. The amendment also includes some wording the arbiters in the court lawsuit think we need.
The state General Fund Budget, SB178, passed 98-1.
Both budgets have now passed the Alabama House of Representatives.
The 2019 fiscal year begins on Oct. 1, 2018.
In addition to the SGF, the House also passed a supplemental appropriation for the current 2018 budget year. SB175 is also sponsored by Pittman and was carried by Clouse on the floor of the House.
SB175 includes $30 million in additional 2018 money for the Department of Corrections. The Departmental Emergency Fund, the Examiners of Public Accounts, the Insurance Department and Forensic Sciences received additional money.
Clouse said, "We knew dealing with the federal lawsuit was going to be expensive. We are adding $80 million to the Department of Corrections."
State Representative Johnny Mack Morrow, R-Red Bay, said that state Department of Forensics was cut from $14 million to $9 million. "Why are we adding money for DA and courts if we don't have money for forensics to provide evidence? if there is any agency in law enforcement or the court system that should be funded it is Forensics."
The supplemental 2018 appropriation passed 80 to 1.
The House also passed SB203. It was sponsored by Pittman and was carried in the House by State Rep. Ken Johnson, R-Moulton. It raises securities and registration fees for agents and investment advisors. It increases the filing fees for certain management investment companies. Johnson said that those fees had not been adjusted since 2009.
The House also passed SB176, which is an annual appropriation for the Coalition Against Domestic Violence. The bill requires that the agency have an operations plan, audited financial statement, and quarterly and end of year reports. SB176 is sponsored by Pittman and was carried on the House floor by State Rep. Elaine Beech, D-Chatham.
The House passed Senate Bill 185 which gives state employees a cost of living increase in the 2019 budget beginning on October 1. It was sponsored by Sen. Clyde Chambliss, R-Prattville and was being carried on the House floor by state Rep. Dimitri Polizos, R-Montgomery.
Polizos said that this was the first raise for non-education state employees in nine years. It is a 3 percent raise.
SB185 passed 101-0.
Senate Bill 215 gives retired state employees a one time bonus check. SB215 is sponsored by Senator Gerald Dial, R-Lineville, and was carried on the House floor by state Rep. Kerry Rich, R-Guntersville.
Rich said that retired employees will get a bonus $1  for every month that they worked for the state. For employees who retired with 25 years of service that will be a $300 one time bonus. A 20-year retiree would get $240 and a 35-year employee would get $420.
SB215 passed the House 87-0.
The House passed Senate Bill 231, which is the appropriation bill increase amount to the Emergency Forest Fire and Insect and Disease Fund. SB231 is sponsored by Sen. Steve Livingston, R-Scottsboro, and was carried on the House floor by state Rep. Kyle South, R-Fayette.
State Rep. Elaine Beech, D-Chathom, said, "Thank you for bringing this bill my district is full of trees and you never know when a forest fire will hit.
SB231 passed 87-2.
The state of Alabama is unique among the states in that most of the money is earmarked for specific purposes allowing the Legislature little year-to-year flexibility in moving funds around.
The SGF includes appropriations for the Alabama Medicaid Agency, the courts, the Alabama Law Enforcement Agency, the Alabama Department of Corrections, mental health, and most state agencies that are no education related. The Alabama Department of Transportation gets their funding mostly from state fuel taxes.
The Legislature also gives ALEA a portion of the gas taxes. K-12 education, the two year college system, and all the universities get their state support from the education trust fund (ETF) budget. There are also billions of dollars in revenue that are earmarked for a variety of purposes that does not show up in the SGF or ETF budgets.
Examples of that include the Public Service Commission, which collects utility taxes from the industries that it regulates. The PSC is supported entirely by its own revenue streams and contributes $13 million to the SGF. The Secretary of State's Office is entirely funded by its corporate filing and other fees and gets no SGF appropriation.
Clouse warned reporters that part of the reason this budget had so much money was due to the BP oil spill settlement that provided money for the 2018 budget and $97 million for the 2019 budget. Clouse said they elected to make a $13 million repayment to the Alabama Trust fund that was not due until 2020 but that is all that was held over for 2020.
Clouse predicted that the Legislature will have to make some hard decisions about revenue in next year's session.