By Bill Britt
Alabama Political Reporter
The jubilation felt among hardcore conservatives over Judge Roy Moore's win in the Republican primary runoff Tuesday night also brought recrimination from the Democratic left and the sophisticated right.
After Moore's triumph, the wife of a top White House official wrote on social media, "For the first time in my life, I have to say, I'm embarrassed to say I'm from Alabama."
Moore's Democrat rival Doug Jones on the same night took to social media to announce, "After years of embarrassing headlines about the top public officials in this state, this race is about the people of Alabama and about choosing a candidate with character and integrity they can be proud of. I will never embarrass the people of Alabama."
So, when the wife of a deputy chief of staff to the president is embarrassed by Moore's election, and Democrat Jones promises he won't embarrass the state; what is the message?
These views are perhaps shared by some Alabamians, but the vast majority who fulfilled their civic duty by voting on Tuesday chose Moore.
It's not hard to see why Moore's brand of conservatism might offend some because it is rigid and unmoved by urges of modernity. Moore stands for the traditional values of God, country and the U.S. Constitution. Is there shame in such beliefs? Why is Moore vilified for saying out loud what hundreds of thousands of church-going-Alabamans believe?
Moore is bombastic, confrontational and a religious street-fighter. Are we, as a state and nation, so delicate that dissenting voices are too harsh for the public forum?
Jones insinuates that Moore doesn't have character or integrity; how absurd. Jones is either pandering to his base or doesn't understand what those words mean. If being pro-life or for traditional marriage means a person lacks character, then there are a lot of unscrupulous people in our state. To believe that the only way for America to be great is for it to be morally good is not a foreign concept to most of us.
If the Ten Commandments offend you, it is not Moore who has a problem.
During his victory speech, Moore said he would support President Trump's agenda, "As long as it's constitutional, as long as it advances our society, our culture, our country, I will be supportive. … But we have to return to knowledge of God and the Constitution of the United States to the United States Congress."
How can we ask for more from Alabama's U.S. senator?
Yes, there are times when Moore's turgid rhetoric has caused me to cringe and think, "Oops. He went a little too far with that one." But the man believes what he says, and it is grounded in what many of our neighbors believe and our forbearers held sacred. As a nation, we have recognized the separation of church and state, but throughout our great nation, many people believe that our society is weakened when we remove God from country.
I'm not as right-wing as Moore, nor am I as fanatical about certain things, but I know the difference between an honest politician and one that's bought and paid for. Years of observation has also given me some measure of insight in how to discern good and evil by a person's actions. Moore is many things, but he's not a crook; and he is a good person. He and I don't have to agree on any issue for me to say those things about him as his life's work, not his words, are his witness.
Who, then should be embarrassed?
Luther Strange should be ashamed because as attorney general, he accepted the Senate appointment from then Gov. Robert Bentley. Strange knew Bentley was under investigation by his office, but that didn't matter… the golden ring was in sight. The people made Strange the state's top law-enforcement officer. He should have shown more commitment to the voters who believed in him. But Big Luther did what weak men do. He took the easy path.
Republican U.S. Senate Majority Leader Mitch McConnell should be ashamed. He was certainly humiliated in his failed attempt to meddle in our state's politics. And his Senate Leadership Fund is a disgraceful organization, which flooded our state airwaves with profound lies about Moore. The NRA is a joke – don't hold your breath for me to renew my membership – and the Business Council of Alabama is, well, beyond contempt.
Moore was twice removed from the state supreme court, and twice the people sided with Moore, sending him back into the political arena because they believe he was wronged by the state's elite on the right and left. Who from the political class came to Moore's defense when he was improperly indicted by a shadowy panel led by an elite corps of do-gooders? Where were those who beat the Bible to get elected, only to shrink from scriptural teaching when it became inconvenient or perilous? The Republican establishment abandoned Moore when he was judged by a unconstitutionally appointed court, but voters did not.
If elected U.S. Senator in December, those same people who ignored Moore's treatment by the well-meaning left and cowardly right will be solicitous of his office, as if they had been his friends all along.
Others who must feel the sting of shame are Chief Justice Lyn Stuart, Justices Mike Bolin and Jim Main for their part in Moore's removal from the bench.
We, as a state, should be embarrassed by our underperforming schools, our lack of good paying jobs and inadequate healthcare. Far too many of your people are unhealthy, under-educated and underemployed.
To be commended is Gov. Kay Ivey, who showed great wisdom and courage in moving the election of Jeff Sessions' replacement in accordance with the state 1901 Constitution. Secretary of State John Merrill can hold his head high, as he worked with Ivey and her chief of staff, Steve Pelham, to follow the law and not the whims of Bentley and Washington insiders.
Alabama is home to good, honest and hardworking folks, and many of them find no shame in electing Moore.
Many of our state's leading figures have given us a reason to hang our heads in shame. There are still some who hold power. For now the people have spoken, and they are not embarrassed by Judge Roy Moore. Are you?
Print this piece
Opinion | Marsh hurls accusations at Gov. Ivey. Is he barking mad?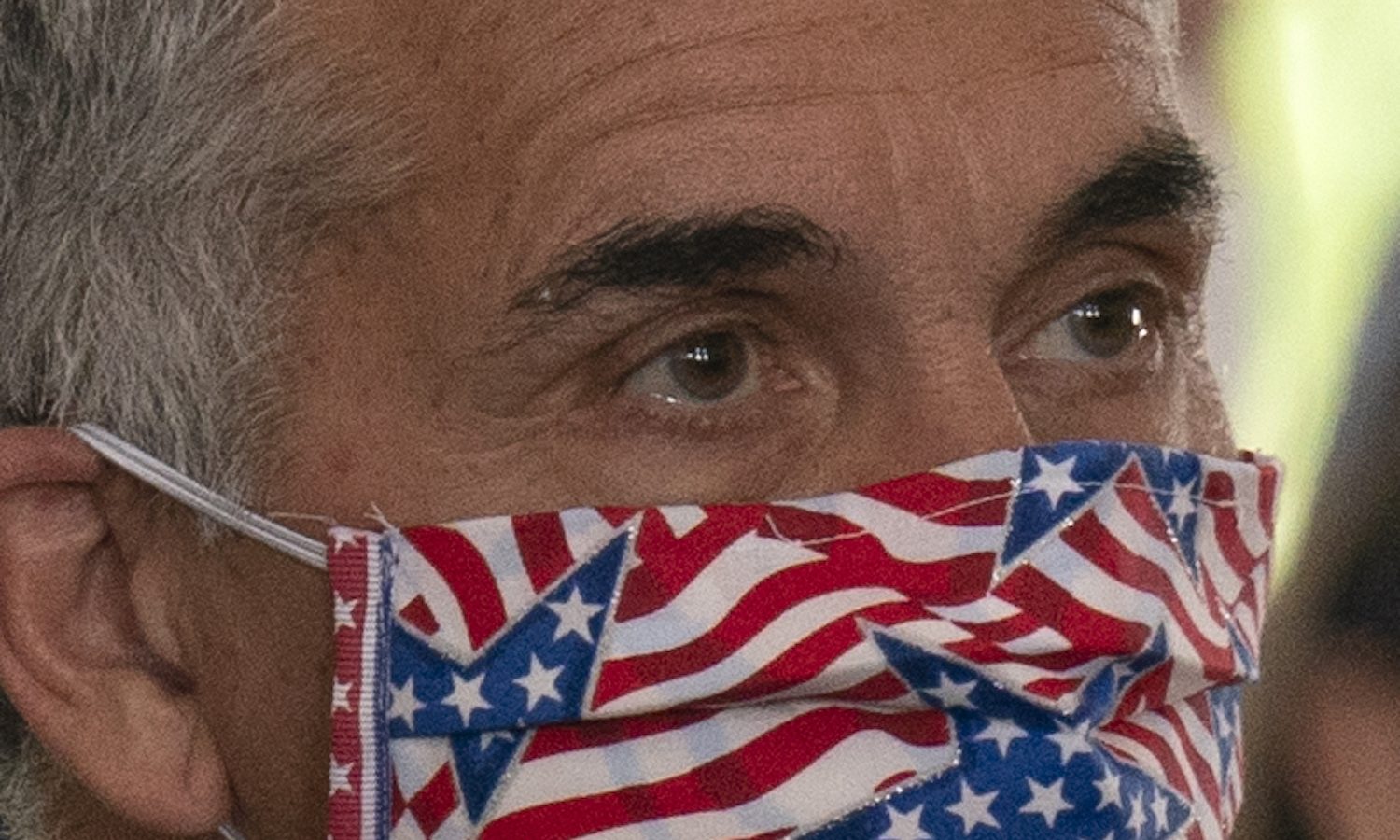 Appearing on the latest edition of Alabama Public Television's "Capitol Journal," Sen. President Pro Tem Del Marsh, R-Anniston, blamed Gov. Kay Ivey for the loss of some 450,000 jobs in Alabama.
It's an absurd accusation that any thinking Alabamian knows is a lie. But Marsh wants to hurt Ivey because she exposed him as little more than a petty, greedy-gut politico.
Still stinging from the public humiliation he suffered after Ivey revealed his "wish list" — which included taking $200 million in COVID-19 relief money to build a new State House — Marsh is leveling a cascade of recriminations against the popular governor.
However, what is astonishing is that he would spew brazen lies about Ivey during raging loss and uncertainty caused by a worldwide pandemic. This latest fiction about Ivey creating widespread economic calamity is the unseemly work of a hollow man without empathy, wisdom or decency.
This insane assertion that Ivey is somehow responsible for thousands suffering is as cravenly evil as it is politically stupid.
"The policies that have been put in place by the [Ivey] administration have 450,000 people out of work," Marsh told show host Don Daily.
Only a fool, a nutjob or a politician would blame Ivey for losing some 450,000 jobs, but there was Marsh, on public television, showing he is perhaps all three.
In the middle of his barking-mad comments, Marsh somehow forgot to mention that he was a member of Ivey's Executive Committee on the COVID-19 task force and helped make the very policies he now claims led to joblessness and financial ruin for many Alabamians.
Marsh is merely making it up as he goes because his fragile ego, pompous character and rank inhumanity suddenly became fully displayed for every Alabamian to see when he doubled down on building a new State House.
And so, like a guy caught with his pants down, Marsh is pointing his finger at Ivey to distract from his naked indifference toward the struggles of his fellow Alabamians.
Marsh's plan to spend the CARES Act funds on a State House and other pet projects ignored the sufferings of hundreds of thousands of the state's most vulnerable citizens and businesses.
Ivey wanted the nearly $1.9 billion in CARES funds to go to help those individuals, businesses and institutions affected by COVID-19. Marsh wanted it as a Senate piggybank, so, he lashes out at her rather than reflect on how he and the State Senate could do better in the future.
Anyone who blames others for their failings is a weakling, not a leader.
Marsh came to power under a scheme hatched around 2008, by then-Gov. Bob Riley. The plan was to make Mike Hubbard the speaker of the House, Marsh as pro tem and Bradley Byrne as governor. Riley would act as the shadow puppet master pulling the strings of power from behind a thin curtain of secrecy, allowing him to make untold riches without public accountability.
Byrne losing the governor's race to the hapless State Rep. Dr. Doctor Robert Bentley was the first glitch in the plan (yes, during the 2010 campaign for governor, Bentley changed his name to Doctor Robert Julian Bentley so the title Doctor would appear next to his name on the primary ballot).
The second problem for the venture was Hubbard's avarice, which landed him on the wrong side of the ethics laws he, Riley, Byrne and Marsh championed. Of course, the ethics laws were never meant to apply to them. They were designed to trap Democrats.
Marsh has floundered since Hubbard's grand departure and with Riley sinking further into the background, it is now apparent that Riley was the brains, Hubbard the muscle and Marsh the errand boy, picking up bags of cash to finance the operation.
Gofers rarely rise to power without the public noticing they're not quite up for the job, and so it is with Marsh that his office has shown the limits of his abilities.
Marsh wanted to control the COVID-19 relief money to spend on pork projects as he'd done in the past, but Ivey didn't allow it. To be outsmarted is one thing, but to be beaten by a woman is too much for a guy like Marsh.
Ivey burned Marsh like a girl scout roasting marshmallows over a campfire.
Senator Marshmallow, anyone?
Poor Marsh, with his political career in turmoil, picked the wrong target in Ivey.
Some look at Ivey and see a kind, grandmotherly figure. Ivey is as tough as a junkyard dog, and now Marsh knows what her bite feels like.
Ivey didn't cause massive job losses. COVID-19 did that. But Marsh got his feelings hurt, bless his heart, so he wants to take Ivey down.
Just like his scheme to commandeer the COVID-19 funds from the people didn't work, his attack on Ivey won't either.
People see Marsh for what he is, and it's neither strong nor competent; it's weak and ineffectual.
Marsh stood behind Ivey when she announced the state's health orders wearing an American flag style mask.
He voted for her executive amendment.
And now he lies.
In times of real crisis, true leaders emerge while others of lesser abilities whine. Marsh is complaining. Ivey is leading.
And so the public watches as The Masked Marshmallow takes on Iron-jawed Ivey. It's not tricky to see how this cage match turns out.
Marshmallow, down in three.
Print this piece