It's time to squash America's irrational love of guns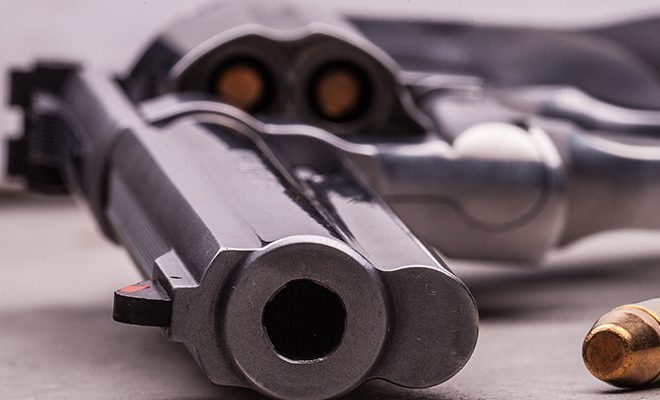 By Josh Moon
Alabama Political Reporter
When did it become cool to own a bunch of guns?
This is the thing that has always escaped me in the never-ending gun debate: Just when in the hell did owning a gun make you the macho, cool guy?
For most of my early life, growing up in the South, where pretty much everyone owned a shotgun and rifle for hunting, I didn't know a soul who owned a bunch of handguns or assault rifles. Oh, our dads and granddads had revolvers that were kept in underwear drawers, with bullets that were stored somewhere in the house.
My dad's gun was kept on top of a tall hutch in the living room. It was wrapped in an oily rag. In my entire life, I have never seen my dad hold it.
Late one night, when I was a pre-teen, I thought some guy was breaking into our back shed, so I did what any pre-teen would do — I yelled for dad. He hopped out of bed, went right by the hutch in the living room, didn't glance at it, and headed out the door.
I'm not trying to tell you that Dad is the bravest guy in the world or that he was going to take some thieves down with his bare hands. Maybe both are true. But it's also true that grabbing a gun never crossed his mind.
That's not how we lived — with a fear that required constant, or even semi-rare, firearm protection. And that was in the 1980s, when the violent crime rates were much, much higher than today.
Don't get me wrong, some people would keep a shotgun in a closet or a pistol in a nightstand to grab just in case, but they weren't crazy about it.
They sure didn't have guns all over the house, carry around pics of them, or even strap the gun on and walk around a Target store.
Because everyone would have thought that they were nuts.
And if you bought bulletproof vests, a bunch of black clothing and face paint, they would've warned their kids to stay away from you.
Because that's not normal behavior.
And it's not OK.
This is the sort of nonsense that pro-gun control people want to stop — this romanticizing of the gun. This weird, dangerous affection that so many people now have for an instrument of death.
And let's make no mistake, it is weird. And it is very dangerous.
It's not OK that average citizens are walking around with semi-automatic rifles that can kill 30 people without changing the magazine. The average person should not be allowed to own weaponry that makes it possible to kill 26 people in a small-town church in seconds or kill 58 and wound 500-plus at a concert, firing more than 1,000 rounds, in less than 11 minutes.
There is no argument that makes this OK, including the one that starts with a partial quote of a constitutional amendment. Because there's an amendment just before that one that ensures both free speech and freedom of the press, yet I can rattle off a number of reasonable limitations on both.
That's how laws and legal review work — they strike a necessary balance between rights and safety.
We could use some balance on guns. And deep down, even most gun owners know this is true.
Because most gun owners are normal, sane people who just want to hunt or feel more comfortable with a pistol — that they're trained to use — for home protection. They're not strapping on an AR-15 and walking around the mall.
And they don't need 30 bullets. They don't need to fire 15 rounds in under 10 seconds. They don't need a rifle that soldiers use in war zones.
Because simply having a big gun doesn't make you safe. It doesn't make you macho. It doesn't make anyone respect you.
All it does it make it easier for someone to snap and kill people in a church or kill kindergartners in a classroom.
It's long past time that we stopped treating guns as magical instruments that will instantly provide safety and respect. They won't, particularly without proper training, practice and care.
It's also time to implement some common-sense laws: expanded background checks, a ban on assault weapons, a ban on high-capacity magazines, a training requirement for all gun owners, a gun and ammunition registry and stiffer penalties for gun owners whose weapons are used in accidental shootings and crimes.
I have no faith that any of these will occur, not in our current climate of NRA-dominated lawmakers. Until they are — until the proper respect and responsibility are placed on gun ownership in this country, and until the irrational reverence and childlike adoration of guns are checked — you can continue to expect more scenes like Sunday's.
Opinion | The emperor has no votes
The outcry of illegalities over the recent election is simply the latest example of just how far they'll go.
Two-and-32. That's the record of the super-fantastic "strike team" of "elite" attorneys representing the Donald Trump campaign in various lawsuits around the country that contest the outcome of the U.S. presidential election.
For a refresher: Joe Biden won that free and fair election in a landslide and will be the next president of the United States. The end.
In case after case after case, despite what the president has tweeted and despite what enablers and spineless politicians have helped him push, the Trump elite attorney strike team has failed to offer even the slightest bit of proof of the grand fraud that Trump has repeatedly claimed on Twitter or that his "dye hard" personal attorney, Rudy Giuliani, has screeched about during insane, "Veep"-like press conferences. (Have you ever witnessed a stranger, more disturbing image than that of "America's mayor," wild eyed and ranting, with his cheap hair dye running down his face as if his ears were bleeding?)
In fact, in the overwhelming majority of the cases filed by strike team Trump, the team has been forced to admit to judges that they have no evidence of fraud or that they're not able to claim fraud.
It's pathetic that we're still doing this — that the transition to a new administration is being held up by this band of grifters looking to squeeze one last drop of donations from the marks who have already forked over so much to this long-running American con.
That's all this is.
The entire Trump presidency has been exactly this — a con game to enrich him and his closest business partners. To that end, it has been highly successful.
It has also been successful in turning seemingly rational people into googly-eyed yes men willing to sully themselves for a taste of the political fortune or fame that comes with being near the presidency.
It is, to be honest, shocking the ease with which so many in the highest offices of our federal and state government have been convinced to denounce reality and make fools of themselves to ensure they either benefit from being in the cult's favor or at least not being a target of the cult.
The outcry of illegalities over the recent election is simply the latest and most horrific example of just how far they're willing to go and how little of America they truly hold sacred.
Alabama's Secretary of State John Merrill, for example, has given media interviews in which he willingly passed along wild, long debunked conspiracy theories of Biden getting thousands of votes at once, and how there's no explanation for it. And yet, there was an explanation — one that had been given over and over and over.
Alabama congressman Mo Brooks, a man who so frequently buys into rightwing conspiracies that he almost certainly has purchased an extended warranty for all of his cars, sent a bat-guano insane letter to a constituent this week in which he laid out how "socialist Democrats" were able to "steal" the election through massive fraud and how Republicans in Congress can steal it back.
One of the means by which this election was stolen, according to Brooks, was by excluding Republican poll watchers. None were excluded. And the strike team has now dropped that line of attack altogether.
Brooks and Merrill aren't alone, however. Up and down the line, Alabama GOP officials and the media mouthpieces they pay to amplify their idiotic ideas have gone full in on this idea of fraud, even when other Republicans — like that poor secretary of state in Georgia — were trying desperately to tell them it wasn't real.
Honestly, it's like Hans Christian Andersen's "The Emperor's New Clothes" is being played out in real life, right in front of us. Only, the swindlers became the emperor.
Trump and his minions continue to walk around stark naked while insisting that he has on the most beautiful, perfect clothing in the whole world. And there's this one group of people who are buying it. And then there's this whole other group who know full well that this guy is buck naked but they're too afraid of alienating the first group, even if it means undermining the cornerstone of American democracy.
In the meantime, the swindlers just keep sending out fundraiser emails. Because, again, that's all this is.
Look at the frivolous lawsuits and how thoroughly Trump's strike team has been embarrassed in every courtroom so far. This isn't about winning or about massive fraud or about correcting problems in the election system. It's about money. Pure and simple.
Finally, late Thursday, two influential Republicans, Sens. Mitt Romney and Ben Sasse, said what we all know.
Sasse said the lawyers have "refused to actually allege grand fraud." He was also critical of the strike team's tactics.
Romney said Trump was trying to "subvert the will of the people." And he said he couldn't imagine "a worse, more undemocratic action by a sitting American president."
Hopefully, that will open the floodgates for a river of sanity and basic common sense. Because the longer this goes on, the more likely it is something catastrophic takes place.
It's not too late yet for the president to put some clothes on.