By Chip Brownlee
Alabama Political Reporter
A new national tracking poll conducted Nov. 9-11, in the days immediately following accusations of sexual misconduct against US Senate candidate Roy Moore, shows 60 percent of voters nationwide want him to withdraw.
Fifty percent of Republican voters and 56 percent of Independent voters say they think Moore should step aside in Alabama, while 72 percent of Democrats say he should drop out of the race, according to a Morning Consult and Politico poll.
A Washington Post article published last week quoted four women who accused Moore of pursuing relationships with them when he was in his mid-30s and they were teenagers. One of the accusers, Leigh Corfman, said she was 14  — younger than the age of consent — when Roy Moore initiated sexual contact with her
Sixty percent of those polled said they found the allegations in the Washington Post article believable including 49 percent of Republicans. Forty-nine percent of self-identified Trump voters said they believed Moroe should drop out.
The poll comes as more than 20 Senators have called on Moore to step out of the race if the allegations are true — including Sen. Mike Lee of Utah, a conservative firebrand who had previously endorsed Moore. Sens. John Cornyn and Ted Cruz, both from Texas, also pulled their endorsements of Moore.
---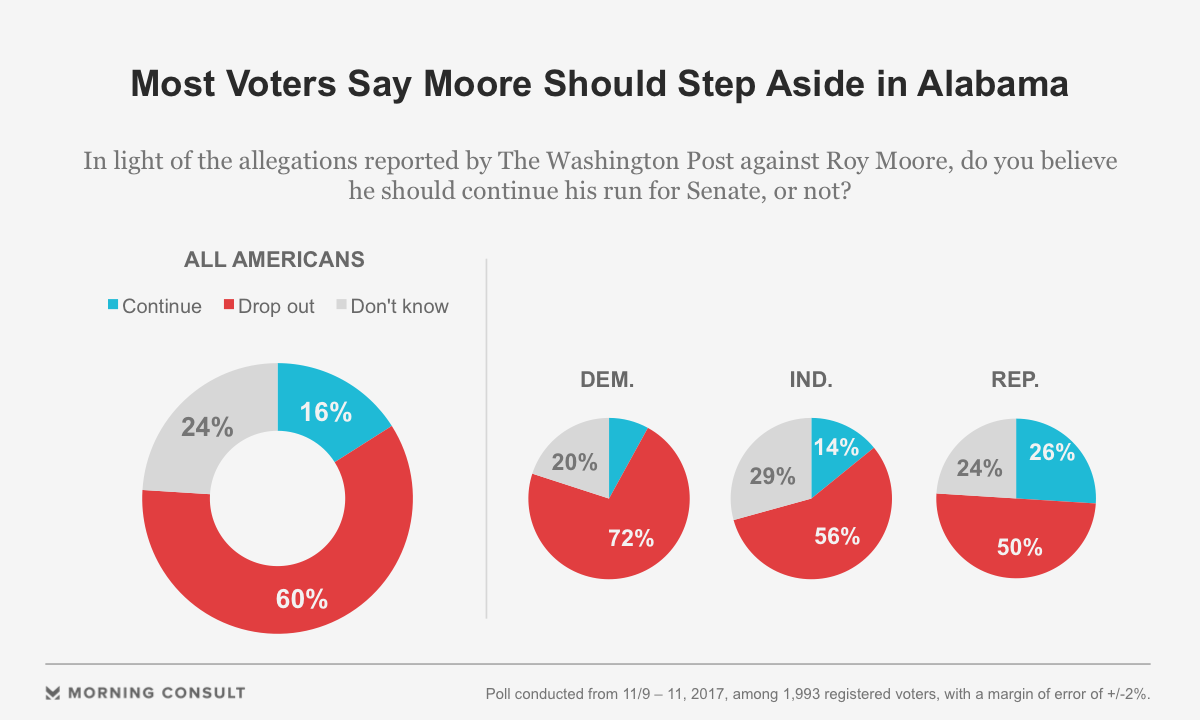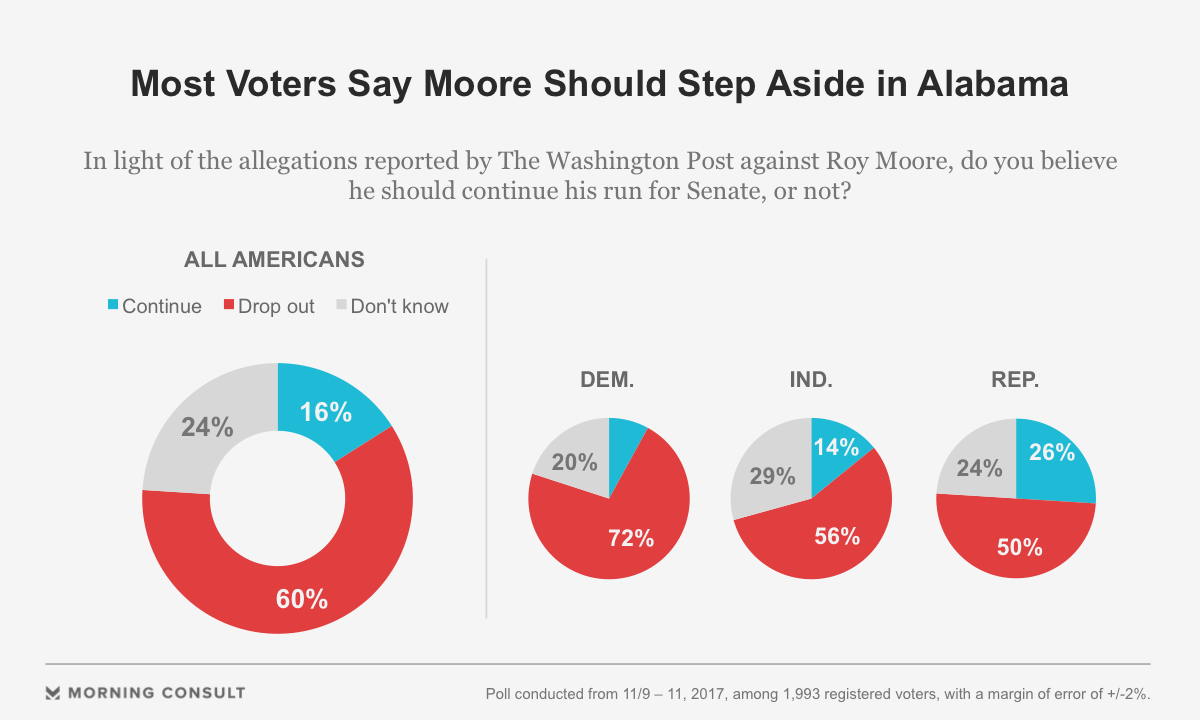 ---
The only remaining senator to have endorsed Moore, Sen. Rand Paul, R-Kentucky, has not returned a request for comment.
Polls surveying Alabama voters on their preference between Moore and Jones have fluctuated wildly since the allegations surfaced last week. One poll, from JMC Analytics, that surveyed 575 likely voters gave Doug Jones, the Democratic candidate, a 4-point advantage  — within the poll's margin of error. But the next poll released from Emerson College gave Moore a 10-point lead.
The polls were conducted from Nov. 9–11. The Real Clear Politics average of polls stands at +2 percentage points for Moore.
Republicans have been split on what to do about Moore, an insurgent candidate establishment Republicans tried to prevent from getting on the general election ballot. Most sitting senators and national party leaders supported Sen. Luther Strange in the primary and runoff.
Some Republicans say Moore should step out of the race. But a growing number say that if Moore doesn't step out, and he wins, then the Senate should vote to expel him when he takes office.
"I believe the individuals speaking out against Roy Moore spoke with courage and truth, proving he is unfit to serve in the United States Senate and he should not run for office," said U.S. Sen. Cory Gardner, D-Colorado, who chairs the National Republican Senatorial Committee, the caucus's campaign arm. "If he refuses to withdraw and wins, the Senate should vote to expel him, because he does not meet the ethical and moral requirements of the United States Senate."
Senate Majority Leader Mitch McConnell opened the floodgates Monday morning when he told reporters that he believed the women who spoke to the Post. He said he believed Moore should step down.
Another woman came forward Monday to accuse Moore of sexually assaulting her when she was 16 years old. The list of U.S. senators and national party officials calling on Moore to step down has grown as more about the accusations came to light.
Only 16 percent of registered voters surveyed said they did not believe Moore should step down, the poll said. And 17 percent said they did not find the accusations credible.
But statewide party leaders have been silent if not supportive of Moore thus far, and he says he will not be withdrawing from the race. He and his campaign deny all of the accusations. He said he had not even met nor does he remember the latest accuser, Beverly Young Nelson.
Pollsters surveyed 1,993 registered voters online through a target sample of registered voters. The poll's margin of error is plus or minus 2 percentage points.