President Donald Trump gives full endorsement of Roy Moore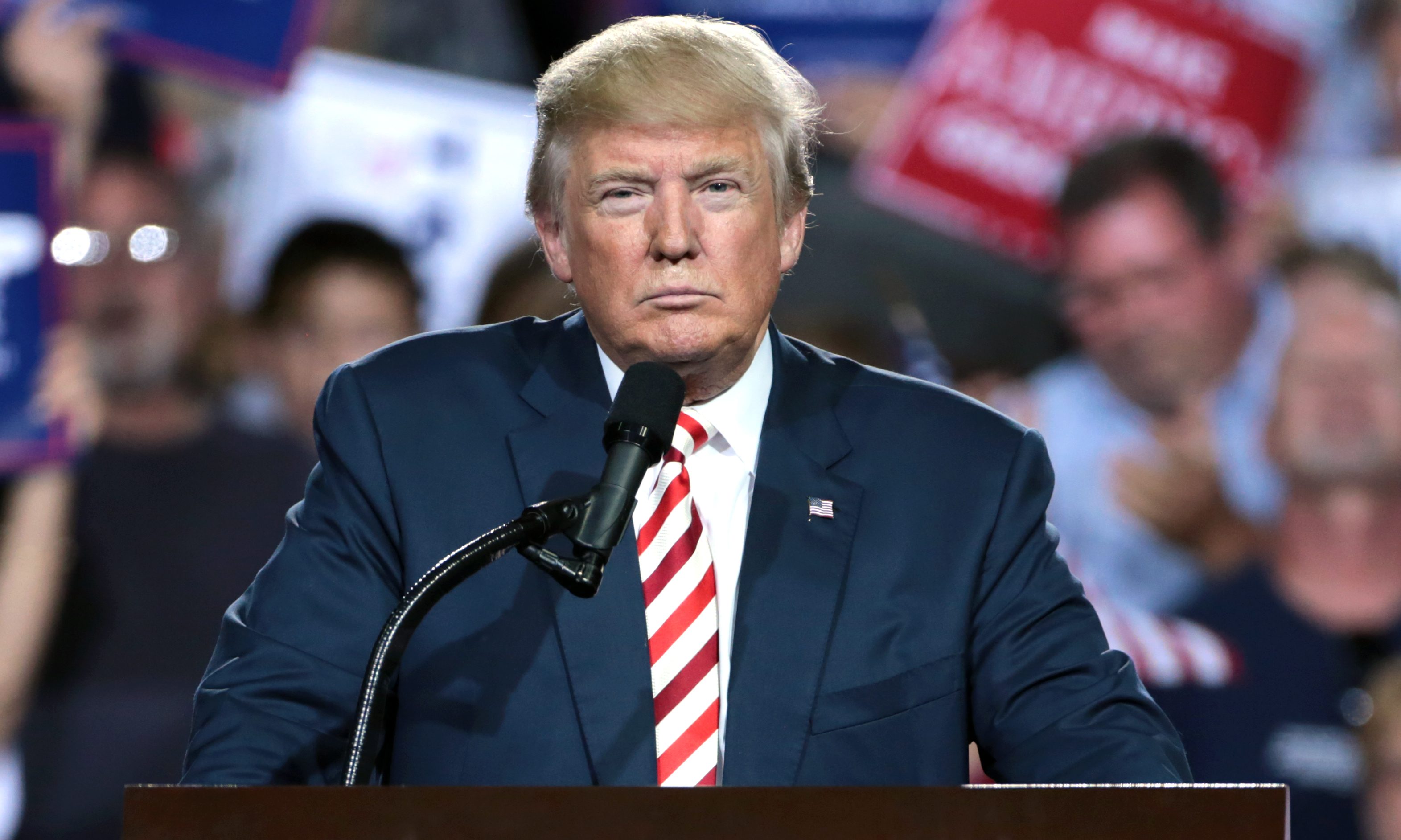 By Brandon Moseley 
Alabama Political Reporter
President Donald Trump went all in for the election of Republican Senate candidate Roy Moore to the U.S. Senate.
The president took to Twitter to announce his endorsement of Moore for the U.S. Senate.  The president followed that with a phone call to Moore from Air Force One where he expressed his enthusiastic support for Moore's candidacy.
Trump called Moore a "fighter" and expressed his eagerness to have Moore fighting for his agenda in Washington. The president wrapped up the call with a "go get 'em, Roy!"
"I am honored to receive the support and endorsement of President Donald Trump,"  Moore said in a statement. "President Trump knows that the future of his conservative agenda in Congress hinges on this election. I look forward to fighting alongside the President to strengthen our military, secure our border, protect our gun rights, defend the sanctity of life, and confirm conservative judges to courts around this nation. We had a good conversation over the phone today and are working together towards conservative victory on December 12."
The Democrats refusal to work with the president on taxes and on the border apparently led Trump to the decision to give his full endorsement to Moore on Monday.
"Democrats refusal to give us even one vote for massive Tax Cuts is why we need Republican Roy Moore to win in Alabama," Trump tweeted. "We need his vote on stopping crime, illegal immigration, Border Wall, Military, Pro Life, V.A., Judges 2nd Amendment and more. No to Jones, a Pelosi/Schumer Puppet!"
The president also attacked Jones, "Putting Pelosi/Schumer Liberal Puppet Jones into office in Alabama would hurt our great Republican Agenda of low on taxes, tough on crime, strong on military and borders…& so much more."
Moore Campaign Chairman Bill Armistead commented that, "Alabama voters overwhelmingly rejected Hillary Clinton last November and will overwhelmingly reject her protege, Doug Jones, next week. We are ready to support President Trump's conservative, America First agenda, Drain the Swamp, and Make America Great Again."
Following a Washington Post report that four women alleged that a young Moore acted inappropriately with them in the Gadsden area dating scene almost 40 years ago, the Republican National Committee (NRC) and National Republican Senate Committee (NRSC) withdrew all of their support for Moore from the state.
Moore has been forced to rely almost entirely on small donors and the common people of Alabama to fund his campaign; while the national Democrats have flooded the state with enormous financial resources to try to win the Senate seat from Republicans.  Moore has gained a small lead despite being outspent over ten to one by the combined Democratic Party forces and enormous media attention from the left leaning main stream media.
Following the endorsement by the president, Trump's official super PAC, America First Action, announced that it was investing $1.1. million in an ad buy to help Moore win his Senate race.
The Alabama Political Reporter has asked Republican National Committeeman Paul Reynolds if the RNC is going to now restore their support to the embattled Moore campaign which they withdrew following the Washington Post accusations.
Breitbart News is reporting that a senior RNC official told them, "We stand with the President."  The RNC is expected to unleash its considerable resources into this campaign in the coming days.  Business Insider is reporting that the RNC confirmed that to them.
Moore faces former Clinton-era U.S. Attorney Jones in the Senate special election on one week.
Print this piece
Public defender working to free some inmates in Birmingham jail amid COVID-19 crisis
At least six people in the Jefferson County Jail had their paroles revoked after serving time in state prisons for non-violent crimes, and as the threat of COVID-19 inside jails and prisons increases, some are working to get them out before it's too late.
The Alabama Bureau of Pardons and Paroles told APR on Tuesday, however, that the bureau doesn't have the authority to release those inmates.
Adam Danneman, lead attorney at the Jefferson County Public Defender's Office, is concerned with the bureau's assertion.
"They're only in because of the violations filed by the Parole Board," Danneman said of those state inmates in the Birmingham jail. "And they've already revoked these people."
ADOC on March 20 announced a 30-day moratorium on taking prison transfers from county jails in an attempt to stave off a COVID-19 outbreak in state facilities.
Danneman told APR on Tuesday that his office is working to get released those who have already served time for non-violent offenses, were out on parole and who were picked back up on mostly technical violations.
"We're lucky in Jefferson County that our judges and our DA and our sheriff's department have all collaborated and used some common sense, proactive measures in this crisis to keep as many of our at-risk, non-violent citizens out of harm's way as much as possible," Danneman said.
Now he's hoping the state's Pardons and Paroles Board does the same, by releasing those who can safely be released before the deadly virus spreads behind the fences.
It's a matter of when, not if, Danneman said of the likelihood of COVID-19 cases in the Jefferson County Jail.
"I hope I'm wrong. I hope it never comes into the jail, but if it does it's going to be bad," Danneman said.
There's been no positive COVID-19 case among state inmates as of Monday, according to the Alabama Department of Corrections (ADOC), but an administrative employee at one prison has tested positive for the virus.
As of Monday, 30 state inmates had been tested for the virus, but there were still seven test results pending, according to ADOC.
Criminal justice reform advocates and legal experts have been sounding the alarm for weeks over the threat of an outbreak of the virus in jails and prisons.
Older inmates and those with medical conditions are at much greater risk from serious complications and death from the novel coronavirus, health experts warn.
"The Alabama Bureau of Pardons and Paroles does not have the authority to release these offenders," wrote Alabama Bureau of Pardons and Paroles spokesman Terry Abbott, in a response to APR on Tuesday.
Abbott said that the Parole Board has revoked parole on six of seven inmates APR inquired about, who are awaiting transport back to the Alabama Department of Corrections to serve their sentences. The seventh inmate's case is to come before the parole board this week, Abbott said.
It was unclear Tuesday how many state inmates were serving in county jails after having their paroles revoked for technical violations. Abbott said that number would change daily and would also involve people who have already had parole revoked and are awaiting transfer to a state prison.
Nancy Aichele, 53, is among those state prisoners serving in the Birmingham jail, where she's been since January 24. Aichele had already served more than 18 years of a life sentence for an escape charge when she was picked up on a parole violation.
Aichele was charged with escape for walking out of an ADOC facility, without injuring anyone, after being convicted and sentenced to 3 years in 1990 for forging an $80 check, according to court records. The escape charge resulted in a life sentence with the possibility of parole.
After she was released on parole, Aichele was charged with obstruction, which triggered her parole violation and returned her to serve the remainder of her life sentence.
The obstruction charge was later dropped, according to court records, but the Bureau of Pardons and Paroles Board revoked her parole regardless.
Willie Toyer, 55, is also in the Jefferson County Jail and was sentenced to life on a 1996 marijuana trafficking charge.
Toyer was paroled after serving 22 years and six months, but his parole was revoked for two subsequent drug charges in March; a possession charge and a misdemeanor charge of possessing prescription pills.
Toyer's case is to go before the Pardons and Paroles Board this week, according to the Bureau of Pardons and Paroles.
Leo Cain, 64,  was sentenced to life in 1994 on a first-degree robbery charge from 1992. He served almost 22 years before being paroled, which was revoked after he was charged with misdemeanor obstruction for giving false information to law enforcement.
Danneman said a parole officer had told Cain that his parole wouldn't be revoked if he pleaded to the misdemeanor obstruction charge, but after he agreed to do so he was arrested and returned to serve the rest of his time regardless.
Danneman said he's concerned about Cain because of his age, which puts him at greater risk of death from COVID-19.
"He's not somebody who needs to be incarcerated right now, if at all," Danneman said.
Shannon Blackman, 54, received a life sentence for a 1996 burglary and had served 23 years before being paroled. She's had no new criminal charges, but her parole was revoked on a technical violation for not reporting to a parole officer.
Had she been charged with burglary today under the state's new sentencing guidelines she would likely serve no more than 18 months, Danneman said.
"She's done 23 years on it, hasn't committed a new offense and is still getting revoked," Danneman said.
On Sunday a man serving in jail in New York died from COVID-19, becoming the first jail inmate in that state to die from the virus.
Michael Tyson, 53, was serving for a technical parole violation when he died from COVID-19. He had failed to report to his parole officer, according to The City.
There were more than 500 COVID-19 cases in New York city jails as of Sunday, according to the news agency. 
Print this piece