Opinion | Alabama "corrupt?" Well, it does add up

By Joey Kennedy
Alabama Political Reporter
Hello, from one of the most corrupt states in the nation. That's according to a variety of studies – Harvard University among them — on both illegal corruption and legal corruption. Like the University of Alabama in college football, the state Alabama is a national Top 10 in corruption; Top 5 in some studies.
That sort of adds up, doesn't it?
We've seen, in just the last few years, the state's former Speaker of the House Mike Hubbard convicted on 12 felony ethics charges. We saw Republican Chief Justice Roy Moore booted off the Supreme Court for the second time in his career, then Moore outed as a molester in his U.S. Senate race against Democrat Doug Jones, who beat Moore in a December special election. There's Dr. Robert Bentley, the "Luv Guv," who had some sort of relationship with a top aide, then got bogged down in other nefarious stuff and was forced to resign.
And that's just the big players. Up and down the line, we see "corruption" throughout Alabama government. Maybe not strictly "illegal," but corruption nonetheless.
It's corrupt that the Republican-controlled Alabama House approved a bill this week that would end special elections when a vacancy for a U.S. Senate seat comes open, like the one Doug Jones won in December. Maybe that's not illegal, but it's corrupt. Republicans, not just in Alabama but all over the nation, are doing all they can to take the vote away from the people.
Especially our poorest people.
Through political district gerrymandering, requiring specific photo voter ID at the polls, making voters "inactive" and now wanting to end a special election won by a Democrat not to their liking, Republicans are showing how little they respect Democracy.
They are afraid of voters, especially now that the Jones' campaign seems to have awakened apathetic voters who thought there just was no use.
Earlier I mentioned former Speaker of the House Mike Hubbard. If Hubbard had simply began serving his four-year sentence, he'd be about half over. But for some reason, Hubbard remains free pending an appeal the state Court of Criminal Appeals doesn't want to make a decision on.
Other cases appealed after Hubbard's have already been ruled on. But according to a story by Alabama Political Reporter's Josh Moon, "sources close to the Appeals Court judges told APR that the judges want to wait and see how the primary elections play out this June before issuing a ruling because they fear political backlash no matter which way they rule."
Politics is more important than justice? At the very least, that's not following the appeals court judges' oaths, and is, yes, "corrupt."
And then there's this other corruption in Alabama, one that festers and embarrasses our state. Moore's unusual dating habits fall there. The Anniston Star's H. Brandt Ayers' proclivity to spank his female employees is "corrupt." And Alabama Attorney General Steve Marshall's covering for a colleague who sexually abused a woman while Marshall was an assistant district attorney in Marshall County and then promoted to District Attorney, is "corrupt." Don't miss the irony that Marshall was appointed by the corrupt and disgraced Dr. Bentley.
Now, with so much important stuff on Alabama's over-filled legislative plate, state Rep. David Standridge, R-Hayden, filed a bill that will allow public buildings, classrooms, and law enforcement vehicles to display the national motto, "In God We Trust."
"Political Correctness has gone too far when our national motto becomes unwelcome in public settings." Standridge told APR. "This bill makes it clear that schools, courthouses, law enforcement vehicles, public officials and government bodies may proudly display 'In God We Trust.'"
Of course, if the bill becomes law, poor Alabama will once again be paying legal fees to defend a losing battle in the courts.
OK, maybe Standridge's idea isn't "corrupt." But it's clearly unnecessary.
Anybody can say "In God We Trust" at any public building, classroom or in a law enforcement vehicle. No, it's not "corrupt," but it is awfully silly. Like a Ten Commandments monument.
If guess if there's good news, most of this "corruption" is behind us.
Not so fast. As APR's Chip Brownlee reported this week:
"Prosecutors from the Attorney General's Special Prosecutions public corruption division — among them, Deputy Attorney General Matt Hart — are again using a special grand jury in Montgomery to investigate a web of possible misconduct surrounding former Gov. Robert Bentley and some of his campaign contributors. The panel began meeting again Tuesday in Montgomery, and several of Bentley's former staffers were issued subpoenas and brought to testify before the panel."
Like the Crimson Tide in football, Alabama the State may soon be undisputed National Champs—in corruption.
Joey Kennedy, a Pulitzer Prize winner, writes a column every week for Alabama Political Reporter. Email: [email protected]
Opinion | That climate change hoax is killing us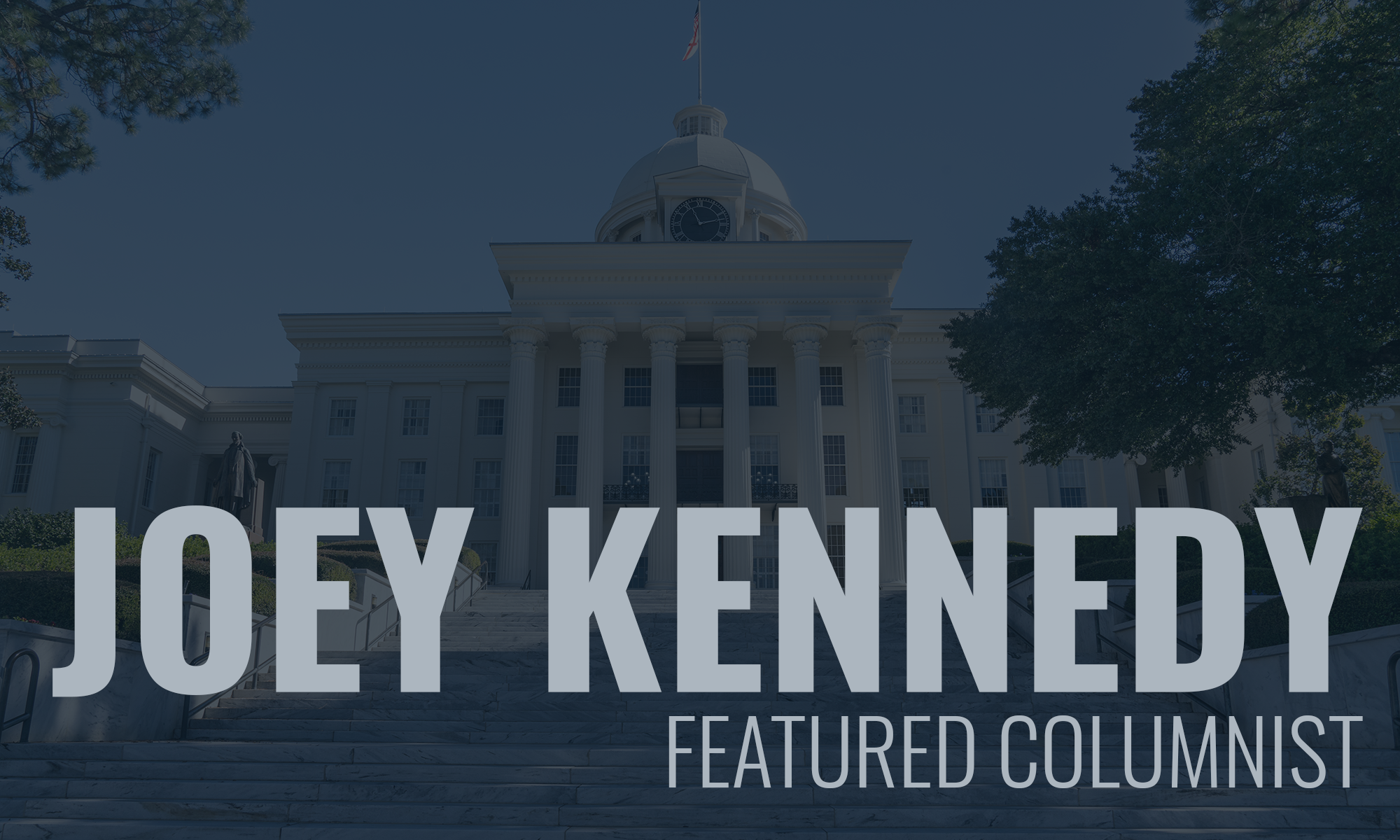 I grew up with hurricanes. For my first 11 years, my parents and I lived on the Texas Gulf Coast, near Beaumont. My father was transferred by the company he worked for, Texas Gulf Sulfur, to deep South Louisiana in 1967. We lived in Houma, in Terrebonne Parish, but Dad worked near Larose, in Lafourche Parish.
Hurricanes were regular events in Southeastern Texas and South Louisiana. Still are, but in much more frequent numbers. And Alabama gets clobbered every so often, most recently yesterday and today. Sally made landfall near Gulf Shores, and you can be assured the damage will be extensive, especially from flooding.
Flooding was a big factor in Texas hurricanes too, when I lived there. Hurricane Carla, in 1961, devastated High Island, not far from our home. Flooding was widespread. Carla was a Category 4 storm. But notably, that September, Carla was only the third named storm of the hurricane season.
This year, we're running out of names. Striking Alabama this week, only a few days after Carla struck Southeastern Texas in 1961, Sally is toward the end of the hurricane alphabet. The National Hurricane Center and World Meteorological Organization are literally running out of names for storms this year.
Earlier this week, and maybe still, there were five named storms in the Atlantic. This is only the second time on record that five named storms are in the Atlantic at the same time. And they're using up the Alphabet. The first time this happened was 1971, at a time when humans were first becoming aware of climate warming.
Little do we know, that before Sally decided to squat on Alabama, Hurricane Paulette made landfall in Bermuda on early Monday morning. There are so many hurricanes around, we can't even keep up with them.
They're like Republican scandals.
Probably more than any other indicator, hurricanes tell the story of climate change, the very real climate change that Donald Trump and many Republicans deny or call a hoax.
Like the COVID-19 Pandemic. Like so many events that Trump and Trump Republicans can't (or won't) believe. Like the corruption that permeates the Trump administration. Like the wildfires destroying the far West Coast states.
That's not climate change, claims Trump. It's because California won't sweep the forests. I call BS. Even on California being responsible for sweeping. Most of the forestland in California is federal land. Most of the burning areas are on or near federal trees. Yet, the state of California spends more money on forest management than the federal government, which owns most of the land. That's the truth. No hoax.
Trump should order secret federal teams of ICE forest sweepers to do their jobs.
The hoax from Republicans and the Trump administration is that crazy antifa hit squads are invading the West Coast to reign terror on the populations there. National security experts continue to assert that white supremacists and nationalists are the most dangerous domestic terror threat. But Trump defends those radicals – "they are very fine people" — because they hold up some mysterious white heritage above all others. If Trump is anything, he's the whitest Angry White Man ever.
Climate change is real. The coronavirus pandemic exists. White nationalists are the most serious domestic terror threat in this country.
Black lives do matter.
Yet, once again and often, Trump shows the orange-hued emperor has no clothes. As Stormy Daniels has previously said, that is not a good look.