Opinion | Alabama "corrupt?" Well, it does add up

By Joey Kennedy
Alabama Political Reporter
Hello, from one of the most corrupt states in the nation. That's according to a variety of studies – Harvard University among them — on both illegal corruption and legal corruption. Like the University of Alabama in college football, the state Alabama is a national Top 10 in corruption; Top 5 in some studies.
That sort of adds up, doesn't it?
We've seen, in just the last few years, the state's former Speaker of the House Mike Hubbard convicted on 12 felony ethics charges. We saw Republican Chief Justice Roy Moore booted off the Supreme Court for the second time in his career, then Moore outed as a molester in his U.S. Senate race against Democrat Doug Jones, who beat Moore in a December special election. There's Dr. Robert Bentley, the "Luv Guv," who had some sort of relationship with a top aide, then got bogged down in other nefarious stuff and was forced to resign.
And that's just the big players. Up and down the line, we see "corruption" throughout Alabama government. Maybe not strictly "illegal," but corruption nonetheless.
It's corrupt that the Republican-controlled Alabama House approved a bill this week that would end special elections when a vacancy for a U.S. Senate seat comes open, like the one Doug Jones won in December. Maybe that's not illegal, but it's corrupt. Republicans, not just in Alabama but all over the nation, are doing all they can to take the vote away from the people.
Especially our poorest people.
Through political district gerrymandering, requiring specific photo voter ID at the polls, making voters "inactive" and now wanting to end a special election won by a Democrat not to their liking, Republicans are showing how little they respect Democracy.
They are afraid of voters, especially now that the Jones' campaign seems to have awakened apathetic voters who thought there just was no use.
Earlier I mentioned former Speaker of the House Mike Hubbard. If Hubbard had simply began serving his four-year sentence, he'd be about half over. But for some reason, Hubbard remains free pending an appeal the state Court of Criminal Appeals doesn't want to make a decision on.
Other cases appealed after Hubbard's have already been ruled on. But according to a story by Alabama Political Reporter's Josh Moon, "sources close to the Appeals Court judges told APR that the judges want to wait and see how the primary elections play out this June before issuing a ruling because they fear political backlash no matter which way they rule."
Politics is more important than justice? At the very least, that's not following the appeals court judges' oaths, and is, yes, "corrupt."
And then there's this other corruption in Alabama, one that festers and embarrasses our state. Moore's unusual dating habits fall there. The Anniston Star's H. Brandt Ayers' proclivity to spank his female employees is "corrupt." And Alabama Attorney General Steve Marshall's covering for a colleague who sexually abused a woman while Marshall was an assistant district attorney in Marshall County and then promoted to District Attorney, is "corrupt." Don't miss the irony that Marshall was appointed by the corrupt and disgraced Dr. Bentley.
Now, with so much important stuff on Alabama's over-filled legislative plate, state Rep. David Standridge, R-Hayden, filed a bill that will allow public buildings, classrooms, and law enforcement vehicles to display the national motto, "In God We Trust."
"Political Correctness has gone too far when our national motto becomes unwelcome in public settings." Standridge told APR. "This bill makes it clear that schools, courthouses, law enforcement vehicles, public officials and government bodies may proudly display 'In God We Trust.'"
Of course, if the bill becomes law, poor Alabama will once again be paying legal fees to defend a losing battle in the courts.
OK, maybe Standridge's idea isn't "corrupt." But it's clearly unnecessary.
Anybody can say "In God We Trust" at any public building, classroom or in a law enforcement vehicle. No, it's not "corrupt," but it is awfully silly. Like a Ten Commandments monument.
If guess if there's good news, most of this "corruption" is behind us.
Not so fast. As APR's Chip Brownlee reported this week:
"Prosecutors from the Attorney General's Special Prosecutions public corruption division — among them, Deputy Attorney General Matt Hart — are again using a special grand jury in Montgomery to investigate a web of possible misconduct surrounding former Gov. Robert Bentley and some of his campaign contributors. The panel began meeting again Tuesday in Montgomery, and several of Bentley's former staffers were issued subpoenas and brought to testify before the panel."
Like the Crimson Tide in football, Alabama the State may soon be undisputed National Champs—in corruption.
Joey Kennedy, a Pulitzer Prize winner, writes a column every week for Alabama Political Reporter. Email: [email protected]
Print this piece
Opinion | Facts are stubborn things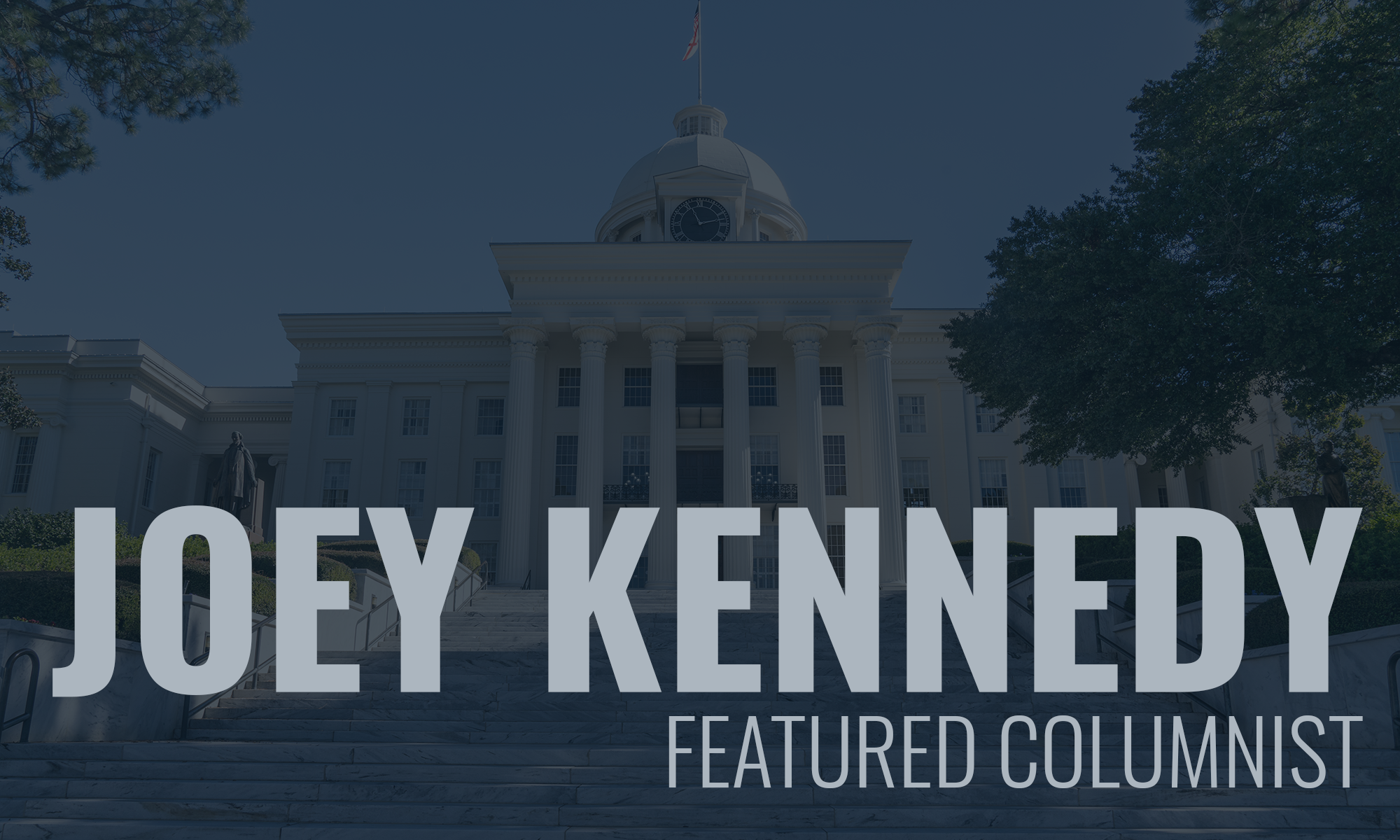 I'm in my 20th year of teaching in the English Department at UAB. I've never taught my primary discipline, journalism, and I really don't have much of a desire to, either.
Yet, in 2017, the leadership of UAB's University Honors Program asked me to be a part of their interdisciplinary faculty for the fall. UHP's fall semesters are themed, and that year, the first year of Donald Trump's term as president, the theme was appropriate: "Evidence and Belief in a Post-Truth Society." For UHP, I was a "communications" (journalism) professor. I taught with a scientist and public health professor, a religion professor, a philosophy professor, a literature professor and a psychology professor.
The students in this program – all 100-plus of them – are among the smartest students on campus. Needless to say, I was intimidated. For my first lecture before the students, I took a Xanax (it's prescribed because I do have anxiety sometimes). The Xanax didn't make me lecture better, but it made me not really care if I screwed up.
I'm sort of a one-trick pony – I teach and write in the only language I know: English. Here, you had neuroscience and biology and chemistry majors galore. And, yes, there were a few English and history and business and engineering students, too. Pretty much every discipline taught at UAB is represented in UHP, and certainly in its umbrella school, the UAB Honors College.
That fall went by quickly. I only took the Xanax for the first lecture. I settled into my groove pretty quickly. But when it was over, I ached for the continued intellectual stimulation I received as a teacher. I'm a lifetime learner, and that program taught me a lot. And I got to teach others a lot, too.
I thought it was a one-shot deal. Until, that is, the program's director, Dr. Michael Sloane, asked me to return in the fall of 2018 to direct the first-year students' literary analyses. And that fall, I was also asked to propose a UHP seminar class for the spring of 2020. I returned last fall to once again direct the first-year literary analysis. And I've been asked to return for first-year LAs again this coming fall.
This semester, I'm teaching the class I proposed, "Media and Social Justice." And I've already got another self-created UHP seminar class scheduled for next spring, "Media and War: Men and Women Making a Difference on the Front Lines."
Unlike my composition and literature classes in the English Department, these seminars have no template. I have to create the teaching as I go. Some days, I'm very confident; others not so much.
I divided the "Media and Social Justice" class into six two-week units: Nellie Bly (mental illness and investigative journalism), The Jungle (food safety and immigration), Jim Crow Lives (the civil rights era and voter suppression), #MeToo (sexual assault and harassment), Black Lives Matters (police and other shootings of people of color), and March for Our Lives (gun violence and sensible gun regulation).
These classes are limited to 16 honors students, but 19 students wanted in my "Media and Social Justice" class, so I have 19 students.
I teach these classes as a communications professor, not an English professor. I direct the literary analyses as a literature professor, not a communications professor.
We're covering historical topics, for sure, but also contemporary topics. It doesn't get any more current than Black Lives Matter, #MeToo, voter suppression, or March for Our Lives.
We don't just talk about the journalism around these topics, but also about other media. For example, I find protest songs for each topic. While it's not on our plate, did you know Trump has inspired a whole catalog of protest songs? Most every president inspires protest songs, though Trump has inspired an awful lot of them.
Maybe at some point, I'll create a "Media and Donald J. Trump" class. There is plenty of material.
The point, though, is that we all should be lifelong learners. I can't tell you how much I've learned from by English students and my honors students, how much the English faculty has taught me, and how much the faculty and directors of the University Honors Program have taught me.
That I get to return the favor by teaching these unique classes says a lot about UAB, and how it values critical thinking and learning.
I hope I never lose my enthusiasm for learning, or become too stubborn to change when the facts point toward another direction. That is our responsibility to the truth. I guess I am stubborn in one way: There are no alternative facts. Facts are truth, reality. The alternative is false, untruth, lies.
Readers, that's a fact, and like me sometimes, facts are stubborn.
Joey Kennedy, a Pulitzer Prize winner, writes a column every week for Alabama Political Reporter. Email: [email protected].
Print this piece