By Brandon Moseley
Alabama Political Reporter
Wayne Reynolds, an Athens, Alabama, resident, officially launched his campaign for the Republican nomination for Alabama State Board of Education District 8.
"I am excited to announce that I am running for the District 8 seat on the Alabama State Board of Education," Reynolds said. "I have served nearly 30 years of my work in public education including over ten years as a school superintendent. I am honored to have this opportunity to serve the children of Alabama again."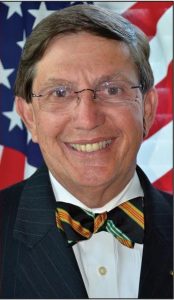 "I believe that our children deserve to have the best education in America," Reynolds continued. "Both my children had outstanding public educations from Kindergarten through post-college, but not all of Alabama's children or even all the children in District 8 currently have the same opportunities.  We must make Alabama schools great!  I want to see greater transparency and integrity from Alabama's Board of Education. I want to see better ways of evaluating schools than we currently have. I think the people of Alabama should decide what our children are learning instead of a 'one-size-fits-all' system like Common Core."
Reynolds, 71, has a bachelor's degree from the University of Georgia where he specialized in career and technical education, implementing one of the early high school student internship programs in Muskogee County, Georgia.  Reynolds also has a Doctorate in Education from Auburn University.
He served for over 12 years as a public school superintendent including as school superintendent for Athens City Schools until 1993. After retirement, he served on the state curriculum development committee and textbook review committee.
Reynolds is a disabled veteran, having served as a medic in the United States Army in Vietnam from 1968 to 1969 with the 95th Evac and 22nd Surgical hospitals. He currently serves as National Treasurer for Vietnam Veterans of America and is now serving his 19th year as president of the Alabama State Council of Vietnam Veterans. Reynolds has also served on national committees on Finance, Veterans Healthcare, PTSD and Substance Abuse, Constitution, Employment Training Business Opportunities, and Veterans Affairs. He received a bronze medallion from the Chapel of the Four Chaplains, and was Alabama's Veteran of the Year in 2011.
Wayne is active in the Republican party and was recently re-elected to his third term on the Alabama Republican State Executive Committee. He also has been re-elected to his fourth term on the Limestone County Republican Party Executive Committee.
Reynolds lives in in Athens with his wife, Carol.  They have two children and two grandchildren. His son served in the U.S. Air Force and now practices medicine.  His daughter works in weapons research for the U.S. Army.
Reynolds is running in the Alabama Republican primary for state Board of Education District 8 against Rich McAdams.  Incumbent Mary Scott Hunter is leaving the Board and is running for the state Senate.
Jessica Fortune Barker is running for State Board of Education District 8 as a Democrat.
District 8 includes Limestone, Madison, Jackson, Dekalb, and Etowah counties.
The major party primaries are on June 5, 2018.