Opinion | "We call BS!" Young people not playing around with guns
The blustery winds at Birmingham's Railroad Park Saturday blew down a sign near the voter registration table. Some marchers had a hard time holding their own homemade signs aloft as they participated in the March for Our Lives event in Birmingham.
But the winds didn't dampen spirits. In all, it was a good-weather day in early Spring, and more than 5,000 young people and old gathered to rally and march to remember the 17 children and adults gunned down at Marjory Stoneman Douglas High School in Parkland, Fla., a little more than five weeks earlier. And they not only marched for their lives, but also for reasonable gun regulation, long needed in this gun-crazy culture we find ourselves living in.
There were speeches and chants and a determined atmosphere, even as the day wound down, that this is not over.
"What does it matter if it's a little harder for somebody to get a gun?" asked Gage Elam, a Vestavia High School student and one of the leaders who organized Birmingham's march.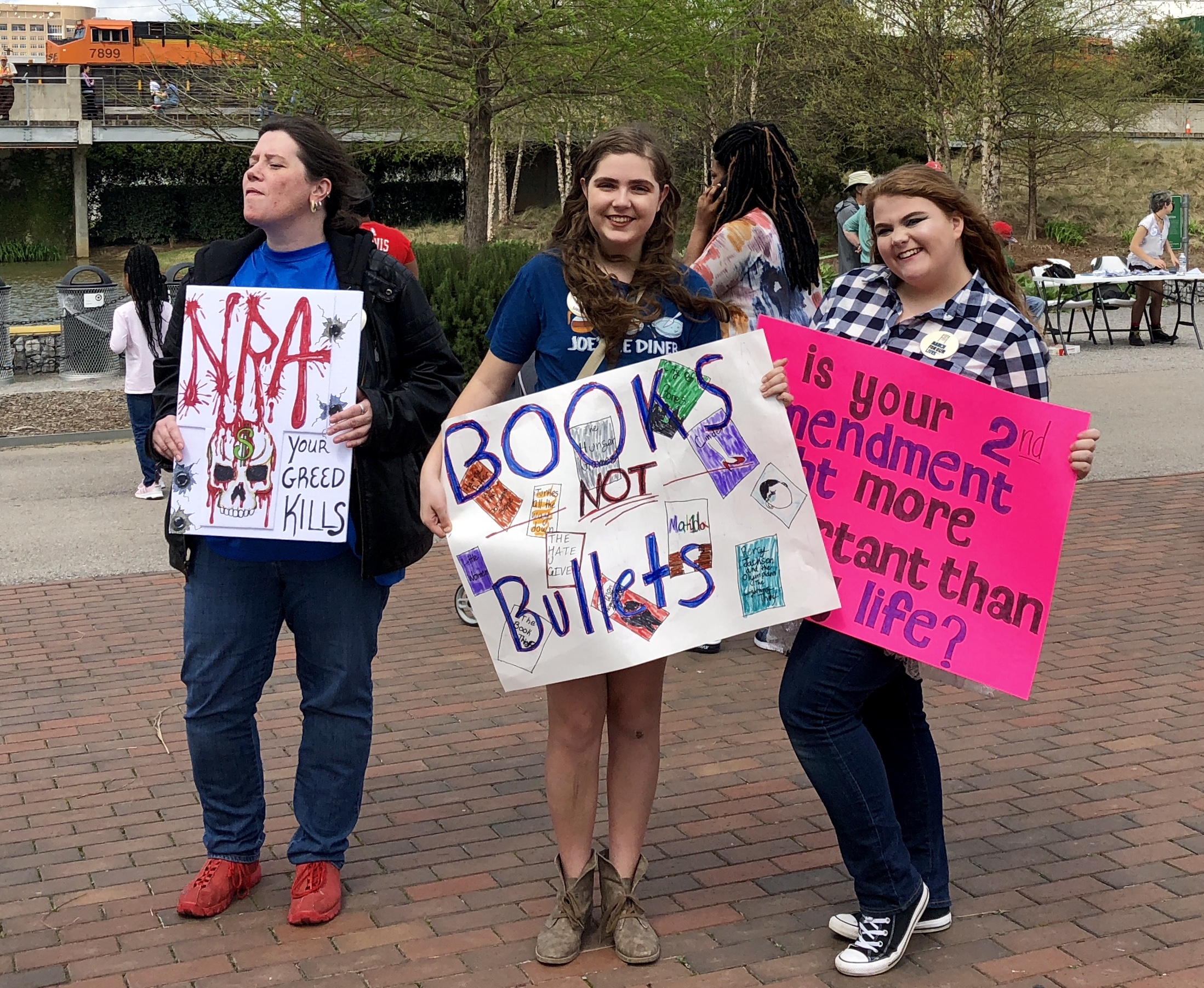 Birmingham and more than 750 other groups led marches around the country, the main march in Washington, D.C., where hundreds of thousands of people gathered for the same purpose.
The march in Birmingham no doubt exceeded expectations.
"We call BS!"
That was one of the main chants of the day, an homage to the moving speech given by MSD survivor Emma Gonzalez, one of the founders of the March for Our Lives movement.
So what's next: "The main thing is getting out and voting," said another of Birmingham's young organizers, Kat Walker, also a Vestavia student. "We have to hold (lawmakers) accountable. We haven't seen any gun legislation yet."
What the Valentine's Day massacre in Parkland, Fla., did was awaken a sleeping giant. Millennials, as a group, generally do not vote. Wait until this year, though: These young people have the numbers and clout to change elections, to encourage changes to our nation's lax gun laws.
"Hey-hey, ho-ho, the NRA has got to go."
The National Rifle Association and supporters have tried to demonize some of these kids. They've been called fakes and crisis actors and too naïve to have opinions on gun safety worth hearing.
Yet, many of them, both here and across the country, are survivors of school shootings. I'd call them experts.
Kathleen Deganis, a 1992 graduate of MSD High School, drove from her home in Madison to participate at Railroad Park. Deganis was in the founding class at MSD, but when she heard about the Feb. 14 shooting, she was determined to support her alma mater with her activitism.
"I was very emotional all day," Deganis said. "Then we started mobilizing the MSD alumni. Within hours, we had 11,000 people across 26 alumni classes" involved.
"What do we want? Gun control! When do we want it? Now!"
Before the rally and march started, 13-year-old Clara Grace Murray was sitting near the speaker's platform with her father, William. Clara Grace (and her mother) wore a black T-shirt emblazoned with "WE Call BS."
"It's important to protect the kids and other people," Clara Grace said. "This is such a huge problem in our country. When I saw Emma Gonzales speak, she made me see this as so important."
Clara Grace's father agreed. "I'm 110 percent behind them," William Murray said. "There was something about that speech that was different. That felt different."
The #NeverAgain and #NotOneMore and #MSD hashtags moved people, especially young people, to step up. School killings have continued in the wake of Parkland – one even at Huffman High School in Birmingham – but that didn't stop the heartfelt chants:
"Not one more! Not one more! Not one more!"
"We shouldn't be afraid to speak out about the things we believe in," said J'Corion Johnson, president of the Student Government Association at Phillips Academy in Birmingham. "I believe it is time for us to come up with some of our own solutions."
That's what these young people – and many older ones, too – did Saturday.
It is disgusting to see some older folks, mostly from the far right, put down these teens and early 20-somethings because of their passion for reasonable gun restrictions, and their wish not to be gunned down at their school.
Gun violence shouldn't be normal, said UAB junior Phousith Souphithavong, another of the March for Our Lives-Birmingham organizers. "I'm appalled how some people choose guns over lives."
The politicians better be listening – and they'd better be taking action.
"Vote them out! Vote them out! Vote them out!"
Nor should it be normal for men and women (but mostly men) in their 40s or 50s or 60s or older to viciously denigrate young people who want to change their world for the better.
The more than 800 groups around this nation and this world who put together the March for Our Lives events held Saturday did so in five weeks or less. Do not discount these young people's efforts and hard work. When they turn passionate and determined, they're hard, if not impossible, to stop. They are the change.
I've seen MSD student David Hogg compared to Hitler, from a bitter Birmingham man on Facebook. I've heard men (and some women), again from right here in Birmingham, claim these kids are being used and manipulated, that they're just puppets of some unmentioned, conspiratorial entity.
I've watched as young Emma Gonzales is called terrible names for exercising her right to free speech – you know, that right guaranteed by the First Amendment. And I've seen Emma, still grieving about her dead classmates, show nothing but class and restraint as she's targeted by slow- and/or no-thinkers.
These closed-minded adults (who should have done better by our children in their own lives), many of them from my own Boomer generation, have no clue what's about to hit them. They're the ones who have no idea. Their bump stocks and AR-15s are going to disappear.
To those who say, with their fake bravado and often misspelled words, they'll never give up their guns, no matter how inappropriate those guns are for a civilian population, I say: Just wait. You will, in the end, because you'll have no choice. The country is changing, and these kids are changing it.
And also: I call BS.
Joey Kennedy, a Pulitzer Prize winner, writes a column, sometimes two, every week for Alabama Political Reporter. Email: [email protected]
Opinion | All politics is local. All of Alabama's mayors races this year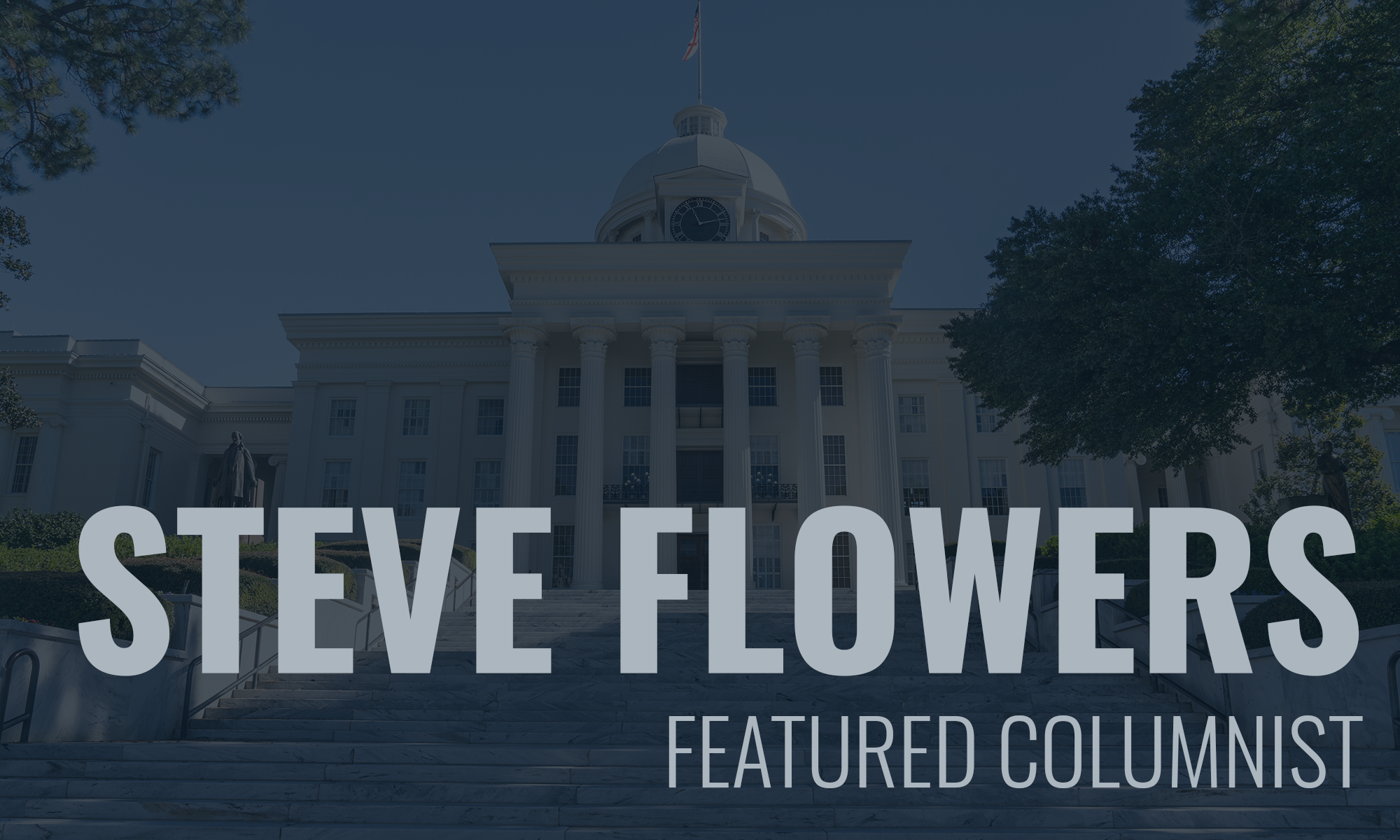 With it being a presidential election year and an election for one of our United States Senate Seats and all of the interest that goes along with those high-profile contests, it has gone under the radar that most of our cities in the state had elections for mayor and city council last month.
Mayors serve four-year terms and to most Alabamians they are the most important vote they will cast this year.
The job of mayor of a city is a difficult and intricate fulltime, 24-hours-a-day dedication to public service.
They make more decisions that affect the lives of their friends and neighbors than anyone else. The old maxim, "All politics is local," is epitomized in the role of mayor. Folks, being mayor of a city is where the rubber meets the road.
In looking all over the state, it appears that most Alabamians are content with the jobs their mayor is doing.  In almost every contest around the state, the incumbent mayor turned away the challenger usually by a wide margin.  Indeed, a good many of the incumbent mayors in the Heart of Dixie had no opposition.
Many of these incumbent mayors were reelected without opposition. Gordon Stone, the mayor of Alabama's fastest growing community, Pike Road, will be entering his fifth term as mayor.  Pretty soon Pike Road will have to start calling themselves a city.
Vestavia's Mayor, Ashley Curry, won a second term without opposition.  This former retired FBI agent has done a yeoman's job managing this upscale, Jefferson County suburb.
Jasper Mayor, David O'Mary, who escaped opposition, will begin a second term.  He has run Jasper like a well-tuned engine. Albertville mayor, Tracy Honea, garnered a third term without opposition. Luverne Mayor Ed Beasley was also unopposed.
In the contested races, most of the matchups were no contest. Two of Alabama's largest and most prosperous cities, Huntsville and Hoover, had mayoral races. Tommy Battle coasted to an easy 78 to 22 reelection victory in Huntsville. If Kay Ivey opts to not run for reelection in 2022, Battle will be favored to win the governor's race. However, being Governor of Alabama would be a demotion to being Mayor of Huntsville.
Hoover citizens must approve of Mayor Frank Brocato's job performance. Brocato trounced Hoover City Council President Gene Smith by a 76 to 24 margin.
Opelika's popular and effective, longtime mayor, Gary Fuller, turned back his challenger 66 to 34 to win a fifth term.
In Cullman incumbent mayor, Woody Jacobs, won a second term overwhelmingly. Hamilton Mayor Bob Page won a second term. Troy's 48-year-old mayor, Jason Reeves, won reelection to a third four-year term with 74 percent of the vote. Incumbent Eufaula Mayor Jack Tibbs won an impressive 68 percent victory for reelection over two opponents.
Prattville Mayor Bill Gillespie may have turned in the most impressive showing.  He shellacked former City Councilman Dean Argo 70 to 30.  His fellow citizens must approve of frugality with their city finances. Wetumpka's popular and hardworking, longtime mayor, Jerry Willis, turned back his challenger by a 69 to 31 margin. In neighboring Millbrook incumbent mayor, Al Kelley, won reelection 67 to 33. Mayor Kelley has overseen the growth of his city from 6,000 in population to over 20,000. Tallassee reelected Mayor John Hammock to a second term.
Clanton lost their mayor of three decades, Billy Joe Driver, to COVID-19 this year. His successor will be Jeff Mims, who won the election in the Peach City. Mike Oakley won the mayor's race in Centreville with a 60 percent margin.  It is proper and fitting that an Oakley will be Mayor of Centreville.
Bessemer Mayor Kenneth Gulley won a landslide reelection garnering 68 percent of the vote. Incumbent Pell City Mayor Bill Pruitt won reelection by an impressive 73 to 27 margin.Longtime Greenville Mayor Dexter McLendon won reelection in the Camellia City. Opp's first female mayor, Becky Bracke, won a second term with 60 percent of the vote.
There were two mayoral upsets on August 25. Scottsboro's incumbent mayor was defeated by challenger Jimmy McCamy.In the thriving, growing city of Fairhope challenger Sherry Sullivan trounced incumbent mayor Karin Wilson.
There are runoffs for mayor in several major cities, including Enterprise, Ozark, Selma, Tuskegee, Alexander City and Northport.  These cities will elect their mayors on October 6 in runoff elections.
Some of you may be wondering about two of the most populous cities. Tuscaloosa and Dothan have their mayoral races next year in August 2021. Tuscaloosa's Walt Maddox and Dothan's Mark Saliba will be tough to beat. All politics is local.
If you have not been counted in the census, you have not got many more shopping days to Christmas.