Opinion | There's a reason so much anger is being directed at the Parkland kids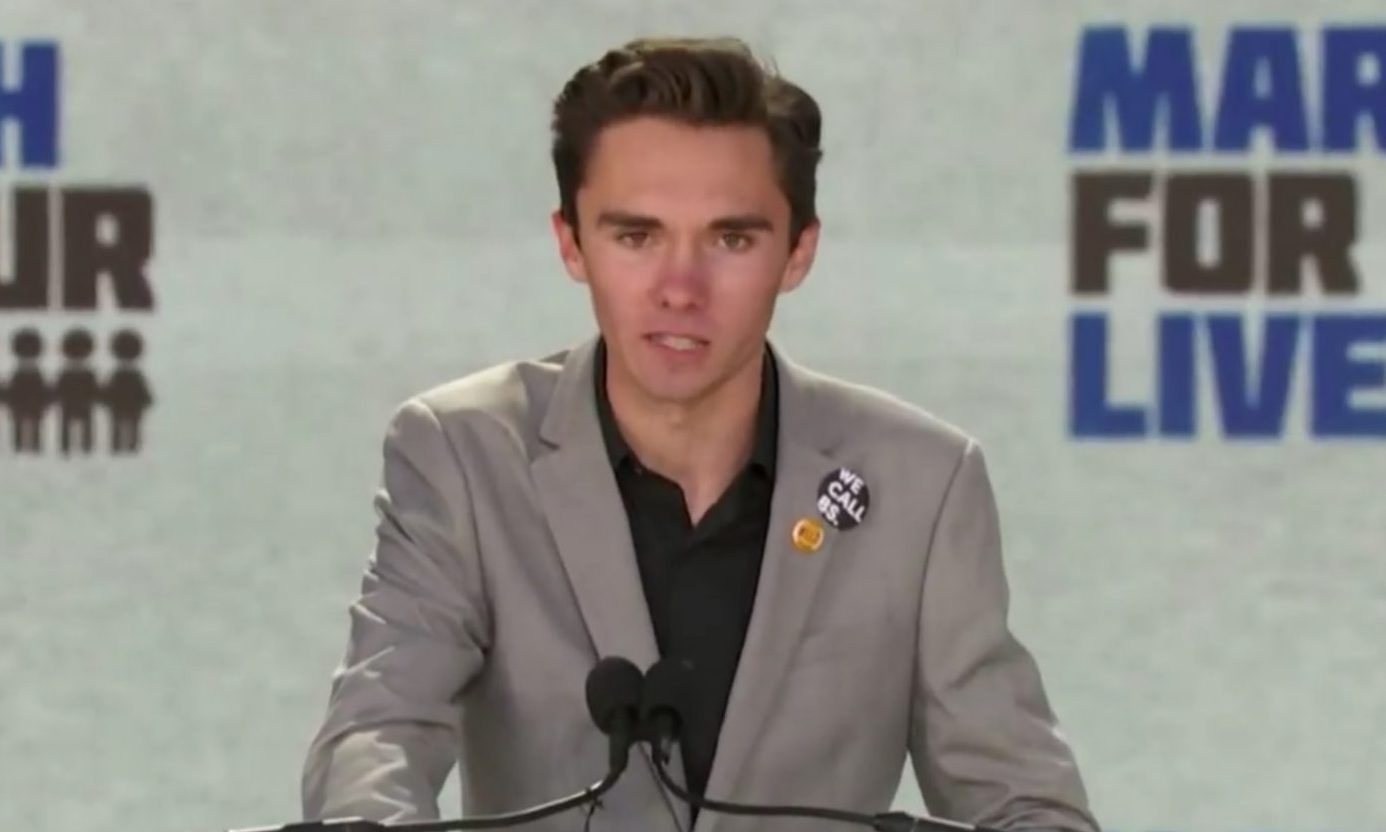 The kids are right
That's what makes the current gun debate, led by the teenage survivors of the Parkland school shooting, so vitriolic.
The kids are right.
Everyone knows it. Including the people who are arguing on the other side, slinging insults and ducking any meaningful debate. I'd probably duck debates, though, after what happened to poor ol' Marco Rubio.
But the fact remains, the kids are right.
And not just because they survived a mass murder and deserve some sympathy.
They're right because America's gun laws are getting people killed — lots and lots of people. And a whole bunch of those people could be saved with better gun laws.
These are facts, not opinions.
We can draw a straight line from some of our gun law loopholes to real crimes, real murders, real suicides, real accidental shootings, real people dying.
We know that the background check system for owning a gun is flawed and filled with holes, allowing people who should never own a gun to own a stockpile of weapons. We know that assault-style weapons serve no legitimate purpose in the hands of a regular citizen, except to kill as many fellow humans as possible. We know that high-capacity magazines serve only that same purpose. And we know that a lack of proper training on how to use, carry and store a firearm is directly responsible for thousands of accidental shootings.
The Parkland kids have merely pointed all of that out.
With a little flair. And some attitude.
The response from the gun nuts has been predictably vile. Right down to the petty insults, tinfoil hat conspiracy theories and downright homicidal threats.
What's odd, though, is that these kids haven't said anything off the wall. Instead, they've essentially repeated the calls for tougher gun regulations and blamed the inability to get tougher regulations on the NRA.
But, um, that's true.
In fact, the NRA will tell you that it's true — that it has been an effective lobbyist for fewer and fewer gun laws.
Even when the Parkland kids push it, and say that the NRA has "blood on its hands," that is still objectively true.
Because the NRA has pushed this too far. And by doing so, it has purposefully blocked some of the common sense regulations that should be in place.
The lack of those regulations has led directly to gun deaths. That's an unfortunate outcome if it happens once or twice, but when the NRA repeatedly lobbies against the same regulations, resulting in more and more deaths, at some point you have to start attaching some responsibility.
Look, I get why the NRA has done it — money.
It's a lobbying group that's supported by memberships. In order to maintain high enrollment, the NRA has to keep pushing forward. It has to keep knocking down gun laws and fighting proposed regulations.
So it fights everything. All the time.
But at a point, you cross a line. Because firearm ownership — like the ownership of all dangerous products whose misuse could result in the death of the user and other nearby — need to be regulated to ensure proper use.
The NRA crossed that line long ago, but it had no choice but to press forward.
That's why it keeps making ridiculous videos that tout gun ownership as some sort of God-given right and has transitioned from focusing on safe, well-trained gun ownership to painting all gun owners as the second coming of John Wayne.
It's also why they've sown fear among their members — telling them that they live in a dark, harsh country where danger lurks around every corner, just waiting to jump out and slaughter their families — and proclaimed that a gun is the only means by which to ward off this evil.
Except, small problem: You're actually living in the safest United States ever.
All crimes are down, particularly violent crimes.
And your only real danger is living in a state with lax gun laws, where you're several times more likely to be shot.
The NRA, through its power and influence, has pushed to knock down every regulation it could. And then, when bad things happened, wrapped itself in the phony excuse that it's protecting a constitutional right.
It's not.  
Because even our constitutional rights have limits in order to protect the whole of society.
That protection is all the Parkland kids are asking for.
And what's driving people crazy is that there's no good reason they shouldn't get it.  
Print this piece
Opinion | Alabama Republicans can't manage the crisis they helped create
On Tuesday, Alabama's governor called together the state's media, in the midst of a global pandemic, so they could broadcast pictures of her tying a ribbon around a post to remind people to pray for healthcare workers. 
Surrounding Gov. Kay Ivey at the event were various pastors from churches in and around Montgomery. And they each were given time to speak about the importance of prayer and remembering those who are risking their lives. 
It was a nice gesture. And possibly the clearest indication yet that Ivey and the Republicans that are in charge of Alabama haven't the faintest idea of how to lead this state through a crisis. 
They have no real plan. They have no ideas for how to address the mounting problems. They have been completely and thoroughly overwhelmed by the COVID-19 outbreak since the start. 
And so, they have turned to what they know best: Pointless pandering. 
Except, you can't folksy your way out of this mess. You can't blame the black folks and throw money at a few jobs and hope no one notices that you don't know what you're doing. 
And that's a problem in this state. 
Because the ALGOP leadership of this state has built its brand on division and distraction. It has used petty nonsense, like the protection of racist monuments, and emotional ploys, mostly built around religion and false claims about abortions, to seize and maintain control of Alabama's government, even as they totally wreck the place. 
They've gotten away with it because up until now no singular event has simultaneously exposed how their incompetence has negatively affected the lives of so many Alabamians in almost every racial and economic demographic. 
And then along came coronavirus. 
It has laid bare all of it. And the devastating reality of this void of leadership continues to grow day after day as the bodies pile up. 
Now, just so we're clear and so no half-wit starts clamoring on that I'm blaming the ALGOP leadership for the coronavirus, I'm most certainly not doing that. I'm blaming ALGOP's lack of leadership for the excessive number of deaths that will occur in this state, and for the many thousands of lives that will be forever ruined by the hospital bills that result from this. 
And make no mistake, there is blood on their hands. 
The refusal to expand Medicaid alone has effects that will eventually negatively impact every single person in this state. That purely political decision that makes no practical sense if politics is removed has already cost thousands of lives around Alabama over the last six years. The devastation from the current crisis is going to be staggering. 
Not only are uninsured people who contract coronavirus less likely to go for testing or to seek treatment until the latter stages of the disease (meaning they'll spread it far and wide), a good portion of people are responding more negatively to the virus because they have underlying conditions that have gone undetected and untreated for years. Because people without insurance don't go to the doctor.  
Even if the virus doesn't kill them, many of those uninsured citizens in Alabama will face unmanageable medical bills. A study from the independent nonprofit FAIR Health found that the average cost to treat coronavirus for an uninsured person was around $75,000. If a ventilator is required, the bill jumps to more than $200,000. 
And with a fresh crop of unemployed Alabamians — more than 200,000 claims filed as of Monday — that's a whole mess of people who are suddenly missing insurance and the ability to pay their hospital bills. 
Which, of course, means that more Alabama hospitals will close. There have already been 14 closures over the past eight years, and there are at least three more small hospitals teetering on the brink of bankruptcy right now. By the time this is said and done, the only cities that will have hospitals will be Huntsville, Birmingham, Montgomery and Mobile. And a few of those aren't looking so great. 
And not having a hospital within 30 miles is an issue that affects everyone — not just poor people. 
The news is even worse for black Alabamians — a phrase that black Alabamians know too well. More than half the state's deaths from coronavirus have been black people. A staggering figure when you consider that only 27 percent of Alabama's population is black. 
The reason for this, Dr. Selwyn Vickers, dean of the UAB School of Medicine, suggested is that the African American population in Alabama — high in poverty and low in insurance coverage — is possibly more susceptible to the virus due to underlying medical conditions that have gone untreated due to a lack of routine and preventative visits to a doctor. 
After all, you don't go to the doctor very much if you don't have insurance. 
And you don't have insurance in Alabama if you don't receive it from a job. 
And you don't have a job with great benefits, including health insurance, if you live in a predominantly black county in Alabama. 
And you don't have a job with those benefits in those counties because the state of Alabama has done a suspiciously poor job of using incentive dollars to steer relocating companies to those counties. 
So, you see, the mismanagement goes well beyond simply not expanding Medicaid. And that is true even when focusing only on this current crisis. 
From the mixed messages of "folks, we're not California or New York or even Louisiana" to the insistence on protecting businesses over people to the absurd stay-at-home-unless-you-need-to-go-out-for-something order, Ivey's responses — when she's popped out every 3-4 days — have been a disaster. 
But to her credit, I guess, at least she's doing something. The state legislature, where ALGOP enjoys a super-majority, literally did nothing but adjourn as this virus started to spread. 
As the crisis grows, we have also realized that the ALGOP mission to underfund every government agency so they can issue a press release touting the tax "savings" isn't really paying off so swell. Thanks to those funding cuts, pretty much every department needed in this crisis is understaffed, poorly trained and poorly equipped. 
The Alabama Department of Public Health has been a national laughing stock, despite the best efforts of its employees. They've lacked the tools and personnel to adequately do the job for years. And it shows. 
How bad is it? 
Louisiana is lapping us. And we lost sight of Mississippi a long time ago. 
But they're not the only ones. The Department of Labor can't keep up with unemployment claims, and its online operation has been down more than it's been functional over the past several days. And the Revenue Department is again going to delay issuing tax refunds. 
But perhaps the best example of just where we are came on Wednesday, in a story reported by al.com. In 2009, Alabama had a pandemic plan, and it had used federal dollars — in the midst of a national recession, mind you — to stockpile ventilators and personal protective equipment for doctors and nurses. We were ready for COVID-19. 
In 2009. 
But in 2010, ALGOP stormed the state house. And, well, here we are.
Print this piece