In interview Gov. Ivey says, "I'm wonderfully well"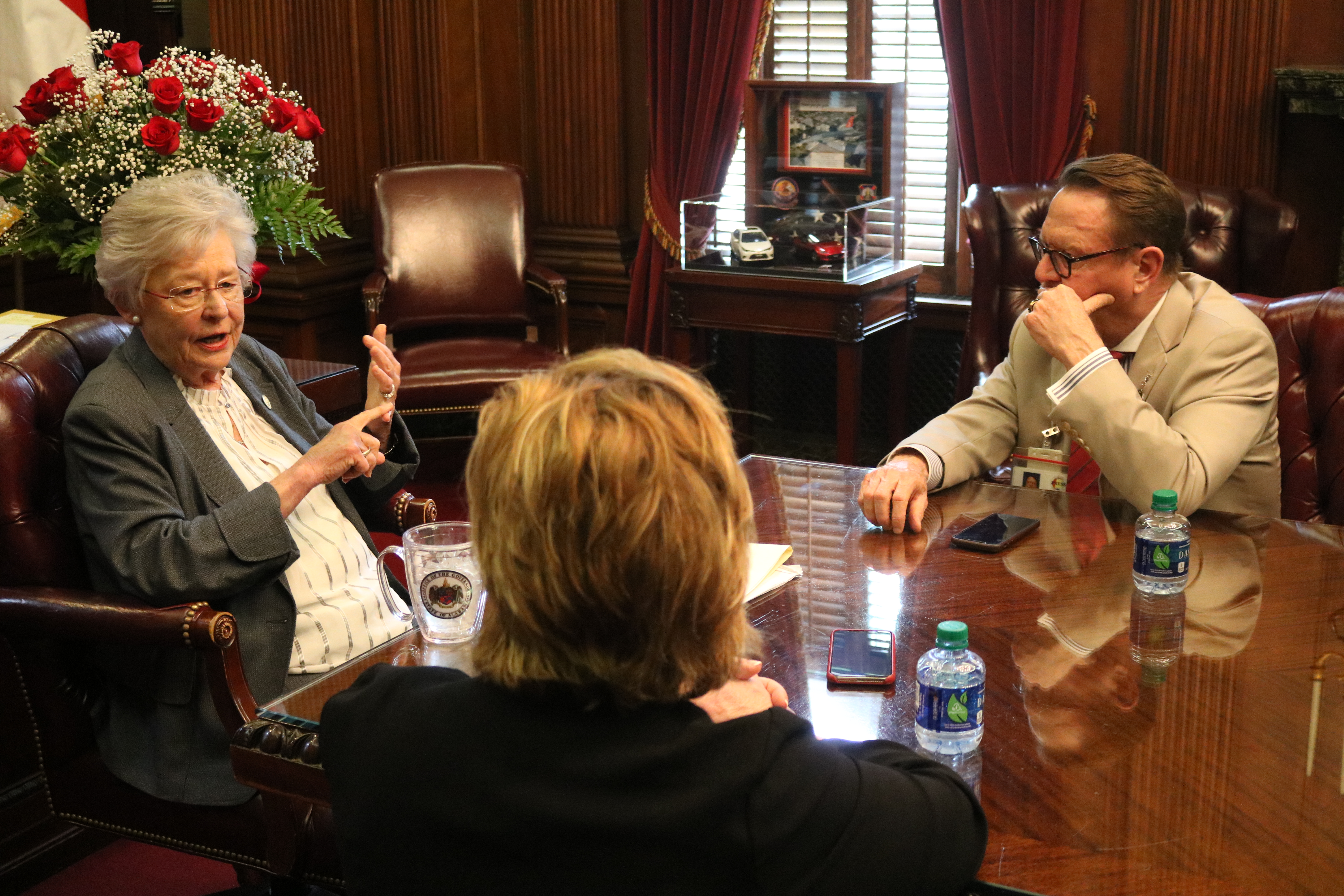 Earlier this week in an interview with the Alabama Political Reporter, Gov. Kay Ivey spoke on a range of topics including her first year in office, why she stands by controversial economic development bill HB317, and why calls for debates leading into the Republican primary is a stunt to draw attention away from the critical issues facing the state. She also shared her thoughts on ethics reform, offering a clear code of conduct and a surprising fix to selecting ethics commissioners in the future.
In a 40 minute conversation that, at times, moved from close tension to smiles, blushes and laughter, the 54th governor of Alabama laid out to APR why she serves, her complete trust in her cabinet and why she is running for four more years. Far from the gentle, grandmotherly image in her softly lit campaign commercial, Gov. Ivey is a tough, savvy politician who speaks her mind.
After taking the oath of office on April 10, 2017, Gov. Ivey promised to steady the ship of state and restore Alabama's image. The governor says she feels her administration has come a long way toward fulfilling those promises.
"We certainly steadied the ship, and that had to occur," said Ivey. "We had been under a dark cloud. The state had very little, if any, direction and people were disillusioned."
She recalled that her first meeting after her swearing-in was with Secretary of Commerce Greg Canfield. "It was important to me to meet with him as the first meeting because I knew then as I know now – number one: how important economic development is to people. If you can find ways to put people back to work, where they can earn a living, and that goes a long way to solving problems."
Ivey profusely defended Canfield, who recently has been under attack by the media—especially APR— and politicos for his dogged—some say shady—support of HB317, a bill that carved out a special exception for economic development professionals who are exempt from state ethics laws.
Ivey said she had no difficulty following the ethics laws as written. "I try my best to read the law and abide by it, and I check with an attorney if I'm unclear."
Gov. Ivey says the legislation was necessary to make Alabama competitive as it seeks to lure businesses to the state. "Well, first of all, economic development is important. Rural areas, urban areas, economic development is a necessary ongoing effort that we've got to be competitive – and it's a very competitive process," said Ivey. She said that Alabama is only one out of three states that doesn't clarify that economic development professionals are not lobbyists. Sticking with the talking points that led to its passage, Ivey defended the bill as vital to growing the state's economy. "More importantly is we don't want to lose any projects that we would have lost if this had not passed," Ivey concluded.
As for rewriting the ethics code as proposed by Republican House and Senate leadership for the 2019 regular session, Ivey wouldn't commit but didn't rule out calling a special session to focus attention on that one issue. She conceded that such a Herculean process would require serious preparation and intense attention to details. Lately, House and Senate leadership has cited the stringent ethics laws as to why lawmakers are leaving office and why they are having trouble finding candidates. Recently, Republican Senate President Pro Tem Del Marsh, from Anniston, said that under current ethics laws only wealthy individuals or retirees would run for office.
Ivey said she had no difficulty following the ethics laws as written. "I try my best to read the law and abide by it, and I check with an attorney if I'm unclear," said Ivey. When asked why everyone in public service couldn't follow her example, she replied, "I'm sure they could."
The governor said she had been thinking about how ethics commissioners are appointed and finds that there is potential for a conflicting interest since commissioners are chosen by the speaker of the house, lieutenant governor and governor.
"I find it sort of curious and troubling a little bit that the governor, lieutenant governor, and the speaker of the house are the three people that currently make appointments to the commission," Ivey said. "We three serve under the provisions the commission is charged with enforcing, so it seems troubling to me that – I'm going to appoint you to the Ethics Commission, and then somebody brings charges on me and you're going to sit in judgment of me." She says it makes more sense to change the appointment process so the commission appointments are made by the chief justice of the Supreme Court, presiding judge of the Court of Criminal Appeals and presiding judge of the Court of Civil Appeals. "They answer to the Court of Judicial Inquiry under Alabama state law. And they'd be independent," she said.
Recently, Ivey has come under attack by certain media outlets and Huntsville Mayor Tommy Battle, who claims she is avoiding a head-to-head debate match-up with her Republican primary challengers. "This race is not going to be about stunts to attract media attention. This race is going to be about the individuals' records, and mine's an open book," Ivey said. "Under my leadership, we got jobs, unemployment's low. We put our people back to work, and Alabamians know that." Ivey seemed to enjoy taunting the media and her rivals but recounting her success over the last year. Current polls show Ivey's approval rating steady at over 60 percent favorable. "But anyway, my schedule is just not such that I can let the media or campaigns dictate my schedule. I've got to govern, and I plan to govern," she said.
"This race is not going to be about stunts to attract media attention. This race is going to be about the individuals' records, and mine's an open book."
During the interview, Ivey defended the state's decision to hire Wexford Health Sources, Inc., to provide healthcare services for its beleaguered prison system despite the company's potential financial collapse under the weight of the impending lawsuit in Mississippi. Citing her confidence in the department of correction's commissioner, Jeff Dunn, Ivey felt Wexford was the right choice after a point by point comparison of the three companies vying for the hundred million dollar contract. Despite Wexford being sued by the state of Mississippi for its part in a bribery scandal relayed to its DOC commissioner, who now resides in prison, she was comfortable with Dunn's choice. Ivey said she seemed to recall reports that Wexford was not involved in the scandal. APR could not readily identify a report that exonerated Wexford.
Confidence in her cabinet is high according to Gov. Ivey, who said of its members, "They are strong people, with expert knowledge in their subject matter, and also, highly intelligent and deeply committed to providing an open, honest and transparent state."
Ivey says her commitment to serving goes back to her youth when she was elected lt. governor at Girls' State, a summer leadership and citizenship program sponsored by The American Legion and the American Legion Auxiliary for high school juniors. "I've long had a passion for helping others, whether it was being lieutenant governor at Girls' State or vice president of the student body at Auburn University. I've always had a passion for helping people do more than they thought they could."
When asking about her health and grueling schedule, she replied, "I'm wonderfully well. After visiting with y'all, I'm fixing to leave and head to Escambia County for the night. I'm doing fine."
She will face a roster of men in the Republican primary in June.
Redemption not revenge drives Tuberville supporter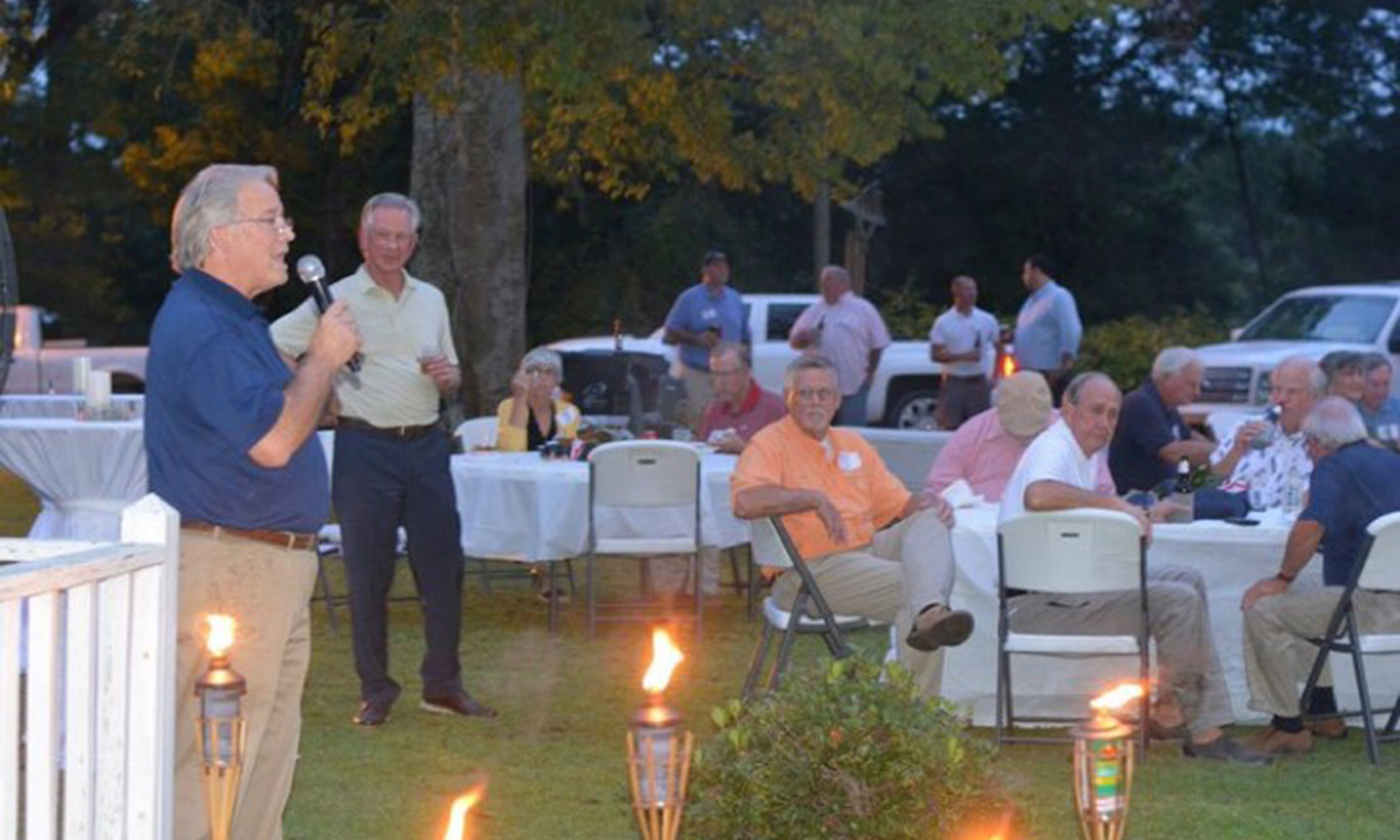 It would make for a great political story if Edgar McGraw hated Jeff Sessions. In fact, it would be the kind of legendary story of revenge that TV movies are built around.
This man, Edgar McGraw, is arrested on drug distribution charges in 1986 and prosecuted by then-U.S. Attorney Jeff Sessions. Sessions takes everything from McGraw and gives gleeful media interviews bragging about the arrest and seizures of McGraw's property.
McGraw gets out of prison, rebuilds his life and becomes a respected, successful business owner. All the while, biding his time until the day he can exact revenge upon Sessions.
One day in 2020, he sees his chance: A former college football coach in a football-crazed state is running against Sessions for U.S. Senate. McGraw throws some money to the coach, hosts a fundraiser for him.
And the coach does the unthinkable. He upsets the 30-year politician. With McGraw's help, Jeff Sessions' career is over.
McGraw smiles.
But real life ain't like the movies.
And in real life, Edgar McGraw has none of these dreams of revenge. He holds no ill will. He wasn't gleeful the night Sessions lost, instead he was glad his friend Tommy Tuberville won. And he didn't back Tuberville because he was running against Sessions, but because McGraw and Tuberville were friends long before Tuberville dipped a toe into politics.
That's life, I guess. You go looking for a revenge story and end up with a redemption story.
"(The conviction) is water under the bridge to me," McGraw said. "I made my fair share of mistakes, I paid the price, and I have moved on with my life. I believe every single person makes mistakes in life, but how you respond to those mistakes and live life afterward is what really matters. As Dr. Tony Evans says 'everyone is going to get knocked down in life in one way or another, what's important is how you get back up.'
"I never look back, that is just my personality. Just like you don't drive a car looking in the rear-view mirror, I am always looking forward."
I first heard about McGraw's history a week ago, when someone sent me photos of Tuberville speaking at an event, McGraw standing by his side. McGraw was labeled a "felon" in a description with the picture, and that piqued my interest.
I read through a few newspaper articles about his arrest in the 1980s on drug distribution charges, and I thought it was possibly one of the craziest things I've come across in quite some time.
Basically, the story is this: McGraw, who was a successful businessman in Camden even in the 1980s, conspired with a handful of people to fly about $2 million worth of marijuana from Jamaica to a private air strip in Camden. The weed was going to McGraw's farm, according to court records, where it would have been distributed and sold.
It never made it.
Drug dealers apparently aren't great at physics, and $2 million in 1980 bought a lot of marijuana — approximately 1,400 pounds — that needed to be equally distributed around the small plane. Instead, according to media reports, the guys in Jamaica — McGraw wasn't one of them — failed to secure the load and it all shifted to the tail of the plane. The plane crashed into a marsh on takeoff.
Still, Sessions and the U.S. Attorney's Office were able to build a case with several informants and by flipping witnesses. And they went hard after McGraw, who maintained that he had a limited role. The federal jury that convicted McGraw of conspiracy to distribute also acquitted him of conspiring to import the weed, so there was obviously some gray area.
Regardless, Sessions went after McGraw's property, utilizing recent and broad changes to asset seizure laws in the late-1980s that allowed prosecutors to tie virtually any property to drug money and then seize it. The federal government, with little evidence, took McGraw's motel, the Southern Inn in Camden. It was one of the biggest asset seizures in the country at the time.
McGraw ended up being sentenced to 15 years in prison. He served less than half of that and prison records show he was released in 1992.
When I learned of McGraw's history, I tweeted a couple of the newspaper clippings and speculated that McGraw had thoroughly enjoyed Tuberville ending Sessions' political career. Because, I mean, Sessions took the guy's motel — for marijuana that didn't even get here.
He has to hate him, right?
Then I emailed McGraw to ask if he'd be willing to talk to me about it. I expected one of two things to occur: Either he would ignore me altogether or he'd accept the interview and express his great personal satisfaction.
He did neither.
Instead, McGraw told me the same story that he's been telling at the Christmas party for Camden work release inmates. He volunteers with a Christian ministry that works with the prisoners. And each year, McGraw, who now is best known as part owner of the McGraw-Webb Chevrolet dealership in Camden, stands up in front of those inmates and lets them know that there is a pathway to redemption. To a better life. To a happy life.
"What happened coming up on almost 35 years ago, seems like a lifetime ago," McGraw said. "My faith grew immeasurably during those years and the Lord has blessed me immensely since. I have been happily married for 27 years and I have three wonderful children; 26, 25 and 21 years old. I would want people to know to not let the past mistakes in life mold you. Brokenness can be a breakthrough.
"I feel like I am one of the most blessed people in the world and I give God all the credit. I would hope that I would be thought of as someone who came back home, worked very hard and served his community, church, and family to the absolute best of my God given ability."
As far as his dealings with Sessions, McGraw said he's had very little. While he clearly disagrees with Sessions' decisions in his case — all McGraw would say is that he'd leave that up to Sessions to answer for — he said he's spoken to the former U.S. AG just once in the past three decades. That meeting came at an Auburn basketball game, where McGraw introduced himself and reminded Sessions of their past. McGraw said the conversation was cordial and lasted only a few minutes.
He swears he holds no ill will towards Session at this point. His support of Tuberville had nothing to do with his history, or even politics really. Records show McGraw has donated to only one campaign in his life — Tuberville's. And that came about because the two are old friends.
"My relationship with Tommy Tuberville began sometime while he was coaching at Auburn," McGraw said. "We became friends with the Tubervilles as our sons became close friends while attending Auburn University and our friendship has grown since. Our family made our first contribution to Tuberville in April of 2019. I want to be very clear that my support of Tommy Tuberville was only influenced by our friendship and his political views and had nothing to do with Jeff Sessions."
And maybe that's for the best.
2020 has more than its fair share of nasty political stories, revenge stories and just plain ol' dirtiness. Maybe a good story of redemption is something we could all use at this point. Maybe what we need to hear is the message that McGraw gives to those 100 or so inmates each year at Christmas.
"I strive to give (them) the hope that whatever they have done in the past does not have to limit their future," McGraw said. "I learned to take nothing for granted and that every single day is a gift from above."