Roby supports president's action against Syrian regime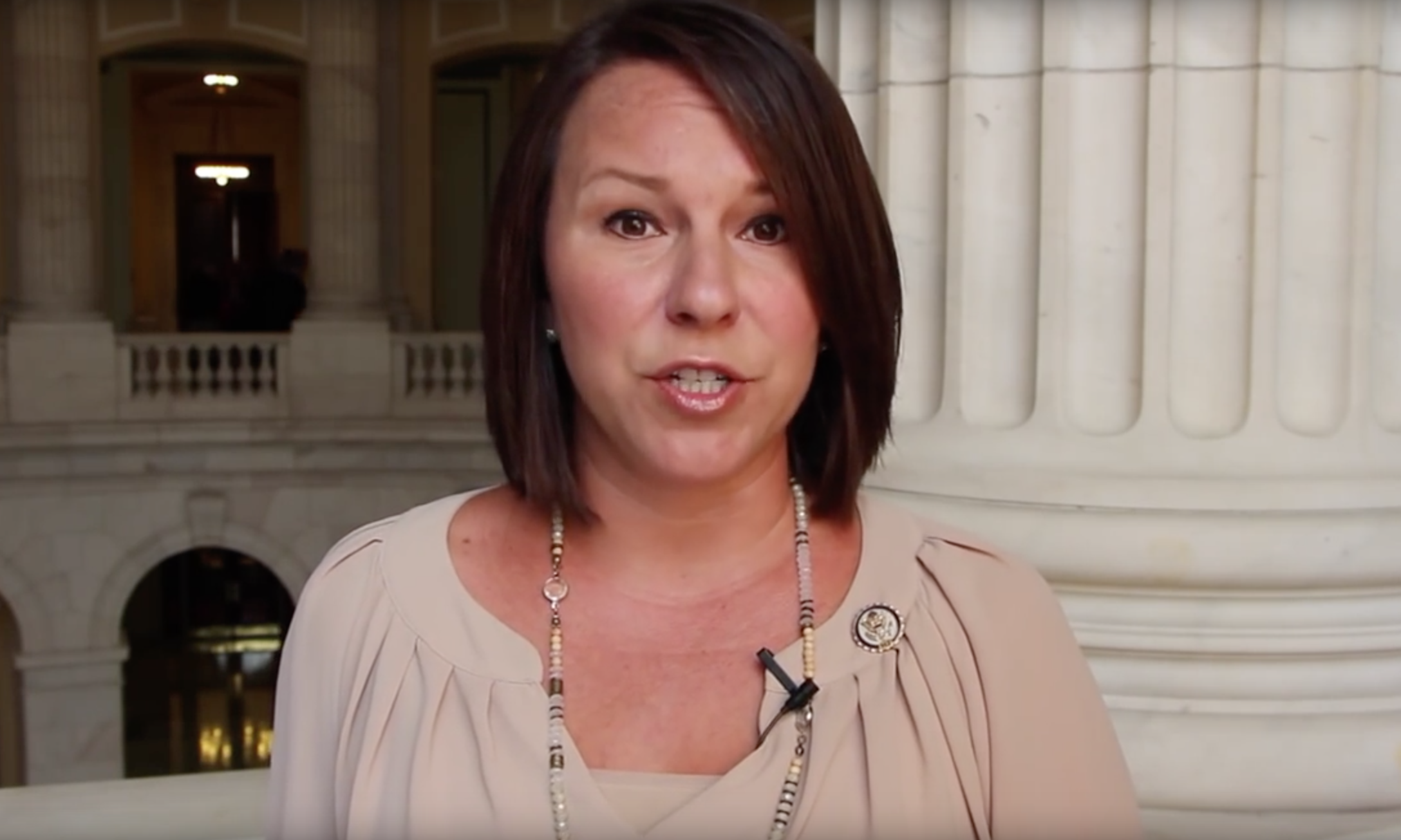 Monday. Congresswoman Martha Roby, R-Montgomery, joined the chorus of voices supporting President Donald Trump's decision to launch punitive cruise missile strikes on the military forces of Bashar Al-Assad after a reported chemical weapons attack on a rebel controlled suburb of Damascus that is being attributed to the Assad regime.
Roby said that Assad's "horrific action must not be tolerated."
"On Friday night, the United States responded to the Assad regime's brutal chemical attacks against innocent people in Syria," Roby said. "I have said many times that this horrific action must not be tolerated, and I support the Administration's target action that was conducted alongside our British and French allies. Congress and the Administration will be discussing the long-term strategy as it relates to Syria, and that is starting this week with Secretary Mattis coming to the Hill for a classified members briefing on the situation. I look forward to hearing more from him."
On Friday, naval ships and B1 bombers flying out of Qater launched Tomahawk cruise missiles on three military targets in Libya intended to degrade their ability to launch future chemical weapons attacks.
While this was reportedly a one time event, on Monday, U.S. Ambassador to the United Nations Niki Haley indicated that it may be ready to strike again.
"The United States is locked and loaded," Haley said. "When our President draws a red line he enforces a red line."
Also on Monday, the Organization for the Prohibition of Chemical Weapons (OPCW) reported that when they tried to travel to the Syrian town of Douma, where the chemical attack reportedly occurred on April 7, they were prevented from inspecting the site by Syrian and Russian officials citing "pending security issues."
U.S. and French authorities believe that Douma was attacked with poison gas that reportedly killed at least 40 people and injured an estimated 500, mostly civilian noncombatants.
After crushing ISIS, in Syria and Iraq, =Trump had publicly discussed withdrawing U.S. forces from Syria.
On Monday, French President Emanuel Macron said, "Ten days ago, President Trump said the USA's will is to disengage from Syria. We convinced him that it was necessary to stay,"
Trump has said that he will continue the strikes if necessary.
Russia is calling for a meeting of the United Nations Security Council.
Some in Congress have claimed that the President has exceeded his authority in Syria.
"It is Congress, not the president, which has the constitutional responsibility for making war" U.S. Senator Bernie Sanders, I-Vermont, said in a statement. "The international community must uphold the prohibition against the use of chemical weapons, but it is unclear how President Trump's illegal and unauthorized strikes on Syria tonight will achieve that goal. After 17 years of war in Afghanistan and 15 years of war in Iraq, we need a political strategy to bring peace and stability to the region, not more U.S. military intervention."
Roby represents Alabama's 2nd congressional district.
(Original reporting by Fox News and CNN contributed to this report.)
Alabama reports record-breaking 2,164 new COVID-19 cases
Thursday's number of new cases hit 2,164 and blew past the previous daily record set on July 3 by 406 cases.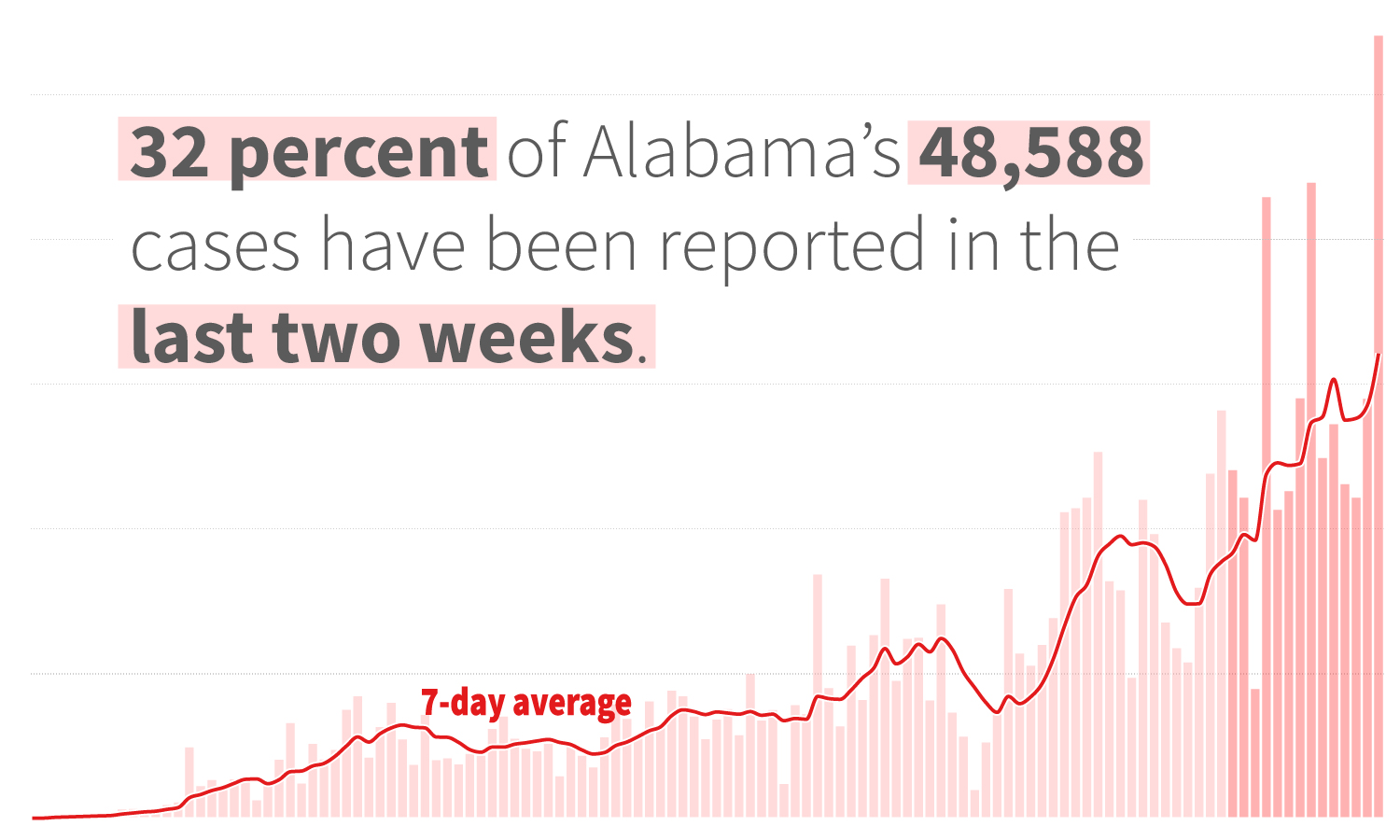 New COVID-19 cases in Alabama on Thursday jumped by nearly double from the day before, and for the first time broke 2,000 in a single day, according to the latest data from the Alabama Department of Public Health.

Thursday's number of new cases hit 2,164 and blew past the previous daily record set on July 3 by 406 cases. Both the seven-day and 14-day rolling average of new daily cases in Alabama were also at record highs Thursday. 
Thirty-two percent of the state's 48,588 cumulative confirmed cases have been added within the last two weeks. 
The Alabama Department of Public Health did not publish Wednesday an update to the total number of tests performed, which throws off the day's figures for the percentage of tests that are positive, but on average, over the last week, the state's seven-day rolling average of percent positivity has roughly 15 percent. 
Public health experts say the percent positivity should be at or below 5 percent — otherwise there isn't enough testing being done and cases are going undetected. 
Along with surging new cases, the number of COVID-19 patients hospitalized on Wednesday was higher than it's been since the beginning of the pandemic. On Wednesday 1,110 coronavirus patients were being treated in state hospitals, which was the fourth straight day of record current hospitalizations. 
UAB Hospital's COVID-19 Intensive care units were nearing their existing capacity Tuesday. The hospital has both a COVID ICU and a COVID acute care unit designated to keep patients separated from those who don't have the virus, but it has more space in other non-COVID units should it need to add additional bed space.

Hospitals in Madison County this week are also seeing a surge of COVID-19 patients. Paul Finley, the mayor of the city of Madison, told reporters Wednesday that local hospitals were reporting record numbers.

Hospitals there were at 80 to 90 percent capacity.
"Our ambulances yesterday had their greatest number of runs since this started," said Crestwood Hospital CEO Dr. Pam Hudson on Wednesday, adding that in about 20 percent of calls staff is having to wear full personal protective equipment. "That indicates that they are working with patients who have symptoms that could be compatible with COVID."
Meanwhile, Madison County set a new daily record, adding 286 cases Thursday, the first time the county has surpassed 200 cases a day. The county was largely spared early on in the pandemic, with low case counts and low death rates, but roughly 42 percent of Madison County's total case count since March has been reported in the last week as 803 new cases have been added.
Jefferson County and Madison County, over the last week, have accounted for 26 percent of the state's new cases.
Jefferson County led the state in the most new cases Thursday with 343 and has added 1,498 cases in the last week. The county's total cases increased by 33 percent from last week, and stood at 6,030 confirmed COVID-19 cases Thursday.
While Jefferson County and Madison County are seeing the state's most intense increases, other large counties including Shelby County, Baldwin County and Tuscaloosa County have also seen record increases and rising percent positive rates.
At least 81 people have died from COVID-19 in the last week, and 162 people have died in the last two weeks.
At least 1,042 people have died from COVID-19 since March, and at least 26 other deaths are listed as "probable" COVID-19 deaths.