Former First Lady Barbara Bush dies at 92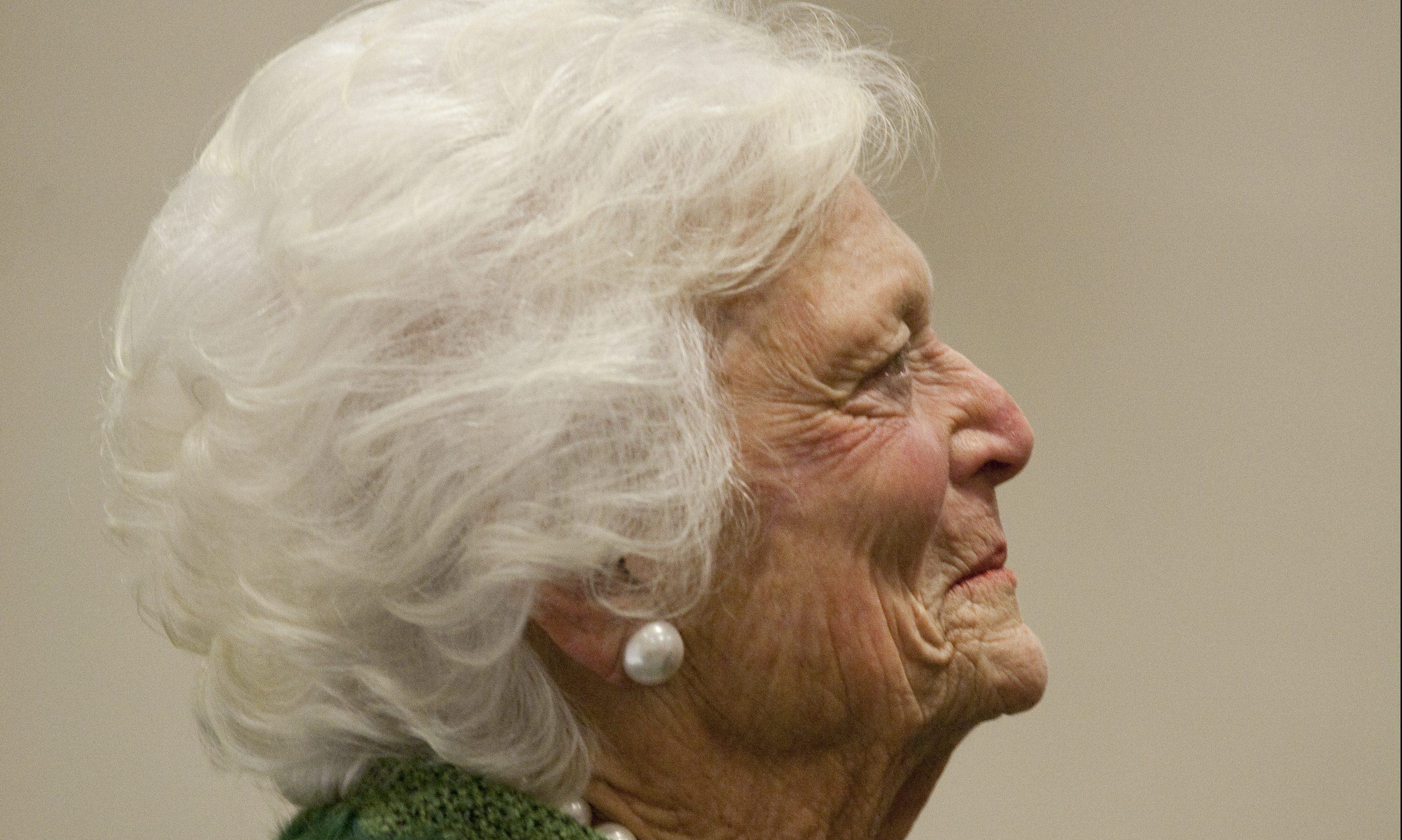 Tuesday, former First Lady Barbara Bush passed away. She was the wife of President George H.W. Bush, who was President from 1989 to 1993 and was the mother of President George W. Bush who was president from 2001 to 2009. She had been in failing health for some time now. She was 92.
Alabama Governor Kay Ivey expressed her condolences.
"I am saddened to hear about the death of former First Lady Barbara Bush," Ivey said. "She was a dynamic Republican woman, as First Lady she lead an effort to increase family literacy, an issue she championed to this day. She was matriarch of the Bush family, that produced governors and a president. Her life is a shining example of how strong women can serve their country and help improve the lives of all Americans. My thoughts and prayers are with the Bush family and all of America tonight."
U.S. Sen. Richard Shelby said, "My deepest condolences to the Bush family following the loss of former First Lady, Barbara Bush. She was a remarkable woman. Her legacy and service to our country will never be forgotten."
Alabama Republican Party Chairman Terry Lathan said, "The Alabama Republican Party is saddened to hear of the passing of former First Lady Barbara Bush. A shining light to all who knew her, Mrs. Bush will be deeply missed. Her great American and family legacy she leaves behind is a true testament of a lifetime filled with grace, strength and a strong love for our country. Our hearts and prayers are with the former first family during this time. Barbara Bush was a true American patriot, matriarch and role model for our nation."
"What a wonderful woman. I certainly admired her as a citizen, but especially as a son who had a tough but lovable mom," Congressman Bradley Byrne, R-Montrose, said. "God bless her. The prayers of the nation are with the Bush family."
"Barbara Bush led a remarkable life, and her legacy will impact our country for many years to come," Congresswoman Martha Roby, R-Montgomery, said. "My prayers are with the Bush family during this very sad time."
"My family and I are sad to hear of the passing of former First Lady Barbara Bush," Congressman Robert Aderholt, R-Haleyville, said. "She was the rock of the Bush family and I know she will be deeply missed. My sincere condolences to the Bush family."
"Our hearts and prayers go out to the Bush family tonight after the passing of Mrs. Bush," said Congressman Mike Rogers, R-Saks. "She was a strong woman, wife, mother, grandmother, great-grandmother and proud American. She served her country with poise and dignity and will be sincerely missed."
Charlotte Hays, Director of Cultural Programs at Independent Women's Forum said, "Independent Women's Forum extends our condolences to the family of former First Lady Barbara Bush. Mrs. Bush, who served as First Lady from 1989 to 1993, was universally admired for her forthrightness and ability to put people at ease."
"Despite her aristocratic origins, Mrs. Bush was unpretentious, and her country loved her for her for it," Hays said. "She made no pretenses about her trademark fake pearls and delighted in the 'America's grandmother' image conferred by her mane of white hair. She firmly believed that literacy was the key to solving many national problems and improving the lives of disadvantaged Americans. To that end, she established and worked hard for The Barbara Bush Foundation for Family Literacy. She was essential to President George H. W. Bush's career, both as a politician and a transplanted Texan building a career in the oil business, and exerted an important influence on President George W. Bush, who sometimes traced his outspokenness to his mother. Our hearts go out to the Bush family at the loss of this wonderful wife, mother, grandmother, and great-grandmother, and to the country for the loss of this model First Lady."
Speaker of the House Paul Ryan, R-Wisconsin, also released a statement on the passing of Mrs. Bush.
"Barbara Bush holds a revered place in the hearts of generations of Americans," Ryan said. "She so loved her family and our country. She led both with clarity and character. She shined a light on the power of a parent reading to a child. Her husband, our 41st president, wrote in his last days in office: 'history will show that she was beloved because she was real and she cared and she gave of herself.' Who could say it better?"
"To Mrs. Bush's family—especially her 17 grandchildren and seven great-grandchildren—I extend the deepest condolences of the whole House of Representatives. May she rest in eternal peace." Ryan stated.
Former President George W. Bush said in a statement, "My dear mother has passed on at age 92. Laura, Barbara, Jenna, and I are sad, but our souls are settled because we know hers was. Barbara Bush was a fabulous First Lady and a woman unlike any other who brought levity, love, and literacy to millions. To us, she was so much more. Mom kept us on our toes and kept us laughing until the end. I'm a lucky man that Barbara Bush was my mother. Our family will miss her dearly, and we thank you all for your prayers and good wishes."
Print this piece
Five patients with COVID-19 have died at EAMC hospital in Opelika
Five patients who were being treated for COVID-19 at East Alabama Medical Center in Opelika, Alabama, have died since Friday, the hospital said in a statement Saturday.
"Our hospital family expresses its collective condolences to the families of these five patients," said Laura Grill, EAMC President and CEO.  "As everyone knows, this virus has taken a toll on our nation and world, and our community is not exempt from that. Our hearts and prayers are with these families at this very difficult time."
Three of the patients were from Chambers County and two were from Lee County. The Alabama Department of Public Health is still investigating the deaths and has not updated their website to reflect them.
Hospital officials and ADPH are working through the process for official state determination before adding them to the COVID-19 death count.
"The ICU staff, respiratory therapists and physicians who worked most closely with these patients are especially struggling and we ask that the community lift them up today just as they have been lifting up our whole organization the past two weeks," Grill said.
EAMC is currently treating 19 patients hospitalized with a confirmed COVID-19 diagnosis. Five patients who were previously hospitalized with COVID-19 have been discharged. There are 22 patients who are currently hospitalized at EAMC with suspected COVID-19.
The number of hospitalized patients has more than doubled from seven on Tuesday. It anticipates more.
The county had at least 56 confirmed cases of COVID-19 by Saturday afternoon, more per capita than Jefferson County, Shelby County and Madison County. That number has also continued to grow. To the north, Chambers County, which falls under EAMC's service area, has the most cases per capita in the state, meaning there are more confirmed cases per person than any other county. That county's total stands at 17.
Many of the patients who have tested positive, according to EAMC, had a common "last public setting" in church services.
"While there are no absolute patterns among the confirmed cases in Lee County, one nugget of information does stand out a little—the last public setting for a sizable number of them was at church," East Alabama Medical Center said in a statement Friday night.  "Not at one church, or churches in one town, but at church in general."
The hospital has urged churches to move online and cancel in-person services. Some churches have continued to meet, as recently as last Sunday, despite "social distancing" directives from the Alabama Department of Public Health that prohibited non-work gatherings of 25 or more people.
EAMC is urging the public to act as if they are under a "shelter-in-place" at home order, as the state has so far refused to issue such a directive.
"EAMC is asking everyone to shelter in place at home," the hospital said in a statement Friday night. "Sheltering in place means you stay at home with immediate family members only and should not leave your home except for essential activities such as food, medical care, or work. You should not host gatherings of people outside of your immediate family. You should also maintain a 6-foot distance from other people as much as possible, wash your hands frequently for at least 20 seconds each time, and frequently disinfect high-touch surfaces."
It's also asking businesses that have access to personal protective equipment like gowns, masks, latex gloves and hand sanitizer to bring those items to a collection site outside of EAMC's main lobby. The site is open from 9 a.m. to 4 p.m. on weekdays.
This story is developing and will be updated.
Print this piece