A new state superintendent, more controversy
If the State Board of Education is picking a new superintendent, count on controversy.
Eric Mackey, the head of the Superintendents of Alabama group, was selected as the state's newest superintendent on Friday, and almost immediately there was controversy. There are also currently at least two groups considering lawsuits to challenge Friday's vote.
According to sources familiar with the process, there are two main complaints about Friday's vote: That board member Mary Scott Hunter was allowed to participate despite an obvious conflict of interest, and Mackey's various conflicts from serving as a lobbyist for the Superintendents of Alabama.
"There are some serious questions being raised the more people find about some of this stuff," said a source.
In what was a very odd selection process, which included zero discussion by board members of the candidates, and ended with Mackey earning five votes and Jefferson County superintendent Craig Pouncey receiving four.
As such, the vote of Hunter became critical, which many see as a problem. That's because Pouncey currently has an active lawsuit against Hunter, claiming that she defamed him by participating in a smear campaign prior to the last superintendent selection process.
Through the course of the lawsuit and a parallel legislative committee inquiry into the matter, it became fairly obvious that Hunter and others at ALSDE were working to prevent Pouncey from obtaining the job. They pushed an anonymous ethics complaint, which turned out to be well outside of the statute of limitations and 100 percent false, and Hunter was spreading the rumors of a Pouncey ethics issue at a legislative retreat.
Pouncey's lawsuit has cleared a number of hurdles, including having the judge dismiss several parties because they enjoyed immunity in their state jobs. But Hunter has remained, as has another ALSDE attorney, James Ward.
And yet, there was Hunter voting against Pouncey again, with her vote swinging the results.
"Why was (Hunter) allowed to vote?" school board member Ella Bell asked after the vote was announced.
More questions have followed — mostly concerning Mackey's position as a registered lobbyist and Gov. Kay Ivey's potential conflict of interest.
As the head of the Superintendents of Alabama group, Mackey was required to register as a lobbyist, since he was a lobbyist for that group. Last July, Ivey went after lobbyists, signing an executive order that prevents lobbyists from being appointed to boards or to lead executive agencies.
In that executive order, Ivey went to great lengths to explain why appointing lobbyists to those lofty  positions was wrong: "it is essential to the proper operation of a Democratic government that government servants be independent and impartial…."
Ivey, who voted for Mackey, had an apparent change of heart.
"Dr. Mackey is the most qualified candidate to lead the State Department of Education in a new direction, which will focus on student achievement at high levels," Ivey's office wrote in an response to questions from APR. "His selection by the State Board of Education, through a independent competitive process, is not a gubernatorial appointment as referenced in Executive Order 706. Dr. Mackey's previous position with School Superintendents of Alabama required him to register as a lobbyist, it also provided him with experience working closely with legislators, a vital part of the State Superintendent's job. Also, his appointment is not effective until a contract is executed and once that happens, he will no longer be a registered lobbyist."
However, there was also one other matter: In August, Mackey personally donated $4,000 to the Alabama Group PAC — a PAC that is used by the Superintendents of Alabama to make donations.
Five days after Mackey's contribution, $2,000 was sent from that PAC to Ivey's campaign account.
In response to a question about her potential conflict of interest because of the donation, Ivey's office said: "Governor Ivey remains committed to the highest ethical standards and she expects nothing less from the newly selected state superintendent."
Alabama reports record-breaking 2,164 new COVID-19 cases
Thursday's number of new cases hit 2,164 and blew past the previous daily record set on July 3 by 406 cases.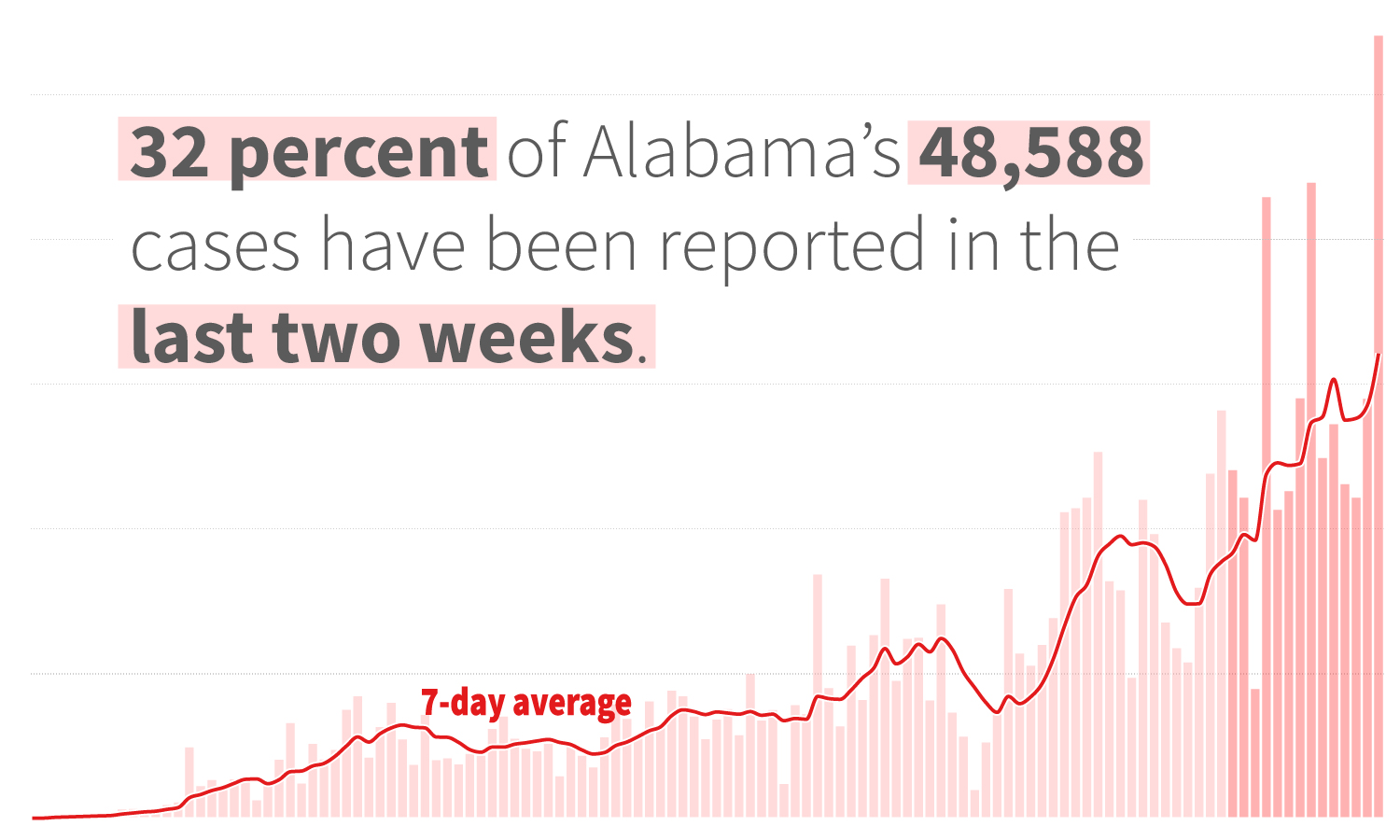 New COVID-19 cases in Alabama on Thursday jumped by nearly double from the day before, and for the first time broke 2,000 in a single day, according to the latest data from the Alabama Department of Public Health.

Thursday's number of new cases hit 2,164 and blew past the previous daily record set on July 3 by 406 cases. Both the seven-day and 14-day rolling average of new daily cases in Alabama were also at record highs Thursday. 
Thirty-two percent of the state's 48,588 cumulative confirmed cases have been added within the last two weeks. 
The Alabama Department of Public Health did not publish Wednesday an update to the total number of tests performed, which throws off the day's figures for the percentage of tests that are positive, but on average, over the last week, the state's seven-day rolling average of percent positivity has roughly 15 percent. 
Public health experts say the percent positivity should be at or below 5 percent — otherwise there isn't enough testing being done and cases are going undetected. 
Along with surging new cases, the number of COVID-19 patients hospitalized on Wednesday was higher than it's been since the beginning of the pandemic. On Wednesday 1,110 coronavirus patients were being treated in state hospitals, which was the fourth straight day of record current hospitalizations. 
UAB Hospital's COVID-19 Intensive care units were nearing their existing capacity Tuesday. The hospital has both a COVID ICU and a COVID acute care unit designated to keep patients separated from those who don't have the virus, but it has more space in other non-COVID units should it need to add additional bed space.

Hospitals in Madison County this week are also seeing a surge of COVID-19 patients. Paul Finley, the mayor of the city of Madison, told reporters Wednesday that local hospitals were reporting record numbers.

Hospitals there were at 80 to 90 percent capacity.
"Our ambulances yesterday had their greatest number of runs since this started," said Crestwood Hospital CEO Dr. Pam Hudson on Wednesday, adding that in about 20 percent of calls staff is having to wear full personal protective equipment. "That indicates that they are working with patients who have symptoms that could be compatible with COVID."
Meanwhile, Madison County set a new daily record, adding 286 cases Thursday, the first time the county has surpassed 200 cases a day. The county was largely spared early on in the pandemic, with low case counts and low death rates, but roughly 42 percent of Madison County's total case count since March has been reported in the last week as 803 new cases have been added.
Jefferson County and Madison County, over the last week, have accounted for 26 percent of the state's new cases.
Jefferson County led the state in the most new cases Thursday with 343 and has added 1,498 cases in the last week. The county's total cases increased by 33 percent from last week, and stood at 6,030 confirmed COVID-19 cases Thursday.
While Jefferson County and Madison County are seeing the state's most intense increases, other large counties including Shelby County, Baldwin County and Tuscaloosa County have also seen record increases and rising percent positive rates.
At least 81 people have died from COVID-19 in the last week, and 162 people have died in the last two weeks.
At least 1,042 people have died from COVID-19 since March, and at least 26 other deaths are listed as "probable" COVID-19 deaths.