Bikers for Trump endorse Hobson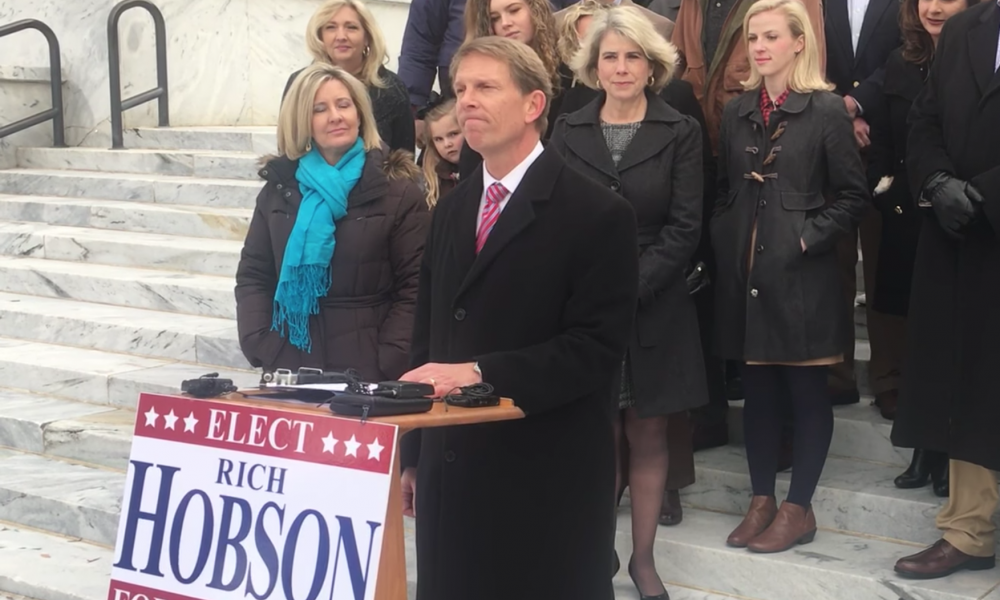 Wednesday, the Rich Hobson for Congress Campaign announced the endorsement of the South Alabama Chapter of Boots on the Ground Bikers for Trump.
The grassroots organization originally formed to support the election of President Donald Trump in 2016.  Hobson is running to represent the 2nd Congressional District.
"Rich Hobson's honest, pragmatic, and hopeful insight into our community's problems and needs sets him apart from the other candidates," John "Blue Eagle" Maddalena, Chapter president, said. "Rich is always willing to examine the issues, listen closely to the public's concerns, and yet stay true to the Constitution. I'm proud to support him, and I urge all District 2 voters to do the same."
"I'm honored to have the support of Boots on the Ground Bikers for Trump," Hobson said. "I appreciate their faith in me, and I look forward to working with them in the fight to return to the principles of limited government and personal responsibility our great nation was founded on."
On Monday, Hobson won the U.S. House District 2 straw poll conducted at the 2018 River Region Candidate fair last night. The event, sponsored by the Wetumpka Tea Party, allowed citizens the opportunity to personally visit with 49 candidates in various races.
Hobson narrowly beat former Congressman Bobby Bright in the Republican primary poll. State Rep. Barry Moore finished third. Incumbent Congresswoman Martha Roby finished fourth followed by Tommy Amason.
"Our pro-life, pro-veteran, and pro-Second Amendment message is resonating with the citizens of the Second District, and I thank God for the momentum," said Hobson. "I appreciate the good folks of Elmore County who came out in force last night and asked tough, thought-provoking questions. I look forward to providing President Trump with the backbone and leadership he needs in Congress for his Make America Great Again agenda."
Hobson was twice the top administrative officer of the Alabama Court system. He recently served as campaign manager for the Judge Roy Moore for U.S. Senate Campaign. He has also worked for the Foundation for Moral Law.
Hobson says that he is running with a committed focus on three key policy areas: rebuilding our military, putting America on a path to permanent prosperity, and reminding Americans that our Judeo-Christian values are what made our nation great.
The Republican primary election will be held on June 5.
Jones introduces bill to encourage investments in minority-serving banks
"One of the biggest hurdles for minority entrepreneurs is access to capital," Jones said.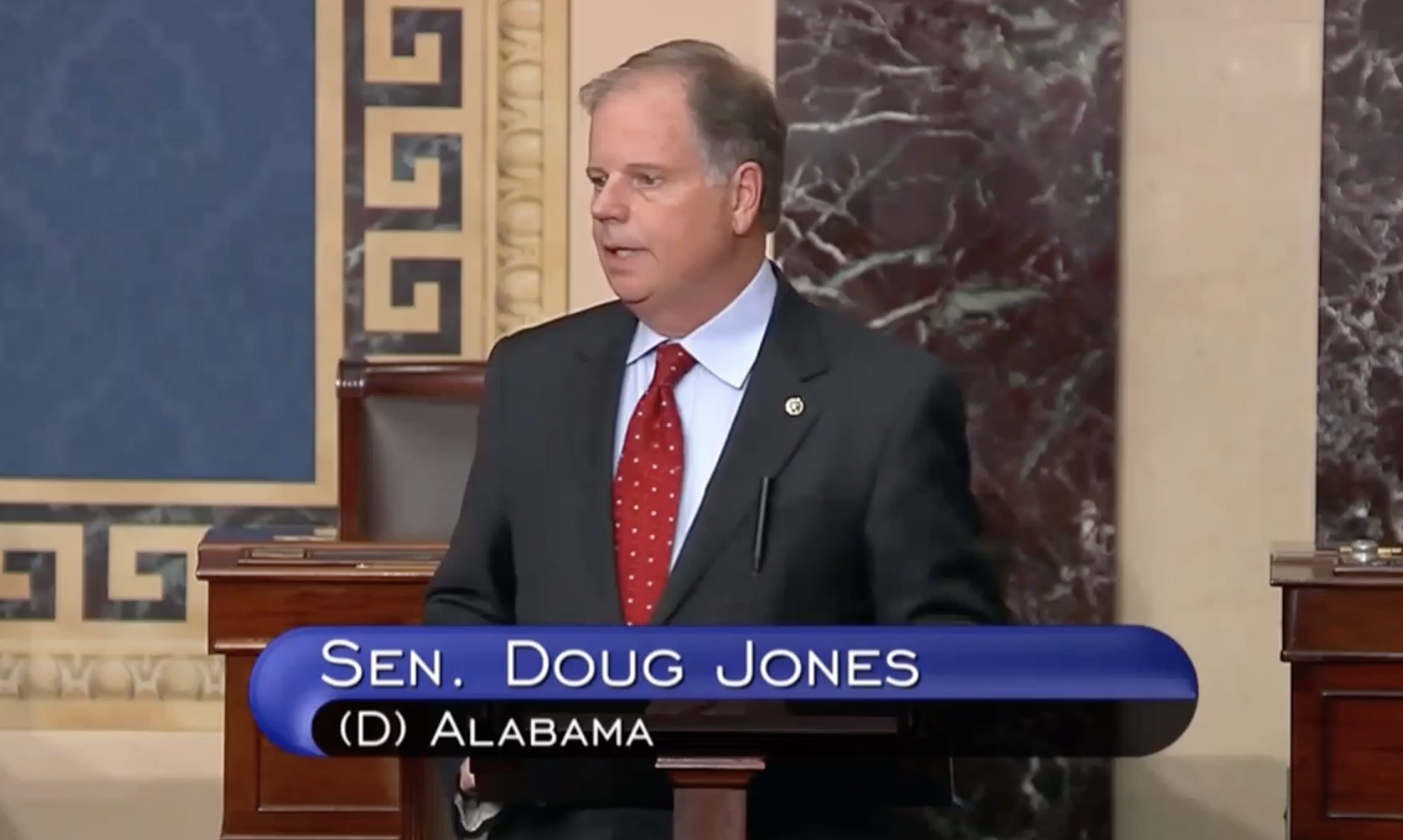 Alabama U.S. Sen. Doug Jones, D-Alabama, on Tuesday introduced legislation that would encourage investments in banks that serve minority communities.
"One of the biggest hurdles for minority entrepreneurs is access to capital," Jones said in a statement. "That's why this bill is so important. Increasing access to capital at the banks that serve minority communities will help expand financial opportunities for individuals and business owners in those communities."
Jones, a member of the Senate Banking Committee, in April urged the Federal Reserve and the U.S. Treasury to support Community Development Financial Institutions and minority-owned banks disproportionately affected by the COVID-19 pandemic, and he threw his support behind more federal funding for small community banks, minority-owned banks and CDFIs during the recent Paycheck Protection Program replenishment.
According to a press release from Jones's office, the bill would attract investments to those financial institutions by changing rules to allow "minority-owned banks, community banks with under $10 billion in deposits" and CDFIs to accept brokered deposits, or investments with high interest rates, thereby bolstering those institutions and encourage them to invest and lend in their communities.
It would also allow low-income and minority credit unions to access the National Credit Union Administration's Community Development Revolving Loan Fund.
"Commonwealth National Bank would like to thank Senator Jones for his leadership in introducing the Minority Depository Institution and Community Bank Deposit Access Act. As a small Alabama home grown institution, this proposal will allow us to accept needed deposits without the current limitations that hinder our ability to better serve the historically underserved communities that our institutions were created to serve. We support your efforts and encourage you to keep fighting the good fight for all of America," said Sidney King, president and CEO of Commonwealth National Bank, in a statement.
"The Minority Depository Institution and Community Bank Deposit Access Act is a welcomed first step in helping Minority Depository Institutions like our National Bankers Association member banks develop the kinds of national deposit networks that allow our institutions to compete for deposits with larger banks and to better meet the credit needs of the communities we serve. The National Bankers Association commends Senator Jones' leadership on this issue, and we look forward to continuing to engage with him on the ultimate passage of this proposal," said Kenneth Kelly, chairman of the National Bankers Association, in a statement.
A recent report by the Brookings Institute highlighted problems minority-owned businesses had accessing federal COVID-19 relief aid from PPP loans. Researchers found that it took seven days longer for small businesses with paid employees in majority Black zip codes to receive PPP loans, compared to majority-white communities. That gap grew to three weeks for non-employer minority-owned small businesses, the report notes.
The report also states that while minority-owned small businesses, many of which are unbanked or under banked, get approximately 80 percent of their loans from financial technology companies and online lending companies, fintechs weren't allowed under federal law to issue PPP loans until April 14.