GOP gubernatorial candidate Scott Dawson on Thursday said Gov. Kay Ivey's most recent ad, which gives Ivey credit for fighting corruption and cleaning up Montgomery, doesn't pass the smell test.
"She's promised to clean up Montgomery while her actions stink to high heaven," Dawson said. "Kay Ivey's pattern of saying one thing and pulling an about-face just weeks later doesn't pass the smell test. I know a forty-year career politician when I see one and I won't have it."
In the ad, entitled "Seafood," Ivey says she grew up on a cattle farm in the small town of Camden in Wilcox County, making reference to a special Southern dish.
"Don't give me a mountain oyster and tell me it's seafood," Ivey says in the ad. "I know corruption when I see it, and we are not having it."
A mountain oyster is a dish made of bull testicles that are typically deep fried.
"Kay Ivey might know the difference between a Gulf Oyster and a Mountain Oyster, but does she know the difference between a house cat and a polecat?" Dawson said of Ivey's ad.
Dawson, a conservative evangelist from Birmingham, is running for the GOP nomination for governor against Ivey. Huntsville Mayor Tommy Battle and State Sen. Bill Hightower are also running.
Throughout the ad, Ivey takes credit for recent job growth in Alabama and the state's record-low unemployment rate.
---
---
"We've cleaned up the mess, and we're growing record jobs," Ivey says in the ad.
Dawson didn't buy it.
"The people of Alabama are tired of electing politicians who keep us at the bottom forty of every single significant national ranking," Dawson said. "I am a conservative leader from the outside who has a vision to regain the people's trust, make Montgomery serve the people again, and restore faith in Alabama's future."
Her ad claims credit for the recent announcement that Toyota Mazda would be bringing a new $1.6 billion manufacturing facility to Huntsville that will directly create at least 4,000 jobs in and around Huntsville. Another 10,000 are expected indirectly.
Battle, who was heavily involved in the negotiations, has criticized Ivey for taking credit for the deal. The state provided $390 million in incentives for the facility, but Huntsville is matching that with $320 million.
Ivey is the only GOP candidate in the gubernatorial race so far to release television ads, and this one is her third in recent weeks.
The governor, who replaced former Gov. Robert Bentley in April 2017 after a spiraling sex scandal took down his administration, is far outraising her opponents in the race. According to her most recent campaign reports filed this week, Ivey has raised more than $3.2 million and has more than $2.1 million in cash on hand.
Battle, who is Ivey's closest competition when it comes to fundraising, has about $1.35 million in cash on hand after raising $1.8 million, according to his most recent filings from earlier this month.
Dawson has raised $731,782 and has $321,368 in cash on hand, according to his most recent reports filed earlier this month, and Hightower has rasied $860,847 and has $419,048 in cash on hand.
GOP candidate Tommy Tuberville leads Trump "boat parade" in Orange Beach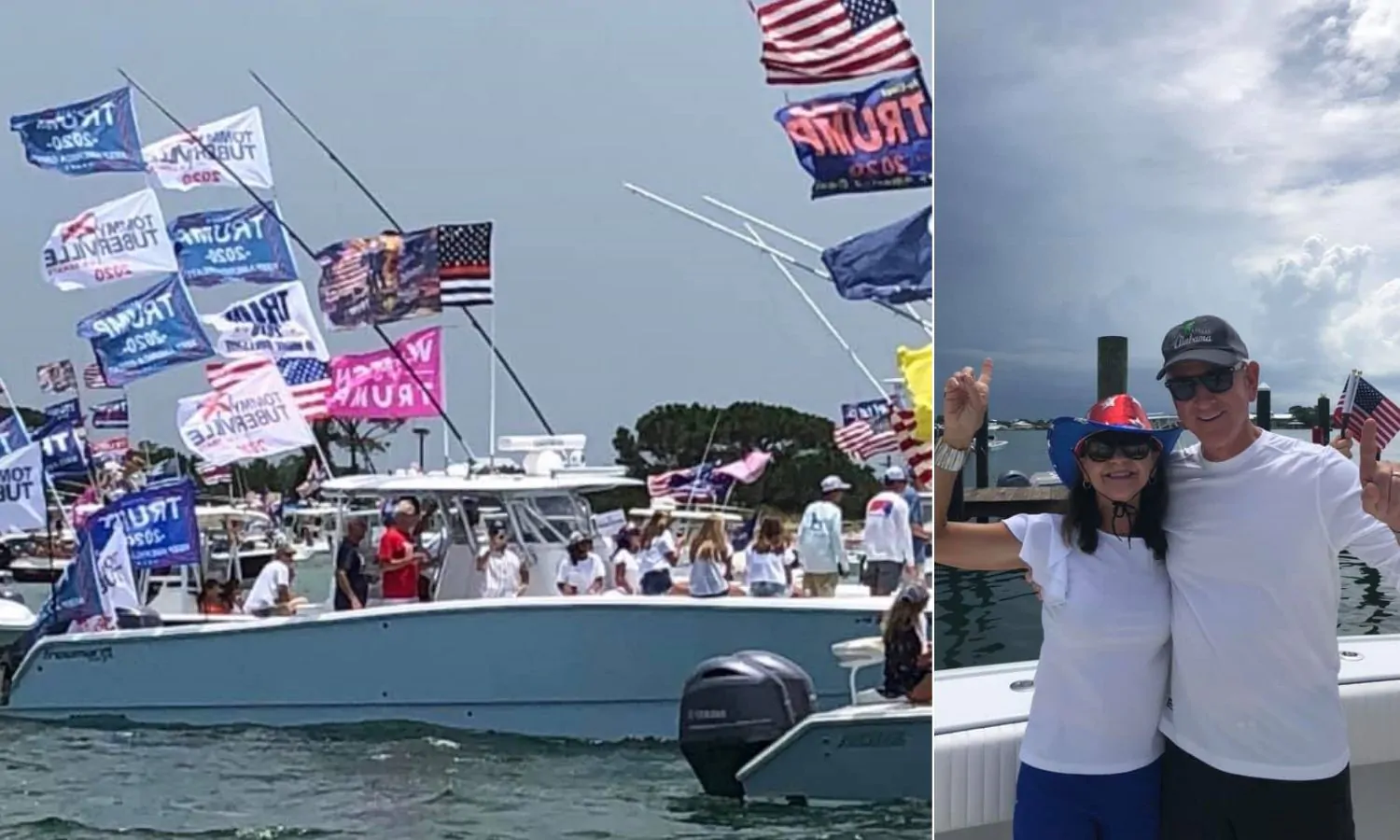 Senate candidate Tommy Tuberville rode in the lead boat in a "boat parade" on Sunday in Orange Beach, celebrating Independence Day and the launch of President Donald Trump's re-election campaign.
Hundreds of boats participated in the Trump parade in the Perdido Pass area. WKRG TV estimates that more than 8,000 people joined. Orange Beach and Gulf Shores boats joined boats from Pensacola and Dauphin Island.
Trump supporter and Alabama Republican Executive Committee member Perry Hooper Jr. was also present.
"It was Awesome having Coach Tommy Tuberville on The TRUMP Boat at Orange Beach Alabama," Hooper said. "Tommy was a Great Coach and he will be a Great US Senator. It's Great To Be A TRUMP/ TUBERVILLE AMERICAN. Everybody was so Happy cheering for The President and Tommy on! Fun Day!"
Hooper is a former state representative from Montgomery.
Tuberville is a former Auburn University head football coach. The Arkansas native lives in Auburn.
President Donald Trump spoke at Mount Rushmore in South Dakota on Friday.
"Today we pay tribute to the exceptional lives and extraordinary legacies of George Washington, Thomas Jefferson, Abraham Lincoln, and Teddy Roosevelt," Trump said. "I am here as your president to proclaim before the country and before the world, this monument will never be desecrated, these heroes will never be defamed, their legacy will never ever be destroyed, their achievements will never be forgotten, and Mount Rushmore will stand forever as an eternal tribute to our forefathers and to our freedom."
Trump accused opponents of trying to dismantle America.
"Make no mistake. This left-wing cultural revolution is designed to overthrow the American Revolution," Trump alleged. "In so doing they would destroy the very civilization that rescued billions from poverty, disease, violence, and hunger, and that lifted humanity to new heights of achievement, discovery, and progress. To make this possible, they are determined to tear down every statue, symbol, and memory of our national heritage."
"President Trump has given several good Speeches," Hooper said. "This Speech was by far his best! It was straight up AWESOME! His speech was all about the Greatness of America! President Trump loves our Country and its great History. President Reagan has given some of the best speeches ever. This speech topped Reagan's best. As for Perry O. Hooper Jr., I would get in a foxhole and fight for him to the end. God Bless President Donald J. Trump and GOD BLESS THE USA!"
Trump faces a stiff challenge from former Vice President Joe Biden, who is leading in the polling.
Tuberville has been endorsed by Trump in the July 14 Republican primary runoff for U.S. Senate. Tuberville faces former Sen. Jeff Sessions.