Opinion | Roy Moore is back with a new lawsuit, same craziness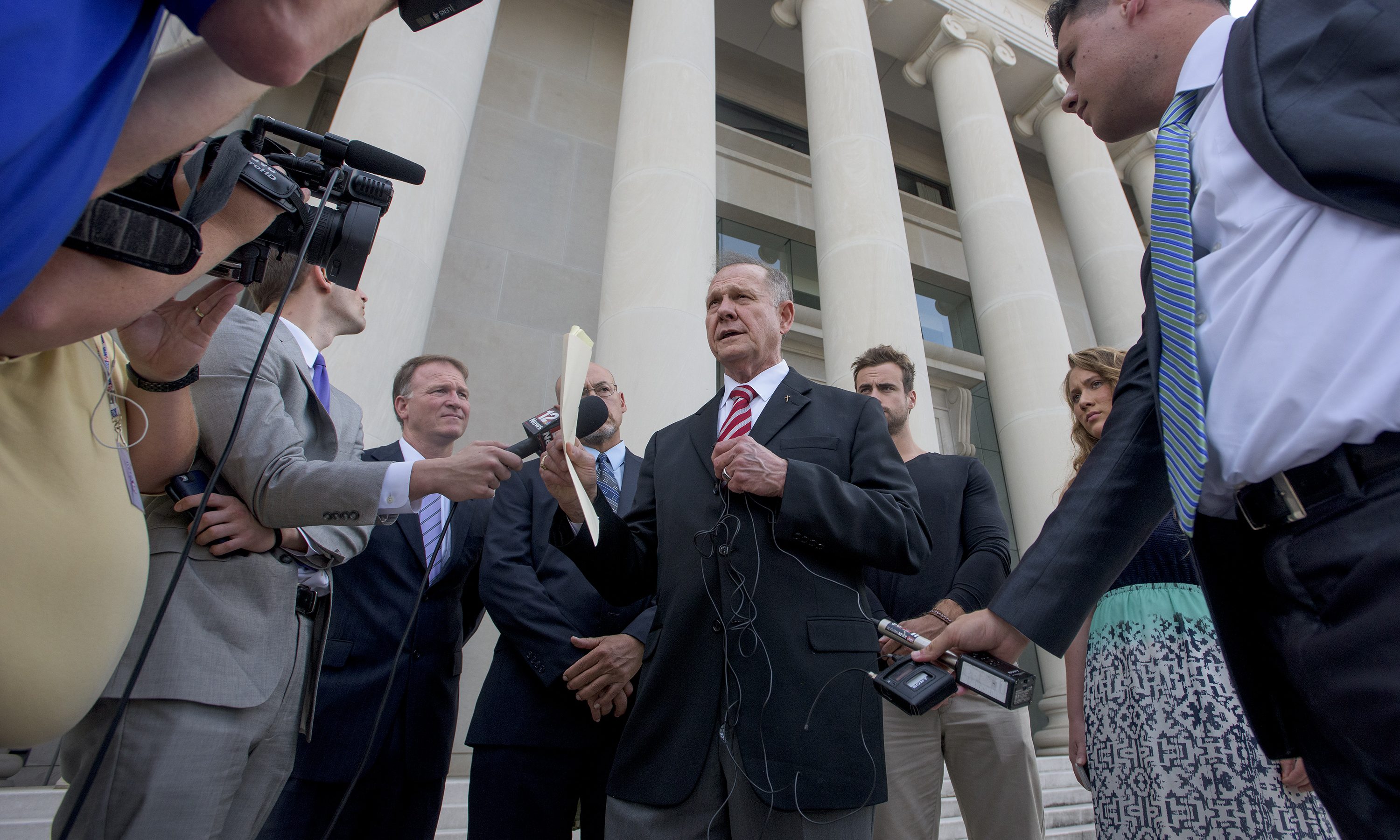 The Roy Moore Holy Rolling Carnival and All-Star Grifter Circus popped the tent on a brand new show Monday.
At the Etowah County Courthouse, Moore and his new legal team — led not by the Moores' "Jew attorney," but by a female attorney who for years has billed her law firm in TV ads as "divorce attorneys for men" — held a press conference to announce that Moore had filed a defamation lawsuit against the four women who accused him of sexual impropriety during his campaign for U.S. Senate and some guy.
Actually, let me rephrase.
Moore did not file a lawsuit on Monday.
Roy Moore filed a conspiracy theorist's manifesto dressed up like a lawsuit.
He said as much at his press conference, where he claimed to be the victim of a vast political conspiracy cooked up by the aforementioned Some Guy, who Moore's team simultaneously labeled the mastermind who cost Moore a sure win in the U.S. Senate special election and a multiple felon with numerous drug-related arrests.
Some Guy is Richard Hagedorn in real life, and he, according to Moore's lawsuit, is the lynchpin in this conspiracy against Moore, bringing together — with supporting evidence from Facebook posts — the accusers and the Washington Post reporters necessary to upend Moore's bid to embarrass Alabama on a national stage.
The complaint from Moore has all the highlights you'd expect: vague allegations of lies, a gay marriage ceremony performed by Supreme Court Justice Ruth Bader Ginsburg, anti-Christian beliefs in the form of not believing Roy Moore and noting that one of his accusers was treated by a psychiatrist once when she was 15.
Honestly, it's incredibly difficult to choose a coherent, law-based allegation in this complaint filed by the twice former chief justice of the Alabama Supreme Court. There's no new proof offered that Moore's accusers were lying about their encounters. At best, Moore's filing offers blanket denials without the slightest specifics.
Instead, the complaint seems to be more of a narrative, in which Uncle Roy tells you a story about what REALLY happened (wink, wink) in that U.S. Senate race.
And if this lawsuit is to be believed — and let me be clear: you should absolutely not believe this lawsuit — Hagedorn is a Keyser Soze-like tricky fella with an ax to grind against Moore, who 25 years ago held Hagedorn in contempt for failing to pay child support.
Spoiler alert: There are some plot holes.
For example, even if you buy that Hagedorn developed at that moment 25 years ago a red hot hatred for Moore, here's what else you'd have to believe: that Hagedorn's brother, a former Washington Post food critic, held so much sway in the newsroom of one of the world's most respected news publications that he could convince them to investigate Moore and write a detailed, thoroughly researched story on Leigh Corfman's allegations of molestation by Moore.
And even if you did buy that far-fetched nonsense, so what? You still haven't disproven a word of the accusers' allegations.
One thing is for sure: both the press conference and the lawsuit 100 percent lived up to the standard set by Moore's campaign for Senate. Which is to say they were completely and utterly bonkers.
But it doesn't matter. Because the real audience for what occurred on Monday wasn't the media or sane people. It was Moore's hardcore base of supporters — the portion of America who are still, time and again, suckered by Bible-waving conmen.
They needed a reason to believe, a reason to send in one more check to help Roy Moore stand up for God and fight off this persecution.
Moore admitted as much on Monday, saying that he would be fundraising to defend himself in Corfman's defamation lawsuit and to pay the Attorney for Men for this legal atrocity.
And so, here we are, five months after the special election that Moore lost and still refuses to concede, and we're still playing the same tunes and running the same scams. Some of the faces have changed, the rest stays the same.
And I'm left with just one question: I wonder if Sassy's doing OK?
Opinion | Voter suppression is the only hope for Republicans
Their tactic today is the same tactic of yesterday. Fight democracy.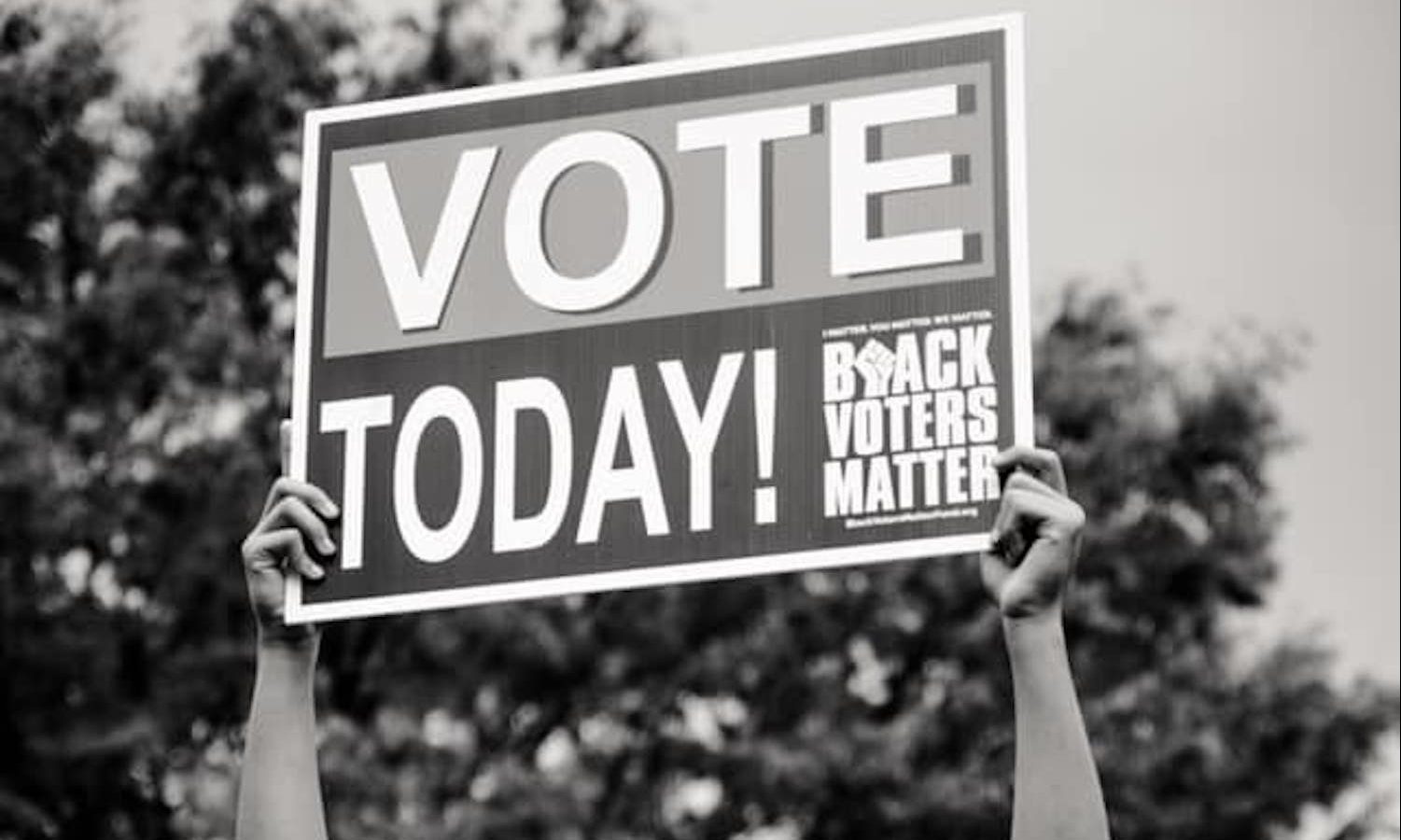 The writing is on the wall for Republicans, and it has been for some time now. Across the nation, year after year, they see the numbers steadily move away from them. They already represent tens of millions fewer Americans in Congress, and if recent polling is even close to accurate, they are on the verge of a bloodbath in less than two weeks that could tip the power to Democrats for generations to come. 
Facing such a bleak reality, it might be reasonable forjm to the party platform, discouraging the archaic fights over thinly-veiled racism and bigotry. To stop the never-ending coddling of racists and America's worst humans. 
But no, that is not their tactic. Their tactic today is the same tactic of yesterday. 
Fight democracy. 
Because the enemy that Republicans can beat is not the better ideas, better leadership, better governance or better humanity of today's Democratic Party, it is access to the voting booth. 
And they are fighting like hell. 
Gone are the slick talking points and the insistence that every shady hurdle placed between a voter and a ballot is a matter of fraud prevention. Now, they're not even hiding what they're doing, nor offering half-baked excuses for doing it. 
Whether it be limiting polling locations or providing fewer voting machines to predominantly minority neighborhoods or removing polling locations from college campuses or allowing for only one ballot drop-off location or faking drop-off locations, there is an all-out, last-ditch, shameless, desperate attempt to stave off the coming defeat by Republicans. 
And there is no bottom to what they will pull. 
As is usually the case, it was in Alabama where they tested just how low they're willing to sink. In Alabama, in the midst of a global pandemic that has killed nearly 220,000 Americans and nearly 3,000 Alabamians, they fought everything.
Even when they knew that doing so would likely — very likely — cost voters their lives. 
And they had a Republican-packed U.S. Supreme Court to go along with them. 
On Wednesday evening, that court ruled, 5-3, that Alabama officials could ban curbside voting, even though there's no law in the state preventing it and several counties have used it successfully in the past. 
Curbside voting is utilized to aid people with disabilities. In the time of COVID, it was going to be used by several counties in Alabama to make it easier for the most at-risk individuals to safely cast a ballot. They would pull up to the curb, sign the poll book without exiting their car, fill out a ballot, hand it to an official poll worker who feeds it into a voting machine, and, tah-dah, a safe vote has been cast. 
A number of at-risk Alabamians filed a lawsuit against the state saying the ban on curbside voting, coupled with the requirements for absentee voting in Alabama — which state officials also went to court to keep in place — would very much force them to risk their lives in order to cast a ballot. 
It will come as no surprise to you that the majority of those who planned to utilize curbside voting, it was projected, were Black Alabamians. COVID-19 has proven to be particularly lethal for Blacks, and the counties of Jefferson and Montgomery — both with high minority populations — had already planned to implement curbside voting. 
Secretary of State John Merrill and Attorney General Steve Marshall smelled something fishy, which is oddly common among white Republicans in Alabama whenever large numbers of Black people are planning to vote.
But don't worry, if you were expecting their reasoning for opposing curbside voting to be either absurd or callous.  
In a brief filed in the case, Merrill argued that "some level of risk is inherent in life and in voting." Merrill also went into a lengthy speculation on how curbside voting could possibly be conducted safely and securely in these counties. 
Again, curbside voting has been done in Alabama numerous times. And figuring out the logistics certainly would have taken less time and money than fighting this ridiculous case all the way to the Supreme Court. 
But, again, fairness, security and safety weren't the objective. 
Suppression was. 
Because right now, that's the only hope Republicans have left.