Opinion | Roy Moore is back with a new lawsuit, same craziness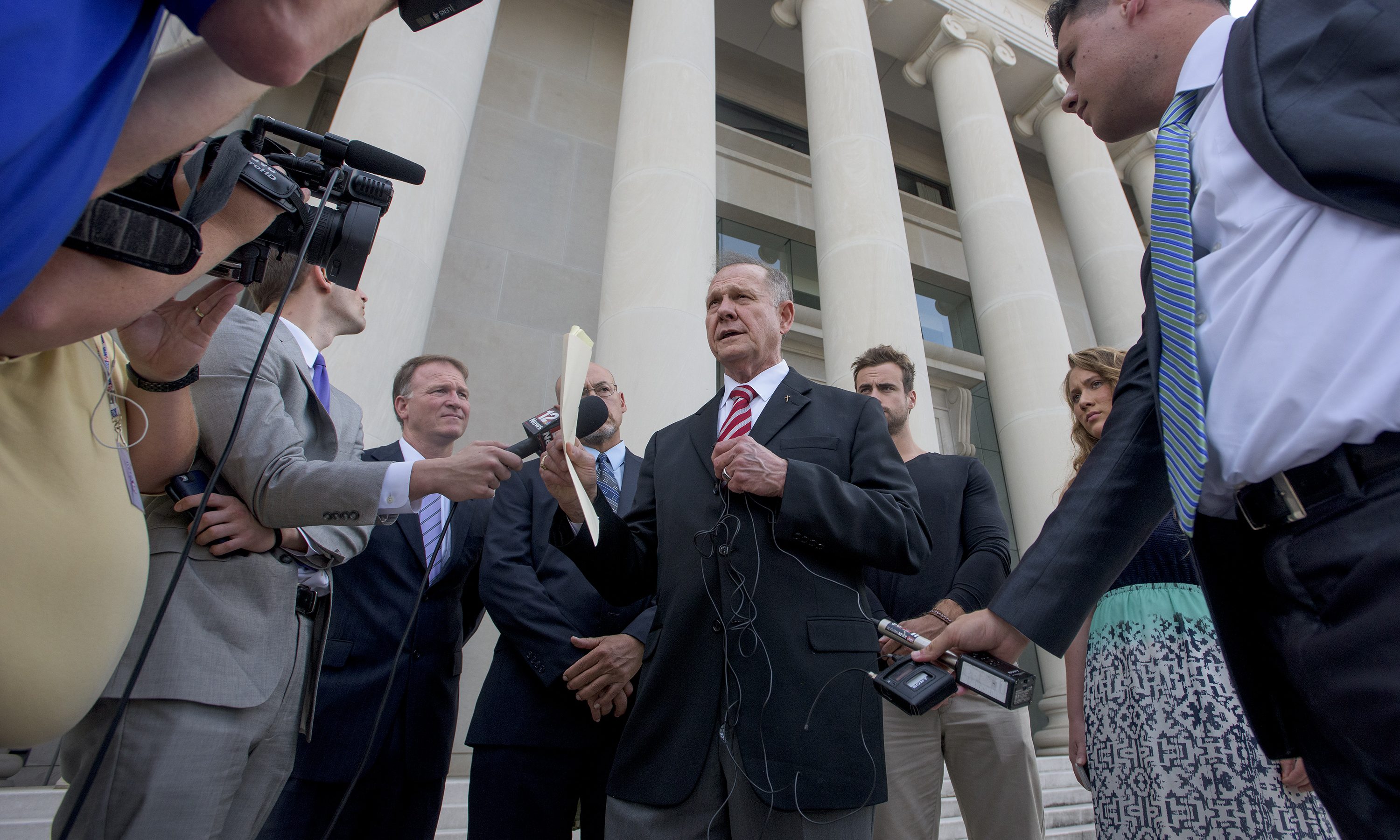 The Roy Moore Holy Rolling Carnival and All-Star Grifter Circus popped the tent on a brand new show Monday.
At the Etowah County Courthouse, Moore and his new legal team — led not by the Moores' "Jew attorney," but by a female attorney who for years has billed her law firm in TV ads as "divorce attorneys for men" — held a press conference to announce that Moore had filed a defamation lawsuit against the four women who accused him of sexual impropriety during his campaign for U.S. Senate and some guy.
Actually, let me rephrase.
Moore did not file a lawsuit on Monday.
Roy Moore filed a conspiracy theorist's manifesto dressed up like a lawsuit.
He said as much at his press conference, where he claimed to be the victim of a vast political conspiracy cooked up by the aforementioned Some Guy, who Moore's team simultaneously labeled the mastermind who cost Moore a sure win in the U.S. Senate special election and a multiple felon with numerous drug-related arrests.
Some Guy is Richard Hagedorn in real life, and he, according to Moore's lawsuit, is the lynchpin in this conspiracy against Moore, bringing together — with supporting evidence from Facebook posts — the accusers and the Washington Post reporters necessary to upend Moore's bid to embarrass Alabama on a national stage.
The complaint from Moore has all the highlights you'd expect: vague allegations of lies, a gay marriage ceremony performed by Supreme Court Justice Ruth Bader Ginsburg, anti-Christian beliefs in the form of not believing Roy Moore and noting that one of his accusers was treated by a psychiatrist once when she was 15.
Honestly, it's incredibly difficult to choose a coherent, law-based allegation in this complaint filed by the twice former chief justice of the Alabama Supreme Court. There's no new proof offered that Moore's accusers were lying about their encounters. At best, Moore's filing offers blanket denials without the slightest specifics.
Instead, the complaint seems to be more of a narrative, in which Uncle Roy tells you a story about what REALLY happened (wink, wink) in that U.S. Senate race.
And if this lawsuit is to be believed — and let me be clear: you should absolutely not believe this lawsuit — Hagedorn is a Keyser Soze-like tricky fella with an ax to grind against Moore, who 25 years ago held Hagedorn in contempt for failing to pay child support.
Spoiler alert: There are some plot holes.
For example, even if you buy that Hagedorn developed at that moment 25 years ago a red hot hatred for Moore, here's what else you'd have to believe: that Hagedorn's brother, a former Washington Post food critic, held so much sway in the newsroom of one of the world's most respected news publications that he could convince them to investigate Moore and write a detailed, thoroughly researched story on Leigh Corfman's allegations of molestation by Moore.
And even if you did buy that far-fetched nonsense, so what? You still haven't disproven a word of the accusers' allegations.
One thing is for sure: both the press conference and the lawsuit 100 percent lived up to the standard set by Moore's campaign for Senate. Which is to say they were completely and utterly bonkers.
But it doesn't matter. Because the real audience for what occurred on Monday wasn't the media or sane people. It was Moore's hardcore base of supporters — the portion of America who are still, time and again, suckered by Bible-waving conmen.
They needed a reason to believe, a reason to send in one more check to help Roy Moore stand up for God and fight off this persecution.
Moore admitted as much on Monday, saying that he would be fundraising to defend himself in Corfman's defamation lawsuit and to pay the Attorney for Men for this legal atrocity.
And so, here we are, five months after the special election that Moore lost and still refuses to concede, and we're still playing the same tunes and running the same scams. Some of the faces have changed, the rest stays the same.
And I'm left with just one question: I wonder if Sassy's doing OK?
Opinion | Science is hard for Alabama, Del Marsh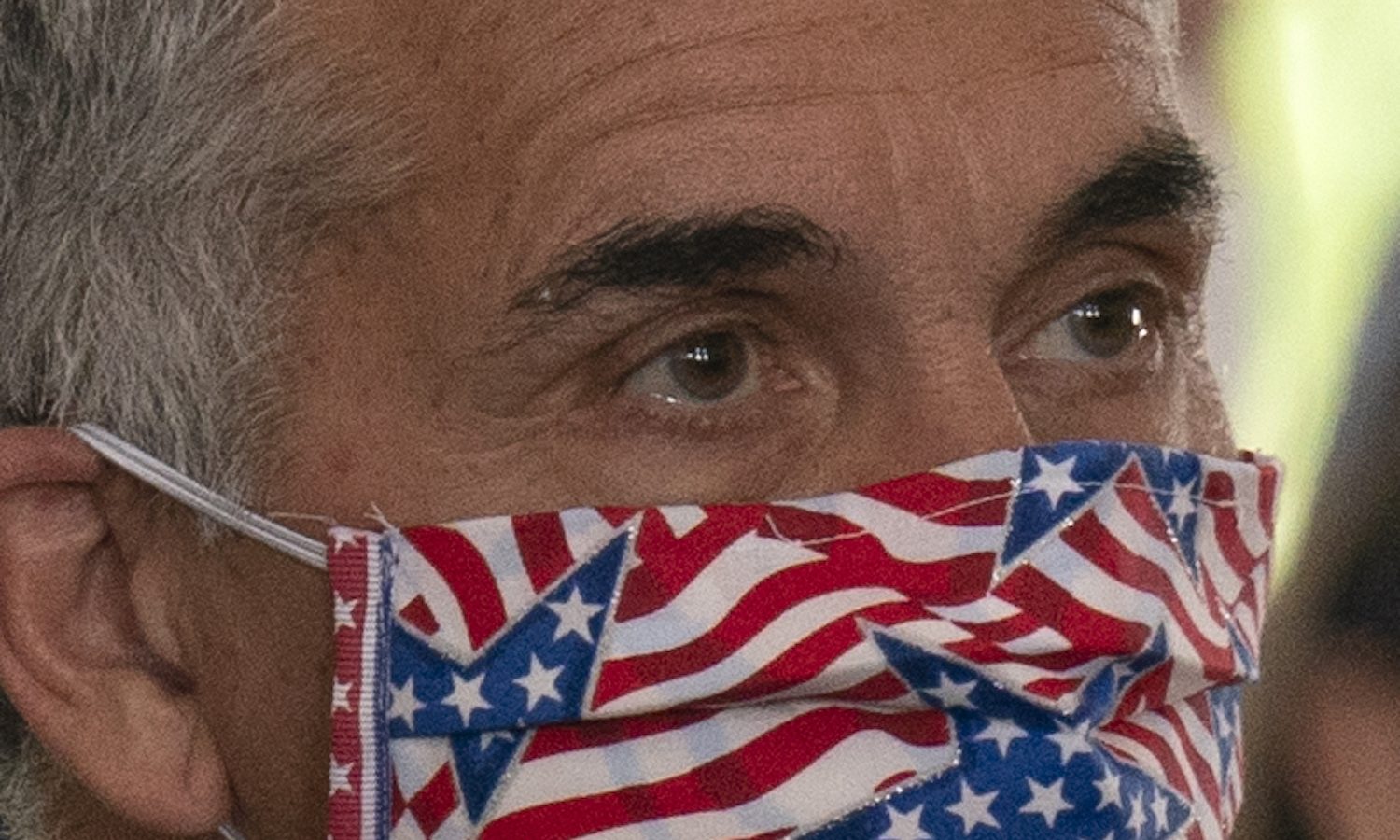 On a good day in Alabama, science is not our friend. On bad days, during complicated, scary times, when science and medicine are confusing and offering hard solutions to tough problems, watching our people try to science is like watching a monkey fold a fitted sheet. 
Such has been the case in the days of COVID-19, when this state's conservative leadership has been bamboozled by the great invisible enemy and left choosing between letting thousands die or potentially losing money and jobs.
Which is really no choice at all for them, even though they did pretend for a week. 
In reality, the actual choice for Alabama leadership has been what it always is: A choice between Option 1, which is supported by facts and science and experts and data, and Option 2: What they really want to believe, regardless of facts and data and science and experts. 
You can probably guess which way the majority has gone. 
We were one of the first states to "reopen" our economy, and despite skyrocketing new cases and hospitalizations, Gov. Kay Ivey has refused to reassert any restrictions that were lifted. Bars are still open. Restaurants are serving dine-in customers. 
It's like life is going on just fine. Even though more than 1,000 people have died in less than five months, and hundreds more are packed into Alabama hospitals with a life-threatening virus. 
Still, our politicians are clinging to the dumbest of beliefs and are actively pushing debunked theories that they really want to believe despite no evidence or even evidence to the contrary. 
Like Senate President Del Marsh, who, when asked Thursday about Alabama's trend of record-breaking numbers of new cases, said he hopes more people get coronavirus because "we start reaching an immunity the more people who have it and get through it." 
Sen. Del Marsh (R) Anniston, says he wants to see more people get #coronavirus to build up an immunity. I asked was he concerned about Alabama's latest surge in cases. pic.twitter.com/omb2GVg9Ev

— Reshad Hudson (@ReshadHudson) July 9, 2020
Now, as much as it warms my heart to hear an Alabama conservative embrace evolution, Marsh is, in fact, wrong. Not only is there little evidence pointing to effective "herd immunity," but there is evidence indicating that the theory is completely incorrect. 
Sweden, which was the most often cited example by your idiot friends on Facebook, tried the whole "herd immunity" approach. It shut down nothing. Let people have their freedoms. Didn't impose any requirements for masks. It was hailed as a beacon of light by the far-right nuts. 
Fox News isn't airing those puff pieces anymore. 
Sweden has turned into the world's cautionary tale. Deaths in the country are 40 percent higher than in the US. They're significantly higher than in neighboring countries. And Sweden's economy has been hammered, just like everyone else's economy. 
So, if you're scoring at home, Sweden got all the economic catastrophe plus an off-the-charts death rate. 
Which is what Del Marsh apparently wants for Alabama. Or maybe he doesn't know what he wants, because shortly after saying that he hopes a bunch more people get coronavirus, he also said that he doesn't want anymore deaths. Which is a lot like saying you want a bunch more ice cream but no more calories. 
Of course, the real problem in all of this is that we've handled this crisis — both here in Alabama and at the federal level — in the same manner in which Republicans handle everything: As if there are only two, stark options and no middle ground. 
Because there's simply no way we could both open businesses and impose meaningful limitations that scientists and doctors tell us help stop the spread of the virus. There's no way we could allow some businesses to open while keeping other shuttered (and providing those closed businesses with needed money for survival). There's no way we could have opened up things like beaches and parks — things that science and doctors tell us are unlikely to contribute to spread — while simultaneously preventing dine-in eating at beach restaurants or shutting down entertainment businesses, like nightclubs and bars. 
No, much easier to tell everyone to get the virus and hope for the best. 
What Marsh said Thursday is dangerous and dumb. He should be condemned for it. And when this is all over, and we're counting our dead, his words, and the failed GOP leadership through this crisis should be remembered. 
Because they contributed to this catastrophe.