Opinion | A message from Kay Ivey: Pander, pander, pander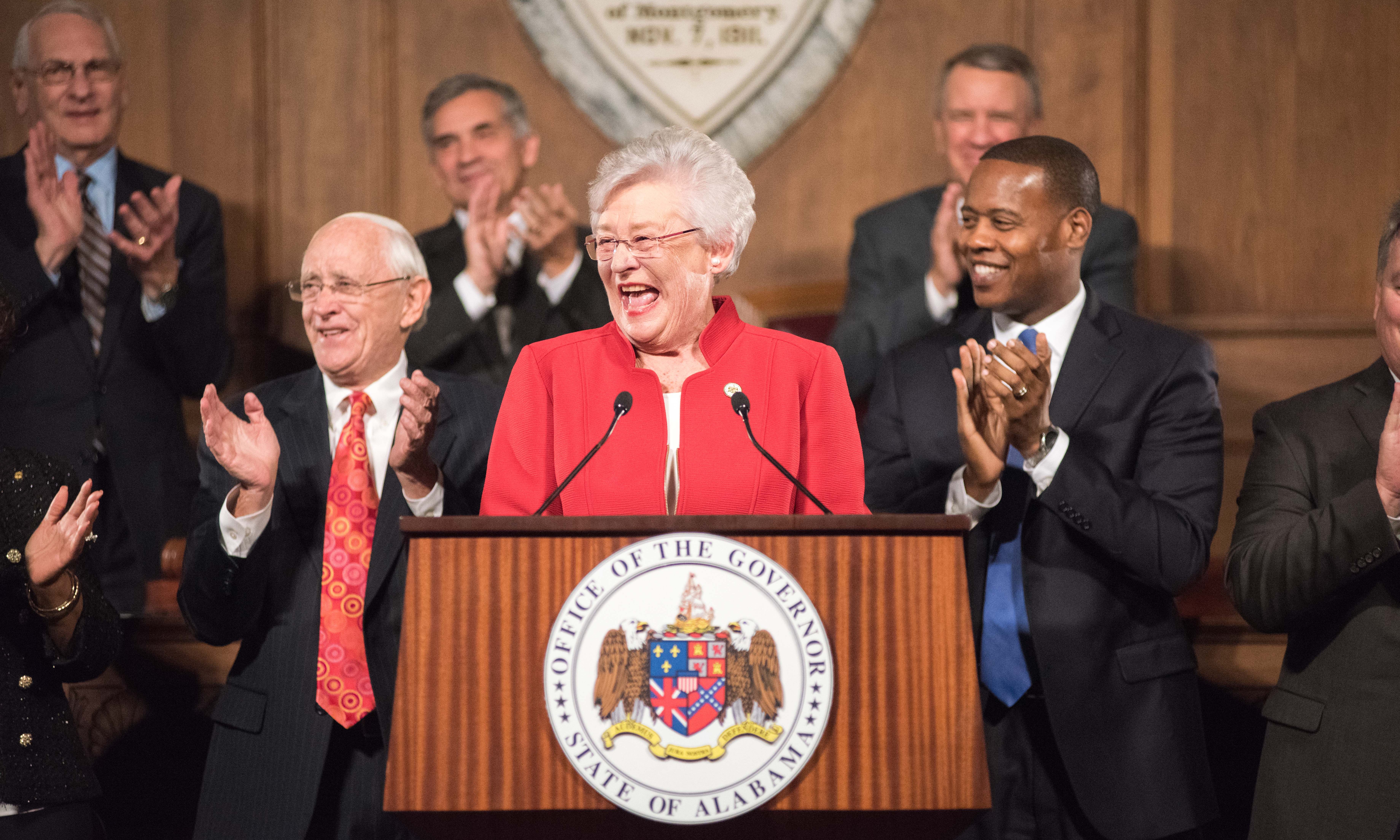 A few minutes before 8 on Wednesday evening, an urgent press release from Gov. Kay Ivey hit my email inbox.
Subject line: "Governor Kay Ivey responds to Mobile teacher being prevented from wearing 'Just Pray' shirt."
Before blacking out from the unstoppable stupidity of such an email, a realization hit me.
It's pander season.
It's that awful time of year in which everyday corrupt, indifferent, generally awful Alabama politicians ratchet it up a notch and try to out-conservative each other because it's an election year and there's campaign funds to raise.
And so, here was Kay Ivey — or more likely, some senior staff member, since it was after 5 — forcing some poor media relations person to work late churning out complete nonsense about an issue — a Mobile teacher being told to take off a "Just Pray" t-shirt — that is, at best, Facebook famous for this current 15 minutes.
Forget, of course, that Alabama has thousands — literally, thousands! — of more important and pressing problems that could be addressed. Forget that the issue of teachers wearing religious clothing has long since been decided by federal courts and the U.S. Supreme Court, and our pandering governor stomping her feet makes not even one iota of difference.
Didn't matter.
Alabama's governor is now officially quoted in a late-night press release referencing George freakin' Washington to justify her phony outrage over a t-shirt.
And no, I'm not making that up.
In her statement, Ivey talked about Washington praying, and said that religious beliefs are "not lost once one enters the schoolhouse door."
What one has to do with the other, I don't know. And what any of this has to do with the t-shirt, I'm not sure.
Because this whole thing really isn't that hard.
Public school is religion-neutral, for the most part. (You know, except for the Christian prayers before and after pretty much every event that occurs at an Alabama public school.)
Students are free to pray at any point in the day. They can wear clothing with Bible verses and religious statements. They can gather for group prayer, so long as the classroom is not disrupted. They can organize groups and advertise those groups. Teachers can participate with the students, as long as they don't lead the groups.
None of which sounds like losing your religious beliefs.
But teachers cannot push a religion or religious act. They cannot wear clothing with religious statements, nor can they decorate their desks with religious items.
Why?
Because Christian parents don't want their Christian children being "indoctrinated" by a Muslim teacher. And right back at the Christians from the Muslim parents. And repeat for all other religions.
So, to stop the endless, stupid bickering, the courts have generally decided that schools will be religion-free zones.
Your kids spend roughly eight hours per day there five days per week. The other 128 hours every week, parents are free to cram all the religion they can into those growing minds.
Kay Ivey knows this, but she's banking on Alabama voters being too stupid or too emotional to understand it. She's betting they'll see it as "Christian persecution." She's betting that they aren't smart enough to understand the absolute genius of our founders, like Washington, resisting their urges to give their favored religions preferred status, and how that decision has kept us mostly safe for 200 years.
Instead of pushing for his Christianity to be the official religion of America, Washington, a champion of religious freedom, wrote a letter to a Jewish congregation assuring them of their rights in this new country: "For happily, the Government of the United States, which gives to bigotry no sanction, to persecution no assistance, requires only that those who live under its protection should demean themselves as good citizens, in giving it on all occasions their effectual support."
Strong words.
But then, he didn't have to out-pander other conservatives to win a governor's race in Alabama.
Print this piece
How Alabama's government stays broken
It doesn't take a rocket scientist — or even any kind of scientist — to figure out that Alabama's state government is broken. 
I mean, really, just look around. At the poverty, the poor education, the racism, the arrested public officials, the in-your-face public corruption and the complete disregard for the welfare of the majority of the people in the state. 
But, while the overall awfulness of Alabama's governance might be easy to diagnose, the underlying causes — the daily examples that explain just how it stays so broken — are far harder to put your finger on. Because they are mostly wrapped up in mundane occurrences that take place within the walls of the State House or the capitol or the Supreme Court chambers or some other government building. 
Things like SB117/HB140. 
Those are the official names for a bill in both the senate and house that will "clarify existing law relating to disposal of solid waste." 
Sounds innocent enough, right? Just gonna get this minor landfill situation straightened out. No biggie. 
Ah, but see, SB117/HB140 is the prime example of Alabama's broken government. 
It is the prime example of how your lawmakers aren't working for you. It is the perfect encapsulation of everything that is wrong in this state.
Basically this landfill bill would make it OK to cover existing landfills with artificial covers, instead of the six inches of earth that is currently required. 
Now, this still doesn't sound like a big deal. And it won't be one if you don't mind third-world diseases, the smell of rotting meat, frequent fires, coyotes and feral dogs roaming your streets and rats. Lots and lots of rats. 
Applying six inches of earth each day to cover the garbage dumped at landfills prevents those things, the EPA figured out long ago. And it set those parameters in the rules it recommends to states. Alabama agreed, and the state adopted that rule, along with others, into law several years ago. 
Regular landfills have to cover with six inches of earth every day. Construction landfills have to do so once per week. 
This is a simple law. 
But if you operate a landfill, it's an expensive one. And a time consuming one. 
Ah, but luckily, those laws are environmental laws. And in Alabama, we figured out long ago that environmental laws can be cumbersome and expensive, so we set up a bit of a … let's just call it a workaround. 
The Alabama Department of Environmental Management. 
You'll find we do this a lot — set up an entity that lies somewhere between the laws and the enforcement of the laws whose only job it seems is to give free passes to the bigwigs and corporations who violate those specific laws. 
We do it with the Ethics Commission. With the Public Service Commission. And with ADEM. 
It's genius, really. The laws are still on the books and no one has to overtly roll back protections that would lead to rotting garbage attracting disease carrying rodents by the thousands. 
Instead, just get ADEM to quietly stop enforcing the law. 
Which is exactly what ADEM has done in this case. It was allowing landfills all over the state to cover garbage with tarps and various other materials. The tarps and other covers inevitably got holes in them, and a Noah's Ark-level of animals descended upon the landfills to dine and spread the garbage all over adjoining neighborhoods. 
The neighbors, tired of the smell and the disease and the roaming animals, sued, citing in their legal filing horror stories of living near these maggot farms that smelled like death. 
They sued ADEM for failing to do its job, and for essentially rewriting the law to allow businesses to do whatever they wanted to do. 
And lo and behold, the Alabama Court of Civil Appeals agreed with them. In a lengthy, detailed decision entered last October, the five-judge panel noted that ADEM didn't have the authority to rewrite the law. 
The case is now before the Alabama Supreme Court, but everyone knows that the Appeals Court judges are correct. 
But why bother with trying to win over judges when you can instead just change the laws through the crooks in the Alabama Legislature? 
And so, here we are, with a handful of lawmakers in both chambers of the legislature willing to attach their names to legislation that will allow businesses to ignore the standards imposed by the EPA, ignore the standards that are commonplace in most other states and change Alabama law to benefit a handful of landfill owners at the expense of thousands of Alabama citizens. 
And this, kids, is how Alabama's government stays broken.
Print this piece