Roy Moore: No reluctance to run for office — including governor — if opportunity arises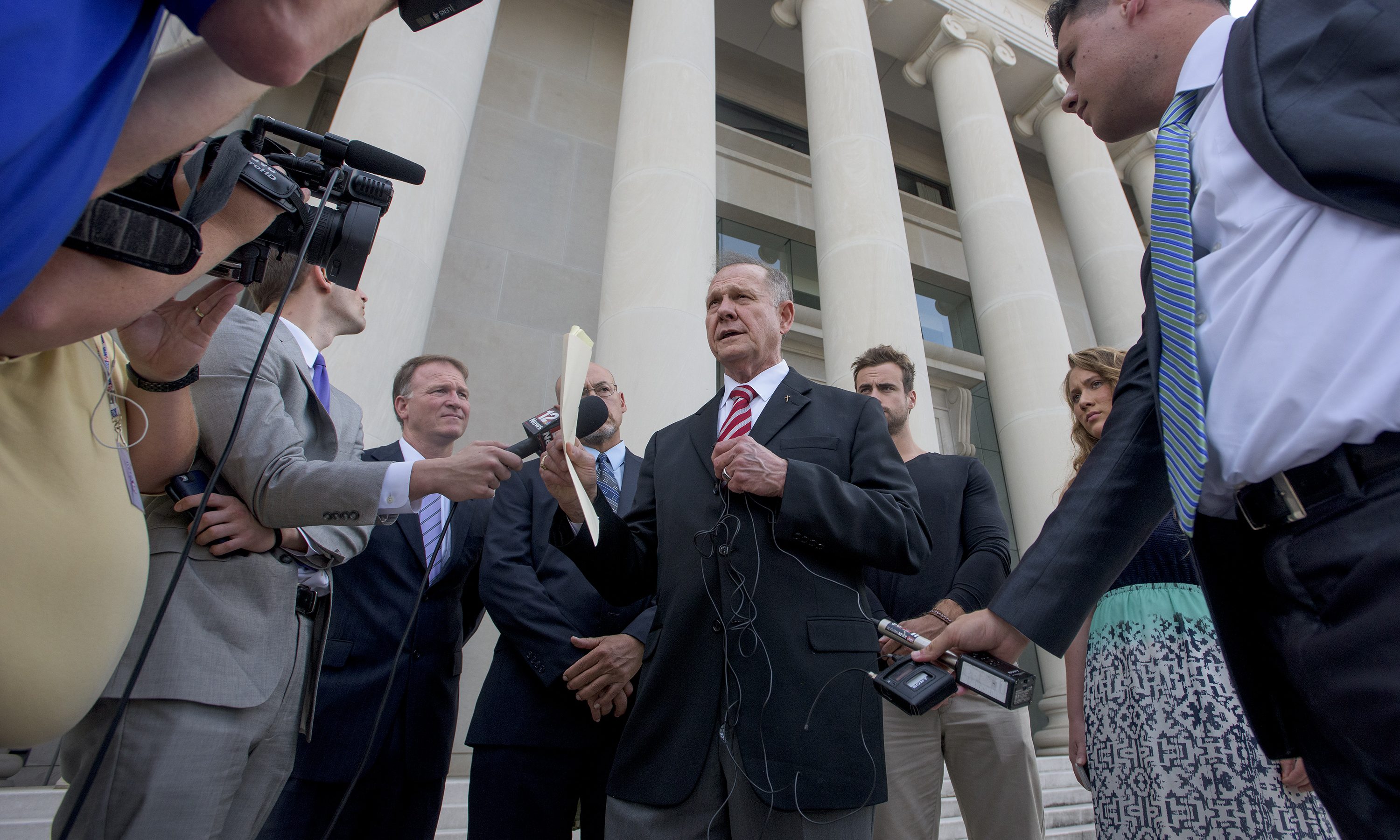 Former Chief Justice of the Alabama Supreme Court Roy Moore opened the door on the possibility that he may again return to the political arena in the future on Thursday, contradicting an earlier report that Moore was done running for political office.
Moore made a point of clarifying his position in a written statement released Thursday.
"At a press conference on April 30, 2018 announcing the filing of a defamation lawsuit against my accusers, a reporter asked me if I had plans to run for public office again," Moore wrote. "I have no plans at this time for running for anything."
That made headlines as it appeared that Moore was acknowledging that his career was over. Not so, Moore says.
"The Associated Press then sent out a story, picked up by Time Magazine, that misquoted me as saying I had 'no plans to run for any office again, including that of Alabama governor,'" Moore said. "To clarify, as I said in my response, I have no plans at this time to run for office. Nevertheless, plans change. If the opportunity arises to make a difference, I will have no reluctance to again run for political office, including that of Governor."
Moore has made headlines in recent days by suing the women who came forward to accuse him of acting inappropriately with them in the 1970s Gadsden dating scene. If Moore is truly pondering running for office again, clearing his name could be seen as the first step in the process in rehabilitating his name.
The Washington Post won a Pulitzer Prize for their reporting about Moore.
In their reporting, The Washington Post said that Moore dated several young women in their teens. Most disturbing was a claim by Leigh Corfman that Moore undressed her down to her underwear and the two engaged in inappropriate touching through their underwear areas in 1976 when Corfman was just 15.
Moore maintains that Corfman and the other accusers from 40 years ago are liars, and he is taking them to court. Moore was sued by Corfman, leading to Moore countersuing. On Monday, Moore expanded that to include more of his accusers.
It is too late for Moore to run as a major party candidate in the 2018 elections and age limits keep Moore from running for a judgeship again, but there is still 2020. Moore narrowly lost the U.S. Senate special election to long shot candidate Doug Jones. That was for the remainder of Jeff Sessions' term; not for a full six years.
Could Moore be considering running for senator against Jones? Congressman Bradley Byrne, R-Montrose, and State Senator Del Marsh, R-Anniston, are considered the early GOP favorites to be the GOP nominee to face Jones in 2020.
Moore has many enemies in the business community of the state, but he has name recognition so does not need fund raising parity.
The Legislature won't be up for reelection until 2022. The only statewide elections in 2020 will be the president of the United States and the Public Service Commission presidency. Moore would be a prohibitive longshot for president, but president of the Public Service Commission could be a wide open race in two years.
Current Public Service Commission President Twinkle Cavanaugh is running for lieutenant governor.
Print this piece
Tuberville: Arson, rioting, vandalism, violence are not valid forms of protest
Monday, U.S. Senate candidate former Auburn head football Coach Tommy Tuberville (R) said that Arson, looting, rioting, vandalism, and violence are not valid forms of protest-they are felonies."
Tuberville made the comments after planned protests over the death of George Floyd during an arrest by the Minneapolis Police Department rapidly descended into violence, destruction, and mayhem over the weekend across the countries, particularly in Birmingham where much of the downtown was ransacked by an angry mob.
Tuberville said that these crimes, "Must be punished to the fullest extent of the law."
"Vandalizing the Lincoln Memorial does not honor the life of George Floyd," Tuberville said. "Looting stores and stealing televisions will not stop another death like George Floyd's from occurring."
Tuberville also addressed the attacks on members of the press Sunday night in Birmingham.
"Beating journalists and robbing them of their wallets and telephones is not a social statement," Tuberville stated. "It is simply felons being felons."
In Birmingham, Members of the media were attacked during the protest. ABC 33/40 TV News reporter Stephen Quinn was sucker punched by a masked protestor and then hit in the head with a cup of ice by a second rioter, while the first assailant robbed him of his wallet. The Alabama Medica Group's Madison Underwood was hit in the face by masked assailants, then beaten to the ground where he continued to be beaten until his colleagues were able to drag him away.
"That was terrible. I'm glad my colleagues are okay," Underwood said. "I'm okay. My nose is swollen and bleeding. My phone is gone. I'm thankful to the folks who dragged me out of there, who checked on me, who said nice things. Not sure why that went bad so quickly."
Reporters Anna Beahm, Ivana Hrynkiw, and photographer Dez Wilson were also terrorized,
"Unless anarchy is met with the rule of law, the foundation of our nation will begin to crumble, so I support President Trump's decision to declare Antifa a terrorist organization and his calls to use the National Guard to stop further riots," Tuberville said.
Over a dozen buildings in Birmingham were also attacked including: the Harbert Center, Alabama Power museum, federal courthouse, and the Confederate Veterans Monument.
"Condemning every police officer across the nation for the actions of a few makes no sense," Tuberville continued. "The police officers who have had bricks and rocks thrown at them over in recent days wear the same uniform and badge as the officers who bravely ran into the World Trade Center on 9/11 to save lives. Without the man and women in blue, criminals would routinely rule our streets, just as they have in major cities across the U.S. for the past few nights."
"I don't think anyone can watch the 10-minute video and not feel outrage, anger, and sadness about what happened to George Floyd," Tuberville said. "From all appearances, he had the life slowly squeezed out of him, and it could have been avoided."
"I feel strongly that if someone is guilty of committing murder, they should be put on trial, convicted, and imprisoned, and if someone is guilty of looting a store, setting fire to a business, or vandalizing property, they should be convicted, tried, and locked up, too," Tuberville concluded.
Tuberville is running for the Senate in the July 14 Republican Party primary runoff against former Senator Jeff Sessions. The winner will go on to face incumbent Sen. Doug Jones (D-Alabama) in the November 3 General Election.
Print this piece