Patricia Todd, state's first openly gay lawmaker, insinuates Gov. Ivey may be gay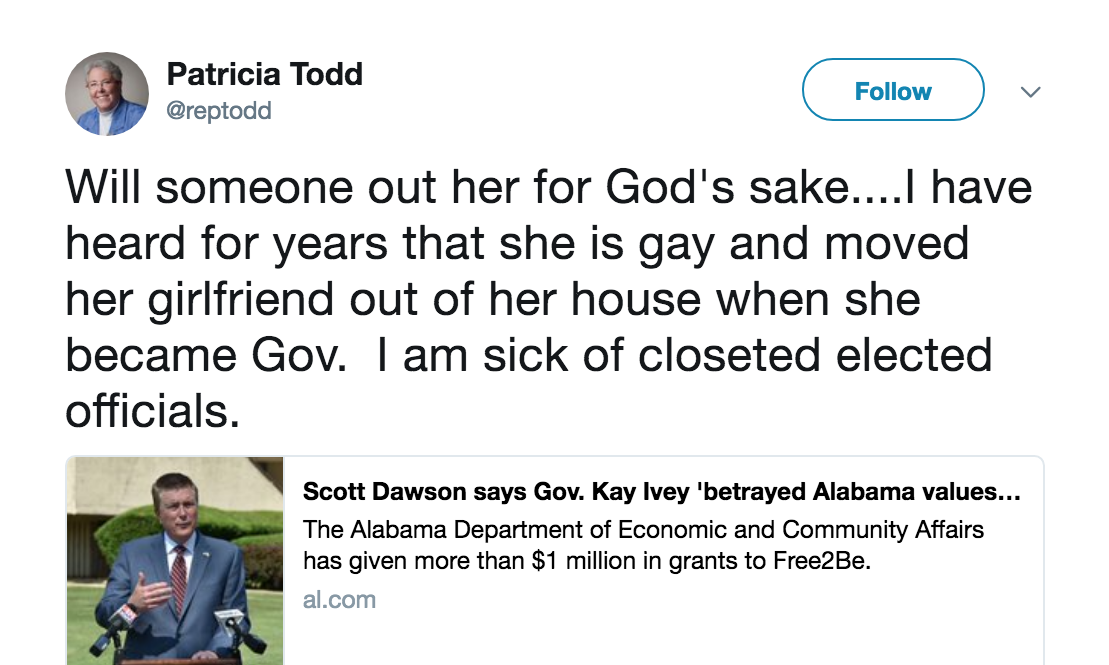 Alabama's first openly gay lawmaker — Rep. Patricia Todd, a Democrat — suggested that Republican Gov. Kay Ivey is gay in a tweet posted to her account Tuesday evening. Ivey's campaign responded immediately, calling Todd's comments a "disgusting lie."
In the tweet, Todd wrote, "Will someone out her for God's sake….I have heard for years that she is gay and moved her girlfriend out of her house when she became Gov. I am sick of closeted elected officials."
Will someone out her for God's sake….I have heard for years that she is gay and moved her girlfriend out of her house when she became Gov. I am sick of closeted elected officials. https://t.co/0WP5J734sd

— Patricia Todd (@reptodd) May 16, 2018
The outgoing Birmingham state representative — who was elected in 2015 — posted the same comment on her Facebook Tuesday night, just hours after GOP gubernatorial candidate Scott Dawson, a Birmingham evangelist, accused Ivey and her office of approving more than $800,000 in grants to a Huntsville-based, pro-LGTBQ organization.
Todd's tweet linked to an AL.com about Dawson's accusations.
Ivey, who is 73 and is seeking her first full term as Alabama governor, denied the accusation through a campaign spokesperson Tuesday night.
"This is a disgusting lie being pushed by a paid liberal political hack," said Ivey campaign spokesperson Debbee Hancock. "There is absolutely no truth to it."
Todd offered no proof to support her assertion.
Ivey assumed the governorship in April 2017 after former Alabama Gov. Robert Bentley resigned amid a sex scandal involved a top aide in his office. Ivey was married twice, though both marriages ended in divorce. She never remarried after her second divorce.
Todd announced earlier this year that she would not seek another term as a member of Alabama's House of Representatives. Instead, Todd was named the executive director of One Orlando Alliance, a group formed in response to the 2016 Orlando Pulse nightclub shooting that 49 people dead and 53 others wounded.
Pulse was a well-known LGBT club in the Florida city when the shooter, Omar Mateen, entered the club and began shooting. The incident was the most deadly mass shooting in U.S. history until it was surpassed by a 2017 shooting in Las Vegas. The non-profit organization was founded to advocate for the rights of LGBTQ individuals in the wake of the shooting, according to the group's website.
Todd's social media postings Tuesday night came after Dawson said Ivey's office gave a grant through the Alabama Department of Economic and Community Affairs to Free2Be, an LGBTQ-aligned group, for anti-bullying work.
In what would later become a heated exchange between the two candidates, Dawson accused Ivey of giving taxpayer money to a group that he said doesn't share the values of most Alabamians, citing a poll that stated most Alabamians oppose same-sex marriage.
Free2Be, which was based in Huntsville, reportedly received more than $1.7 million in money indirectly from the federal government that was administered and awarded by Bentley and Ivey's administrations. The group's website states that it seeks to end violence against LGBT individuals while advocating for human and civil rights of sexual and gender minorities.
"I am calling on the Attorney General to start a full-scale investigation into this," Dawson said. "I am asking you (the press) and our state legislators to investigate. I am calling for a reformation in how these funds are disbursed."
Ivey's office on Tuesday pushed back against Dawson's claims, stating that the ADECA grant awarded to Free2Be was mandated by the federal government. Free2Be posted earlier this week on its social media that the organization would be shutting down and that all chapters would be suspending operations immediately.
The Governor's Office said that the state began preparing a compliance audit for the group's Huntsville office in March when it discovered an outstanding IRS debt.
"The grant awarded to Free2Be is overseen by ADECA using funds given by and regulated by the federal government from criminal fines and forfeitures, not taxpayer dollars," a spokesman for the governor's office said.
"The views espoused by Free2Be, nor the extension of a grant to the program, do not represent Governor Ivey's personal views and simply represent a requirement and demand from the federal government," the spokesperson said.
Todd has threatened to out "closeted" state Republican lawmakers in the past. In 2015 — when tensions were high over impending federal court rulings regarding same-sex marriage bans — Todd said she would out a list of GOP lawmakers who are gay.
She never followed through with that threat.
Ivey is facing off against Dawson, Huntsville Mayor Tommy Battle and State Sen. Bill Hightower in the Republican primary race. The primary election is scheduled for June 5.
Print this piece
Tuberville: Arson, rioting, vandalism, violence are not valid forms of protest
Monday, U.S. Senate candidate former Auburn head football Coach Tommy Tuberville (R) said that Arson, looting, rioting, vandalism, and violence are not valid forms of protest-they are felonies."
Tuberville made the comments after planned protests over the death of George Floyd during an arrest by the Minneapolis Police Department rapidly descended into violence, destruction, and mayhem over the weekend across the countries, particularly in Birmingham where much of the downtown was ransacked by an angry mob.
Tuberville said that these crimes, "Must be punished to the fullest extent of the law."
"Vandalizing the Lincoln Memorial does not honor the life of George Floyd," Tuberville said. "Looting stores and stealing televisions will not stop another death like George Floyd's from occurring."
Tuberville also addressed the attacks on members of the press Sunday night in Birmingham.
"Beating journalists and robbing them of their wallets and telephones is not a social statement," Tuberville stated. "It is simply felons being felons."
In Birmingham, Members of the media were attacked during the protest. ABC 33/40 TV News reporter Stephen Quinn was sucker punched by a masked protestor and then hit in the head with a cup of ice by a second rioter, while the first assailant robbed him of his wallet. The Alabama Medica Group's Madison Underwood was hit in the face by masked assailants, then beaten to the ground where he continued to be beaten until his colleagues were able to drag him away.
"That was terrible. I'm glad my colleagues are okay," Underwood said. "I'm okay. My nose is swollen and bleeding. My phone is gone. I'm thankful to the folks who dragged me out of there, who checked on me, who said nice things. Not sure why that went bad so quickly."
Reporters Anna Beahm, Ivana Hrynkiw, and photographer Dez Wilson were also terrorized,
"Unless anarchy is met with the rule of law, the foundation of our nation will begin to crumble, so I support President Trump's decision to declare Antifa a terrorist organization and his calls to use the National Guard to stop further riots," Tuberville said.
Over a dozen buildings in Birmingham were also attacked including: the Harbert Center, Alabama Power museum, federal courthouse, and the Confederate Veterans Monument.
"Condemning every police officer across the nation for the actions of a few makes no sense," Tuberville continued. "The police officers who have had bricks and rocks thrown at them over in recent days wear the same uniform and badge as the officers who bravely ran into the World Trade Center on 9/11 to save lives. Without the man and women in blue, criminals would routinely rule our streets, just as they have in major cities across the U.S. for the past few nights."
"I don't think anyone can watch the 10-minute video and not feel outrage, anger, and sadness about what happened to George Floyd," Tuberville said. "From all appearances, he had the life slowly squeezed out of him, and it could have been avoided."
"I feel strongly that if someone is guilty of committing murder, they should be put on trial, convicted, and imprisoned, and if someone is guilty of looting a store, setting fire to a business, or vandalizing property, they should be convicted, tried, and locked up, too," Tuberville concluded.
Tuberville is running for the Senate in the July 14 Republican Party primary runoff against former Senator Jeff Sessions. The winner will go on to face incumbent Sen. Doug Jones (D-Alabama) in the November 3 General Election.
Print this piece