Patricia Todd, state's first openly gay lawmaker, insinuates Gov. Ivey may be gay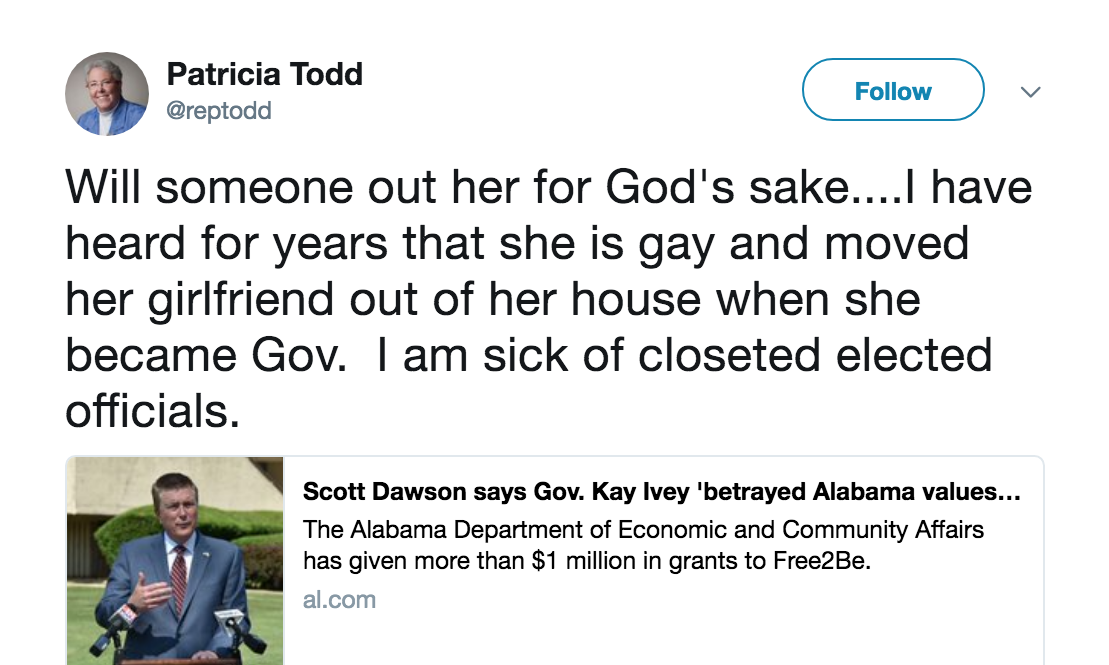 Alabama's first openly gay lawmaker — Rep. Patricia Todd, a Democrat — suggested that Republican Gov. Kay Ivey is gay in a tweet posted to her account Tuesday evening. Ivey's campaign responded immediately, calling Todd's comments a "disgusting lie."
In the tweet, Todd wrote, "Will someone out her for God's sake….I have heard for years that she is gay and moved her girlfriend out of her house when she became Gov. I am sick of closeted elected officials."
Will someone out her for God's sake….I have heard for years that she is gay and moved her girlfriend out of her house when she became Gov. I am sick of closeted elected officials. https://t.co/0WP5J734sd

— Patricia Todd (@reptodd) May 16, 2018
The outgoing Birmingham state representative — who was elected in 2015 — posted the same comment on her Facebook Tuesday night, just hours after GOP gubernatorial candidate Scott Dawson, a Birmingham evangelist, accused Ivey and her office of approving more than $800,000 in grants to a Huntsville-based, pro-LGTBQ organization.
Todd's tweet linked to an AL.com about Dawson's accusations.
Ivey, who is 73 and is seeking her first full term as Alabama governor, denied the accusation through a campaign spokesperson Tuesday night.
"This is a disgusting lie being pushed by a paid liberal political hack," said Ivey campaign spokesperson Debbee Hancock. "There is absolutely no truth to it."
Todd offered no proof to support her assertion.
Ivey assumed the governorship in April 2017 after former Alabama Gov. Robert Bentley resigned amid a sex scandal involved a top aide in his office. Ivey was married twice, though both marriages ended in divorce. She never remarried after her second divorce.
Todd announced earlier this year that she would not seek another term as a member of Alabama's House of Representatives. Instead, Todd was named the executive director of One Orlando Alliance, a group formed in response to the 2016 Orlando Pulse nightclub shooting that 49 people dead and 53 others wounded.
Pulse was a well-known LGBT club in the Florida city when the shooter, Omar Mateen, entered the club and began shooting. The incident was the most deadly mass shooting in U.S. history until it was surpassed by a 2017 shooting in Las Vegas. The non-profit organization was founded to advocate for the rights of LGBTQ individuals in the wake of the shooting, according to the group's website.
Todd's social media postings Tuesday night came after Dawson said Ivey's office gave a grant through the Alabama Department of Economic and Community Affairs to Free2Be, an LGBTQ-aligned group, for anti-bullying work.
In what would later become a heated exchange between the two candidates, Dawson accused Ivey of giving taxpayer money to a group that he said doesn't share the values of most Alabamians, citing a poll that stated most Alabamians oppose same-sex marriage.
Free2Be, which was based in Huntsville, reportedly received more than $1.7 million in money indirectly from the federal government that was administered and awarded by Bentley and Ivey's administrations. The group's website states that it seeks to end violence against LGBT individuals while advocating for human and civil rights of sexual and gender minorities.
"I am calling on the Attorney General to start a full-scale investigation into this," Dawson said. "I am asking you (the press) and our state legislators to investigate. I am calling for a reformation in how these funds are disbursed."
Ivey's office on Tuesday pushed back against Dawson's claims, stating that the ADECA grant awarded to Free2Be was mandated by the federal government. Free2Be posted earlier this week on its social media that the organization would be shutting down and that all chapters would be suspending operations immediately.
The Governor's Office said that the state began preparing a compliance audit for the group's Huntsville office in March when it discovered an outstanding IRS debt.
"The grant awarded to Free2Be is overseen by ADECA using funds given by and regulated by the federal government from criminal fines and forfeitures, not taxpayer dollars," a spokesman for the governor's office said.
"The views espoused by Free2Be, nor the extension of a grant to the program, do not represent Governor Ivey's personal views and simply represent a requirement and demand from the federal government," the spokesperson said.
Todd has threatened to out "closeted" state Republican lawmakers in the past. In 2015 — when tensions were high over impending federal court rulings regarding same-sex marriage bans — Todd said she would out a list of GOP lawmakers who are gay.
She never followed through with that threat.
Ivey is facing off against Dawson, Huntsville Mayor Tommy Battle and State Sen. Bill Hightower in the Republican primary race. The primary election is scheduled for June 5.
Coalition of attorneys general file opposition to Alabama attempt to ban curbside voting
The AGs argue that Alabama's suggestion to the courts that curbside voting invites fraud is "unfounded."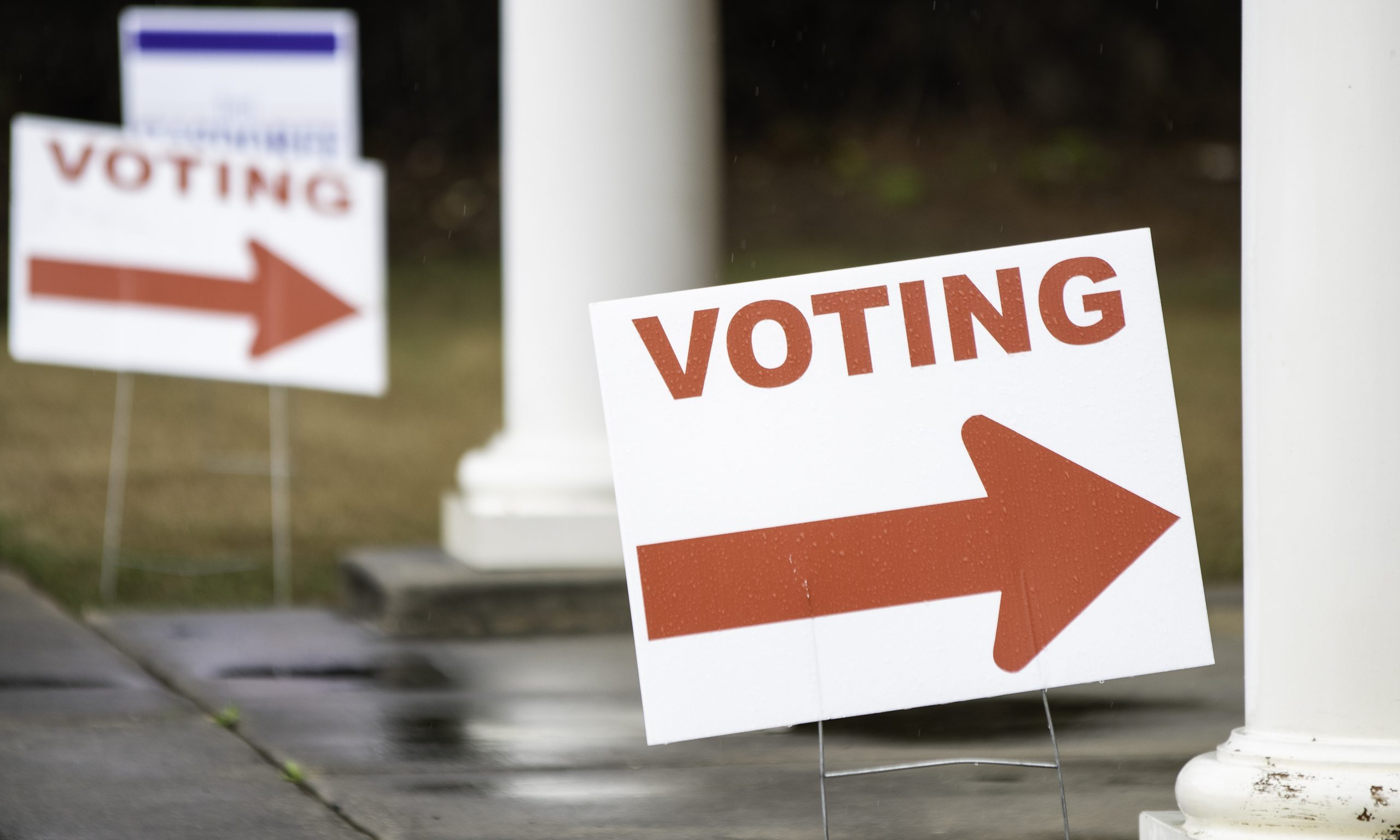 A coalition of 17 state attorneys general have filed an opposition to Alabama's attempt to get the U.S. Supreme Court to ban curbside voting. 
In a friend-of-the-court brief, led by District of Columbia Attorney General Karl Racine, the attorneys general argue to that curbside voting is safer for those at greatest risk from COVID-19, and that a ban on the practice would disproportionately impact the elderly, the disabled and Black Alabamians.
They also argue that Alabama's suggestion to the courts that curbside voting invites fraud is "unfounded." 
"The Presidential Advisory Commission on Election Integrity, established by President Trump following the 2016 election, 'uncovered no evidence to support claims of widespread voter fraud,'" the brief states, adding that there is no evidence that curbside voting in the many states that allow it invites fraud. 
"The practice is longstanding and widespread—as noted, more than half of states have historically offered curbside voting in some form," the brief continues. 
Alabama Attorney General Steve Marshall on Oct. 13 said the state will appeal to the U.S. Supreme Court a federal appeals court ruling allowing curbside voting in the Nov. 3 election. 
A panel of federal appeals court judges on Oct. 13 reversed parts of U.S. District Judge Abdul Kallon's Sept. 30 ordered ruling regarding absentee voting in the upcoming Nov. 3 elections, but the judges let the previous ruling allowing curbside voting to stand. 
The lawsuit, filed by the NAACP Legal Defense and Educational Fund, Southern Poverty Law Center, American Civil Liberties Union, ACLU of Alabama and Alabama Disabilities Advocacy Program, was brought on behalf of several Alabamians with underlying medical conditions. 
"Curbside voting is a longstanding, secure voting option that local jurisdictions have made available to protect the health of vulnerable voters, including elderly, disabled, and voters with underlying health issues," Racine said in a statement. "Curbside voting minimizes the risk to persons who are particularly susceptible to COVID-19, and local jurisdictions should be able to offer this common-sense accommodation to voters. State Attorneys General will keep fighting to ensure that voters can safely make their voices heard at the ballot box this November."
The brief filed by the coalition of state attorneys general comes as the number of COVID-19 hospitalizations across Alabama has been ticking upward.
Racine is joined in the brief by attorneys general from California, Connecticut, Delaware, Hawaii, Illinois, Maryland, Michigan, Minnesota, Nevada, New Mexico, New York, Oregon, Rhode Island, Vermont, Virginia and Washington.