A wild sheriff's race in Etowah County
The Etowah County Sheriff's race seems fun.
For the past several weeks, current Etowah County Sheriff Todd Entrekin has dealt with national news stories over his spending of money allocated for jail food.
Now his opponent in that race, Jonathan Horton, is facing his own bad news.
On Tuesday, a website — www.exposethesnake.com — went live, and it contains particularly damning information on Horton, the current police chief in Rainbow City and a former Etowah County deputy.
Particularly troublesome are documents, including an arrest report, newspaper stories and a sentencing order, from Horton's 2006 DUI crash in his county vehicle. A video appearing on the website states that Horton was forced to resign after pleading guilty.
Court records found on Alacourt and newspaper stories from that time show that Horton entered a plea deal and agreed to plead guilty to a lesser charge of 3rd-degree assault instead of DUI. He was sentenced to 12 months in prison and ordered to pay court costs.
A Gadsden Times story from July 3, 2006, states that Horton, who was working on a district attorney's office task force, was in his county-issued Chevy Tahoe, when he collided with the late-model Ford Mustang of Scarlett Bellamy. Bellamy's car flipped and landed in a field, where she had to be cut free by firemen. She would require several surgeries on her legs over the next few years.
Then-Etowah County Sheriff James Hayes told reporters that the crash was "alcohol related," and he said that "Jonathan suffered a lack of judgment, made a poor decision and he'll have to face the consequences."
Horton has apparently been questioned by voters about that incident, and a second video on the exposethesnake website shows a clip of Horton explaining that he hasn't had an alcoholic drink in 12 years now.
That video ends, of course, with recent footage of Horton downing shots in a bar. (While it's impossible to determine how recent the footage of Horton at the bar might be, in the video he tells the person recording it that he doesn't want "any negative campaign stuff.")
The website's registration is anonymous and originates through GoDaddy.com. A link on the page directs people to a Facebook page set up to "provide the voters of Etowah County with verified facts about people seeking office in our community."
Trump Truck and boat parades this weekend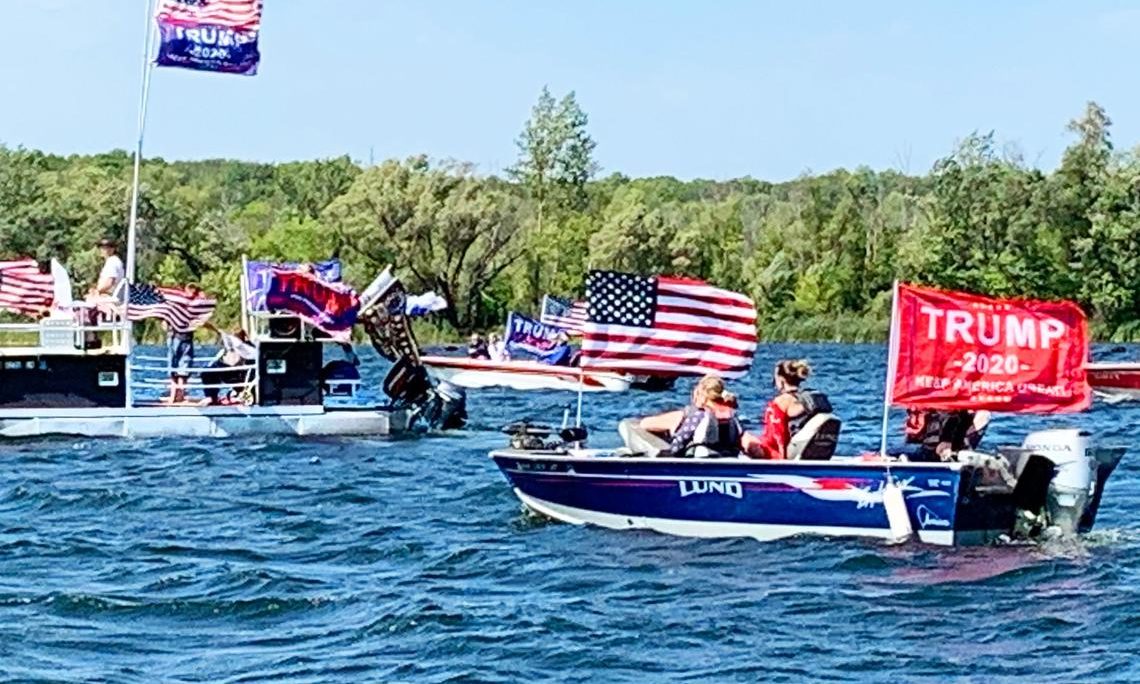 As Election Day draws near, Alabama Republicans are excited about promoting the re-election of Donald J. Trump as President and the election of Tommy Tuberville for U.S. Senate. This weekend two pro-President Trump events are happening in the state. There will be a truck parade from Ashland to Phenix City on Saturday sponsored by the Clay County Republican Party, while there will also be a boat parade on Wilson Lake in the Shoals sponsored by the Colbert County Republican Party on Sunday.
The pickup trucks will assemble at the Ashland Industrial Park in Clay County, 8240 Hwy 9, Ashland. There is a pre-departure rally at 10:00 a.m. central standard time. The trucks will depart at 11:00 a.m. and then proceed on a parade route that will take them into the bitterly contested swing state of Georgia. The Trump Pickup Parade will wind through east Alabama and West Georgia traveling through LaGrange and Columbus before concluding near the Alabama/Georgia line in Phenix City, 332 Woodland Drive, Phenix City at approximately 2:00 p.m. central time. Speakers will begin at 3:00. Trump flags will be on sale at the event.
The Phenix Motorsports Park will be hosting what sponsor hope could possibly the world's largest Pickup Tuck parade in U.S. history that is routing over 50 mile through Georgia in effort to "pickup" President Trump's numbers in GA.
A number dignitaries have been invited to address the Phenix City rally, including Coach Tuberville. Former State Sen. Shadrack McGill, Trump Victory Finance Committee member former State Rep. Perry O. Hooper Jr., and Paul Wellborn, the President and CEO of the largest Family owned Kitchen Cabinet manufacture in the USA are among the featured speakers who have committed to speak at the event.
Entertainment will be provided by: Charity Bowden, an up and coming country music singer who was the runner up on "The Voice". Charity will sing 'I am Proud to be an American' as well as songs from her Voice performances. The McGill Girls will also perform. The three beautiful and talented sisters will be singing patriotic songs in three part harmony. Geoff Carlisle, a professional DJ will be keeping the crowd pumped with music and entertainment.
Following the speakers and the entertainment there will Trump truck-vs- Joe Bidden truck races down the drag strip for the finale.
The Northwest Alabama boat parade will be on Sunday. The boats will gather at 2:00 p.m. near Turtle Point and then the flotilla will parade around the open waters of Wilson Lake til 3_00 p.m.. There will be a contest for best decorated Trump boats.
Trump supporters have held a number of large boat parades across the state to show their support for the re-election of Pres. Trump.
Boat parade sponsors say that this parade will be: pro-American, pro-law enforcement, pro-military.