Democratic gubernatorial candidates answer Conservation Alabama's questions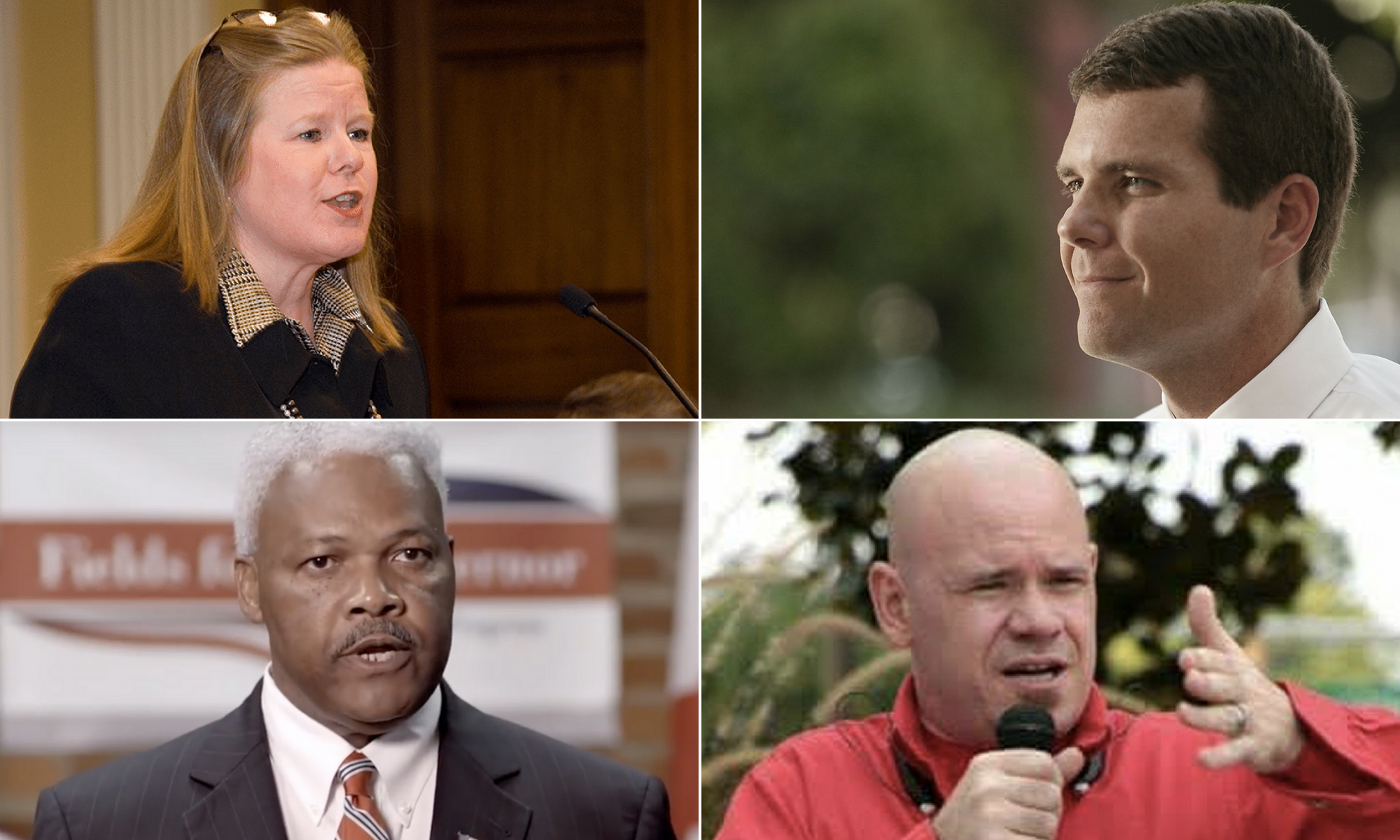 Democratic gubernatorial candidates answered questions for environmentalist group Conservation Alabama.
"This year we go to the polls to choose those leaders who represent our values as Alabamians, from the Governor's office to our state legislators," Executive Director Tammy Herrington said. "Our mission here at Conservation Alabama is to ensure those leaders care about our water, land and air. To help you as voters learn their conservation priorities, we sent questionnaires to each of the candidates running for Governor, and received responses back from five of the candidates."
The candidates were asked: Will you protect the Forever Wild Land Trust?
Sue Bell Cobb answered, "Absolutely. Access to protected public lands is essential for future generations to see, touch, and understand the value of our natural world so that they then can become advocates for its protection."
Christopher Countryman answered, "Yes."
Former state Representative James Fields answered, "Absolutely! The Trust's effort to protect land, in cooperation with land owners, is a wise investment for all Alabamians. Rather than controversial government declarations or condemnations, Forever Wild is based upon the willingness of a private landowner to agree to sell or lease. No tax revenue is involved. As a District Director for the Alabama Wildlife Federation, I am and will remain committed to principles of conservation and wise use of our wildlife and natural resources and to ensure a high quality of life for future generations of Alabamians."
Tuscaloosa Mayor Walt Maddox answered, "Yes, I fully support this important conservation program. I join the 84 percent of Alabama voters who first authorized Forever Wild in 1992, and the 75% who renewed it in 2012, in applauding the success of its mission. Assuming the Trust continues its remarkable record in preserving Alabama's natural resources – something it has done for over a quarter century without raising taxes, without using tax revenues, and without the power of eminent domain – I would support another extension in 2032."
Doug "New Blue" Smith answered, "Yes."
Conservation Alabama asked: In order to protect our freshwater resources, do you support the completion of a comprehensive water plan for Alabama?
Cobb answered, "I think it borders on criminal that we do not currently have one in place. Not only does our lack of a comprehensive water management plan leave our precious water resources vulnerable to quantity and quality threats, but it leaves our state vulnerable in any legal proceedings concerning our water rights."
Countryman answered, "Yes."
Fields said, "Certainly! Alabama is the only state in the GA., FL. AL tri-state that does not have a Comprehensive Water Plan. We have thankfully begun water assessments. Gathering data about water, usage, flow, and quality can and must lead to such a plan. I support these efforts and will work to see a Plan come to fruition. A Comprehensive Water Plan will provide a structure for critical decisions that affect water quality and availability. Additionally, it can provide prospective industries with needed data as well as support Alabama's position as we battle with Georgia and Florida for this most precious natural resource."
Maddox said, "Yes. Alabama needs to join its neighboring states and adopt a comprehensive, sustainable water management plan. With more than 130,000 miles of rivers and streams, over a hundred public lakes, 20 major aquifers, 55 inches of annual rainfall, and 15 percent of all surface water in the lower 48 flowing through our state, Alabama is blessed with abundant water resources that shouldn't be left to ad hoc management practices."
Smith said, "Yes, and that is not all. I started the Alabama Development Office, and as the chief administrative assistant to the governor, wrote the executive order creating it, then wrote the legislation making it and the Department of Economic and Community Affairs permanent. The statutes creating these entities contained language that required comprehensive strategic management planning for every department in the state including a comprehensive water plan for Alabama that required input from the state geologist, the state labs, the inland docks, the state docks, the Conservation Department, state parks and I am sure others I cannot remember from 50 years ago. When Gov. Riley was elected in 2002, one of the first things he did was dissipate the Office of Comprehensive Strategic Management Planning in ADO then Bentley abolished ADO completely, and comprehensive planning ended with the exception that Bonnie Fuller filed a comprehensive plan of some sort for the Appalachian Commission until she retired. When I am governor I will bring back comprehensive planning as part of the former Planning, Programming and Budgeting System as a best management practice applicable to all functions of state government, including comprehensive water planning. Planning is also the key to federal funds for assisting with water resources and all other functions of state and local government. If used properly comprehensive planning can usher in the right kinds of block grants that allow the state to manage more efficiently rather than with chopped up pieces of grants-in-aid."
Conservation Alabama asked: Will you support legislation that would increase Alabamians' ability to choose solar energy for their homes and businesses?
Cobb answered, "Yes. I think it is wrong for our state to discourage individuals from participating in green energy production, and current regulations are hindering development, they are anti-competition, anti-free market, and stifle new industry development. I will use all of the influence of the governor's office to discourage corporations from using their power and influence to stifle expansion of solar and other green energy production technologies."
Countryman answered, "Yes."
Fields said, "Yes! Alabama's protection of monopolistic energy companies from innovation is backward-thinking at best. Alabamians' average monthly electric bills rank 2nd highest in the nation. The free market ideology espoused by Alabama's GOP is further tainted by its routine refusal to allow competition for any of its supporting industries. When people who have opportunities to invest in cleaner, and renewal energy sources reap rewards for themselves, others who join them, as well as the communities they may serve, energy companies will be forced to change or be left behind."
Maddox answered, "Policies should be instituted that encourage the use of renewable energy sources. We should recognize that people who install solar panels on their homes are making a choice that benefits all of society, and therefore consideration should be given to incentives that encourage both utilities and homeowners to shift to solar power."
Smith said, "All things being equal, yes. But I do not think we should subsidize solar, and I want to study further what may be regulatory impediments to a customer's freedom to choose that have just come to light."
Conservation Alabama asked: What do you think are the most important conservation issues in Alabama right now?
Cobb answered, "It's been mentioned, but a critical first step is ensuring we have a comprehensive state water management plan. I believe that access to clean water is fundamental for healthy children and families, and Alabama's incredibly abundant water resources are under assault. 31 counties have childhood lead toxicity on par with or greater than that of Flint, MI. We have communities from the Tennessee Valley to the Mobile Bay that are spewing raw sewage into our rivers and streams. We must address these issues and while communities are ultimately responsible the state has a critical role to play in addressing these environmental justice issues."
Countryman answered, "Land and water."
Rep. Fields said, "Alabama's Department of Environmental Management is totally ineffective by design and intentional inaction of the legislature which has been supported by Republican administrations. It lacks funding as well as supporting statutory enforcement power. As federal regulations continue to be dismantled, I will propose additional funding and supporting legislation for ADEM including severe and substantial monetary penalties for violations, all of which would flow into ADEM resources. We must have and ADEM that truly works for the people."
"We need a Comprehensive Water Plan," Fields continued. "Everyone has a right to clean drinking water and, if we are to maintain the status of world's greatest nation no one should have to walk any farther than their kitchen for it. Alabama is blessed with more waterways than many states. We must end the pollution of these resources from industrial discharge as well as agricultural run-off."
"We must move forward with development and utilization of renewable energy," Fields concluded. "Allowing Alabamians the opportunity to directly observe the advantages that these sources offer can foster a change in the cultural attitude toward conservation. This change in the public cultural attitude may be the most important issue of all."
Maddox said, "We need to make sure that everyone in Alabama benefits from our state's beauty and recreational opportunities, not just those who can afford to buy large tracts of land from which the public is excluded."
Smith answered:
"Wow, let me count the ways:
1. Cleaner air by getting our old coal burning steam plants converted.
2. Refinancing ADEM so it can properly monitor.
3. Solving the riparian rights disputes with Georgia.
4. Settling oil spill issues on the coast.
5. Lyme disease, tick and mosquito control in our forests and out of doors so the public may enjoy them without fear again.
6. Re-opening our state parks.
7. Lobbying the Congress to re-establish the Rural Development Administration in the US Department of Agriculture so that Alabama may continue to get support for her rural volunteer fire fighters who serve as backup for forest fire fighters.8. Lobbying Congress to rebuild the Alabama Army National Guard from 12,000 personnel back to 22,000 so that among other things they can serve as emergency backup forest firefighters.
9. Soil erosion and fertilizer run-off.
10. Controlling the pine beetle in certain areas of the state.
11. While ADEM is usually thought of as controlling water quality in a conservation sense, I think we also have a big problem connected to water conservation in the water delivery systems provided by our state's rural water pumps and pipes most of which are PVC and over 50 years old, many admitting contaminated ground water and sewage."
For the full candidate interviews, go to Conservation Alabama's website.
Inaugural Alabama Works innovator awards presented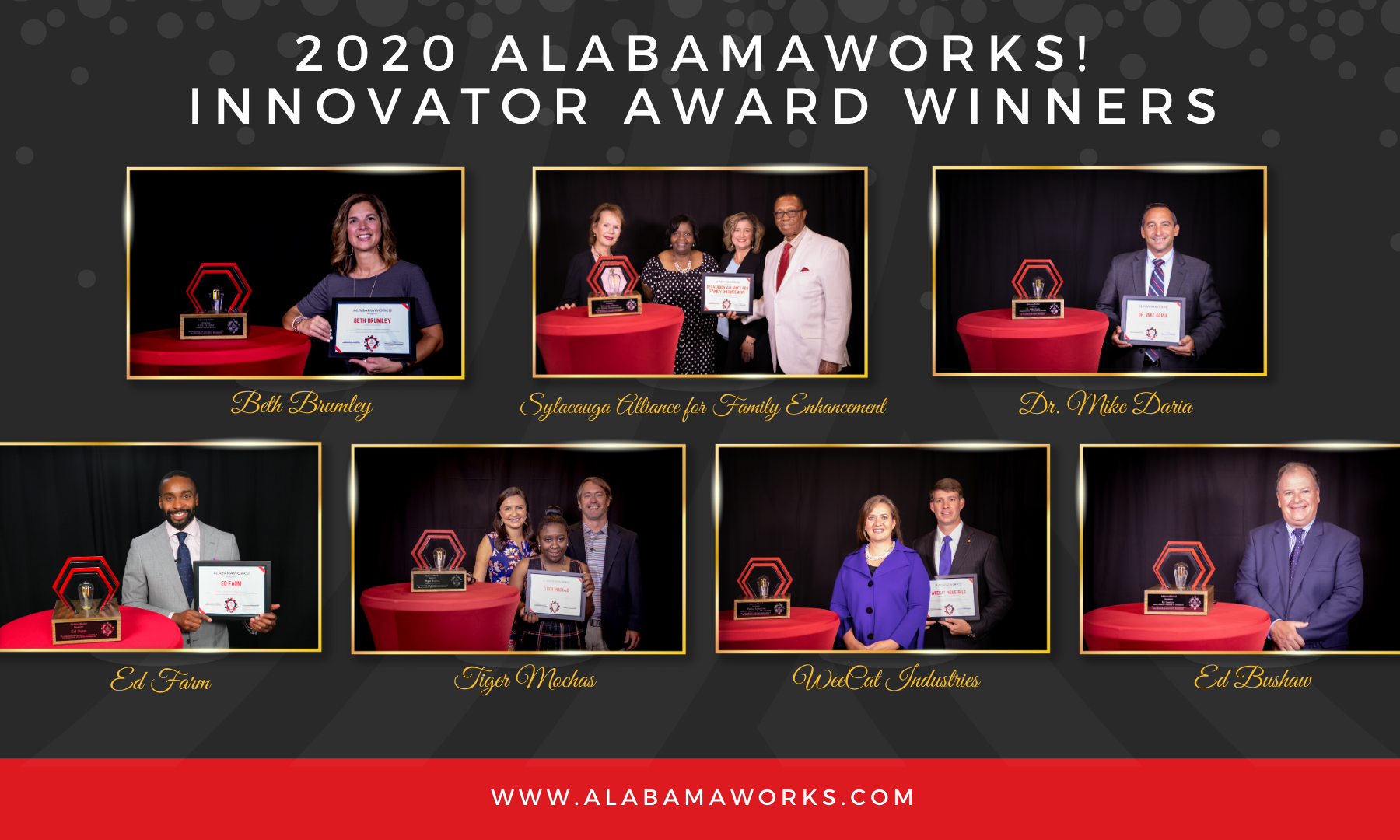 The inaugural AlabamaWorks! Innovator Awards were presented by Gov. Kay Ivey and Deputy Director of Commerce Ed Castile Thursday during the AlabamaWorks! Virtual Conference.
The awards were developed to highlight people and programs across the state that take an innovative approach to solving workforce challenges and help advance Ivey's Success Plus attainment goal of adding 500,000 highly skilled workers by 2025.
At the time of the inception of the awards, Alabama was unaware of the impact COVID-19 would have on the workforce and although the attainment goal has not changed, our economic and workforce recovery post-COVID-19 will hinge on innovators like those recognized.
"The workforce challenges that we face today are not the same ones that we faced six months ago due to the COVID-19 pandemic that has completely reshaped the workforce landscape," said Gov. Kay Ivey. "The State of Alabama is relying on those who are leading the charge by implementing innovative solutions in their cities, counties and regions to further economic and workforce development."
The recipients are visionaries, outside-of-the-box thinkers and problem solvers. The programs test boundaries, explore new opportunities and reach deeper to bring about change. "It is important to recognize these leaders of innovation and to thank them for their hard work and dedication to the citizens, communities and industries of Alabama," said Ed Castile, deputy director of commerce and AIDT director. "Their innovative approach to workforce development will be key to opening doors, breaking barriers and propelling Alabamians forward."
The recipients of the first-ever AlabamaWorks Innovator Awards are as follows:
Region 1 – North AlabamaWorks – Beth Brumley, Colbert County Schools
Beth Brumley built the Health Science Program for Colbert County Schools from the ground up by using her experience in the healthcare field to provide critical, real-world skills to her students. She developed key relationships within the healthcare community to provide her students enhanced learning opportunities and exposure, which resulted in increased demand for program graduates. Beth was also named the 2020 National New Teacher of the Year through the Association for Career and Technical Education. By bridging the gap between education and employer, Beth has created a formula for success that positively impacts the workforce.
Region 2 – East AlabamaWorks – The Sylacauga Alliance for Family Enhancement (SAFE)
SAFE has been a model for supportive services to empower individuals and families while fostering positive and healthy development of the community for nearly 25 years. In their program, SAFE combines occupational and employability skills to help job seekers be ready to enter the workforce regardless of barriers they may have faced in the past. Their dedication to providing practical solutions to modern problems is a testament to their heart for service and passion for helping their community and region.
Region 3 – West AlabamaWorks – Dr. Mike Daria, Superintendent Tuscaloosa City Schools
Dr. Daria has played a crucial role in the success of West Alabama's workforce development by fostering important relationships between industry and education. His leadership has focused on increased Career Technical Education (CTE) enrollment, supporting local Worlds of Work events and the Educator Workforce Academy. Dr. Daria's emphasis on the importance of identifying career pathways for the students in his district and then providing viable opportunities for students to take those paths, make him invaluable to West Alabama.
Region 4 – Central Six AlabamaWorks – Ed Farm
Ed Farm is the signature program of TechAlabama that focuses on encouraging children and adults to discover and pursue STEM careers. Ed Farm has a vision for a world full of invention, led by citizens who have been equipped with the necessary tools to fill or create the careers of the future. Through equipping educators and communities with innovative tools, strategies and programs they are able to support active learning for all students. With three signature tracks, Ed Farm is poised to help increase educational equity and improve learning outcomes through technology all while preparing the future tech workforce.
Region 5 – Central AlabamaWorks – Tiger Mochas, Auburn City Schools
Tiger Mochas is a collaborative effort between special education students, FCCLA (Family, Career, and Community Leaders of America) members and peer volunteers at Auburn High School. This student-led organization is serving up a lot more than hot cups of coffee to their peers because through their work, students are provided meaningful, hands-on work experience that teaches important functional, social and daily living skills. Graduates of the program leave with not only work and employability skills, but in-demand soft skills that will help them succeed in life and work.
Region 6 – Southeast AlabamaWorks – WeeCat Industries
WeeCat Industries uses a simulated workplace model to meet the growing demand for a skilled workforce. WeeCat saw an opportunity to begin teaching work ethics and employability skills as early as preschool, and rose to the challenge. Their students clock into work, run an assembly line, fill orders, check invoices, meet production quota, interview for new positions and implement quality control all while earning a "paycheck" to be spent at the WeeCat Store before they can even spell the word "school". WeeCat Industries places invaluable skills at a crucial age in development which will shape the future of the workforce.
Region 7 – SAWDC AlabamaWorks – Ed Bushaw
Ed Bushaw with the South Baldwin Chamber of Commerce researched and developed initiatives to address the region's workforce supply to meet the needs of the growing hospitality and tourism industry in his region. His collaborative efforts with business and industry officials resulted in the development of the first Hospitality and Tourism registered apprenticeship program in Alabama. Apprentices receive classroom instruction as well as valuable real-world experience within the hospitality and tourism industry and finish the program with a credential that can be used to advance their career. Ed's ability to adapt to the needs of industry and implement programs that address those needs are vital to the continued success of southwest Alabama.