Alabama voters' priorities: Education, healthcare and government ethics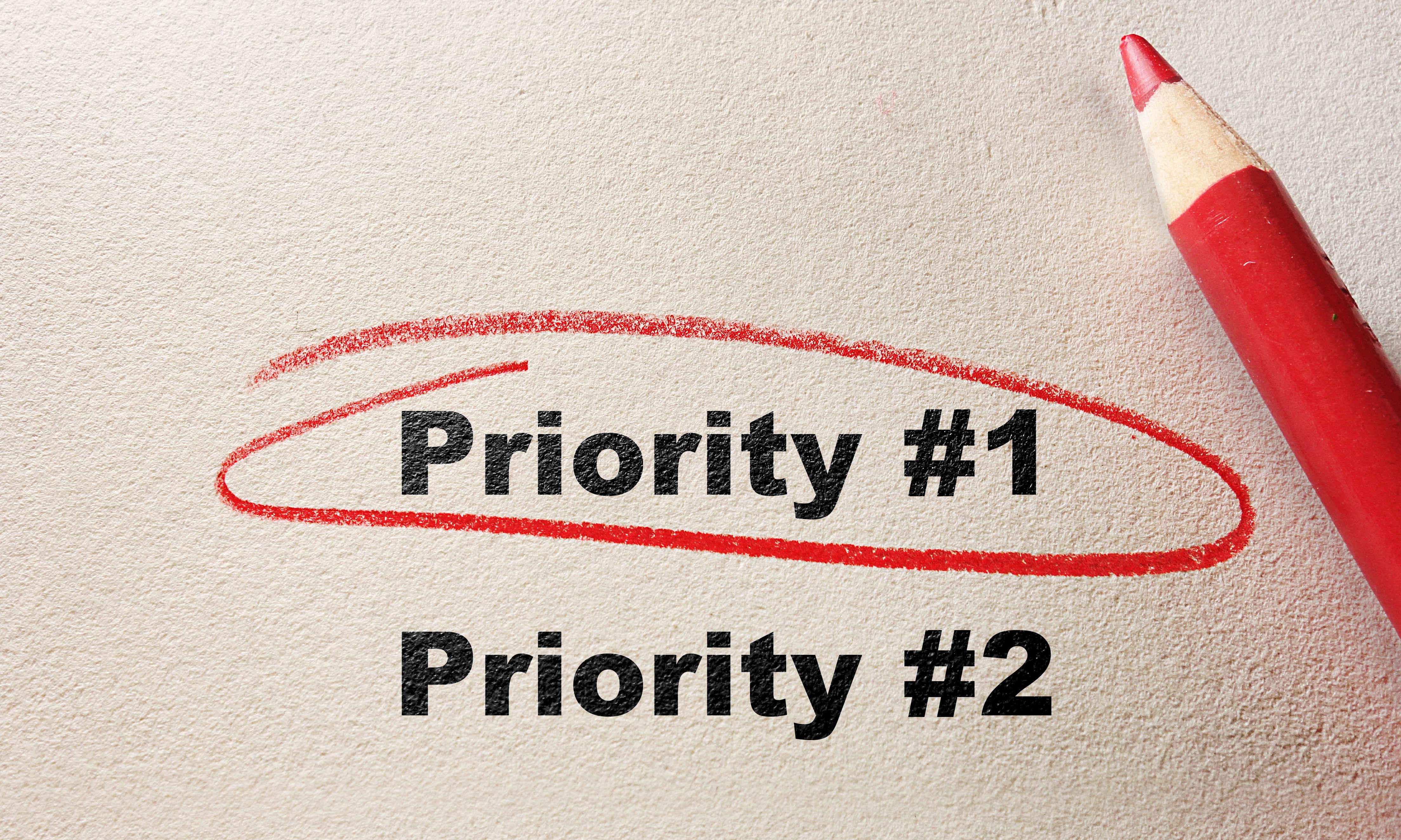 A new report shows there is broad agreement among Alabama voters about what issues are important to them as the state nears a statewide election in November.
The report, published by the Public Affairs Research Council of Alabama, is the result of a survey the group conducted, polling Alabama voters to determine their thoughts about the general direction of the state and issues that are concerning to them.
Based on the responses to the survey, PARCA identified and ranked voters' top 10 critical issues.
First among them: Pre-K-12 education, health care and government ethics and corruption.
Seventy percent of Alabama voters indicated that they are "very concerned" about the state and direction of the state's public education system. Education was ranked first among voters' concerns. And the concern was spread across the political spectrum with 60 percent of Republicans, 66 percent of independents and 80 percent of Democrats listing education as a concern.
PARCA then asked a follow-up question to determine what exactly voters' were concerned about when it comes to education.
"When asked to identify their top priority regarding K–12 education, a plurality (44 percent) selected funding," the report reads. "Nearly a quarter selected teacher preparedness as their top priority with lesser percentages selecting student achievement and class size. Pluralities of every partisan stripe prioritize funding."
Just behind education was healthcare, with 65 percent of respondents listing health care as something they are "very concerned" about.
"Majorities of every demographic and political party say they are very concerned about healthcare," the report reads. "Those with less than full-time employment and the self- employed are even more likely to say they are very concerned."
More than half of those who responded to the survey said the cost of insurance was their top priority, and about 20 percent said expanding Medicaid, improving rural access to care and prescription drug costs were their top concerns.
Across the political spectrum, most respondents said the cost of insurance was their priority.
---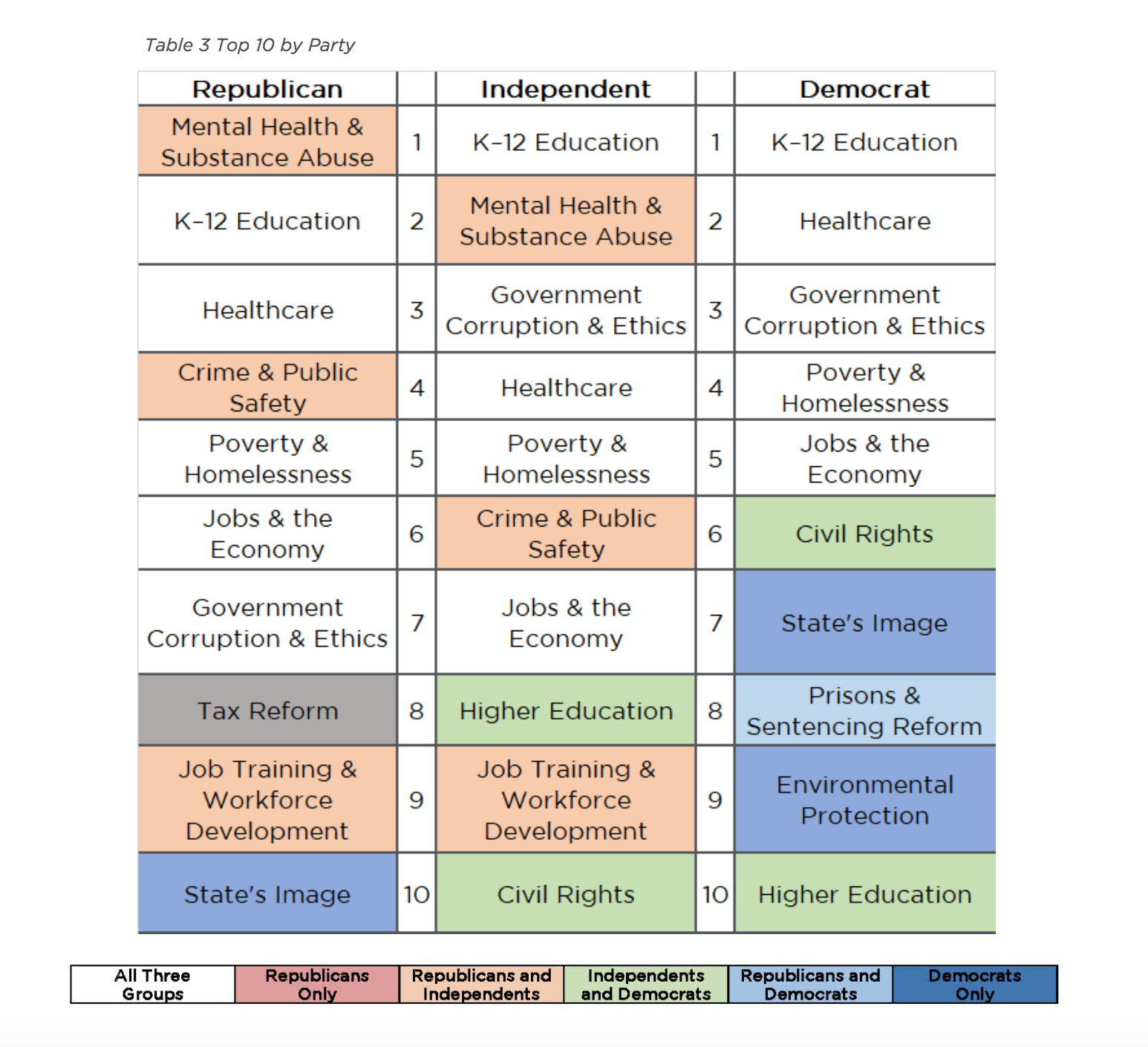 ---
Over the course of a year in 2016 and 2017, the top three elected officials in the state of Alabama were removed after corruption or ethics scandals. Former Alabama House Speaker Mike Hubbard was convicted of ethics violations, former Chief Justice Roy Moore was effectively removed for violating judicial ethics and former Gov. Robert Bentley resigned after sex scandal with a top aide.
At least 65 percent of respondents said they are "very concerned" about government corruption and ethics.
"While majorities of nearly every demographic or political group are concerned, there are some differences among partisan identifiers: A majority of Republicans are very concerned, while two-thirds of independents and over 80 percent of Democrats are very concerned," the report reads.
While there is an expectation of polarization among the political parties, PARCA's survey indicates there is actually a high degree of agreement among political parties about what the priorities are.
"When we look at the Top 10 within each group of partisan identifiers, we see a good deal of overlap," according to the report. "All include five common issues in their top seven: K–12 Education, Healthcare, Government Corruption and Ethics, Poverty and Homelessness, and Jobs and the Economy. Another six issues are shared by two partisan groups."
Only three issues appeared among the priorities of those of a single political party: tax reform, prison and sentencing reform and environmental protection.
There was also a lot of agreement among different demographics including race, age, educational attainment, wealth and age groups.
"While there are some interesting differences across groups, many of the top issues overall are also represented in the subgroups," the report reads.
Overall, the report shows that there is not polarization among traditional political, ideological, race or generational lines
"Policymakers have an opportunity to respond to immediate, often highly personal issues that concern voters," the report reads. "This research suggests that elected officials and candidates have an opportunity to show leadership and to build broad coalitions to address Alabama's most pressing challenges."
Baldwin, Escambia and Mobile residents impacted by Sally urged to apply for federal aid
FEMA has approved $11.1 million in housing grants to individuals and families through Sept. 28, according to the governor's office.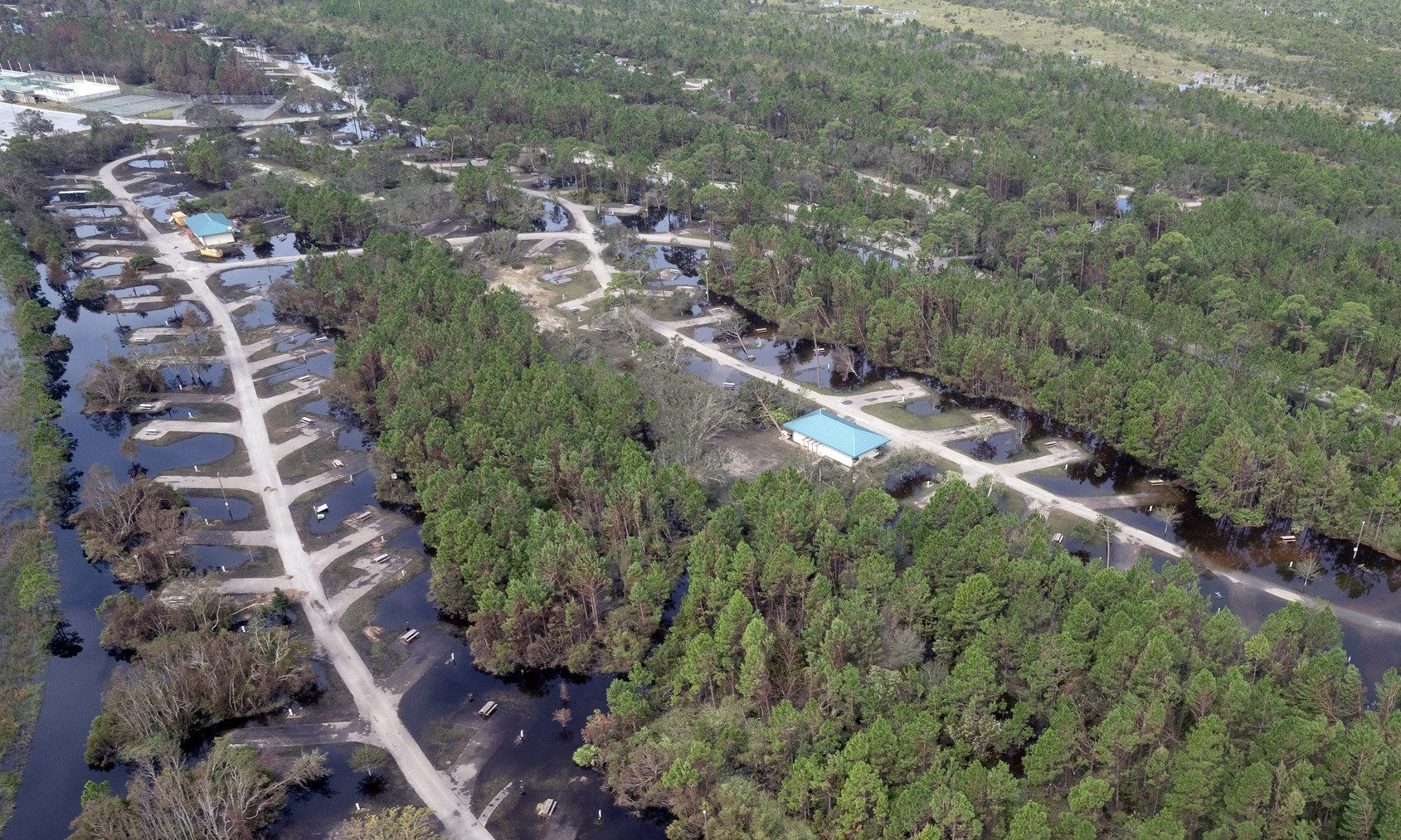 Gov. Kay Ivey on Monday announced more than $11 million in federal disaster aid has been approved for those impacted by Hurricane Sally in Baldwin, Escambia and Mobile counties.  
FEMA has approved $11.1 million in housing grants to individuals and families through Sept. 28, according to Ivey's office. 
"Hurricane Sally took a punch to our coastal areas, but thanks in part to the millions of dollars in federal assistance, the people of Alabama are moving along the road to recovery," Ivey said. "I remain grateful to President Trump, Administrator Gaynor and their teams for prioritizing the people of Alabama reeling from Hurricane Sally. We will get through this together; we have done it before, and we will do it again."
Federal grants to repair homes or for renting temporary housing made up $8.9 million of the FEMA funding. Grants for childcare, moving and storage, medical and dental comprised the remaining $2.1 million. 
The U.S. Small Business Administration has approved an additional $570,900 in disaster home repair loans for those impacted by Sally.
Ivey's office encourages homeowners and renters in Baldwin, Mobile and Escambia counties to apply to FEMA for federal disaster assistance as soon as possible. Residents of these three Alabama counties may also be eligible to receive assistance for uninsured and underinsured damage and losses resulting from the hurricane.
Residents in those three counties impacted by Hurricane Sally may register for FEMA disaster assistance online by visiting disasterassistance.gov or by calling 800-621-3362. Persons who are deaf, hard of hearing or have a speech disability and use a TTY may call 800-462-7585. Multi-lingual operators are available. The toll-free lines are open daily from 6 a.m. to midnight CST.
Those with a homeowner's insurance policy are encouraged to file an insurance claim before applying for federal assistance. 
Information that may be useful to have when you register include:
Address of the damaged primary dwelling where the damage occurred

Current mailing address

Current telephone number

Insurance information and description of disaster-caused damage and loss

Total household annual income

Names and birth dates of family members who live in the household

Name and Social Security number of co-applicant (if applicable)

Routing and account number for checking or savings account so FEMA may directly transfer disaster assistance funds
 For more information on Hurricane Say visit FEMA's website here.