Doug Jones wants to make VA nursing home ratings public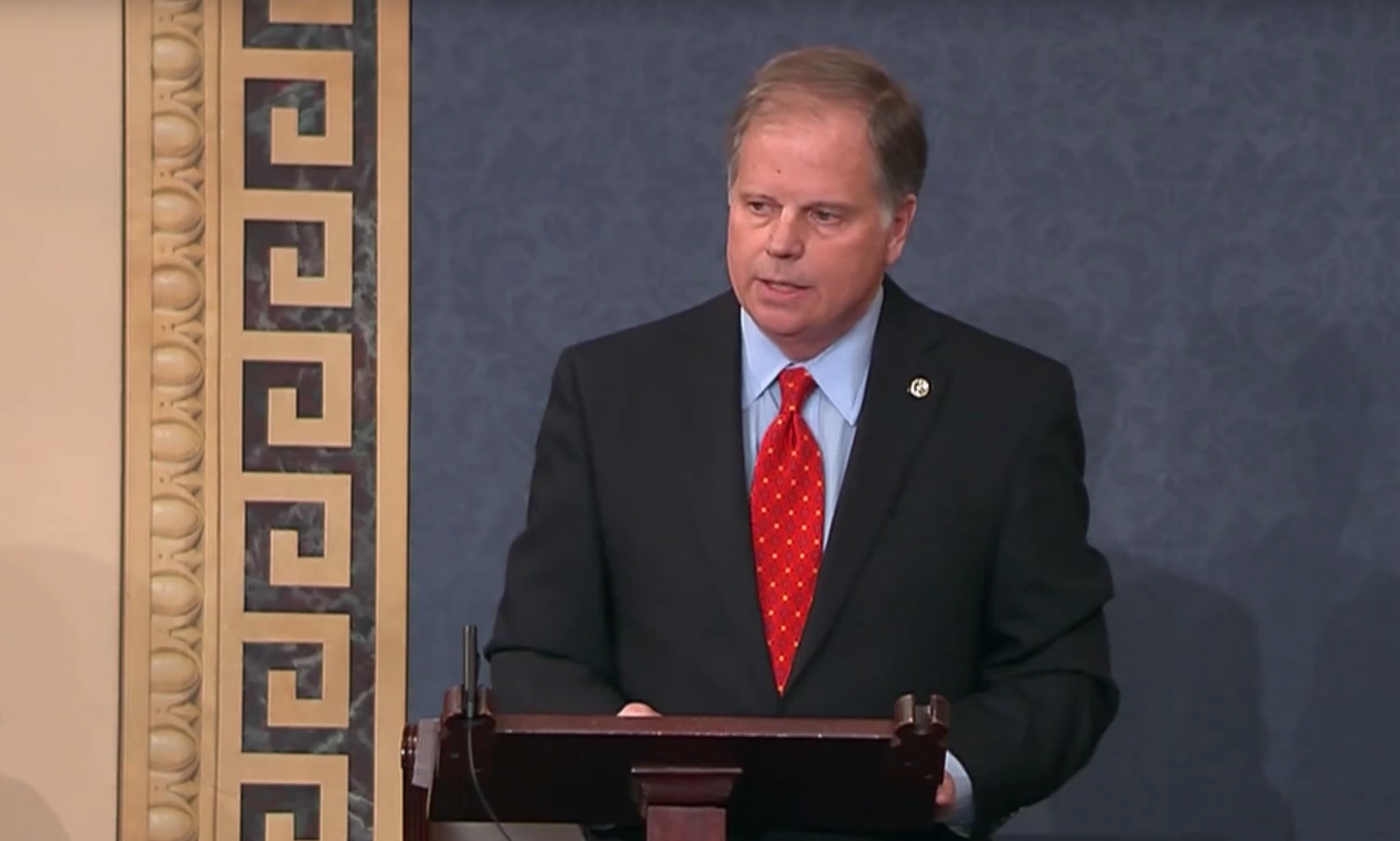 U.S. Senator Doug Jones (D-Alabama) filed an amendment that would require the U.S. Department of Veterans Affairs (VA) to submit an annual report on or before November 11 (Veteran's Day) to the U.S. Congress on the ratings given to VA-run nursing homes.
Senator Jones proposed the amendment to H.R. 5895, the Energy and Water, Legislative Branch, Military Construction, and Veterans Affairs appropriations bill that is currently being considered on the Senate floor.
Jones introduced the amendment after a story published in USA Today and the Boston Globe which showed very poor ratings for the VA nursing facilities in Tuscaloosa and Tuskegee. The reporting was based on secret VA ratings that were formally requested by the two reporters working on the story.
Alabama. Senator Jones' amendment is cosponsored by Senate Veterans Affairs Committee Ranking Member Jon Tester (D-Mont.), Senator Sherrod Brown (D-Ohio), Senator Kirsten Gillibrand (D-N.Y.), and Senator Bill Nelson (D-Fla.).
"Our veterans deserve better than this. As the son of an elderly veteran, learning that out of 133 VA nursing homes nationwide, Tuscaloosa and Tuskegee both rated well below standards our veterans deserve was quite frankly shocking and we need to get to the bottom of this issue," said Senator Jones. "Alabama prides itself on being as veteran-friendly as any state in the nation, but our veterans and their families need full transparency about these facilities so they can make the best health care decisions for themselves. That's why I'm proposing this annual report requirement for the VA, which will help meet the President's stated goal of greater transparency for the agency and better care for our nation's veterans."
"The VA must be transparent about the quality of its nursing homes and the care they provide," said Tester, Ranking Member of the Senate Veterans' Affairs Committee. "This legislation will help assure that VA nursing homes are offering the highest quality of care to veterans and hold the VA accountable to the veterans and family members it serves."
"These rankings are appalling," said Senator Brown. "VA must release this data so we know where these homes are failing and how to improve care for our veterans."
"When our veterans return home they deserve the absolute best care from the Department of Veterans Affairs," said Senator Gillibrand. "It is deeply troubling that the VA does not share the evaluations of their nursing home facilities with veterans, their families, and Congress. I am proud to support this amendment to create an annual report that would ensure veterans have full access to information on the quality of VA nursing home facilities. Transparency is critical to ensuring our veterans and their families can feel confident when enrolling in nursing home care. We need to make sure that veterans and their families have a standard of care that is worthy of their sacrifice."
"Our veterans have dedicated their lives to serving our country and deserve the very best care we have to offer, and this legislation will help ensure that's exactly what they get," said Senator Nelson.
According to the VA's records: 32.64 percent of VA nursing home residents have experienced serious pain in the last five day versus just 5.59 percent of residents in private sector nursing homes. 20.89 percent of VA nursing home residents are being given anti-psychotic drugs versus just 15.48 percent of private sector residents. 16.7 percent have seen marked reductions in their abilities to perform that activities of daily living versus 14.99 percent in private sector nursing homes. 11.96 percent of VA residents have a catheter inserted versus just 1.88 of residents in the private sector. Catheters can increase the chances of dangerous urinary tract infections. 8.51 percent of VA residents have bed sores versus just 5.57 percent of residents in the private sector nursing homes. Bed sores can largely be avoided by attentive staff moving and repositioning the residents. Residents with bed sores are very high risk for infections and premature death.
The VA ranks their nursing home on a five star system with five being the highest and one star being the lowest. Tuskegee and Tuscaloosa are among the lowest rated nursing homes according to the VA's own grading system.
The amendment would require detailed data sets to be shared about short-term and long-term care furnished by VA nursing homes, specifically addressing: pain, ulcers, use of anti-psychotic medication, use of catheters, patient well-being (fall or major injury), ability to perform daily activities (eating, bathing, using the restroom), physically restrained patients, and patients with urinary tract infections.
This data is not currently available to the public.
The full original reporting by Andrea Estes and Donovan Slack is available here.
Jones was elected on December 12 in a special election to fill the seat vacated by Jeff Sessions (R).
Jones applaudes inclusion of his anti-money laundering legislation in defense bill
The bill aims to combat illicit financial activity by terrorists, drug traffickers and other criminals.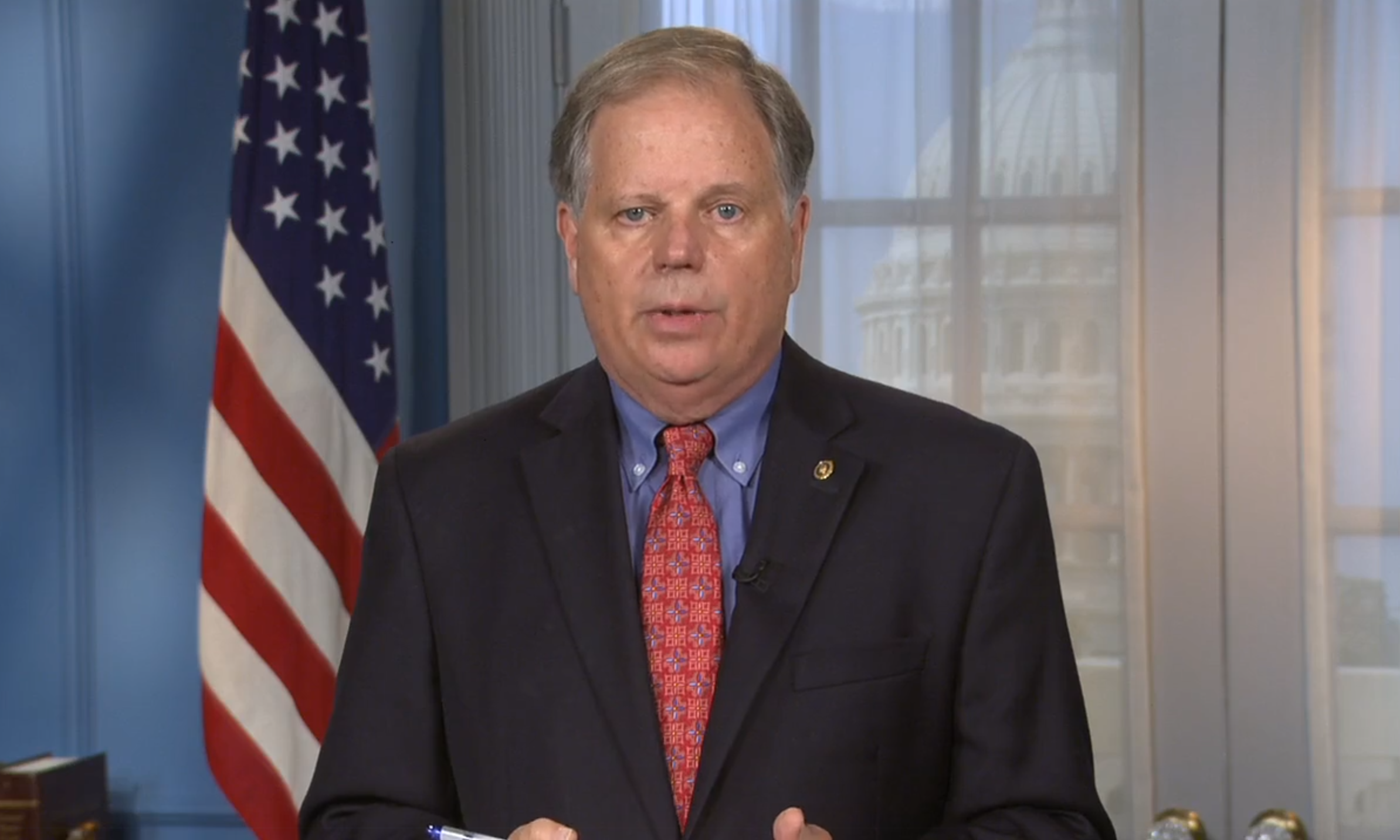 U.S. Sen. Doug Jones, D-Alabama, and a bipartisan group of three other senators applauded the inclusion of their anti-money laundering legislation in the National Defense Authorization Act. 
Jones and Sens. Mark Warner, D-Virginia, and Mike Rounds, R-South Dakota, in September 2019 introduced their Improving Laundering Laws and Increasing Comprehensive Information Tracking of Criminal Activity in Shell Holdings (ILLICIT CASH) Act which aims to combat illicit financial activity by terrorists, drug traffickers and other criminals. 
"For too long, our anti-money laundering laws haven't kept up with the rapidly evolving methods that criminals and terrorists use for illicit financial activities," Jones said in a statement Thursday. "Our bipartisan bill is the largest comprehensive effort in decades to improve transparency and will give prosecutors, national security officials, law enforcement, and financial institutions the modern tools they need to crack down on money laundering and terrorist financing. Its inclusion in the annual defense bill is a great step forward for the rule of law and for the security of all Americans." 
If approved as part of the NDAA, the ILLICIT CASH Act will require shell companies, which are often used to launder money from criminal enterprises, to disclose their true owners to the U.S. Department of Treasury. It would also improve communication between law enforcement, financial institutions and regulators, according to a press release from Jones's office.
According to research from the University of Texas and Brigham Young University, the U.S. remains one of the easiest places in the world to set up an anonymous shell company. A recent report by Global Financial Integrity found that in every state in the U.S. more information is currently required to obtain a library card than to register a company. 
"To form a company in any state in the U.S., it is not necessary to identify or provide any information about the person(s) who will ultimately be controlling the company. In some cases it isn't even necessary to provide information about who will be managing the company and, where some information about managers (i.e. officers or directors) is required, it is very limited," the report states. 
"Human traffickers, terrorist groups, arms dealers, transnational criminal organizations, kleptocrats, drug cartels, and rogue regimes have all used U.S.-registered shell companies to hide their identities and facilitate illicit activities," the press release reads. "Meanwhile, U.S. intelligence and law enforcement agencies find it increasingly difficult to investigate these illicit financial networks without access to information about the beneficial ownership of corporate entities involved." 
The ILLICIT CASH Act includes the following elements: 
Setting national exam and supervision priorities to improve AML-CFT outcomes and better target federal resources in the effort to identify evolving criminal and national security threats.

Establishing federal disclosure requirements of beneficial ownership information that will be maintained in a comprehensive federal registry, with strict privacy protections, accessible by federal and local law enforcement.

Improving the recruitment and retention of top talent to combat money laundering and terrorism by providing special hiring authority at the Department of Treasury and FinCEN.  

Prioritizing innovation and technology in AML-CFT monitoring and reporting through the establishment of a new Subcommittee on Innovation and Technology, updated guidance on financial technology risk assessments, and a Financial Crimes Tech Symposium.

Facilitating communication and information sharing between FinCEN, national security agencies, law enforcement and financial institutions through the establishment of new programs and reporting mechanisms.  

Requiring law enforcement agencies and regulators to formally review regulations within the Bank Secrecy Act to ensure regulations, guidance, reports and records are highly useful in countering financial crime. 

Requiring streamlined data and real time reporting of suspicious activity reports, and requiring law enforcement to coordinate with financial regulators to provide periodic feedback to financial institutions on their suspicious activity reporting.

Prioritizing the protection of personally identifying information while establishing a clear path for financial institutions to share AML-CFT information for the purposes of identifying suspicious activity.

Preventing foreign banks from obstructing money laundering or terrorist financing investigations by requiring these banks to produce records in a manner that establishes their authenticity and reliability for evidentiary purposes, and compelling them to comply with subpoenas. This legislation also authorizes contempt sanctions for banks that fail to comply and increase penalties on repeat BSA violators. 

Ensuring the inclusion of current and future payment systems in the AML-CFT regime by updating the definition of "coins and currency" to include digital currency.