Ethics Commission clears Luther Strange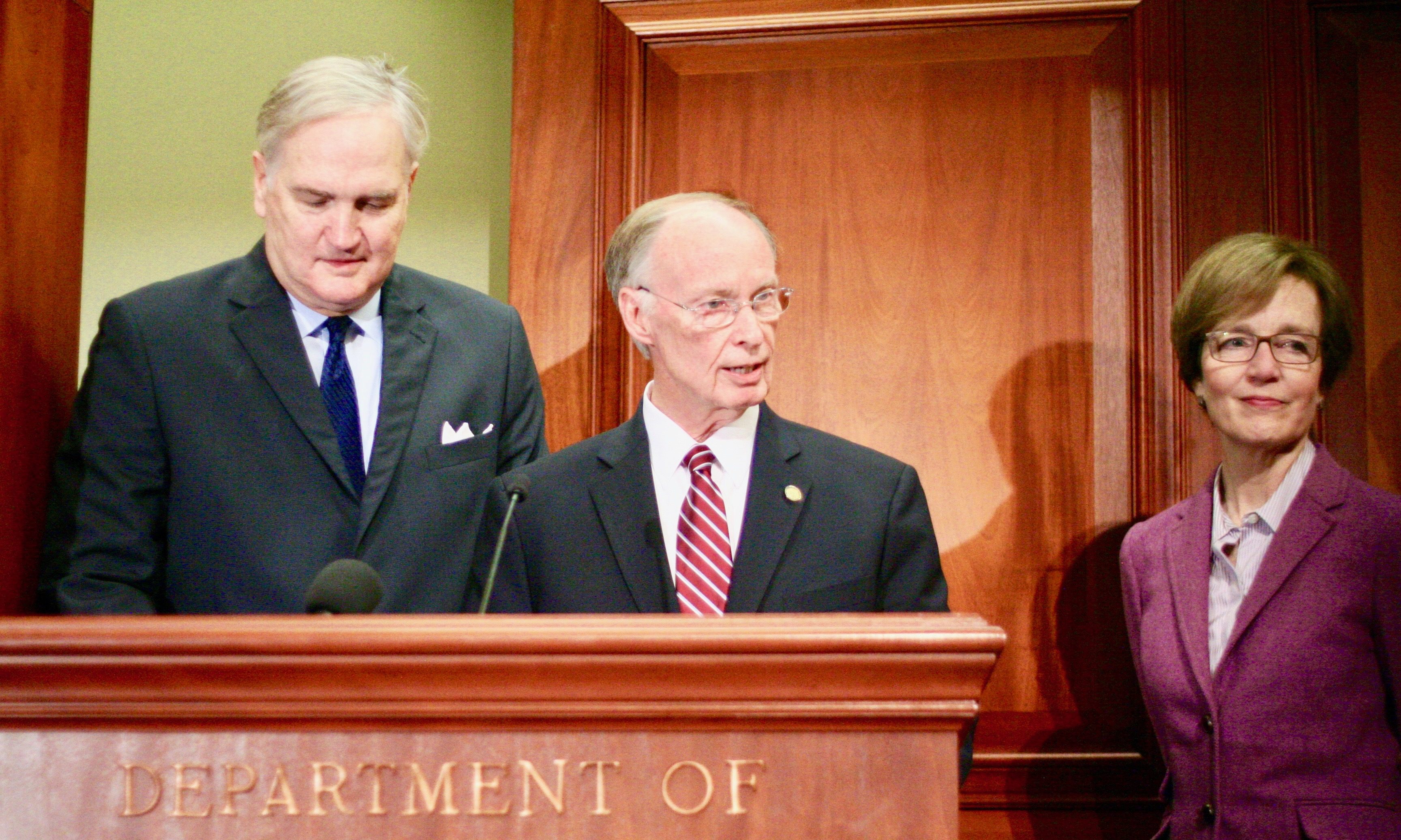 Luther Strange is off the hook.
The executive director of the Alabama Ethics Commission told APR on Wednesday that the commission determined a few sessions ago that allegations that Strange violated campaign finance laws were unfounded.
The two allegations, which were filed by Secretary of State John Merrill's office during Strange's special election campaign for U.S. Senate last year, were considered potential felonies and centered around Strange's federal Senate campaign transferring funds to his state-level attorney general's campaign account.
Ethics Commission executive director Tom Albritton said several factors went into determining that Strange had not violated the law. Most importantly: "The statute controlling the transfer from a federal campaign account to a state campaign account requires the candidate to be a state or local candidate. Luther Strange was not," Albritton said.
Merrill disagreed with the commission's decision, saying his staff's understanding of the applicable laws forbids Strange from making the campaign account transfers in question.
"We understand that the Ethics Commission can do whatever they want with the things we send them," Merrill said. "We do not agree with their finding, but it's not our job to rule. It's our job to pass along the violations. We did our job."
While the laws governing the issue are complicated, the transfers at the center of the debate are fairly easy to understand. In December of 2016, Strange's federal campaign account, in a series of transfers, sent a little over $1,400 to his state-level campaign account. The money was being used to pay for an already-purchased website domain.
The problem was the $1,400 exceeded the $1,000 threshold allowable for the transfers and also fell outside of the 120-day window. Former Alabama Gov. Robert Bentley was forced to resign after accepting a donation outside of the 120-day window.
But according to Albritton, that's where the mixing of federal and state laws make things murky. Because in addition to Strange, who was running for U.S. Senate, not being a state-level candidate, the law also requires the transfer to be a campaign contribution before it can be considered illegal.
"The transfer was made in order to reimburse the state campaign for an unintentional payment by the state campaign for the domain maintenance fee for the domain that the federal campaign had already purchased," Albritton said. "It was not intended to influence the election of a state or local candidate.
"Federal law preempts state law in this circumstance. Federal campaign finance laws required the reimbursement for the state campaign. If they had not repaid it, it would have been a violation of federal campaign laws."
Albritton said that Merrill and his office can forward their findings directly to the Alabama AG's office if they feel a mistake has been made.
The Ethics Commission decision on the matter will likely add fuel to what is becoming a fiery feud between it and Merrill's office. Just last week, Merrill was particularly critical of the Commission's decision to pass on issuing fines to candidates, businesses and PACs that failed to file campaign finance reports on time.
During an interview with APR last week, Merrill was asked whether his allegations against Strange had been resolved by the Ethics Commission. At that time, he said he wasn't sure, prompting APR to raise the question with Albritton. It doesn't appear as if the decision on the Strange allegations has been previously reported in the media.
GOP candidate Tommy Tuberville leads Trump "boat parade" in Orange Beach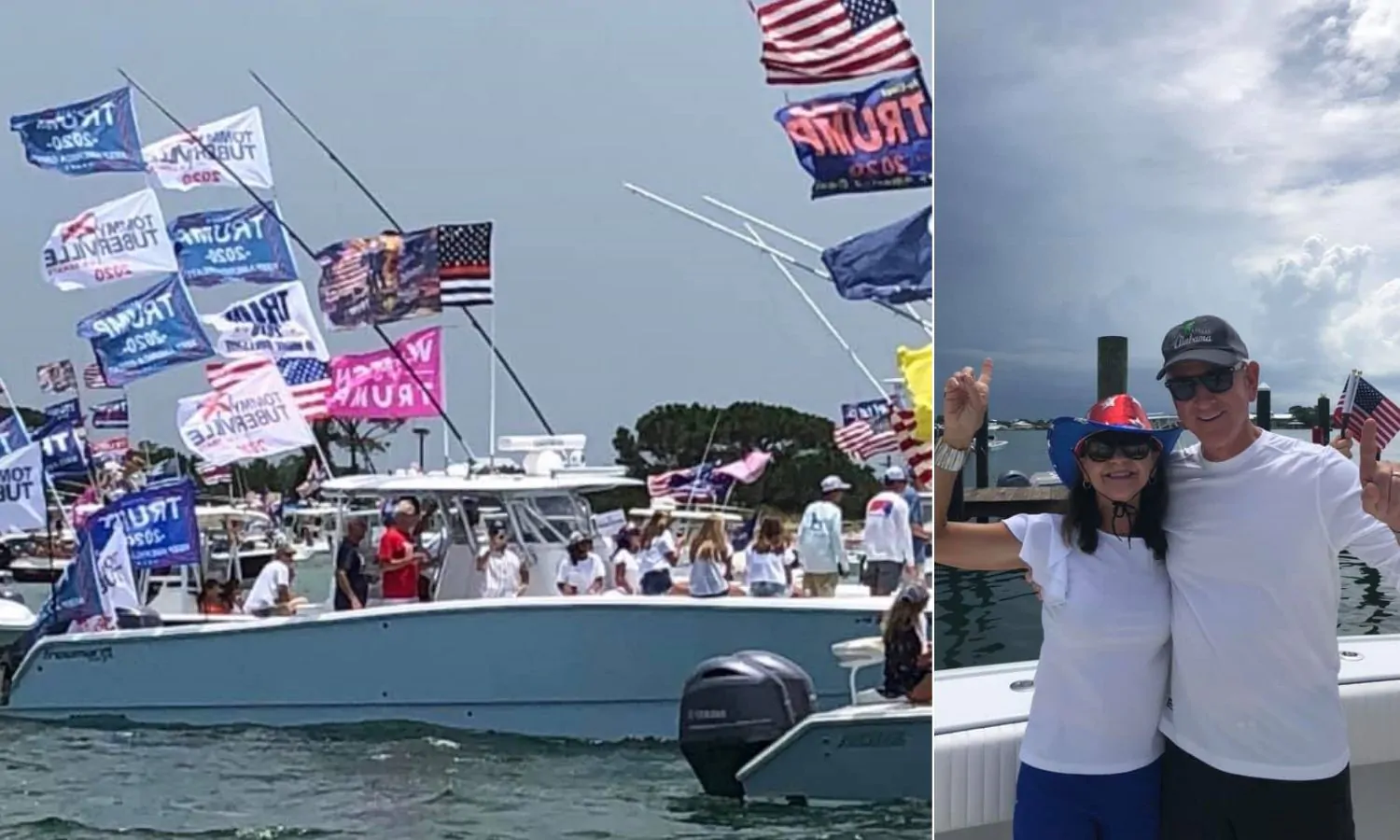 Senate candidate Tommy Tuberville rode in the lead boat in a "boat parade" on Sunday in Orange Beach, celebrating Independence Day and the launch of President Donald Trump's re-election campaign.
Hundreds of boats participated in the Trump parade in the Perdido Pass area. WKRG TV estimates that more than 8,000 people joined. Orange Beach and Gulf Shores boats joined boats from Pensacola and Dauphin Island.
Trump supporter and Alabama Republican Executive Committee member Perry Hooper Jr. was also present.
"It was Awesome having Coach Tommy Tuberville on The TRUMP Boat at Orange Beach Alabama," Hooper said. "Tommy was a Great Coach and he will be a Great US Senator. It's Great To Be A TRUMP/ TUBERVILLE AMERICAN. Everybody was so Happy cheering for The President and Tommy on! Fun Day!"
Hooper is a former state representative from Montgomery.
Tuberville is a former Auburn University head football coach. The Arkansas native lives in Auburn.
President Donald Trump spoke at Mount Rushmore in South Dakota on Friday.
"Today we pay tribute to the exceptional lives and extraordinary legacies of George Washington, Thomas Jefferson, Abraham Lincoln, and Teddy Roosevelt," Trump said. "I am here as your president to proclaim before the country and before the world, this monument will never be desecrated, these heroes will never be defamed, their legacy will never ever be destroyed, their achievements will never be forgotten, and Mount Rushmore will stand forever as an eternal tribute to our forefathers and to our freedom."
Trump accused opponents of trying to dismantle America.
"Make no mistake. This left-wing cultural revolution is designed to overthrow the American Revolution," Trump alleged. "In so doing they would destroy the very civilization that rescued billions from poverty, disease, violence, and hunger, and that lifted humanity to new heights of achievement, discovery, and progress. To make this possible, they are determined to tear down every statue, symbol, and memory of our national heritage."
"President Trump has given several good Speeches," Hooper said. "This Speech was by far his best! It was straight up AWESOME! His speech was all about the Greatness of America! President Trump loves our Country and its great History. President Reagan has given some of the best speeches ever. This speech topped Reagan's best. As for Perry O. Hooper Jr., I would get in a foxhole and fight for him to the end. God Bless President Donald J. Trump and GOD BLESS THE USA!"
Trump faces a stiff challenge from former Vice President Joe Biden, who is leading in the polling.
Tuberville has been endorsed by Trump in the July 14 Republican primary runoff for U.S. Senate. Tuberville faces former Sen. Jeff Sessions.